There used to be a fun side story to the start of each new racing season. Up until the late 1990s, every rider earned a new number each season based on the points scored in the previous season of 250 Supercross and the AMA Motocross Nationals. Career numbers didn't exist, and literally every two-digit number could change from year to year. Learning the new numbers was as fun as seeing the new bikes, graphics and gear, but also a little confusing.
A rule change in the AMA rulebook two years ago helped bring that feeling back on Saturday night. At the end of the 2012 season, rules were changed and 250SX East/West Regional points started counting toward AMA National Numbers for the first time ever. Then came the great storm of 2013 250SX East.
At the top of that class, the field was plenty strong. Dean Wilson came in as the title favorite, and he would have been right in the Tomac/Roczen conversation if he had raced the West. Wil Hahn earned the title the hard way, beating Wilson straight up at times, holding strong under the pressure of a proven champion in Marvin Musquin, and even overcoming injury at the final round. No one doubts the skills of Hahn, Wilson, Musquin or Blake Wharton, for example. The East was fine at the top in 2013.
But further back, the East became decimated by injuries and a few key team decisions. Wilson went out and then so did his rookie teammate Justin Hill. Zach Bell was down and out quickly. Jeremy Martin broke his wrist. The always-strong Lucas Oil/Troy Lee Designs team doesn't even go East, nor did the (now defunct) JDR J-Star KTM team. In last year's final West Region standings, the entire top 10 had some sort of factory support. In the East, only four of the final top 10 did, and that's including Wharton, of the well-funded, but technically not factory, Rockstar Energy Racing team.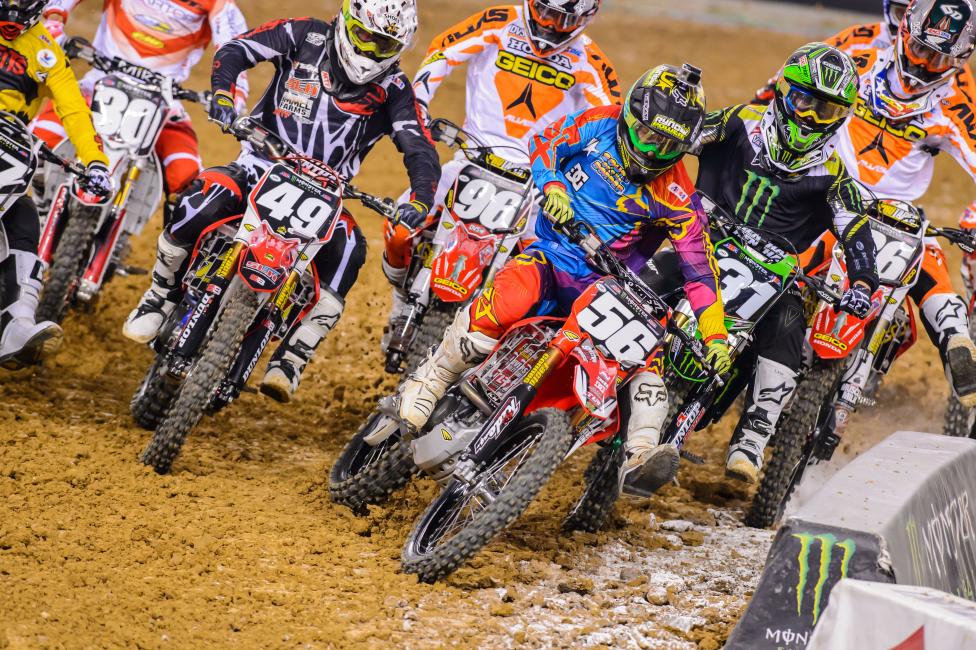 That helped some underdog racers enjoy career seasons and score solid points on the regular. Privateer power! The end result? When 250SX East returned this year, 27 riders that attempted to qualify were sporting new two digit national numbers, many of them earned during last year's Eastern races (but not everyone, as the likes of #96 Matt Bisceglia, #91 Jacob Baumert, #80 Fredrik Noren and #46 of Adam Cianciarulo only raced Lucas Oil Pro Motocross last year, and Matt Lemoine earned his #78 racing a 450 in 2013). At the last West Region race a week ago in San Diego, there were 14 two digit riders attempting to qualify, or, essentially half as many as we saw in the East Region on Saturday.
In the 250SX East main, twenty of the twenty-two riders were running two digit numbers. Only pro rookie Anthony Rodriguez and Gannon Audette, who missed all of 2013 Monster Energy Supercross, were running three digits. San Diego's West race had eight three-digit bikes out there.
Meanwhile, this year's 250 East pack is not only back with two-digit numbers, but, also, a vengeance. The talent seems to stretch back pretty far, maybe even deeper than the West, and, two riders who enjoyed career seasons in 250SX East in 2013 proved to be just as capable now. Last year, Gavin Faith and Vince Friese finished in the top five of the final 250 SX East standings, and they were once again in those spots for most of Saturday night. Faith woulda shoulda coulda gotten third if not for a late crash, and Friese took fourth.
On second thought, maybe last year's East field was stronger than it looked.