"There is no team that is staffed as good as mine," Chad Reed told Racer X in a December interview. "There is no team that does things right like mine. That may sound bold, but that's my true feeling. We have a bunch of bad asses on the team and I think it can only get better."
Dave Osterman is the man behind this group of bad asses, and so far in 2014, the group has delivered. Racing is very much a mental game, but it is also one of equipment, knowledge and preparation. Reed has those bases covered, and his staff includes some of the best names in the business.
We spoke with Osterman just before Chad's second win of the season at A3, and it's still a relevant conversation about the behind-the-scenes life of team Discount Tire TwoTwo Motorsports.
Racer X: Seems like things have really come together for you guys this season. That's not easy as Chad was one of the few top-level guys who switched bikes coming into 2014.
Dave Osterman: Well, hey, it's all new; we have a new color and a new team and new clothes for this year! But you know, our guys, we're all gnarly. Every single one of our team members is beyond dedicated. A lot of other guys, they just progressed into the, "Hey, happy new year" thing, because for them it was the same setting, the same bike, the same locker in the same semi. But for us, it was nothing like that. We moved out of the red house [Honda] after the Nationals, and basically we were all homeless. The team had no address and I had to find a place to park the truck. While we were sorting things out, we basically flopped on Mitch's [Payton] couch [at Pro Circuit] and worked out of his shop. But we were a factory team that was homeless. So once we settled on Kawasaki, we went to work on making the bike the best it could be. We had less than 90 days to do it, but my boys and Chad have built a bike that shows how strong we are as a team.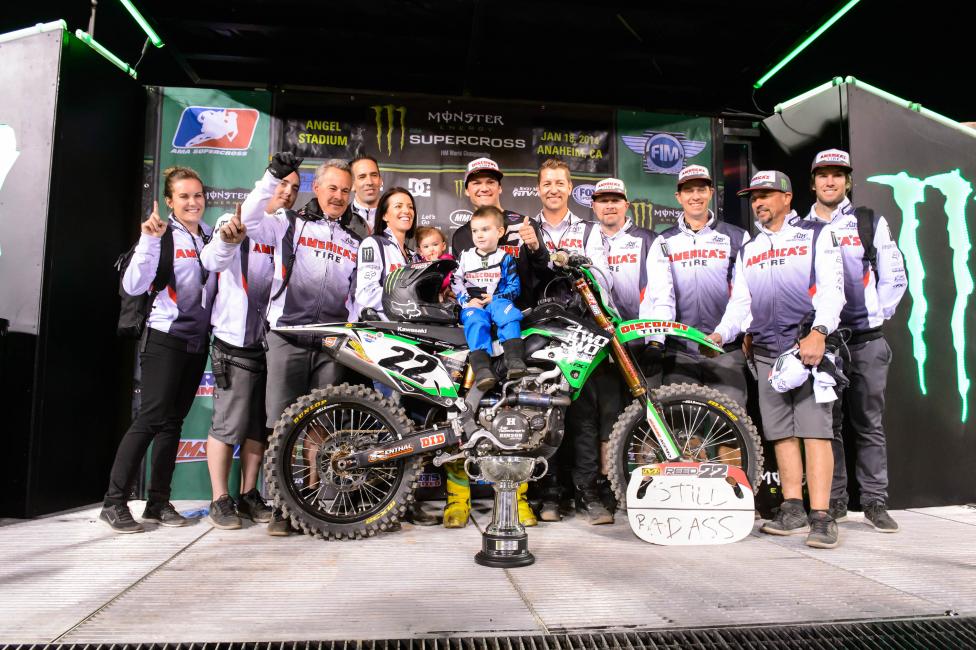 Well, the results thus far certainly show it. People talk about this staff as being a dream team of motocross. I assume that this played a huge role in getting that bike up to speed within the 90 days you spoke about?
Well, to start out with, we have lot of very, very good partners, such as Kawasaki and Pro Circuit and Showa, to name a few, and everyone is working hard. But yeah, it was our guys, they developed a bike the boss is happy with, and that's the hardest part of this whole riddle.
So who is your team this year? I recall hearing that you brought on Dean Gibson?
Well, Chad has been very involved in the staffing, and the group has been hand picked for sure. But our team roster is full, and I'm proud to say that we have the right guys for every piece of the puzzle. No one needs any babysitting. To start with, we have Shane Westlotorn who handles the truck and all the responsibilities that go along with that week in and week out. That's our mother ship, and it's a huge job. We have Goose [Mike Gosselaar], we have Lars [Lindstrom], we have Oscar Wirdeman for suspension and Dean Gibson doing our motors. We, uh, we borrowed Dean from Honda, but kind of on a permanent basis! Then we have Joel Bueler, he takes care of all of Chad's stuff and drives the motorhome. And of course, back in Florida, we have Mike McQuillin, he takes care of Chad's training facility and some of his bikes. All of that stuff, that's more than a full time job, for sure.
Plus yourself, right?
Well, yeah, but I don't always count myself when talking about the team. But for sure, we scrambled this year, and it was a testament to the team. New bike, new address and new colors all around.
Someone had mentioned to me that Goose is partially retired, and living in Idaho? How does that work?
Well, he is not retired, that is for sure! But yeah, Chad set up a deal with him, which was something that they worked out, and I think it works well for both of them. I think he and his wife own some land out there in Idaho, and they plan on building and retiring out there. But for now, he is very much still based in California and at his home up in the high desert. We all commute to the race shop when we're not on the road, and he's very much still involved with us.
Tell me about your new race shop, where exactly did you guys land?
Well, we took over the old L&M Racing facility. After the last owner decided to step away from racing, we basically made a deal with the owner of that program. Whatever was left, we bought out and took over the assets. All I had to do down at the shop they had built was buy toilet paper and soap, and it was basically up and running.
Thank you for your time, and good luck to you guys the rest of the season. It seems like Chad is back to where he was before his crash in Dallas a few years back.
Thank you. It's a team and a family effort with us. Chad is happy, and that's not easy to do. We got some bikes, but we built it mostly all on our own. We had some good direction from Pro Circuit and Kawi, but this was our deal and it's coming together!