A few days after Christmas, a friend rented the track at the Prairie City OHV Park, otherwise known Hangtown. We had a fully prepped track at our disposal, and about 25 guys working off their Christmas cookies. I was out riding when suddenly I heard a two-stroke coming up behind me. Thinking I might have something for the rider, I picked up my pace. A few turns later, the bike blew past me on an inside line, nailed a small triple and took off. I suddenly realized it was 85cc minibike! My ego took a sudden dive, until I noticed the name on the back of rider's jersey—Vohland.
Later I found a KTM 85 with a big #3 on it, parked next to a Chevy van. There I found young Max Vohland, hanging out with his father Tallon, as well as his grandfather and uncle, Tyson. Next to Steve Lamson, the Vohland family is Hangtown royalty, and here they were, one day removed from Christmas and out riding.
Tallon Vohland has many racing achievements, including a title at Loretta Lynn's in 1987, and a professional career as a factory rider that lasted from 1989 through 2002. Today, he's still an industry heavy, but he's becoming a minibike dad, too!
Racer X: Tallon Vohland, what are you doing out here today?
Tallon Vohland: I'm just out with the family today and letting my son Max do some riding here at our local track. He's starting to go really good, I think he wants to make run at being a professional racer.
Wow, that's a long road—but one your family has been down ... well, twice before! Before we jump into that, what are you up to these days?
I'm the sales manager for North America for Acerbis. I basically run the business here in America for them. We have a small staff and an office based in Sun Valley, Idaho, and our warehouse is in Salt Lake City. I handle the sales, both wholesale and retail sides of it, and I service all the primary accounts. I'm based here in Sacramento, though, while the other guys are in Sun Valley.
Okay, the question everybody asks: How is it pronounced?
[Laughs] That's right! You say it like this: ah-CHAIR-bees. That's pretty much the one question we always get asked!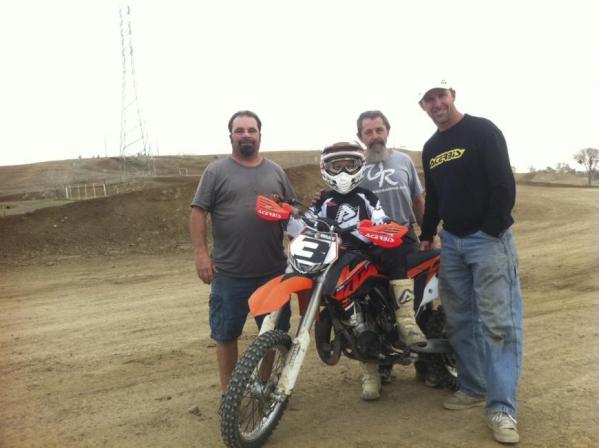 The Vohland clan today.
Nick McCabe photo
Sounds like you made a good transition from a racer to a businessman. Sales is not the easiest thing, especially if you don't have a background in it.
Yeah, that's for sure. I used to run the race team(s) for both SCOTT and Acerbis, but when the recession hit, things changed, and the opportunity for me to sell came forward. It certainly wasn't easy, but Franco (Acerbis) trusted me and gave me a shot. I basically applied the discipline I learned from a racer to the business, but it took time and many hours to get the confidence I needed to succeed.
You stopped racing at the end of 2002. How did you know it was time to step away?
In 2001, I got knocked out twice. The first time was just before Glen Helen. I didn't want to admit it at the time, but I was dizzy for about eight weeks on and off. Then later in the season, I had the same thing, but not as bad. I guess those are the small things that add up and start blowing out your candle. But I had a hard time with the decision, because I wanted to make some more money but knew I was on the backside of my career. So for 2002, I signed with a smaller team out of England and got paid some good money to race in Europe. But I was riding my ass off and getting seventh and just didn't have the will and desire anymore.
I remember the moment I was in Switzerland at a GP, I was sitting down, and I see Ben Townley walking to the starting gate with his sun glasses on, and he had scored first gate pick with the fastest time. I saw how he was walking, I saw how carried himself, he knew he was the guy to beat that day. At that moment I decided it was time to move on with my career. I knew I shouldn't be thinking that way about retiring. Over the next few weeks, I put a plan together with Tallon on making a transition.
It's hard to give effort after you know you are done. I think that's what happened with Kevin Windham. When you get to that point where you are done and you don't want to risk it, it sucks to keep pushing. But when racing is all you know, you don't know where to draw the line. When you're a kid, winning and going fast is the only thing on your mind and nothing else matters.
You seemed to embrace the whole "international culture" thing more than most Americans racers. It's cool that you landed at an Italian company after your career was over.
Well, it wasn't by accident. I spent nearly seven years living in Italy. I went down to Acerbis with my brother, and we met with Franco during the summer of 2002. He was really cool and offered me a job working with the racers they sponsored. It gave me a chance to learn and get involved with the industry on the commercial side.
But here is the crazy thing: I had never used a computer! I didn't even know what a file folder was on a computer in 2002! I was a racer and that's all I knew. So I fully put myself 100 percent into learning the business, and here we are. I'm fluent in Italian, and I can understand how things work on both sides of the pond, so I think that's really helped me.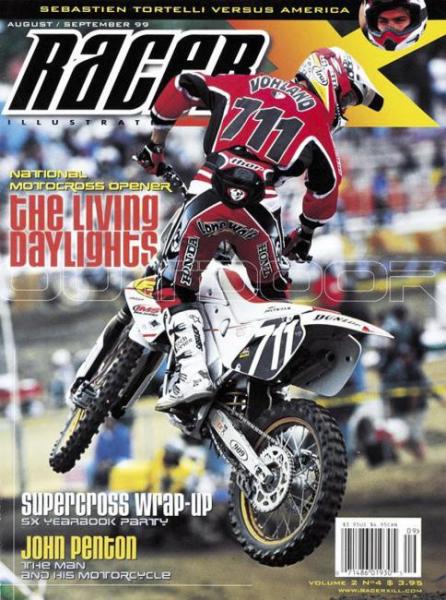 The "Lone Wolf" shocked everyone with his speed early in the 1999 125 Nationals.
Let's talk about your racing career a little bit. What sticks out the most to you?
There's so much, I don't even know where to begin. Probably leading the World Championships in both 1996 and 1997. I had some great battles, mainly with Stefan Everts and then Ricky [Carmichael], so I didn't have it easy. As for my stats, I've won a 125GP and 250GP, as well as three supercrosses and one outdoor national as well as some motos. I think what was really cool was racing overseas; the trophies and podiums were awesome. In the Czech Republic, Poland and Russia, they were known for really nice crystal. In Spain and southern Europe, it was pottery. But racing overseas was just so cool and so different.
How did you adapt to Europe, especially when so many Americans seem to fail there?When I was a kid, and first over there, I hated it. But then once I got into the system it was good. Things are slower and very different. But once you get into the routine, it works. But now it's easier than ever with things like Skype. But one of the biggest things that helped was having my brother come over with me. It took me three years to learn the language and really figure it out to the point where I could really focus on the job of racing. He was a huge help for me.
Tell me about the 1999 season. You came back to the States and it was a huge breakout for you.
That was a crazy season. It started with Bobby Moore, [who] was my roommate from Europe and then became team manager for that FMF Honda team. He called me up and asked if I wanted a ride. He sent me a contract, and I saw $25,000 for a win bonus, and I was ready to sign right away! I knew that if I was ever coming back, this was my chance. I felt good in good supercross, but not great. I was struggling with the bike, the thing was popping and bogging and I thought I made a bad decision. I took some time off from supercross and focused on the outdoors. We got some help from Jeff Dement's team in Italy, and I found a set up that worked. I was so determined and committed that winning was my only option. At that season opening race at Glen Helen, I reeled in Ricky. I passed him, but then fell. Then in the second moto, I won it. Then I beat him (Ricky) at Hangtown and it was on. I was competitive all the way through the eighth round, but then I crashed and got run over three times and was hurt. But I had something for Ricky for sure in 1999.
Would you have changed anything about your career?
Me and my brother, we worked really good together, we had our program. But a championship is long and you need to manage yourself and come on stronger halfway through the season. A lot of times I started the season strong and had nothing else left once things got under way. One other thing—I had an offer to ride for Mitch [Payton] in 1991, for his new team. I didn't take it. I thought it wasn't factory enough, but little did I know! I took a deal with Suzuki. The money was better, but the bikes were not as good as Mitch's.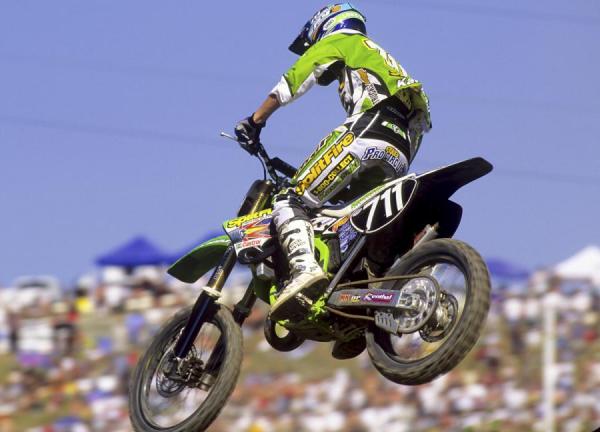 Lone Wolf, and also "TV Show." Nicknames....Where are they now?
Fran Kuhnn photo
But you then went to Pro Circuit in 2000, nearly nine years later!
Yeah, and believe it or not, it was Ricky that got me that ride!  He told Mitch to hire me since he was moving up. But I just didn't gel as good with the Kawi. I wasn't as fast as I was in 1999. I won some stuff that year—a few supercross races—then I broke my shoulder while leading the series. But by then, [Travis] Pastrana and [Stephane] Roncada had come in, and they were really good. I rode for Mitch for two years.
How was the money for you during your career?
It was good. I did well in Europe. It was consistent and pretty good. But then when I came back to the USA, I made more money racing here because of the bonuses for wins and podiums. They don't have those in Europe. But then I got wacked in 1999. I didn't incorporate like most of the others, and I had to write a check for like $90k to the IRS that one year. That stung! But overall, I did well, and I put a lot away for retirement. I have a nice house here in Sacramento, and I'm in a good situation because of my racing. But now my kid is racing and it costs me a fortune! [Laughs] My kid has three KTM 65s and one 85, but it's not cheap! I still have to work, that's for sure.
Tell me about your wife and daughter.
My wife is Rachel, I met her when I came back in 1999. She was a friend of a friend here in Sacramento. We have a daughter, her name is Jade and she was born in 2001. Jade is into the horse thing. Then Maximus was born in 2003…. Uh, so Daddy watched a lot of gladiators, and that's how he got his name! Max is ten now and just starting to get really good on the bike.
I can tell! Did you push him into it?
No. He was just around it a lot, I guess. At five, he wanted a dirt bike, and my wife and I would come out to Prairie City to ride a little bit. We got him a 50, but he was a little crazy on it, so I got him into BMX instead. So we raced BMX all over the place for a few years. In 2010, he did his last BMX race and I got him a Cobra and off we went. I think he has a lot of natural ability and I feel comfortable with him racing if that's what he wants to do. He got second at Loretta's this year and he won every other national that he went to. And the funny thing is, my dad is still really into the racing. He is taking care of Max's bikes and helping take him to the track, which is awesome.
What is the biggest difference from when you and Tyson came up?
It was a lot different than when I raced. Back then my dad didn't know crap besides basic common sense. I think winning is a learned habit. He (my dad) did his best, but I really try to make Max focus on the right things. Risk management is the biggest thing—just trying to make smarter, more informed decisions. He gets to a point where you have a good day and it's time to go home, whereas my dad might just drive us into the ground and tell us to ride through another tank of gas. It's all about having fun still at his point. When he's 16 it'll be a different game. But right now it's for fun.
I think one thing that has really changed is the level of speed and the way the kids ride today. My son is already whipping and scrubbing better than I ever did. For us, that stuff was hard, and it was only ten years ago! Also, the input the kids have now is amazing. My kid watches Villopoto on YouTube all the time. I had to go to Gary Bailey to get him to show me videotape of myself riding, and that was a big deal. Now the kids have an external video and a GoPro to analyze and watch.
Are you doing the home school thing?
Funny you should ask. We just started a home school program after Christmas. This year, and after his good finish at Loretta's, we knew we needed to step up his time on the bike. He went back this fall to his school, but weren't getting the time to ride that we needed. He doesn't get out until 3:30, so it only gave us maybe an hour or so to ride, after driving to the track. But home school means many different things—education wise—and if I'm not comfortable with it, we'll go back to a regular schedule. As for me, I didn't finish high school, but I did what I had to do. I traveled the world and learned a different language and I made some money racing. I feel that my work ethic more than made up for a high school diploma at the time, and it worked out.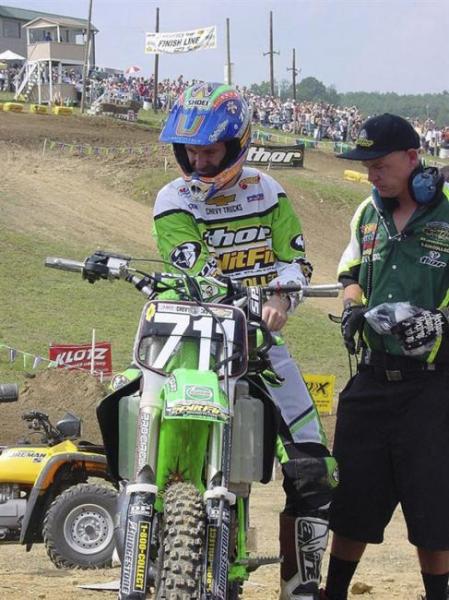 Tallon was a winner in the U.S. and Europe, and now takes care of business on the business side of the sport.
Racer X Archives
How involved is your brother Tyson with Max?
Tyson was a big part of my program and he was on my payroll for pretty much my entire career. He is involved with Max as well. I'm busy with Acerbis, so a lot of times my father and Tyson will take him out to the track. Tyson is also working with a couple of other kids up here in Sacramento as well, so they all stick together and ride. He has his training school. Both Tyson and I have both won Loretta's titles, and we have both won at Anaheim. He was really good in his day. What it all comes down to, we are a racing family, and that goes back to the 1970s. Max has some good guidance, so if he wants to go all the way, he should have the tools he needs. That's what's tough about our sport—the consequences of dedicating yourself 100 percent and then having it not work out. I want Max to be well rounded because you have to deal with life after racing.
I need to wrap this up, any closing thoughts for us?
Well, I lost my factory ride and went to Europe in the 1990s. That used to be the kiss of death. But for me, I came back and nearly won a title in 1999. Then Brownie and Hughes had similar deals a few years later. You just never know with your career! Same thing in business. Here I am ten years later with Acerbis and we just had a really good year, and we're hoping for a better year next year, along with some new products we will be launching in a few weeks. It's been a great ride for me and I still love the sport today!