A fast kid from Texas, Jimmy Gaddis started to make a name for himself in 1985. He rose through the ranks racing blazing fast R&D Racing Suzuki RM80s along with Buddy Antunez and several others. Gaddis parlayed his speed directly into a factory Suzuki ride for 1989. A few years later, he would secure a 125cc Supercross championship riding for Mitch Payton's Pro Circuit Kawasaki team, and would then win two AMA Arenacross Championships. But a bad wrist ended his carreer in 1998.
Gaddis is one of those racers that quit motocross and simply walked away, pretty much disappearing from the sport altogether. Tracking him down was tough, but I eventually found him in the Midwest, where he runs a family oriented campground and resort, along with his wife and family.
Racer X: Jimmy Gaddis, hey, thanks for doing this interview with me. Man, you were a hard guy to track down! What are you doing with yourself these days?
Jimmy Gaddis: Hey, no worries. Sorry to be hard to get ahold of, but it's been a really busy time for me right now, we are getting ready for the winter. My family and I, we own a campground here in Steelville, Missouri. It is a pretty cool place, pretty much a full family style RV resort and campground named Garrison's. We also offer canoe rentals and rafting, as we are on a river. But we have a lot of different stuff going on. The place has full RV hookups, cabins, horseback riding, basically just full time entertainment for families and kids. Our facility is 260 acres, and during our busy seasons, we might have we might have 1000 people staying over each night—so it is a pretty big responsibility as an owner. We are about an hour or so from St. Louis, so we get most of the business from there. The location is in the Ozarks, if you have heard of them. Our season runs from April 15 through October 15, so it is wide open during that time.
Wow, 1000 people per night is pretty big as far as hosting people and letting them stay the night. How did you go from motocross to this?
It was just something that my dad and uncle wanted to do. They were looking for something that the whole family could be involved with, and where we could all work together. This popped up for sale—it needed some work, but my dad and uncle had done construction, so they knew they could do the work. So we all just went into together, and here we are!
Where are you from originally? I seem to recall you lived in Las Vegas?
Well, I was first from Texas—we lived in the Dallas area. But then we moved to Arizona, and then Vegas. When I was done racing, we all moved to here.
Do you have a family of your own?
I do! I am married to my wife Tammy. We got married in 1994 after I won my 125 supercross championship. I went on to win the two arenacross championships, and we now have three kids—our oldest daughter is Erin, and she is 17. Then our oldest son Jimmy is 15, and our youngest son, Samuel is 13.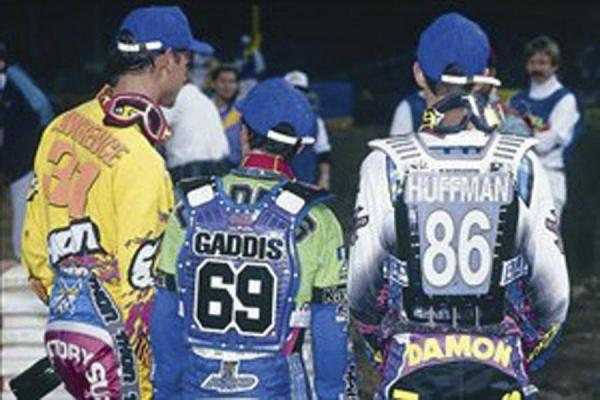 Gaddis wasn't the biggest guy, but he survived a challenge from Suzuki's tall boys, Phil Lawrence and Damon Huffman, to take the '93 125 West SX title. Later, he'd notch two AMA Arenacross titles.
Moto Verte photo
Do you guys ride at all? With three kids, I am guessing there is a motorcycle tucked away somewhere?
Actually we do. We all ride for fun, it's nothing serious. We live a few miles down the road from the campground, and the whole area is just great for kids. There is so much to do, and it's not just riding. But we do that in the spring and fall. But with the campground, its tough, because our busy season is also racing season, and you can't be in two places at once. So the boys don't really race, but we do ride for fun. My oldest wanted to race, but with the campground at its busiest on the weekends, I just couldn't get away.
Lets talk about your racing career, and how things wrapped up for you. You just walked away seemingly cold turkey back in the late 1990s. What happened?
I had a bad wrist. The last race I tried was the 1998 U.S. Open of Supercross. But my wrist was already messed up, actually going all the way back to 1989. At that (Vegas) race, it locked up on me. It was my throttle wrist, and you know that's not good. I went full on and wide open into the sidewall of the stadium, and that was enough for me. I knew that if I kept going, or tried to keep going, I was going to get hurt. And with that, I knew I had to stop racing. But quitting was really hard. Racing was all I ever did, and I really loved it. So I had to fully quit and just walk away from it.
I hung around in Vegas for a year or two, and my dad and wife had a lighting company, but then we came to Missouri in 1999. But the transition away from motocross was really hard. You don't know what to do with yourself, slowing down like that. You are used to flying out every weekend. But that was the deal, I just couldn't really quit slowly.
Do you still follow the races today?
Yeah, somewhat. I only recently started watching the races on TV, maybe five or six years ago. I will go to the St. Louis Supercross and see Mitch and Bevo once in a while. But I don't really come around the sport very much, I am just happy and busy working and hanging out with my family. Don't get me wrong, I love the sport, but I just moved on once I was done racing.
What is your impression of the racing today?
It looks good. I am actually glad I am not in it though! The biggest thing is seeing those four-strokes go so good. Back in the day, they were big heavy tanks. I never would have thought they would be as good as they are. If you were big guy on a 125, then you didn't jump the triple in supercross. But now, I think everyone is doing it. They put so much power to ground, it's just crazy.
As an amateur rider, you had a factory ride on the R&D Suzuki RM80. Those bikes were pretty legendary, and it seemed like a cool program. What do you remember about that period of your career?
Yeah, that R&D bike was really cool. Denton Campbell had the ride before me, but then he broke his back and was out, and Suzuki had the opening. I ended going with them in 1984 or 1985. I did well and won a bunch of stuff on that bike. Then I came off the 80s in 1987 or so, and wanted to race amateur for another season. I thought it would be cool to do the Golden States and Loretta's again as an A rider, but Suzuki had other plans for me and basically forced [me] to go pretty much straight into the 125 pro class. Thinking about it today, I would say that Suzuki did not want me to win a bunch in the A class and get a bunch of offers from other teams. But it would have given me a better chance to move up and learn the ropes without so much presure. So I went pro during the 1988 season, and then pretty much right away had a factory ride. In 1989, I broke my wrist at season opener at the Houston Astrodome, and that started the wrist problems that I had for my entire career.
Then 1993 was an interesting year. You came in and won that championship with Mitch. Mitch had had just moved from Honda to Kawasaki and things were a little dicey for him, and you left Suzuki after nearly ten years of riding for them. What do you remember about that 1993 season?
That was a really good year for me. I was coming off of some very tough years and was very motivated to win. I broke my wrist in 1989 and that first year with factory Suzuki, and things got hard, quick, for me. By 1992, I was pretty much a full privateer with some small support from Suzuki. I had some bad luck for several seasons and had not gotten the results I knew I was capable of. Mitch made me an offer, and I asked Suzuki if they could match it, and they said no. So, I signed with him, and we won. That was a really good outcome. My goal that season was simply to be on the podium every weekend. Basically, just slow down and finish top three every time.
How was it to ride for Mitch?
Oh man, he was a really tough guy to ride for. You don't slack off with him, that's for sure! I remember that the two of us went round and round because I was always slow in practice, and pretty much at every race. That was tough, but it was true as well. But I always told him not to worry, I would be fast for the race, that was always somewhat of my style.
But then I pointed out after winning in 1993, so I could not race that class again. That was hard, there were not really any options for me in the 250 class. Mitch and Kawasaki made me an offer for arenacross, and it worked out that I could make more money doing it that way. As it was, I actually wanted to go back to supercross, but Kawi wanted me to stay in the arenacross program. But it was good and it worked out.
How was the money for you?
It was good—you always wished you made more. It wasn't like it is today. I was about ten years out of the big money deals. But I loved it, I got paid to do what I love and got to travel all over the world. It was a good way to make a living and I was really blessed to have that opportunity .
What are some of your favorite memories from your career?
The highlight would be winning that supercross champsionship. That is all I ever wanted to do as a kid. After I broke my wrist, it was a long and hard road road back to the top, from 1989 through 1993. I was thankful that Mitch gave me the chance to do it.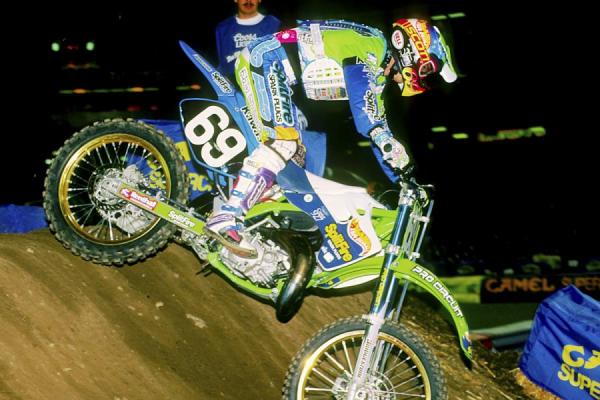 Gaddis' SX crown was pivotal for Pro Circuit, which had moved to Kawasakis late in the off-season and didn't have much factory support. Twenty years later, they're one of the strongest teams in the biz.
Moto Verte photo
In speaking with you, you seem very mild mannered, but you were never afraid to bang bars and get pretty aggressive while racing. Where did that aggression come from?
Well, in my very first first pro race I got banged around by Bader Manneh. He hit me really hard coming into a turn and I thought, "Oh man, I am gonna have to get tough here, I am not taking that one bit." So right away, I was never afraid to bang some bars, which I think helped in arenacross. In arenacross you have to ride that way, the main event is only about 10 minutes, so you gotta ride quick and really fast. But I also knew if I gave it out, that it would come back. I always tried to be fair about that.
What does the future hold for you?
Hopefully nothing too crazy! Now it's the off-season, so once we are done closing down the campground, we can relax a little bit. We like to hunt, and we normally go out west hunting each year, but not this year. My wife is from Texas, so we will go down there later this fall and see some her family, and ride some horses. We just work hard all summer and then take the winter off. It is a lot of long hours during the summer. My father, my wife, my cousin, they all work at the campground from Memorial Day to Labor Day.
I am thankful for what I have, and what I was able to do with motocross. It was my passion ever since I was little, I made it through the sport and had a good time. I had fun and gave it my best shot. One of the biggest thing is I am thankful for is that I have my health. I have some pain in my body, but it's nothing that gets in the way.
Well Jimmy, thanks for taking the time and enjoy your off-season. If people want to look up your campground, where can they find it?
Thank you for being patient with me! Our website is garrisonscanoe.com, and we open back up in the spring.