Racer X Online is ranking Team USA's Top 25 riders of all time as we count down the days to the 2013 Monster Energy FIM Motocross of Nations. The race will take place on September 28-29 in Teutschenthal, Germany, and Team USA will be trying to get the Peter Chamberlain Trophy back from the home team and defending champions from Germany. Today we are at #21 on our countdown, another legend!
There were four men on the 1981 version of Team USA, the first time the United States ever won the Motocross and Trophee des Nations. All four men—Donnie Hansen, Danny LaPorte, Chuck Sun and Johnny O'Mara—would be inducted into the AMA Motorcycle Museum Hall of Fame. So it's hard to rate one against the other on this list, with the obvious exception of Johnny O'Mara, who not only was a hero in '81, but also on several other winning versions of Team USA. Donnie Hansen has already been ranked, #23 on our list. Now comes #21, Chuck Sun.
Back in 1981 Chuck Sun was a member of Team Honda and the defending AMA 500cc National Champion. He was also the only rider in the quartet chosen by Roger DeCoster to have any experience in Europe, having raced the 250 GPs a few years earlier for Husqvarna, as well as having been dubbed to race for Team USA in the pre-'81 years. In 1978 Sun went along with Bob Hannah, Rick Burgett and Tommy Croft to carry the flag in Europe, and the team ended up a respectable fourth. But then the Americans failed to return to the event the next two years—arguably the peak years of Sun's career—and Chuck would not get another chance to compete until 1981.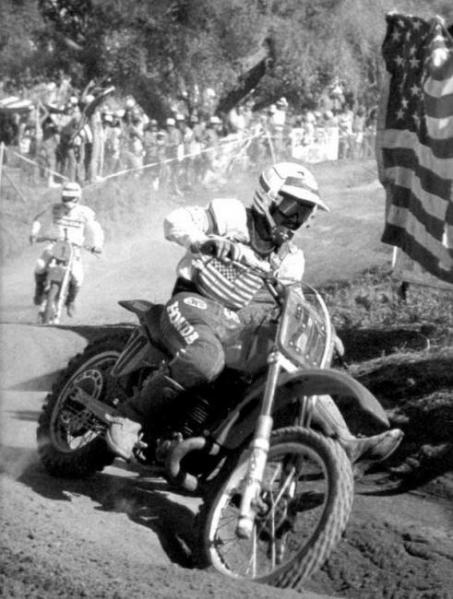 Sun was a member of the first Team USA victory at the Motocross des Nations.
Washington State Motorcycle Hall of Fame photo
It was in those fateful races in '81—in Belgium and Germany—Sun found himself in a position to redeem himself and his career. He overcame a blown shock in the deep sands of Lommel, Belgium, to carve out 8-6 finishes and help lift the Americans to their unlikely win. One week later in Germany, he overcame problems again to get the job done, putting in a solid effort to ensure that Team USA won again, and prove that the previous victory in Lommel was no fluke.
Unfortunately, the best days of Sun's career were behind him after that September 1981 rampage across Europe. While his three teammates would all go on to add championships and accolades in the seasons to come, Sun was in his twilight as a professional racer. Nevertheless, given his presence on those game-changing 1981 teams, as well as his earlier service for Team USA, we have Chuck "the Rising" Sun set as #21 on our list of Team USA's Top 25 riders of all time.
Tracker:
#25 Mark Barnett