Miller Motorsports Park
Tooele

,

UT
Utah National
Lucas Oil AMA Pro Motocross Championship
Adam Enticknap is exactly the type of rider we like to profile in this space. This 23-year old from Lompoc, California is one of those riders that make the sport go round. Adam's not a flashy guy, he's a privateer workhorse trying to make a living racing his dirt bike. At Miller Motorsports Park he scored his first point all season (he only did three races) and this comes after making two supercross main events this year. There is a lot of debate about what a privateer is or isn't these days but there's no doubt that Adam Enticknap is a privateer trying to make it happen. We caught up to Adam days after Lake Elsinore to find out more.
Racer X: Adam, thanks for doing this. Let's talk a little about your background and how you got into racing.
As a kid I was just into trail riding with my dad and it was fun, we got into BMX. Then I started thinking about how much easier it was to twist a throttle than pedal a bike so I got into motocross. Little did I realize then how it's actually way harder to twist a throttle! I started riding dirt bikes more and more and I'd say I was 15 or 16 I was in the novice class and started winning. I won Lake Whitney and Oak Hill novice classes and we kept doing it. My dad, my little brother and I started tearing it up at more races. I broke my femur and ankle when I turned intermediate and was out for six months or so. Then we did some more races, I think my best finish was a sixth or something.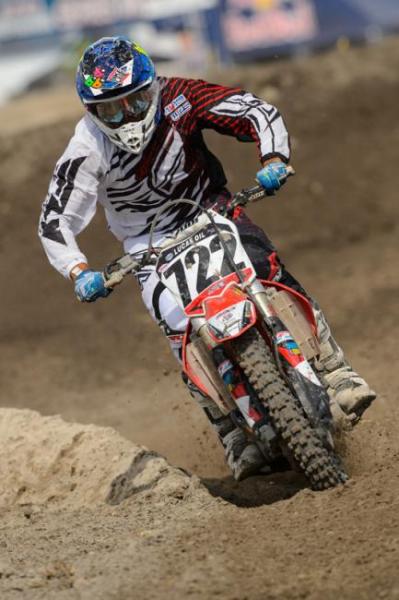 Photo: Simon Cudby
We decided to do supercross because my dad took me to supercrosses when I was a kid and Jeremy McGrath was my idol. We talked about it and decided that it was time to jump up. So we went to this SX camp thing and I was still an intermediate at that point. I got my pro license and the guy at the camp told me that he could get me my supercross endorsement if I went there. I wasn't Chad Reed or James Stewart or anything but I had been doing well as a pro. So I went to the camp and then we went to Anaheim 1 and he couldn't get me in.
I met Kevin Crowther from the AMA and he made a deal with me where I had to go to some arenacrosses, show him what I had and he'd give me the 450SX endorsement. So that was it, we were off to arenacross and I had a kick-ass time with my pops traveling to those and did well. Then I got enough points and we headed to Houston for the supercross.
So your climb from novice to racing supercross was pretty rapid.
Oh yeah for sure. I mean when I was novice I was this super chunky fat kid and I lost quite a bit of weight. We were just "Let's do it, it would be sick" and we did.
Hey you made a couple of main events this year, which must have been cool.
That was insane. The first one Matthes, at Houston, was nuts. All year long I battled with my suspension thinking it was too soft. I spoke to my buddy and we went and got a different company to do it and it was so much stiffer and better, it was ridiculous. I went out there at Houston, my first weekend with the stuff, I was having so much fun. I qualified 26th or something. I went out there and I was right next to Jake Weimer! I was to the left of the box and bro, I had never been left of the box before.
The cards flew my way that night also because Bobby Kiniry in the heat race got crazy. I got a decent start and around the second corner, Kinry and Nicoletti got into this pile-up and they all gooned out. They went down, took down Millsaps and a bunch of people. I was eighth or so and passed some guys to get into fourth. I was fourth dude and it was so sick! I ripped those laps off like I'd never ridden before. I think in all reality was that when I got to the finish line and looked at the pole that's there with the numbers, it said 33, 41, 18 and then 722. That was me! Right there I was so happy and had so much fun.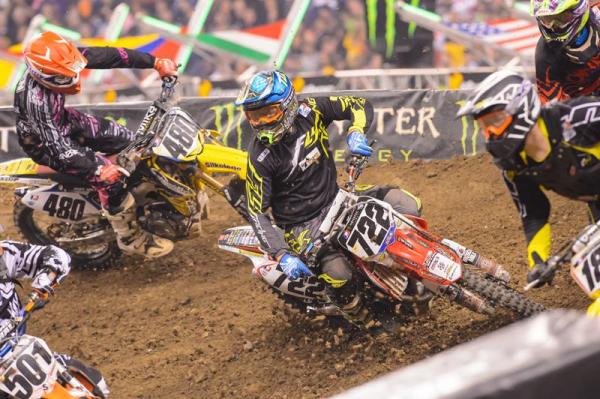 Photo: Simon Cudby
Salt Lake main was great. I didn't even know I made it. Cody Gilmore got it on the last lap and then crashed. So I thought I was tenth and I looked up into the stands and my dad was freaking out. Then someone told me I made it and I was like 'Yes!"
You only did a few outdoors but one of them was Miller Motorsports Park where you and your little brother Tyler finished 20th and 21st. That had to be pretty sweet.
That was amazing. This year was a lot of dreams come true. My brother and I ride together every day and to have him step up there, it was his first national he ever made and my second ever- I've never had the money to do them and travel - that was pretty sick. I never picked up on the motocross stuff. To have him and I on the track it was something that I'd never experienced before. To be out there with the Villopotos and Stewarts and then my brother and I. We weren't mixing it up in the top ten but we were in there man.  We couldn't have asked for more than that.
He qualified 23rd and I qualified 36th. I'm not a very good qualifier but after the race I gave him such a big hug, it was sick.
The plan is Monster Cup and the plan is to train and ride down south and then I'm going to get a track built at my place up north a bit and I'm about fifteen minutes away from Jim Castillo's SX track and he lets me ride on there. So it's back and forth between those places. I'm going to train my ass off also.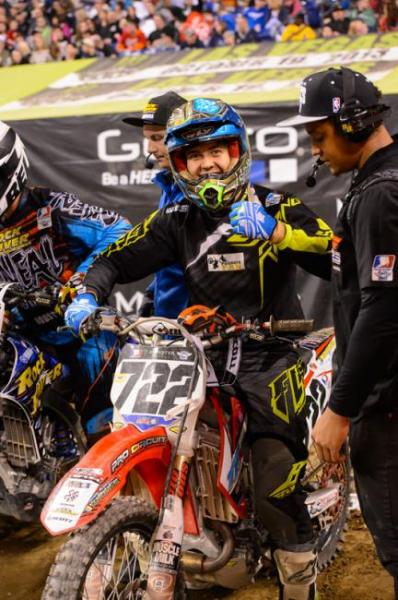 Photo: Simon Cudby
I think my biggest problem is my eating. If I can get my eating better that will help my whole program, I'm really going to focus on that. I road bike, I train and ride five days a week so that part is good but I need to work on my eating.
Yeah, me too.
(Laughs) Well that's going to be my big focus this offseason and then in 2014 I'll do all the supercrosses going as hard as I can pinning it. I can't wait man, I'm excited.
I'll do the Teddy Parks program again. If it wasn't for that dude, that dude helps me so much. I stay on his rig and he takes me to all the rounds. We stop at places during the week to train and ride and he even coaches me a bit when it's him and I. When it comes to the road it's Teddy and I all the time. That dude is a bad dude, he can fix anything. He'll take it apart and fix it, he's crazy and as old-school as it comes.
Is Tyler going to do the supercrosses also?
Yeah that's the plan. Tyler will travel with Teddy and I and do the whole privateer journey thing.
You know any of the factory dudes, do you hang out with them?
I don't really know any of those dudes. I mostly know the privateers. Weston Peick is a cool dude, I don't know how he got the super hard ass image but he's a totally cool guy. He helps me out the most and will say hi to me. We'll hang out and he'll help me out with my technique and tell me what I'm doing wrong.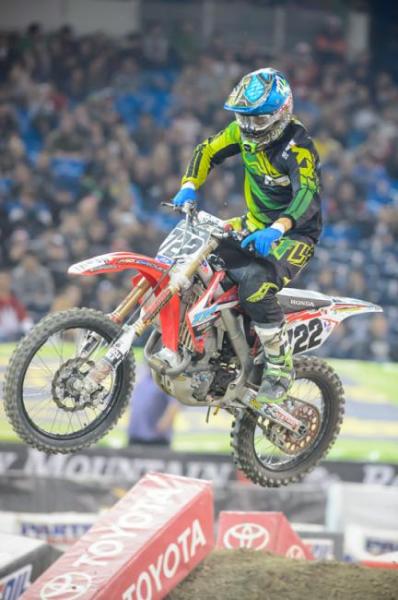 Photo: Simon Cudby
Davi Millsaps is one top guy that's helped me out. He's a cool dude. I know those guys are 100% focused so I'm not worried about it. Chris Blose has said hi to me at Milestone a time or two. Those guys do not intimidate me at all, what's Villopoto, 5'6" or something? I'm 6'2" and 200 pounds, there's some worry in the back of my mind but it's also like 'Dude, I want to pass you so bad' which I want that attitude and not 'oh shit I'm out here with Chad Reed'.
What do you do for money in the off-season, do you have a job?
What works for me is doing a moto school here and there but if I need some money I'll work with my mom and dad at Allied Fence Company. Like, I'll be doing that soon to get some money. I'll be digging fence posts because I'll need money. When I go to practice, it's $50 to ride a supercross track. $20 bucks in gas and it's a $125 day to go practice not including food.
Adam Enticknap's sponsors are: Privateer Journey, Fly Racing, The Ries family, BTOSports.com, Scott Goggles, Promotofan.com, Rekluse, mom and dad, XLT, Dunlop, A-Star, Asterisk, PMP, Engine Ice, Bike Life, Pivot Works, Galfer, Motographix, Hot Cams, Meynet Racing, Dave Humphrey, California Coast Plumbing, Renthal chains, ODI Grips, Naveen, FMF, CP Pistons, Dave and Jim Castillo, Marty Painter, Ted Parks Family, Moto Hose, ICW Radiators, No Toil, Moto Tassinari. Matrix, Stevens Family, PREBS, Tommy Taylor