Hello, everyone, and welcome to the Rev Up. With the season in the books, I'm going to spend the next few weeks going over some of the most poignant aspects of what was a magnificent year. Moving forward, I'm sure you've noticed the gear companies advertising all over the map about their 2014 kits and if you're like me, this is one of the best times of the year. I don't think I'm alone when I say that I'm past halfway vein about my motocross appearance. Hell, half the fun about riding motocross is looking cool. Over the years some of my personal favorite outfits were the pink tiger-striped GEAR Racewear, the black jersey with orange pants Thor assemble and my all orange Sinasalo/AXO Tuff Racing kit from 1993 that Ronnie Tichenor wore. What makes a kit stand above others to me is the way it stands out on the track. The gear should look almost the same from three feet or 300 feet. With this in mind I'm going to post what I call the top five hottest kits on the starting line in 2013.
#5 - Eli Tomac's orange Alias combo
This was a bold and clean look that screamed, "I'm fast." When they busted out the orange gear juxtaposed against Tomac's red GEICO Honda, they nailed it. I've never been sure why orange looks so good against red, but on a motocross track it's very tough to beat. With a nod to the icon, David Bailey, Tomac looked outstanding on the track in this color way, especially on the sands of Southwick. When he finally took over the red plate it just made the look blow up even more. Thumbs up for the upstart gear company.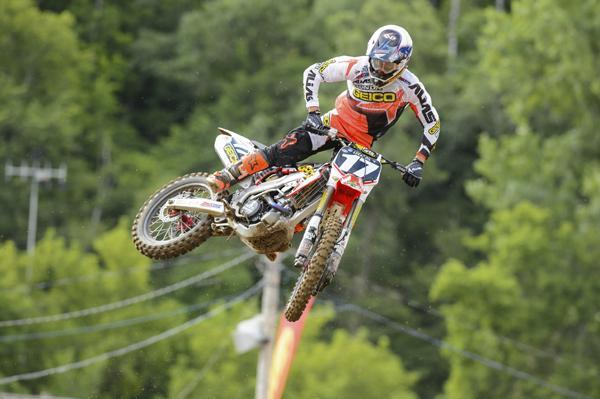 Simon Cudby photo
#4 - Davi Millsaps's Rockstar outfit
This is a prime example of combining simple with a little flash. The bold yellow against black design was spruced up with some pin striping and I thought he looked dynamite on his black and yellow Suzuki during the Monster Energy Supercross series. His matching helmet finished off the look cleanly, and for a brief moment this was the kit that had every set of eyes in the industry focused upon. Davi and this look produced one of my favorite Racer X covers of the year as well.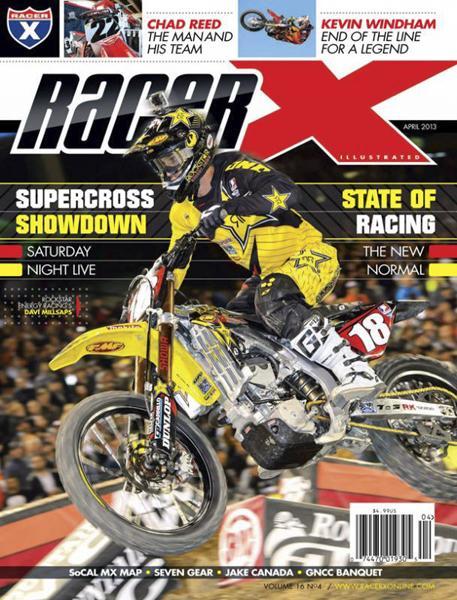 #3 - Any outfit Broc Tickle wore
Throughout the season, Tickle and his RAM/Sycuan/RCH Suzuki was one of the best looking combinations on the track. This wasn't a surprise when you consider the fashion forces of Fox Racing and Carey Hart collaborating on the look of rider and machine. I tend to like it more when a rider sticks with one or two standard looks for the season, but the constant variety of gear this team put out was killer.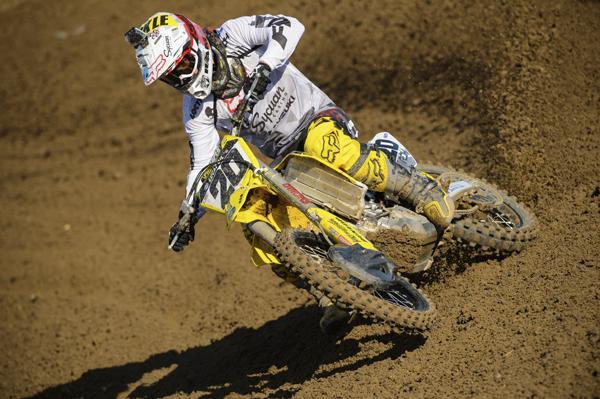 Simon Cudby photo
#2 - Chad Reed's Red SHIFT Daytona kit
This was the point in the season where Reed was really trying to change his fortune. The most dominant Daytona rider in the past decade came into the race dressed to kill. SHIFT did an outstanding job on the CR22 stuff all season long, but this aggressive looking kit struck fear into the competition as Chad threw nac-nac's in practice and looked fast all the way up until he ghost rode it coming out of the rutted left hander. A close second place in Chad's closet was the pink kit.
#1 - Jake Weimer's green and blue Answer gear
If you're going to race a Kawasaki you have to run green gear, I've said it all along. The green color way is one of the most unpopular with clothing brands because it pretty much pertains to Team Green fans, but it looks so, so good on a KX. Throw in the sano plush factory SR450F that Ryan Villopoto and Jake raced in 2013 with the blue accents, and this combination was my favorite look by far. I really wanted to throw a lot of love towards Answer because they're up against some giants with Thor and Fox. In my opinion, it has been a while since they've put out gear that caught the eye, but Weimer consistently looked like a boss out there on the track.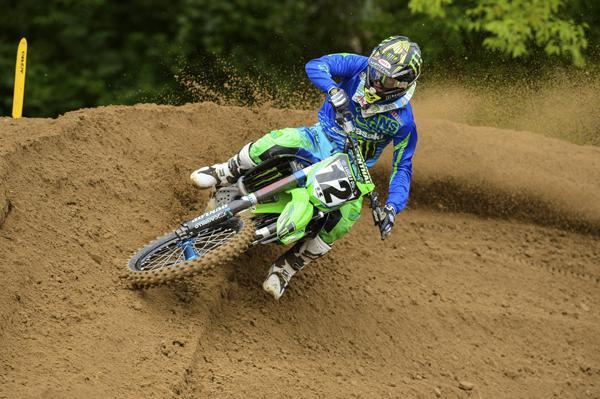 Simon Cudby photo
Honorable mentions:
- James Stewart's gunmetal grey/blue SEVEN outfit
- Ken Roczen's season ending 2014 Fox kit
- Ryan Villopoto's green Thor gear
- Jeremy Martin's white and blue Metal Mulisha/MSR look
- Justin Brayton's blue and white ONE Industries outfit
- Malcolm Stewart's neon green Troy Lee outfit at Washougal
- Andrew Short's purple / red / white Fly Racing kit for the Utah National
As I mentioned, it is that time a year again! What were some of your favorite gear combos throughout 2013, and what kind of gear will you be purchasing for your 2014 look? All of the gear companies have some super sharp stuff out there, and some of the price point kits are the cleanest. Unlike the machines it seems like the riding gear is not only getting more affordable, but better looking and more durable. It's a great time to be a motocross fan, for sure.
Thanks for reading, see you next week.