Ryan Villopoto: 1st overall - 563pts (1st after round 1, 1st after round 6)

OF NOTE:
Ryan Villopoto never wavered after taking the red plate from Dungey at Hangtown. He led the series from start to finish en route to his second 450 Class Championship.
Ryan Dungey: 2nd overall - 507pts (2nd after round 1, 2nd after round 6)
OF NOTE: The RedBud National loomed large at the time. Trailing RV by twelve entering round 7, a mechanical DNF in moto 1 left Dungey in a forty-point hole after RedBud. Two rounds later at his home race, Millville, a chain derailment in moto 1 left Dungey unable to capitalize on an early Villopoto crash—gaining just one point in the moto. Remove the bad luck in those two motos, and Dungey would have been right there in points for the stretch run—but that wouldn't have mattered, since RV was about to enter beast mode. RV ripped off six straight moto wins to end the season, and Dungey couldn't stop him.
Justin Barcia: 3rd overall - 411pts (5th after round 1, 3rd after round 6)
OF NOTE: Bam Bam went into hiding in 2013. The two-time Monster Energy Supercross Lites Champion harnessed his wild riding style, producing nine moto podiums in his rookie season. He never relinquished third after round two at Thunder Valley.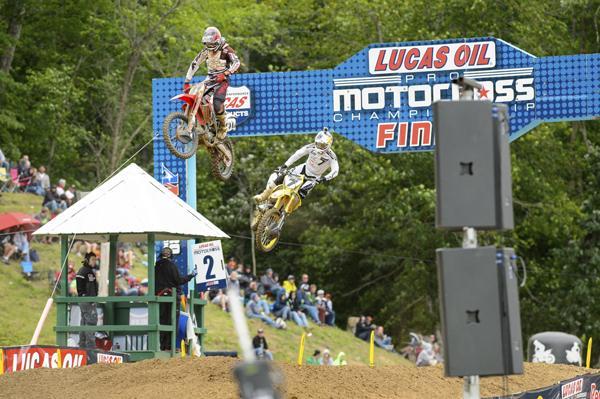 Trey Canard (front) held off James Stewart (rear) for fourth in points in his first full 450 season.
Simon Cudby photo
Trey Canard: 4th overall - 332pts (4th after round 1, 4th after round 6)
OF NOTE: The Comeback Rider of the Year completed his first full season in the 450 Class, garnering five moto podiums in the process. Canard was locked in a tight battle all season with James Stewart for fourth in points. After they both logged their best rides of the year at Millville, Stewart left with a six-point gap on Canard. Trey survived a double goose egg at Unadilla as Stewart crashed in the second moto, re-injuring his neck. Canard bounced back with 3-3 scores in Utah (and Stewart, by the way, pulled out of the first moto there while he and Canard were battling) and took fourth overall at Elsinore to seal the spot.
James Stewart: 5th overall - 289pts (3rd after round 1, 6th after round 6)
OF NOTE: Stewart was struggling quite a bit early, sitting sixth in points and some 29 markers behind Canard after Southwick. He then came on strong at mid-season with 2-2-3-3-1-3-3 finishes to pass both Canard and Mike Alessi in points. Then Stewart scored zero points over the last five motos after crashing out of Unadilla, pulling out early in moto 1 at Utah and not competing at Lake Elsinore.
Jake Weimer: 6th overall - 275pts (13th after round 1, 10th after round 6)
OF NOTE: After a slow start—Weimer was mired in a run of 0-5-9-3 points scored in four of the first five motos to begin the season—the Kawi rider merely hovered around the top ten in points a majority of the season. Sixth was a faint possibility after round seven—Mike Alessi was 39 clear—but Weimer caught fire late, and Alessi ran into a slew of problems. Weimer averaged nine points per moto in the first six motos of the season, but averaged 15 points per moto in the final six.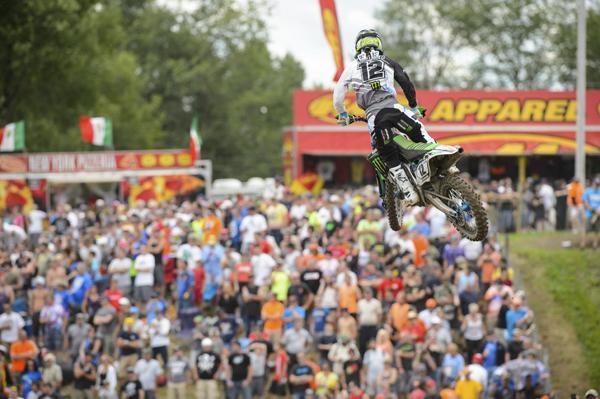 After a slow start to the season, Jake Weimer caught fire late to secure sixth in points.
Simon Cudby photo
Andrew Short: 7th overall - 262pts (7th after round 1, 9th after round 6)
OF NOTE: Weimer wasn't the only rider to benefit from Alessi's troubles down the stretch. With little time on the KTM before the start of the season, Short started slowly. A podium at Southwick—his lone podium of the season—sparked Short's second half, and he and Weimer ended up in a battle for sixth at Lake Elsinore with Short six back of Weimer. Short picked up two points in moto 1 to cut Weimer's lead to four with one moto to go, but Weimer responded with a fourth in moto 2 to seal the deal.
Broc Tickle: 8th overall - 236pts (12th after round 1, 8th after round 6)
OF NOTE: Tickle was also part of the battle for sixth, and led Weimer in points for a majority of the season. But Weimer gapped Tickle by 43 points over the final five rounds. Tickle was really hurt by a mechanical problem in moto 2 at Utah, where Weimer picked up 15 points on him. Weimer averaged 14.4 points over the final five rounds of the season to Tickle's 10.1.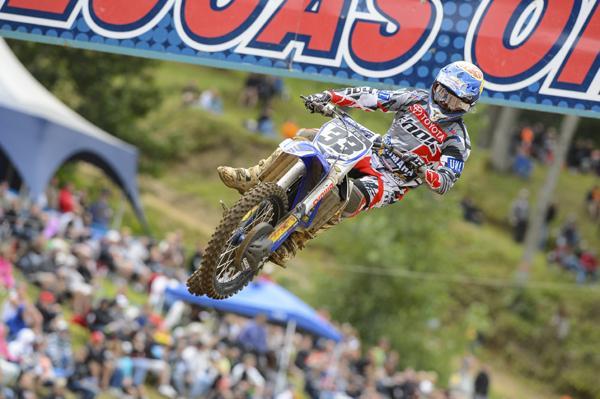 Josh Grant's mid-season charge helped him lock down tenth in points.
Simon Cudby photo
Mike Alessi: 9th overall - 229pts (8th after round 1, 5th after round 6)
OF NOTE: Alessi was stripped of 29 points at Washougal (maybe you remember that little thing over a laser pointer?). Alessi's 33-point lead over seventh (Andrew Short at the time) was cut to six. It kept sliding downhill. At Unadilla Mike was caught in a first turn crash in moto 2 and didn't finish, and then had to sit out of Utah with soreness. His fifth in the final moto of the year was a nice rebound, but by then Mike was barely holding onto the top ten.
Josh Grant: 10th overall - 228pts (24th after round 1, 14th after round 6)
OF NOTE: Entering the season coming off another injury in Monster Energy Supercross, Grant started the slowest of anyone to finish inside the top ten overall. With just 31 total points through three rounds, Grant was 18th in points after Muddy Creek! His season turned on the dime at High Point, where he scored 29 points—two shy of his points total through six motos. After Washougal, JG was just 12 points out of sixth, but then scored zero points in four of the final seven motos. Grant's position inside the top ten was never in serious jeopardy as he beat out teammate Justin Brayton by 27.