Lake Elsinore, CA
Lake Elsinore
AMA Pro Motocross Championship
It been a 2013 to forget for Monster Energy/Pro Circuit Kawasaki's Blake Baggett. We saw what "El Chupacabra" was capable of last year when he staged incredible moto comebacks to win the Lucas Oil Pro Motocross 250 Class Championship. Baggett's win was remarkable and there wasn't anyone who didn't think that Blake was the most deserving (and fastest) 250MX pilot in America.
But his 2013 season unraveled at the very first Monster Energy Supercross in Anaheim, California. In the first turn of the first 250SX main event a bike came flipping over onto Blake and snap, crackle and pop went his wrist.
Baggett tried fighting through the pain, but he soon packed the supercross series in to get surgery and hopefully come out with a strong defense of his 250 Class title.
And although it started off well with a couple of strong rides at Hangtown and a win at Budds Creek, the season didn't go Baggett's way. It was the worst title defense since Mike Brown slopped through the 2002 season for Pro Circuit Kawasaki.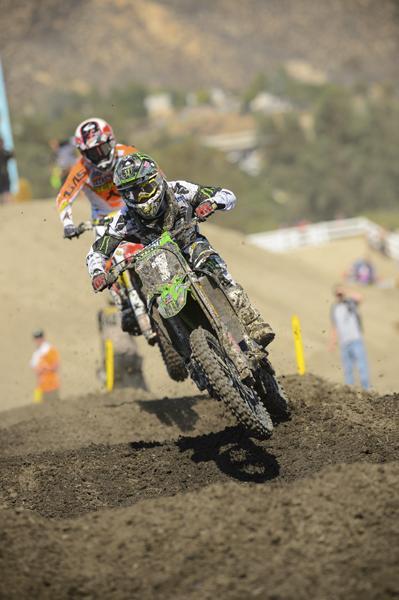 A wrist injury hampered Baggett in 2013.
Simon Cudby photo
Baggett hasn't been the same rider but this past weekend at Lake Elsinore, after a first moto DNF due to a couple of crashes, he was determined to go out with a bang. And he did exactly that. Sort of.
Blake rode extremely well the whole moto and fought off the new champion (GEICO Honda's Eli Tomac) with the speed, poise and aggressiveness that we saw last season. Yeah he wasn't going to hold onto the number one plate, but at least he can hold onto the fact that he won the last moto of the year. It's not much, but it's something.
But his aggressiveness caught up to him when he jumped a step-up when there was a downed rider on the other side and the wheels on the ground flag was displayed. Tomac did not and Baggett did indeed gain time on Eli with this move that, in my eyes, was totally unintentional. He just didn't see it. But rules are rules as any of our teacher's once told us.
Baggett would indeed go on to win the moto but was docked one position for the infraction and while the moto win will remain with everyone who was there, it's not in the official record books. Blake Baggett did not go out a winner and maybe with the way things went this year, it was appropriate. You can argue the harshness of the penalty all day long, but Baggett broke a rule and a penalty was due—no doubt about that.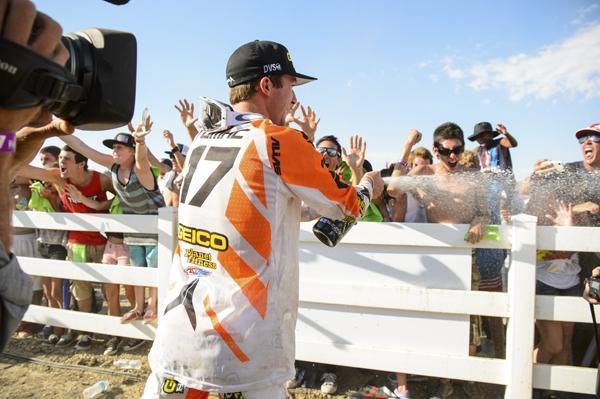 Eli Tomac won the second moto after Baggett was docked a position.
Simon Cudby photo
Baggett's not going to remember 2013 fondly as he goes back under the knife for another wrist surgery to try and get back to the level that we've seen him at. How much was the wrist and how much was Baggett (or the split from trainer Aldon Baker) is for the message boards, but it's going to be interesting to see if Blake can get back to his 2012 form.
If he can there's not much doubt he's the favorite to get the 250 Class title back. But that's for the future, as right now he's wishing he'd seen that flag so that at least he can know he didn't go down that easily.