Lake Elsinore
Lake Elsinore

,

CA
Lake Elsinore
Lucas Oil AMA Pro Motocross Championship
Hello, everyone, and welcome to the Rev Up. Everything that has a beginning has an end, and  the 2013 Lucas Oil Pro Motocross Championship both begins and ends in sunny California. From Hangtown to Lake Elsinore we have seen a lot over the summer. With both championships claimed and only the finishing flourish of the season left to enjoy, I wanted to go back and highlight what was a great championship—
The Good, The Bad, and The Ugly
style.
The Good
Knock on wood, but for the most part the injury bug kept his ass stuck at the screen door this season. There were more lucky moments than prom night in Las Vegas, but the boys kept her on two wheels mercifully well. A bad nod here in the good category is that some nagging injuries kept one title contender on the sidelines, while another was clearly winged all series. It would have been very interesting to see how Davi Millsaps would have ran with the boys of summer, while defending 250 Class champion Blake Baggett's wrist is only now starting to show strength. The good thing is Millsaps will be back next year, and Baggett just might conclude the 2013 regular season with a W.
We saw the most motocross friendly weather in history this summer. I'm no Gabriel Fahrenheit, but after a decade of watching the thermometer climb to triple digits we were blessed with mild sunshine all the way through. I don't use the word "blessed" flippantly, but when you're doing a pair of 30+2's on an afternoon, 83 degrees is nothing short of divinity for racers and fans.
The rookies were very good. This has to be the gnarliest rookie squad we've ever witnessed. There is usually a guy or two that makes some noise, but Jeremy Martin, Adam Cianciarulo, Cooper Webb, Justin Hill, Joey Savatgy, Shane McElrath, Brady Kiesel, Dillan Epstein and Matt Bisceglia were nine guys that raised some serious eyebrows. In fact, if it wasn't for an Extraterrestrial, Martin would have posted a W of his own at Unadilla. We'll be hearing these names for a long time.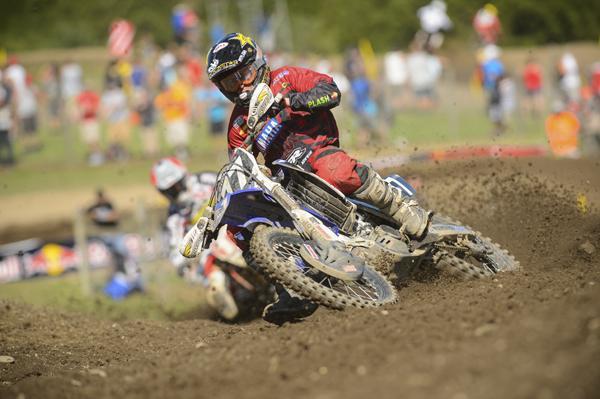 A deep class of rookies has the future of the sport looking bright.
Simon Cudby photo
The Bad
Chad Reed. This is a salty topic, but here is my perspective on the situation. When I ask my soon to be four year old nephew if he could meet any rider at the races he replies, "Chad Reed," and throws a thumbs up. That's because very recently he was kicking butt and giving some of the best interviews ever. Reed is a legend. He's a SX and MX National champion and he's beaten RC more times than anyone. That is saying quite a bit, which is what made it so painful to watch him this summer. It isn't that bad though. He still has one of the biggest lines in the pits, the coolest style and the chance to turn it all around. It will be one of the most welcome comeback stories ever if he can win races and challenge for a title in 2014. He did the exact same thing in 2011, and fans were on board with it, big time. Can he do it again?
Bike failures. In this day and age of hyper technology it still kind of baffles me to see so many bikes being pushed off the track. I suppose making big power is a tricky chess match, but it seemed like nobody was safe from mechanical woes. When Ryan Dungey lost 22 points for his failure it was over between he and RV. Dungey was brilliant on the bike and he was pretty close in points when that happened, which was bad for all of us fans.
It seemed like every satellite and factory team was pushing off the track at one time. Hell, Wil Hahn blew up two motos in a row! It seems to me with so much parity and so much these riders put into training that making the bike lasting a moto would be paramount. That said, they're all machines and machines break. But, Villopoto's didn't. Actually I don't think he has had a mechanical since on big bikes. He ate crap at ATL SX one year and packed dirt in his muffler but that's all I can think of. There is another parallel to RC's career. Carmichael never, ever broke. Which was bad for Windham's trophy case.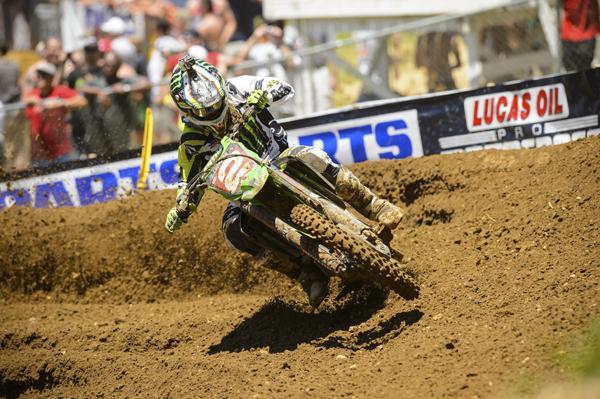 RV pushed the limits in 2013, which led to another 450 title outdoors.
Simon Cudby photo
The Ugly
Eli Tomac was straight ugly this summer. This has been an evolution that at times struck cliff faces in the form of huge crashes, bad starts and general brain fade. Tomac has a textbook fundamental style that invites more speed, and boy did he find some extra go fast around July. Actually, I think it was the first moto at Southwick when I began shaking my head in amazement. My only barb with E.T. was his penchant for crashing and he seems to be over that. He is the next guy to challenge Ryan Dungey and Ryan Villopoto on an outdoor track. The ugliest and most unfortunate thing is that Holland's Jeffrey Herlings is injured and we cannot watch the two titans go duke city at the MXoN. I won't say Tomac could beat Herlings because the new World Champion is injured. It's a huge bummer and it isn't living right saying someone (especially someone as amazing as Jeffrey) would lose while they're wounded.
The Viper. If any motocross rider deserves a moniker it's Ryan Villopoto. It's when he falls or gates poorly and starts just wheeling and shifting gears around the outside of crappy lines, when The Viper begins to hiss. I was pointing and laughing from the fence line watching him at Muddy Creek take the worst lines on the track and blow the numbers off of the competition. He can go faster anytime he wants to. Just ask Ryan Dungey who himself rode brilliantly all summer ... just not ugly enough to fully challenge The Viper. Muhammad Ali once said, "Bad, fast! Fast! Fast! Last night I cut the light off in my bedroom, hit the switch and was in the bed before the room was dark."
In closing, one of the things I took notice of was lap times, and oddly enough how the 250's were faster on average. When you look at the top ten average times in both divisions, the 250's won more often than not. Moving forward, is this a notion that the best riders in the world cannot hang on to a 450 for 30+2? I wonder if this stat was the same in the GPs? You don't have to look at lap sheets to notice there is closer racing in the 250 Class. I think the 450's are too fast for professional SX and MX racing and we really need to do something there. I hate it when folks poke a problem without a solution and mine is to simply race 250F's. Lift the production rule for the premiere class and regulate engine bores for the farmer division. Call it MX1 and MX2 globally. Another salty topic, but a glaring one I believe.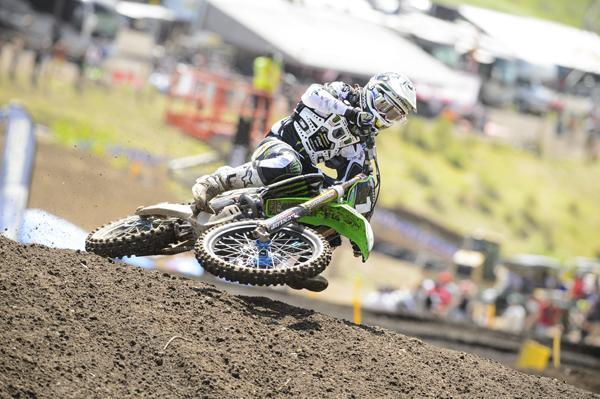 A wrist injury had defending champion Blake Baggett off his game in 2013.
Simon Cudby photo
Kudos from a writer's perspective to the management of this series when faced with adversity. Every major motor sport deals with fights, rule violations and infractions. I'm proud to be a devoted fan of a series with a governing body that dealt with the Washougal incident as cleanly and authoritatively as they did. I think we're all lucky to be fans of motocross right now.
Major kudos to the tens of thousands of spectators who packed their coolers and swung t-shirts from the fence lines. We had big crowds in SX and it carried over into the nationals. In an economic depression folks found a way to make it to the motocross races, and I believe this bodes well for all of us.
And now the curtain will fall after four more final motos at Lake Elsinore Motocross Park in sunny California. The twelve round ride across the country makes her way to the end with the pack still snarling towards another fantastic Saturday afternoon. There was so much to write about this summer, and who knows, maybe the biggest story of the tour will show up at the finale? It can get weird when there isn't much to gain or lose other than pride. Here's to the boys twisting it one last time for us! Let's give all of the teams, riders and personal a gargantuan push as they finish the game and thunder away into the sunset.
Thanks for reading, see you next week.