Unadilla MX
New Berlin

,

NY
Unadilla
Lucas Oil AMA Pro Motocross Championship
Una-effing-dilla. Yup, it was that time folks. Time for the annual Built Ford Tough Unadilla National, which this year marked the tenth of twelve rounds of Lucas Oil Pro Motocross. The historic track in the hills of New York has held some amazing races over the years and this year saw a major change in the track for the first time in a long time.
When you think of Unadilla you think of three things. The Screw-U, Gravity Cavity and Bob Hannah. At least I do, anyway. So the Robinson family (who promote the race) decided to use Gravity Cavity to its fullest this year and made the racers jump back down into it before hitting a wall berm and taking off. It was a nice change and one that was well-received. Of course the infamous tree turn that's always been there (which was a slow speed section around, of course, a tree) was taken out, but that turn has always been one-lined and a spot for crashes. Some purists may put up a stink about this turn being gone but c'mon, we have to evolve. Just don't take out my Screw-U or Gravity Cavity and we'll be fine. There was also new dirt brought in and a ton of rocks were sifted out, and it's a whole lot better than it's ever been in my opinion. I know, I was so looking forward to Unadilla the very first time I went there in 1996, but I found it not prepped very well, dusty and rocky. But from that day until now, it's a lot better.
My favorite Unadilla memory is Ross "Rollerball" Pederson on his production bike going out there against the best in the world and finishing sixth overall with 5-6 scores at the 1983 USGP. Wearing number 31 and running the full Coopercross pants, Rollerball shocked the world with his Unadilla result. Or maybe he just shocked me?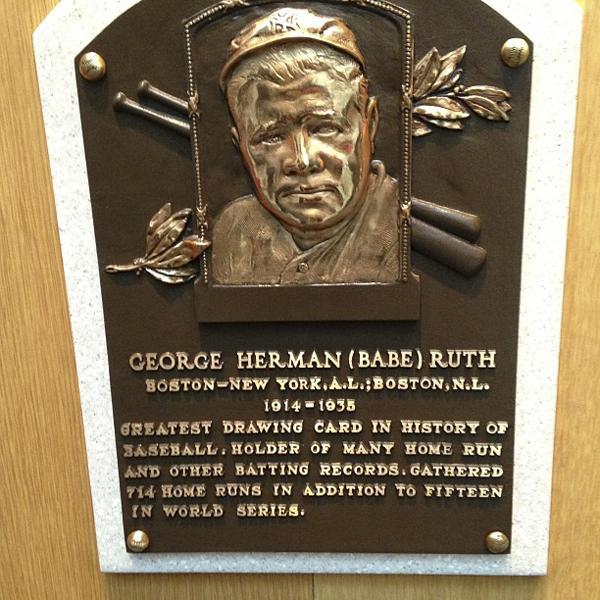 Matthes visited the Baseball Hall of Fame and snapped this photo of "The Sultan of Swat".
Steve Matthes photo
Unadilla has long been a thorn in my side as a National. You have to fly into Syracuse, New York (for my airline anyway) or Utica and it's always a very expensive ticket. You still have a ways to drive if you go to Syracuse and then on race day, you have another far drive to the track. It's the least convenient National of the year for most people. I have heard horror stories trying to get there over the years, including three drives from Newark on Friday nights when planes were canceled or missed, a drive from Wilkes-Barre, a bus to Utica and the list goes on and on. One year around two in the morning I stopped an hour from the track at a hotel with about fifteen rooms where you had to ring the doorbell to wake the owners up. Somewhere in the check-in process the old guy, still in his sleeping cap, told me that in 1987 Kees Van Der Ven stayed there for the Motocross des Nations. Weird, right?  Anyway, when I stopped being a mechanic, there was usually one race a year I missed, and yep, it was Unadilla. And on top of that your phone never worked there and with the morning fog rolling in, the scene seemed like something out of a horror movie for me each year.
With the travel scorecard now reading Unadilla - 14 and Matthes - 0, I was tired of fighting weather delays, small planes, missed connections and all night drives. So I was going to go in a day early. Take that Unadilla! So of course I was delayed in Cleveland going to Syracuse (some things will never change) but I made it there late Thursday night. With an off-day on Friday I spent the morning typing out a Ross Pederson story for Pulpmx (some things will never change) and then went to Cooperstown, New York for a visit to the Baseball Hall of Fame. That was pretty cool. The town was straight out of Happy Days or something. I enjoyed it a lot. It's not better than the Hockey Hall of Fame but hey, what is? I also scored a sweet Montreal Expos hat at one of the stores alongside Main Street.
So yeah, I still had travel issues getting to Unadilla but in the end I got to go to the Baseball Hall of Fame, I enjoyed the track changes, I got to do a bit of live track announcing (Rocket Rob Buydos called me up to help out and then about five minutes in he said, "I gotta go, you handle it" and walked out of the room) and to top it all off, the owners had put up a Verizon cell tower across the street from the track and my phone worked like a charm. Unadilla, I don't love you but you're off my shit list for now.
When we last saw Ryan Villopoto, he'd just had his worst two moto finishes at a National in years. Millville saw him go 6-4 after a crash in the first moto left him way back. In the second moto, he just got fourth. These finishes made Ryan angry. Very, very angry, and most of us wouldn't like him when he's very angry. And with that he turned into a giant green monster determined to take his frustration out on the other thirty-nine riders in the 450MX Class. RV was the fastest qualifier by far, had two holeshots, led every lap and went 1-1. Yup, I'd say that he let everyone know what was up this weekend. After the race Ryan credited some bike changes he made after Millville (he really didn't like what the bike was doing there) for his domination. He's 44 points up now and if he goes 1-1 in Utah this weekend, he'll clinch his second 450MX title. What a day for him and his team.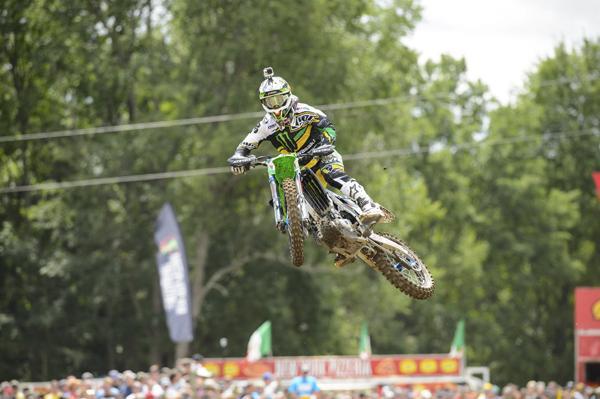 Villopoto was on another level at Unadilla.
Simon Cudby photo
Another guy that was perfect was Eli Tomac. He was fastest in practice and although he didn't pull holeshots (c'mon bro, it's Tomac!) he had no problem winning his sixth moto in a row to pull thirty-nine points ahead of Ken Roczen with just four motos remaining. I don't know what has happened to Tomac lately but he's just raised his game up another level. I suppose his starts have improved a bit to where he's no longer outside the top ten; he's inside there, so he can usually make that work. He was 2.8 seconds faster than anyone else in qualifying! On a 250, that's insane. These guys are all wide open out there and yet Tomac finds a way to just blow everyone away. Hey Villopoto and Tomac, thanks for ruining the drama of the day!
Here is how it is these days in our sport as a media guy (and really how it is as a fan also). We've become so divided in our society that you can only love something or hate it. You can't be in between. Just look at our political situation and channels. The right or the left CANNOT have a good point or something that they're doing good. Nope, they're either totally right all the time or totally wrong all the time. And that's because everyone watching is either all-in or all-out on something. That's how it is. You can find a channel, podcast, radio show, website or whatever, that preaches exactly the way you feel to make sure you're all-in on an idea and you start to build up a wall of immunity to any ideas, thoughts or philosophies that don't line up with yours.
And of course in our sport you have the enablers. The energy drink guys, the gear guys, your team members that consistently tell you (as a rider) that you rule and the earth revolves around you. A lot of these kids are told from the time they are two feet tall how awesome they are. They don't believe in any sort of hard truths and don't realize that they are one injury away from having crickets around them and the "Yeah bro…" flat-billed guys are onto the next big thing.
So anyway, where I was going with this was Jeremy Martin. The MyPlash Metal Mulisha Star Racing Yamaha rider went out this weekend and scored a career best second overall, which comes on the heels of his second place moto finish at Millville. Yeah that was his home track (literally his home track; he lives on the property) so it wasn't worth getting too excited about but at Unadilla, the track he debuted at last year, he was very good.
Last year in a Racer X Podcast I was asked about Jeremy's debut (along with Zach Bell) and I said "Eeeeh" and went on about how they did well but nothing they did in their debut races made me think we had another Ryan Dungey or Trey Canard on our hands. And that's all it took for Jeremy, his handlers, and other people that already don't like what I write to write me off. I tried to explain it to Jeremy but didn't get anywhere with that so c'est le vie.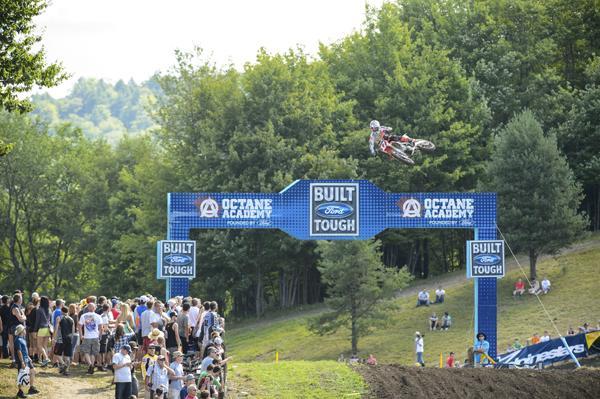 Yeah, that's points leader Eli Tomac en route to another 1-1 performance.
Simon Cudby photo
It appears that I was wrong about Jeremy. We spoke a lot about his other rookie teammate, Cooper Webb, earlier this year because he was killing it. But lately the tables have turned, and it's Jeremy that's getting better as the season goes on. He's been much better than Webb as of late and his second place proves that next year, along with Jason Anderson, he'll be a factor for wins. Martin's up to sixth in the points and has been on the podium in three out of the last four motos. And don't forget, he's had three motos with zero points.
Star Racing and Yamaha have long been the team that everyone wonders about it in the pits. Yamaha gave them a machine that hasn't had a motor redo since 2003 and the team has constantly recycled riders only to see them turn around and do better on their new teams. Well, with an all new bike in 2014 (EFI, four valve, new motor and chassis) and with Webb and Martin (and Aaron Plessinger who was the breakout rider at Loretta Lynn's) signed up maybe the blue crew can erase that drought of NINE years since Yamaha has won a 125/250MX overall.
250 RESULTS
1 17 Eli Tomac Cortez, CO Honda CRF250R 1 1- The way he's riding right now, I can't see Eli losing another moto all year. He probably will at some point but I'm not sure how.
2 77 Jeremy Martin Millville, MN Yamaha YZ 250F 2 3
3 94 Ken Roczen Germany KTM 250 SX-F 5 2- A poor first moto for Roczen didn't help him in the title hunt. Nice rebound in the second with leading a lot of laps and making it hard for the irresistible force known as Eli Tomac to get by him. Roczen was telling me that Marcus Schiffer, who helped Germany win the MXoN last year, looks to be out for this year. Bummer.
4 338 Zach Osborne Chesterfield, SC Honda CRF250R 3 6- Osborne's first moto problems have been well documented in this space but after Unadilla, CLEARLY it's his second motos that are the problem. Okay, kidding. Osborne claims that a bar switch (to one with a crossbar on it) was the reason his arm pump went away but I think he's nuts. Just another rider who is a head case…
5 1 Blake Baggett Grand Terrace, CA Kawasaki KX 250F 4 5- Baggett was coming in hot in the second moto and ripping. Then he crashed. And then he had to rip through the same guys again and I'm sure that took some wind out of his sails.
6 34 Justin Bogle Cushing, OK Honda CRF250R 10 4- Bogle's back on the "watch out for this guy" radar after injuries and some meltdowns in supercross in 2012.
7 19 Will Hahn Decatur, TX Honda CRF250R 6 8- These starts are getting ridiculous for Wil Hahn. He ripped off another one and led four laps in the first moto, this after holeshotting and leading laps at Millville. Hahn's not on the level of Tomac and Roczen, but he's learning the pace and figuring things out. Definitely better from where he was when he started this year's Nationals.
8 25 Marvin Musquin France KTM 250 SX-F 8 9- Moose-Can had the RC Hard Charger on lock down after a crash in the first turn and a thirty-eighth to eighth ride. Second moto he got caught in the gate (that doesn't happen enough anymore for my entertainment purposes) and came from fortieth to ninth. Musquin won't get much attention for his rides but man he earned his money this weekend.
9 43 Cole Seely Newbury Park, CA Honda CRF250R 9 10- Seely's been pretty good lately. When he faded at Budds Creek he said afterward that he was going to work on it and make sure that it didn't happen again and for the most part, he's done exactly that. He's tenth in the points, which isn't bad for a guy that isn't known as an outdoor warrior.
10 40 Martin Davalos Ecuador Kawasaki KX 250F 13 7- Davalos holeshot the second moto and was promptly dropped back to seventh by about halfway. Looking at his lap times I figured he'd drop further back but he regrouped and held it to the end.
11 38 Kyle Cunningham Aledo, TX Yamaha YZ 250F 7 14- A good first moto for Cunningham. Isn't it weird how the Star Yamaha riders have taken turns being the best guy this outdoor season? At first it was Webb, then Cunningham and now it's Martin's turn.
12 175 Cooper Webb Newport, NC Yamaha YZ 250F 12 11- Webb's day was weird. I had heard he broke his arm in practice and so I sent super reporter Jason Weigandt over to confirm that rumor as I was in the middle of finishing the practice report. Weege came back and said yep, he's out for the day. And so we reported that. Well in the meantime, Webb started feeling better and lined up for the motos. And although it wasn't the best of days, I bet he's glad he raced. Webb admitted to me after the race that he's feeling the rookie grind a bit out there. So we learned two things on this day: Webb's a tough guy and Weege is still ruining motocross.
13 36 Jessy Nelson Paso Robles, CA Honda CRF250R 15 12- Hey, remember this guy? He's been out since supercross (tried to ride Hangtown) so this was a nice first race result for him and the team.
14 37 Alex Martin Millville, MN Yamaha YZ 250 14 15- Martin took a big header before Washougal and sat that one out. He admitted that he shouldn't have probably raced Millville, but told me "it's hard to miss that one." So Unadilla was more of an indicator for him and he put in a good day there. He's been down in Oklahoma riding and testing with Merge Racing to try and get his bike a bit better.
15 292 Adam Cianciarulo Port Orange, FL Kawasaki KX 250F 19 13- AC was forced wide off the start in the first moto and made absolutely no attempt to rejoin the pack. He just cut right and into around seventh place. He would go on to finish ninth but was docked ten spots (a little harsh but I'm okay with that) to put him in nineteenth. He and his dad Alan understood the penalty and accepted it with an apology, which is pretty good and not typical of riders and teams who usually freak out and don't understand why they got docked even if it's obvious. The salmonella poisoning that Adam got at the beginning of the year really wiped him out and he's still feeling the effects of it; a doctor has basically diagnosed him with "being deficient of everything." and it's been showing out there as he goes backward. This is a learning year for him, but at least he and the team have medically figured out what the deal is.
16 21 Jason Anderson Edgewood, NM Suzuki RMZ 250 11 34- Anderson was seventh with three laps to go and looking good for a great finish. Then he cartwheeled hard and DNF'd the moto. Oh, the fickle fates of motocross. Instead of eighth overall, he was 16th. Years from now, no one will remember how close he was to doing that well at Unadilla. Okay I'll stop now.
17 50 Kyle Peters Greensboro, NC Honda CRF250R 18 16- Once again Peters is the first guy with the least amount of help in the 250MX class. That's where we are at with this class, a seventeenth is top (real) privateer.
18 127 Shane McElrath Canton, NC Honda CRF250R 17 17- You could see McElrath get a little tired around the twenty minute mark in the second moto but still, not too bad of a finish for the rookie in his first pro race.
19 317 Justin Hill Yoncalla, OR Kawasaki KX 250F 16 18- Hill was ninth in the second moto until the very last lap when he crashed. That turned a good day into a poop day.
20 677 Matthew Bisceglia Tualatin, OR Honda CRF250R 37 19- The star of Loretta Lynn's came out and turned pro and had a tough day. We've seen riders in the past come out of there and run in the top ten but in Bisceglia's case it can only get better from here.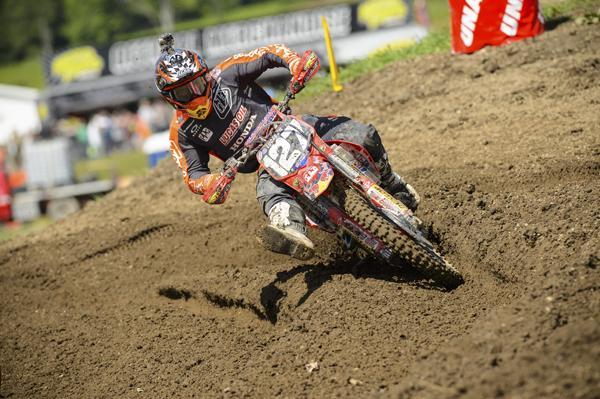 Shane McElrath made his pro debut at Unadilla.
Simon Cudby photo
450 RESULTS
1 2 Ryan Villopoto Poulsbo, WA Kawasaki KX 450F 1 1- What a smack down RV put on the field on Saturday. Wow.
2 51 Justin Barcia Monroe, NY Honda CRF450R 4 2- Barcia had a good day on a track that he likes. Remember when he ran up front as a fill-in on the 450 a few years ago? Yeah, he's fast at Unadilla.
3 1 Ryan Dungey Waconia, MN KTM 450 SX-F FE 2 4- Dungey's got to be disappointed with his day. He was right behind RV in the first moto and Villopoto just rode away for a big win. Second moto he took a while to get going and then couldn't get by Weimer to get second overall. Afterward he said that some days his bike is great and on some tracks he fights it. I'm guessing Unadilla was one of the ones he was fighting it on.
4 12 Jake Weimer Twin Falls, ID Kawasaki KX 450F 9 3- Weimer's good at Unadilla (for some reason) and he showed it again in the second moto by holding off Dungey for a good third. Weimer needed this finish to try and get some confidence going before the year is done.
5 33 Josh Grant Riverside, CA Yamaha YZ 450F 5 5- Good day for Grant who is solidly in that next group of guys after the top two. After five rounds he was fourteenth in the points and now he's ninth and only twelve points out of sixth.
6 29 Andrew Short Colorado Springs, CO KTM 450 SX-F FE 6 7- Shorty was strong at Unadilla with two good rides. At times he moved up a bit, at times he dropped back a bit, but in the end it was two solid motos for Short.
7 24 Brett Metcalfe Australia Kawasaki KX 450F 10 6- Metcalfe showed up for his second U.S. race (off-weekend in Canada) and was ninth in the first moto before crashing his way back to fifteenth. He had to work hard with a mangled bike to get a tenth. Second moto he was sixth in a battle with Andrew Short for the top "I'm a good guy and I'm in shape and I'm relentless" trophy.
8 20 Broc Tickle Holly, MI Suzuki RMZ 450 8 8- I think for the first time all year Tickle had two starts that were inside the top ten, or at least close to it. A strong day for Tickle on the RCH Suzuki.
9 10 Justin Brayton Fort Dodge, IA Yamaha YZ 450F 7 13- Brayton qualified well and was probably looking to have a better day than he actually did. But he rode great in the second moto; he crashed in the first turn and came from last to thirteenth.
10 49 Phil Nicoletti Cohocton, NY Yamaha YZ 450F 13 9- Weird deal with Filthy, he had a 2:32 on his eleventh lap in the first moto and lost spots to Mike Alessi, Weimer, Metcalfe and Tyla Rattray. Yeah, it was that bad! I thought something was wrong with his bike. He dropped it back to a 2:27 the next lap and stayed strong to the end. So one lap basically effed Phil but his ninth in the second moto was strong.
11 7 James Stewart Jr. Haines City, FL Suzuki RMZ 450 3 40- On a track that isn't his favorite, Stewart put in a good moto the first time out. Second moto he grabbed too much front brake or something and crashed hard, aggravated a previous practice-crash injury and called it a day.
12 62 Matthew Goerke Sun City, CA KTM 450 SX-F FE 14 14- Goerke is getting better each race. His wrist injury was pretty serious and he missed a lot of time. Nothing wrong with these finishes.
13 22 Chad Reed Australia Honda CRF450R 17 12- Plenty wrong with these finishes. The TwoTwo has been better lately but at 'Dilla, he went backward from where he's been. It's so bad that he didn't even want to come on the Pulpmx Show and do the one thing he is best at—giving interviews! I really think that although he may not win, his 2014 season is going to be a lot better with a whole entire dedicated off-season to prove people wrong. Maybe I'm on an island with that theory but I do believe it. Wait and see…
14 23 Jake Canada Sun City, CA Yamaha YZ 450F 25 10-Canada had to ride the LCQ for some reason and although he won that, a bad gate pick at Unadilla is not very conducive to doing well. His tenth in the second moto is very good for what he's doing it as, which is a full privateer.
15 982 Akira Narita Japan Honda CRF450R 16 15- Did you know that Narita, a former Japanese Champion, has raced three Nationals now? Yeah, look it up. On a factory Honda and pitted with those guys he's been struggling a bit until Unadilla. At 'Dilla he had two good motos, which is more in line with what he probably should do.
16 28 Tyla Rattray South Africa Kawasaki KX 450F 11 20- Another tough day for Rattray on a track that he is normally very good at.
17 32 Malcolm Stewart Haines City, FL Honda CRF450R 34 11- Mookie's been up and down since RedBud and is struggling to stay consistent, which has always been his number-one issue. The speed is there but it takes more than that sometimes.
18 800 Mike Alessi Hilliard, FL Suzuki RMZ 450 12 39- Mike had a couple of really good practice sessions and was probably expecting big things. He was tenth with two laps to go when he crashed hard and injured his shoulder. Second moto he went down in the first turn with about twenty-five other guys and called it a day due to the shoulder. It could've been so much better for the 800.
19 71 Zackery Freeberg Riverview, FL Honda CRF450R 15 24- Freeburg's done three races on the 450 now and has been pretty impressive. Don't be fooled by that twenty-fourth; he was down in the first turn and worked hard to get that spot. Hey it could've been worse- he could've worked that hard and gotten twenty-first.
20 57 Ben LaMay Wasilla, AK Yamaha YZ 450F 22 16- LaMay twisted a knee in the first moto and struggled through that. Second moto he was much better with a sixteenth.
Some news and notes from the day:
-Yamaha Canada rider Jeremy Medaglia came down to race his first National of the year. Jer-Bear has been a real surprise up in my homeland in his first year in MX1 full time. He's won a Canadian National and showed some real speed up there, and I always like it when a Canadian guy grabs his nuts and comes down to race a U.S. National. Medaglia easily qualified and ran as high as fourteenth in the second moto. He eventually finished with 19-18 scores and that's pretty good, methinks.
-This is how my mind works. With Medaglia riding well and Brett Metcalfe down from the Canadian series also doing great, I started to think about how many riders in the field were Canadian or had Canadian roots. Roots might be a bit of a stretch but I don't care, it's my column bro. So with that reasoning "Canadian" racers went:
1- Ryan Villopoto (Calgary '04, he went 1-DNF)
4- Jake Weimer (rode the '04 125 west series for OTSFF Suzuki)
7- Brett Metcalfe (races there this year, won the MX1 title)
12- Matt Goerke (won the MX1 title up there last year)
14- Jake Canada (never raced in Canada but I mean, c'mon man)
20- Ben LaMay (grew up in Alaska, which is next to Canada)
21- Jeremy Medaglia (is actually Canadian)
Not a bad group of guys, right? Canada- we groom champions!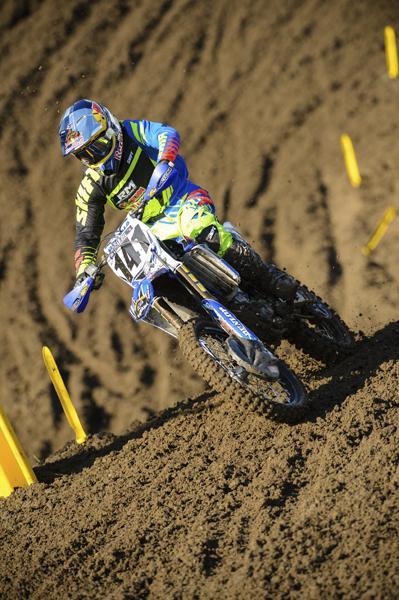 Jeremy Medaglia made the trip from Canada and had a good showing.
Simon Cudby photo
- Trey Canard had a terrible day at Unadilla. First moto he was fourth and started developing bike problems. His motor let go and he DNF'd. In the second moto he crashed hard in the first turn (remember he had the 40th gate pick due to the DNF) and had to pull into the pits for a front wheel repair. Down a lap, he re-entered the race battered and bruised (not to mention no visor) and worked hard to score some points but he wasn't able to. No points on the day for Canard is a tough thing to take but I did like the fact that after the race he was signing for fans and generally appeared to be in a good mood. Props to him on that, a lot of racers would have just split.
- Ryan Villopoto will be missing the Motocross of Nations and possibly the Monster Energy Cup as he needs to get some surgery on his leg to remove some hardware put in from the St. Louis SX crash in 2010. Yeah this sucks for America (perhaps it opens up one more position for Canada? No? Okay.), but I don't think Ryan deserves any flack for this move. The MXoN is a month after the last National and if Ryan waited until then he may as well wait for the MEC also. That's six weeks of healing time he would be missing out on if he chose to race, and that's no joke. He needs to get this surgery done—it's causing him some pain—so why wait six weeks, which would put him back on the bike in November? It sucks for sure but Team USA will be just fine (just don't put them on any deep sand tracks) in Germany with, most likely, Justin Barcia as his replacement. Again, don't blame RV. Blame the calendar.
- As I said, Unadilla reminds me of Bob Hannah so what better way to end this column than to ask the Hurricane himself what he thought of the place. As usual with Bob, he wasn't short of words but I did get this out of him that was printable: "You couldn't see where you're going, the grass was everywhere. The place got so rough and you really had to watch where you were going because the grass was so tall. I loved it back then. There were holes as deep as your bike in the grass. You couldn't haul ass and you had no idea where the bumps were. Man I wanted to win so bad in my last race there in '89. I wanted to win but I needed them to leave it rough. But they smoothed out the whole track!"
Thanks for reading this column, we appreciate it. We? Yeah, that's me and my dogs of course. Email me at matthes@racerxonline.com if you want to chat.