BTOSports Team Gear Giveaway
Thousand Oaks, CA- BTO Sports is giving you a chance to be a part of our team. We are giving away one set of Team BTO Sports Fly Racing Motocross Gear set to one lucky  fan! This gear set includes team jersey, pant, glove and Fly F2 Carbon helmet!  The same team issue Fly Racing gear that is worn by Andrew Short, Michael Byrne and Matt Goerke can be yours!
We would not be anywhere without our fans and loyal customers giving us support over the years.  With the news of Andrew Short re-signing with the BTO Sports-KTM team until 2015, we want to celebrate and give back and to our fans and customers that have helped us along the way.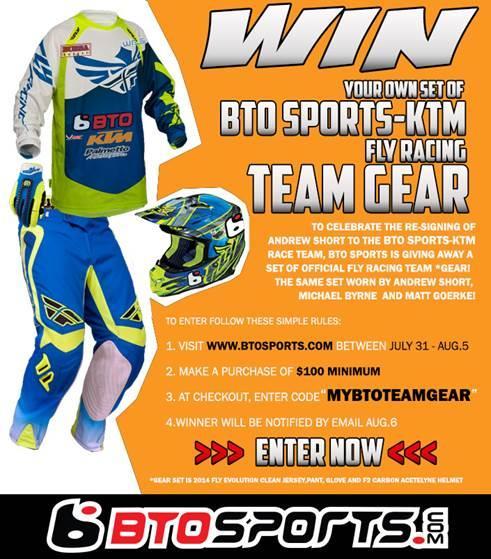 All you have to do is follow a few simple steps to be entered in to this great gear give-away:
1. Visit www.btosports.com between July 31 and Aug.5
2. Purchase $100 minimum
3. Enter code "MYBTOTEAMGEAR" at checkout for entry in to the give-away
4. Winner will be contacted via email Aug.6
It's that simple, so what are you waiting for? Visit www.btosports.com today and enter for your chance at a full BTO Sports-KTM team gear set NOW!