Loretta Lynn Ranch
Hurricane Mills

,

TN
RedBull AMA Amateur National Motocross Championship (Loretta Lynn's)
Amateur National Motocross Championship
Wednesday wasn't hump day at Loretta's, it was mud day. Rain late in Tuesday's program left the track sloppy, then more rain Tuesday night left it worse, and then a single moto ran Wednesday morning to churn up the muck—before the mega rains started coming down. Right down into the ruts and bumps everyone created in that first moto!
Three motos raced in the slop, and they proved a true test. This is why they race three motos on three different days down here—you have to do well in all conditions to prove you're worthy of a championship in the Red Bull AMA Amateur National Motocross Championship presented by Amsoil.
You want ups and downs? Jerry Robin, everyone's favorite rider, the kid who qualified in the B class on a 1985 Honda CR250, won the first moto of the day. And he did it in everyone's favorite class—Two Stroke! But, Robin didn't do it on his trusty '85, because it wasn't so trusty. The poor thing blew up in practice, but he was loaned a 2007 Honda to race the Two-Stroke Class. And he straight up won the darned moto!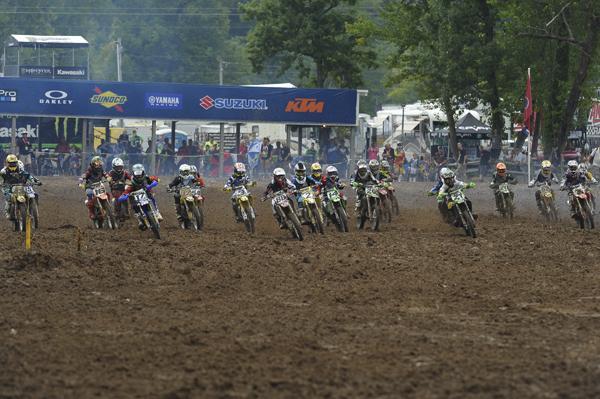 The Supermini class holeshot.
Ken Hill photo
After that moto, it rained so hard that only true mudders could thrive. Tyler McSwain, son of former Enduro and GNCC pro Steve McSwain, showed he had mud riding in his genes by dominating the 450 B moto to a scary degree. We're talking a 30-second lead in two laps, and nearly a two minute lead at the finish! Then in 450 A, Jace Owen, the rider oddly known as the top privateer of the amateur set (because in this day and age, we expect big factory support for fast ams) put a whipping on everyone else. Then it started to rain harder and harder and harder, and the action finally had to come to a stop. Yeah, you can race motocross rain or shine, but this was an exceptional amount of rain. We're talking straight deluge.
A full three hours went by while the track continued to get pounded by rain. The sun finally came out, and an hour of track work produced a (somewhat) raceable track. Racing resumed. But the mud kept giving gifts and snatching them away. In a 40+ class loaded with famous ex-pro talent like Keith Johnson, Trampas Parker, Barry Carsten and Mike Treadwell, an unknown named James Bennett grabbed the Motorcyclesuperstore.com holeshot and promptly left everyone behind. He had it dialed until he crashed with three laps to go, and stalled his bike as he picked it up. Johnson slithered past for the win, with Bennett second. All the industry people on the infield could only ask, "Who the heck is James Bennett." And that's how it works down here.
Thanks to some better weather expected soon, there's a chance we'll be racing dry motos before long here. But the shadow of these mud races will remain. In 250 B, Factory Connection Honda's Jordon Smith is the favorite, but he struggled huge in the slop until his bike finally quit. Scratch Jordon from title contention in this class. Aaron Plessinger, like McSwain, the son of an off-road star (multi-time GNCC Champion Scott Plessinger), lays a whipping on the field in the mud. That's two moto wins in two starts this week for A-Pless. By the way, Jerry Robin got the 1985 CR250 rebuilt and raced it in this B class moto. In the mud! He finished ninth. Kid is legit.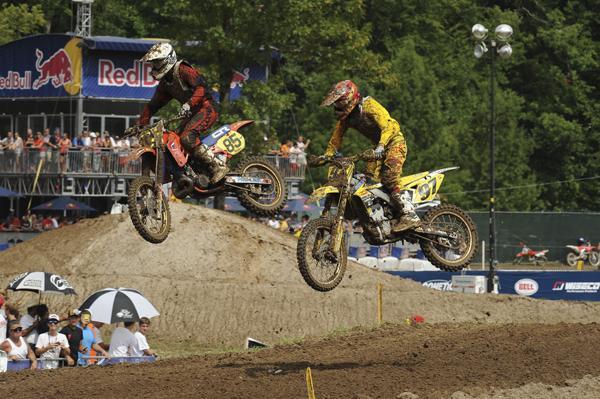 Jerry Robin (85) is legit!
Ken Hill photo
Crazier yet came the 250 A moto, which featured nearly a half dozen riders leading and crashing in the muck. Kawasaki riders Colt Nichols and Thomas Covington led early, but both crashed, then Troy Lee Honda's Shane McElrath also ran up front but then fell. The winner? Factory Connection Honda's Matt Bisceglia, who now has two moto wins in his bid for the AMA Horizon award. "I just rode smart," he explained, with riders crashing all around him. McElrath was right behind—could be a showdown looming between these two at some point.
Bisceglia was one of the few race contenders not to hit the ground at least once. For example, the loaded Supermini 2 class features the very fast Austin Forkner, who got out front early, and then, like so many others, crashed. But he dug back through the pack, getting Ramyller Alves, Derek Drake and Ashton Hayes to get back to the lead and take the moto win. It was not easy.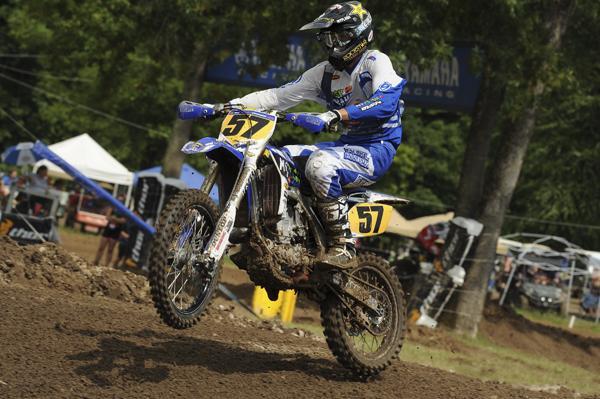 Aaron Plessinger shined under less than ideal conditions.
Ken Hill photo
Oh, and in the 65 (7-11) Limited class, Ty Masterpool leads, falls, and comes all the way back to win. Sense a pattern here?
The track was actually getting decent by the very end of the day, thanks to hard work and about five hours without rain. Could things be back to normal on Thursday, or Friday? Hey, they're already back to normal if you think about it—surviving a mudder is just part of the standard drill at Loretta's. See you tomorrow.