Washougal MX Park
Washougal

,

WA
Washougal
Lucas Oil AMA Pro Motocross Championship
Interviews by Jason Weigandt, Steve Matthes and Aaron Hansel
Marvin Musquin, Red Bull KTM, 3-4 for fourth overall in 250MX
Take us through your motos.
It feels good to be back on the podium. It was a good day overall. The track was awesome in practice, good in the first moto, and gets dry second moto, but still a good track, really technical. I really like that track. I didn't get good starts this weekend and today. I was around maybe 6th or 7th, so it wasn't so bad but not so good either. I just struggled the first 10 or 15 minutes and then I got better at the end of the moto. Both motos actually I did the same thing. Just needed better starts and a better beginning of the race.
You talked about struggling a little bit. What were you struggling with? Was it the track itself, shadows, riders? What was the holdup?
Yeah, a little bit of everything. I was behind those guys and I couldn't make any passes for a few laps. That's not the way I have to do it if I want to be on the podium. And then I started passing and getting better lines and better flow and I got better at the end of the motos. Also the shadows, all that stuff. It's a little bit of everything.
Is there anything you can pinpoint on the starts that held you back this week?
I felt really confident behind the gate but didn't make it happen. I don't know. I felt really good and ready to get the holeshot but I didn't do it. Usually my starts are pretty good so maybe I have to practice a little bit and get back to work and do it better next weekend.
When you look at the points it's certainly not over. What's your plan of attack for the last four rounds?
Well, obviously the goal is to win the championship for sure. A lot of riders want to win. Right now it's going to be complicated but I just want to be consistent and be here, be on the podium and try to win again. Right now the competition is really tough. Like you said, I'm third in the points but probably really far from Roczen and Tomac. I'll just try my best until the end of the season and see what's going to happen.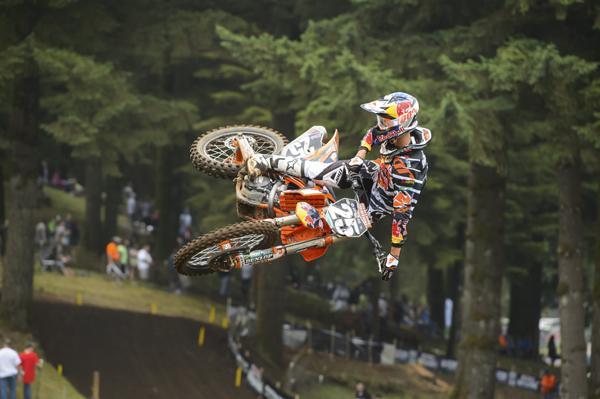 "Well, obviously the goal is to win the championship for sure. A lot of riders want to win." - Marvin Musquin
Simon Cudby photo
James Stewart, Yoshimura Suzuki, 3-3 for third overall in 450MX
Today went pretty good. The second moto didn't go the way I thought it should have. I felt pretty good. We made a change in the second motos and just went the wrong direction. First moto was good, just got a little arm pump in the end and those guys were getting away from me. But I felt good going into the second one. So a little disappointed with that but a couple weeks ago I couldn't come close to the podium, so to be up here… I want to spend the rest of the time up here.
Of the remaining tracks, which ones really lend themselves to your style of riding?
The Utah one is obviously unknown. Unadilla's a little tough for me. To be honest, out of the last five this was the worst one for me. I've always struggled for some reason here. I've won a lot here but I've always struggled here just with the slippery parts. The track changed all day. The first practice was really misty and then the second one it was a little bit better. The first moto was slippery and the last one was dry. So to be honest, coming out 3-3 obviously is not what we wanted but this one is definitely the worst one for me out of the rest of them.
I hear you talking a lot about bike changes. Just compare what you've learned through the years as far as changing bikes and testing and getting a feel for that, because I know it's something everyone else can learn. Where were you 10 years ago when it came to that kind of stuff?
I think 10 years ago I had more talent than everybody out there. The bikes have gotten better. I think they're all pretty good bikes and obviously the riders got better. When you're racing against the Ryans you got to have a setup, because obviously the guys are going pretty good. When you were off back in the day, you'd probably still win. Obviously I still got third place. But when you're trying to go to that next level and you're obviously pushing to that pace, which I feel like I have, it makes it difficult. I'm just a little frustrated with that one, but I came out of here safe and on the podium. We're making strides it's just not the way I wanted it to be this weekend.
You made a statement, beginning you went and made a change to you bike. Now, are you changing motor setups or suspension or which way did you guys go today?
No, we actually changed suspension. We actually went back to a couple weekends ago. We thought with the track drying out...it was heavy in the back. But it was hard because it felt like we were chasing the track all day.
We know that in Supercross you banged yourself up, and I know that the last couple of years we've had an injury here or there. When the season ends is it surgery time again or are you going to finish out your career with the nicks and dings that you have right now?
I'm good. I don't have any lingering issues. I fought through that stuff for so many years. I don't use that as an excuse. They're just riding really good right now. Honestly the beginning part of the year and even in outdoors I put myself behind the 8 ball, a couple of crashes here and there and they got away. But to be honest, I'm healthy. We'll finish out the motocross season and possibly the Cup and we'll get ready. I definitely think being here racing is helping me just the stuff you learn off the bike. You can't learn that at home. So no surgery; I'm 100 percent good to go and we'll get it done.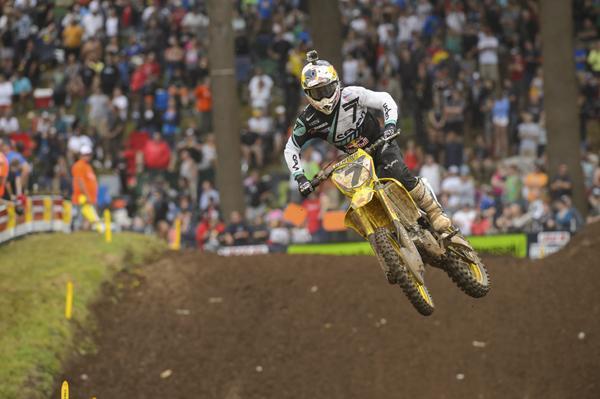 "So a little disappointed with that but a couple weeks ago I couldn't come close to the podium, so to be up here… I want to spend the rest of the time up here." - James Stewart
Simon Cudby photo
Ryan Dungey, Red Bull KTM, 1-2 for second overall in 450MX
I got off to a good start, got the holeshot. Was able to put the power to the ground and that was really nice. I was able to just ride my lines. The track was really good. The cloud cover kind of kept the moisture in and everything like that but I was able to open up a little bit of a gap and then just kind of ride smooth from there. I could kind of keep an eye on Villo and Stewy who were behind me. It was good to get a moto win.
Second moto, how about that one?
It was a little bit rougher. Everything went really good. I got off to a good start as well and got in the lead right away and led some good laps. But once Villopoto got around me I really tried sticking to his rear wheel and just kind of started trying a little bit too hard, made a few mistakes, but he was going really good today. I was kind of fighting things, but no excuses. He was really riding really well. So I just tried to maintain that pace and trying to not get gapped any more than I was. But all in all he's been working hard to get a win here. It was good for him. But a 1-2, not too bad.
With the problems that you had at RedBud, does that change the attitude towards racing with the season at all? Have you become more aggressive, less aggressive?
I think with RedBud just obviously being a tougher day, just losing a lot of points. With the second moto crash, I got a lot to be thankful for not being hurt and stuff with the bike landing on top of me. It's one of those things; that's racing. Anything could happen. Just like it happened to me, it can happen to anybody. And I don't wish that upon anyone. It's just part of the deal. But it was tougher to sit for a whole other weekend, just with a weekend off. I would have liked to keep racing. But you kind of keep reassuring yourself like, you're good, don't worry about it. It's just a mistake. When I look back at the race it's like in that second moto you were right on him and I crashed, unfortunately. But it was good to walk away with a good moto, before the crash. At this point, you don't ever really look at the points until it starts really winding down. You kind of keep in check but I think just taking it one race at a time. And if anything it takes more off of us. Go out there and do what we need to do. Hope like hell we can win a championship for sure, but at the same time it's like you can only do so much in a given time. Obviously the second moto today would have been good to win that one as well, but we got a lot of racing left and just try to put yourself in a position to win and if it happens, it happens. Just taking it one day, one step at a time, one race at a time.
You talked about keeping racing, you would have liked to keep racing. This year there's a much bigger break between last race at Elsinore and the Des Nations. Does that make it harder, being off race pace for over a month? Is that going to make it more difficult?
Yeah, we're definitely rolling through this outdoor season. The breaks are the same, except this one coming up after Millville. It's only another weekend, which before it was two weeks, three weeks total. I think it will be good after Elsinore to keep working on a few things. We'll be out in California so it works out perfect. Definitely take some time off. Time is on your side there. We've been in that situation multiple times, in '09 and as well as 2010. You just got to wait a little longer. You wish it was closer, but maybe you can work on a few things, get caught up, get some Supercross testing done. We got the Monster Cup right after the Motocross of Nations so maybe switch things up a little bit.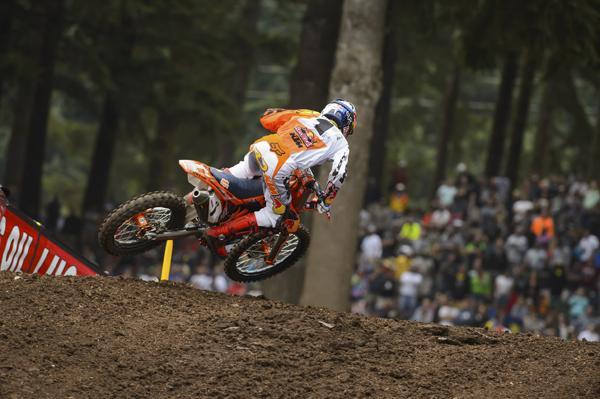 "At this point, you don't ever really look at the points until it starts really winding down. You kind of keep in check but I think just taking it one race at a time." - Ryan Dungey
Simon Cudby photo
Ken Roczen, Red Bull KTM, 2-2 for second overall in 250MX
You have the points lead by one. So with the red plate, does that still keep the momentum going as you head into Millville next week?
It's super good to have the red plate. It's very fun to ride with it, but I want to have it at the end of the year. Of course I want to keep it, just keep the momentum. I've been riding good lately but today everyone's just faster and better and stronger and everything. All I can do is focus on the next race.
Was this track pretty challenging?
Yeah, in practice it was super good and super fun but already last year after both motos I was like, I'm not sure if this one is my favorite. But it got rough and it's tricky. I feel like everyone is basically taking the same line. I would almost call it like a slow style. Everybody just goes from the outside, inside and takes the tightest corners. So it's hard to make up the time. And if you're behind someone the roost hurts pretty bad too. So you always try to switch it up maybe and you put in a lot of effort to get close to the guy. If you switch it up in line then it maybe wasn't that good. You're a little back again. It's frustrating. For sure it's a challenging track.
It looks like it's coming down to two riders for this title. You guys got a pretty good gap over everyone else. You've battled with Herlings, you've battled with Marvin. Now it's you and Eli. Is that the way it normally seems to go? Does it seem like intensity changes when it's two guys? Do you feel like it's starting to change when you guys are pulling away a little bit?
I would say the top 6, 7, everybody's going super fast. But you have to be up there every single race. I think that's what makes the difference. A lot of riders, they're good at a couple of races and they're really up there and they have some bad ones, but I think the key is just to be up there every single weekend. Of course, with me and Eli just being up there on the podium is not enough. I got to beat Eli or Eli has got to beat me. It's not enough to just be on the podium in second or third all the time. It's also about winning races.
I was wondering with different types of tracks like this one here, even back in the Carmichael days, they said it was slippery. The tracks like next weekend are really sandy. Do you train differently prior to a race? Will you train differently prior to next week than you did for this track?
Since I've been on the tracks already I kind of know what the dirt is like. For sure I try to go to a track that maybe has the same soil. But honestly, California, it's hard to do. From the beginning of the week, Monday, Tuesday, there's barely a track open, so it makes it tough. It's also tough over and over to go to the same tracks and stuff. On Thursday I went to Pala and it's not the same dirt. In the beginning of the week there's barely a track open, and the only one open is Milestone and I guess Comp Edge. It's not always easy but for sure, depending on how the soil is I try to go to a track that's close to it.
You and Eli battled in Supercross. You're battling now. Do you guys ever talk or interact? Do you guys get along?
Yeah, we do get along. I have big respect for him because he's obviously one of the strongest riders. We hung out already back in 2006 or 2005 when I went to Mini O's. He's a good guy. I think we don't have any problems. Of course we're competitors but off the track in my eyes just a normal guy. I don't see a reason to not talk to anyone.
We've talked about the different tracks and we've talked about the series, but traditionally in America we start talking about the Motocross of Nations and we start to select our team. Your country is the defending champion and it's coming to your homeland, and I'm assuming you're going to be the captain of the team. Do you know who's on the German Motocross of Nations team?
To be honest, I don't think it's 100 percent set yet because Marcus Schiffer, he messed up his hand pretty bad. He ripped off all the ligaments in his hand and his wrist. So it's going to be a tough one this year. Obviously since he was out, I'm actually not sure if he's going to be ready or not. Pretty sure it's not going to be our top team. I think our third guy is probably going to be Dennis Ullrich. He's riding MX1 right now and he's doing pretty good. He could be really good but I think it would be his first Motocross of Nations so that's a pretty big role too. Of course we ride it as a team and stuff but if the team is not 100 percent, like how it was last year with Max and me… Of course I'm also riding for myself to see where I'm at and stuff. So I'm just going to give 100 percent and it's going to feel awesome to ride the number 1, 2, and 3 in the whole country. But it's for sure going to be a tough one.
You look at what Ryan Dungey's going to experience next week at Millville and what Ryan Villopoto experienced this week here. What's it going to be like when Ken Roczen reemerges on the starting line in Germany?
Well, for what I know the track in the GPs I'm hoping they change a lot of things, because also for the crowd. It's very hard to see. It's not very crowd-friendly. I don't know what the track's going to look like but I'm pretty sure they're going to do a huge difference. They'll maybe even put some different dirt in there. It's going to feel awesome. I think there's going to be a lot, a lot of people. I think it's going to be a good one.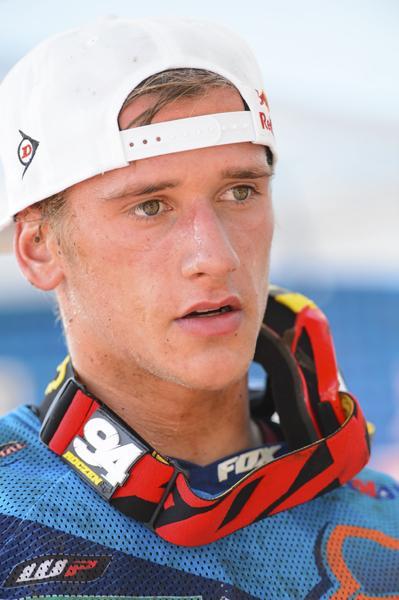 "Of course, with me and Eli just being up there on the podium is not enough." - Ken Roczen
Simon Cudby photo
Jake Weimer, Monster Energy Kawasaki, 10-4 for fourth overall in 450MX
There's the Jake Weimer we've all been waiting for. I love to make fun of you and make a joke, but that was a terrific second moto ride. First of all, before we get into it too much, you were 4th or 5th and then you went back to 7th or 8th. What happened?
No, I think I was fifth and then Chad passed me. I think Stewy got me too right out of the gate.
Good ride, though. You got to be excited.
Better, yeah. I'd definitely take that at this point. It's been a rough roll here so I'm good with that.
Your dad was here this weekend. Did he yell at you a lot?
Quite a bit, yeah.
Talk about the first moto a little bit. What was that about?
I think I rode decent, but I think I started 16th or something. That's just not going to work unless you're maybe one of the Ryans. So for me starting 16th you're never going to see me. I was out there but you're never really going to see me.
We were talking about that and there's literally a gap between a Jake Weimer in third or fourth and a Trey Canard who got 12th or whatever. It's the start. Unless you're Ryan Villopoto or Ryan Dungey.
Right now, obviously it changes, but recently it kind of seems to be that way. It's important to get out front early. No matter how fast you are you're not going to be able to do it the first couple laps if you got a bad start and those guys get away.
Adam Cianciarulo, Monster Energy/Pro Circuit Kawasaki, 6-16 for tenth overall in 250MX
You had a terrific first moto, the best one of your career.
I think it was definitely a step in the right direction. Really only thing I could ask for right now, I basically just said, "screw it; I'm not going to pace myself on the day. I'm going to give it everything I have in the first moto and finally show some people at least a little bit of what I can do." I actually started a little bit father back and was able to work my way up past some good guys so that was a nice change of pace instead of going backwards. At the end of that one I was hurting but I was good. Second moto, bad start. I think I came around on the sight lap and I was going up Horsepower Hill and I wheelied through the rollers and I'm like, I don't think this one's going to work out too well. I did the best I can. I basically just rode that thing on heart and willpower. Ended up 15th or 16th.
Zach Osborne, GEICO Honda, 14-3 for sixth overall in 250MX
Your first motos are terrible. Second motos, great, but there are two of these things.
Thanks for that insight.
What's going on?
I'm just struggling.
You were higher. You must have fallen in that first moto.
Yeah, twice in one lap. But that wasn't the deciding factor of how crappy it went.
Did your arms pump up again?
Yeah, just solid. To the point it's dangerous. Just struggling, putting too much pressure on myself to do good.
You're thinking about it all the time now.
Just a nightmare.
Let's talk about the second moto. That was a fantastic ride. You got to be pumped.
Yeah. All year my worst second moto is fifth place. So I got to get the first moto sorted out. There's two guys leaving the class next year and I'm the next guy to step in for this team. So I got to get it figured out. And they've told me that. So just going to keep working with these last four rounds. Now I'm only 21 points behind Baggett so it's maybe feasible to get up to him if he continues to have some of the races like he's been having. I just need to get it sorted out.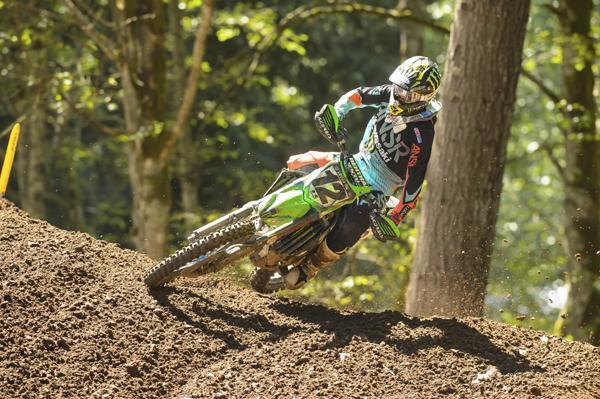 "It's been a rough roll here so I'm good with that." - Jake Weimer
Simon Cudby photo
Phil Nicoletti, N-Fab TiLUBE Yamaha, 18-8 for fourteenth overall in 450MX
What happened in the first moto, it was not good?
Trey kind of cut me off on one of the off-cambers and I went off the track and I went to hop back on and I had to stop because there's obviously oncoming traffic. When I stopped I literally got stuck on a hill and I couldn't get off. I tried and did a burnout, got even worse. Come from dead last up to 16th. I got Rattray and I was kind of catching on Brayton a little bit. Then I weeded it again like two laps to go and ended up 18th. It happens, but second moto was decent. I put out a lot of energy the first one and the last three laps of the second moto I was tired. I really wanted Reedy for 7th. Alessi went by me. He was riding good. Just one of those deals. I was just happy to recover and get a top 10.
Ben LaMay, Rock River Yamaha, 17-15 for sixteenth overall in 450MX
It was decent. I usually ride pretty good here. I usually ride a little bit better than I did but I'm still pretty happy with the results. I ended up sixteenth overall, so that's an improvement, and I just want to keep pushing.
Not sure what position you were in, but you had a pretty good battle going in the second moto with several guys.
I don't really know what position I was in either. I had Barcia behind me, Byrner, Brayton, it was a handful of guys. We battled for a while and I got a little stagnant in the middle, but I came on strong in the end. It was a good way to end the day.
They added some rollers at the base of Horsepower Hill. Did that complicate it at all?
I liked them a lot. Instead of just a drag race up the hill it actually took some technique. If someone messed up and you hit them good, you could make the pass. I liked that they put them in this year, and I think they could have even been bigger and longer.