Loretta Lynn Ranch
Hurricane Mills

,

TN
RedBull AMA Amateur National Motocross Championship (Loretta Lynn's)
Amateur National Motocross Championship
Mammoth has officially come to an end and it is safe to say this event was a huge success, as it is every year. With crowds lining the fences all week cheering on the riders, a picturesque track, great vendors and sponsors lining pit lane, and a program that was dialed in and organized daily, the week long event as a whole was just plain good times.
In our last day of racing here we had some ladies hitting the track and there were a good amount of them out there doing battle. KTM's Alexah Pearson would pretty much dominate the field, but the Honda pilot of Amber Felicio tried her best, and actually got a great jump off the line during the second moto grabbing the holeshot. Pearson would ride her Orange Brigade KTM just a little more quickly around this track to go 1-1 and bring home a Mammoth bear trophy of her own!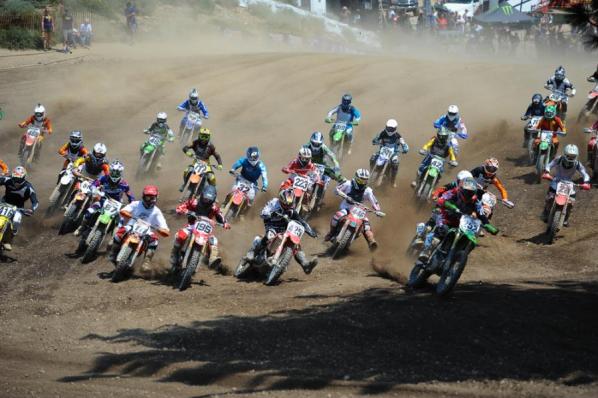 The final day of the big bikes took place on Sunday.
Insidermx.com photo
Today we would see a huge turnout in the Novice class with four separate divisions of 450 C. With a full gate final lined up, the riders anticipated the gate drop and bounced their machines off the rev limiters. Coming around the first turn after a drag race uphill, it would be the number 252 of Bryce Stroud grabbing the holeshot. The first few laps would see some passing back and forth between the top 5, and after lap three your eventual race winner Adam Nickerson would secure the lead and never look back. Second and third would go to Cody Casner and Daniel Cortines, respectively.
Unfortunately for Jordon Smith, who has been very impressive all weekend, he would have a nasty first turn crash in the 450 B final that would end his day. He was holding his shoulder, but nothing was reported on the extent of his injuries yet (he walked off the track looking to be in some pain.) This left the door wide open for Jayme Gardiner and Dylan Merriam, who have ridden great all weekend. These two had perhaps the battle of the day, going back and forth for the lead multiple times in a few laps!
Gardiner, who reportedly had stomach issues throughout the weekend, was eventually passed by a relentless Merriam and the race would end with Merriam, Gardiner, and Ikua Hughes going one-two-three. The two contenders hugged it out at the podium and showed what good sportsmanship is all about.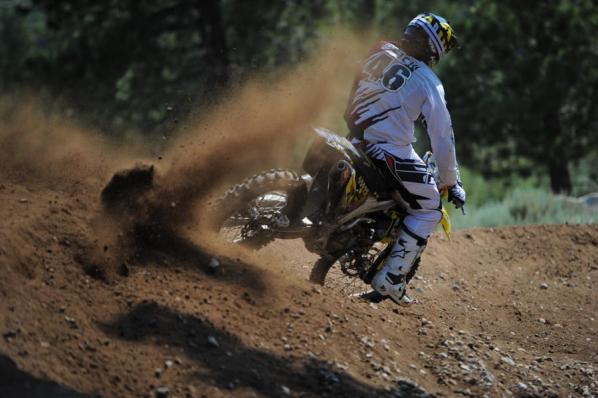 Weston Peick took home the 450 Pro Class win.
Insidermx.com photo
What kind of race should we end this thing off with? Why not the 450 Pro Class! Another full gate thundered up Mammoth Mountain and grabbing the holeshot was Alyus Wardius who was very fast all day, but he would quickly have his troubles leaving the lead to Weston Peick, followed by Scott Champion and Colt Nichols. Colt would work inside and outside lines and eventually find a way around the number 78 Naveen Honda of Champion. Behind these guys we would see an intense battle between Tyler Bereman and Chris Plouffe for seventh place that lasted for just about the whole ten laps! The front three settled into their pace by lap five and the race would end in that order…Peick, Nichols and Champion. Weston Peick would walk away from Mammoth with a big smile and some cash in hand. All in a couple days work!
That's it for this year, thanks for tuning in! We look forward to next year!