Rancho Cordova, CA
Hangtown
Lucas Oil AMA Pro Motocross Championship
BTO Sports is your number one source for all of your motocross parts, gear, accessories and apparel. BTOSports.com is a motocross company who is truly dedicated to the sport and to the customer. Proud sponsor of your Racer X Podcasts and the BTO Sports race team.
Yeah! Motocross is here! It's the same thing for me every year. Near the end of supercross I'm always looking forward to the Nationals and by the end of the motocross, I'm looking forward to the indoor season. After months and months of watching the guys barely crack the throttle open indoors, the first round of the Lucas Oil Motocross Championship is a shock to the senses. The sound and fury of riders going wide open, bouncing off berms and hanging on for dear life is pretty cool. We're back to the roots and this summer is promising to be a great one. Or is it? More on that later.
Hangtown is no doubt one of the most improved tracks on the circuit. The hard-pack and dust are gone, it's pretty loamy now, the layout is improved, and it's a great spectator track as well. Here's the thing about Hangtown (and Glen Helen before)n -- no other track in the series (with a nod to Lake Elsinore) gets as rough and square-edged as it does. There's no need to panic if your suspension setup is off at this race. This is a tough and rough racetrack and it's also a West Coast track. Next week we're onto more loamy conditions and will be for most of the remaining Nationals. There's no need to panic and scrap what you've learned and worked so hard on based off of Hangtown results. It's a rare animal and riders would be wise to remember this.
We had air forks back in the '70s and those didn't work that well so it was back to putting springs into the forks for a couple of decades. A few years ago we saw a single spring in one fork leg with the oil and dampening in the other. This was a bit lighter. Then air forks came back onto the scene and we're once again seeing forks that are a couple of pounds lighter than spring forks and on the front end, that's a big deal. Most of the teams are running air forks indoors, except for Chad Reed, who's gone on and on about how he doesn't like them. Anyway, the latest tech is a new triple-air fork with the Monster Energy Kawasaki and Monster Energy/Pro Circuit 250 and 450 teams. They all debuted these things at Hangtown.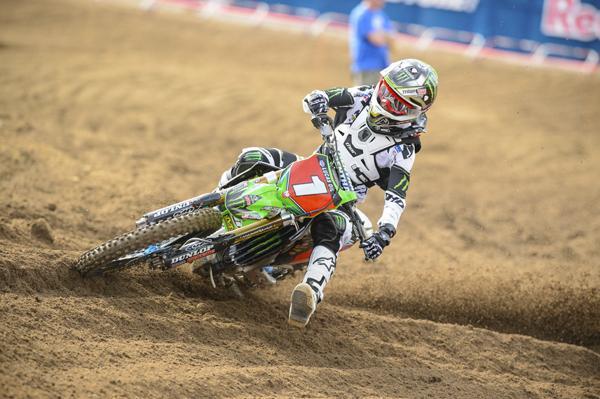 Blake Baggett and the rest of the Monster Energy Kawi riders debuted the new triple-air fork at Hangtown on Saturday.
Simon Cudby photo
Yeah, that's right. Another air chamber has been added to the forks at the bottom to control the preload of the forks. It's replaced the small spring that used to be in there to control the very initial part of the fork and how far down in the travel it sits. It's lighter and shows up on the dyno curve as being much smoother than a mechanical spring was. So we're now up to two air chambers in the forks to control action like a spring and another air chamber on the bottom to control when the two air chambers start to work. Got it?
It's also interesting to note that James Stewart went all the way back to a spring setup on his Yoshimura Suzuki. Stewart commented that they just need some more testing time on the triple air fork, so for now, they went back to their 2012 Hangtown setup, which, as we saw last year, worked pretty well. Of note is that the winner of the 450MX class, Ryan Villopoto, used the triple air fork. The times, they are a changing.
Yeah, so about that Ryan Villopoto guy. Like I mentioned up top, we thought this year might be one of the best in a long time. The 450 field is so deep with the veterans and the rookies that it looked to be sort of wide open. Keep in mind that we thought supercross would also be like that but then Villopoto went out and won ten out of the seventeen races to clinch the title with a round to spare, despite a bad first race at Anaheim.
But I was surprised at Villopoto's 1-1 ride at Hangtown. He demolished the field and honestly, I didn't think that a rider like Ryan Dungey or James Stewart could ever get demolished but at Hangtown, they did. It was truly an amazing ride by RV. Margins of over 20 seconds on Dungey in each moto and over 40 seconds on Stewart should tell you just how good the kid from Washington was.
I think the most impressive thing was that RV, using a bit of good fortune with Dungey and Stewart touching, went from third to second to first in the second moto and then just dropped the hammer. The very first lap that he was in the lead, he went nearly five seconds faster than Stewart and nearly four faster than Dungey. That was your race right there. Dungey matched him the next lap but the damage was done. If Hangtown was a crowded bar, Villopoto walked in, grabbed the hottest chick there, shot-gunned a beer and left with her in about the span of two minutes. It was something else indeed.
Kenny Roczen was the source of some Tweets and pit gossip regarding his Hangtown prep as he seemed to be surfing and hanging out a lot and enjoying his 250SX West title. People on social media and in the pits didn't think he was putting the work in, but this kid didn't become a World Champion by hanging out on the beach, y'know? Last season, his first on the USA national circuit, saw him lead the second-most laps of the year yet only grab one lonely moto win. Many times he got caught and passed at the end of motos and all the "USA NATIONALS ARE BETTER THAN THE GPs" people snorted that the German apparently couldn't handle the heat and rough tracks.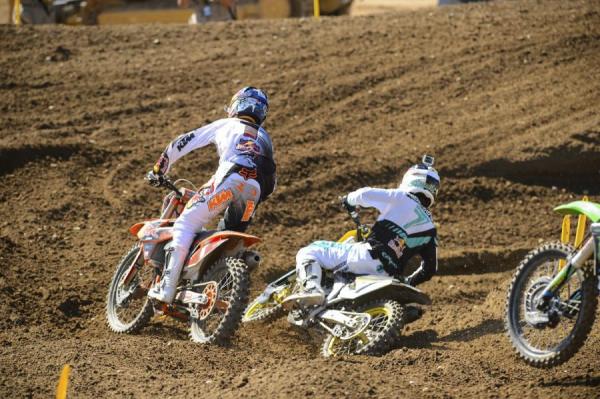 Dungey (left) and Stewart (right) tried to hold off RV, but to no avail.
Cudby photo
Well, it's a new year and it appears to be a new Roczen as well. Kenny was phenomenal in the first moto as he came from ninth [ninth!] to win the moto going away. Yeah, that's right, he passed Eli Tomac and Blake Baggett and left them behind. And speaking of behind, he was in no danger at any point of getting caught from behind like last year. In the second moto, boom! He backed it up. Another win and a 1-1 day for Roczen, who doubled his entire 2012 moto win total in one race. Whatever it is, whether it's surfing, eating Chipotle, or petting his bulldog -- just keep doing it Kenny.
I was surprised at the clear division in both classes this past weekend. You know we all do the prediction podcasts and talk about the front runners and I think that we all pretty much knew that Roczen, Tomac and Baggett would be the top 250 guys, with Marvin Musquin in the conversation, too. We also knew that RV, Dungey and James Stewart would be the top guys on 450s, with a nod to Trey Canard, Justin Barcia and maybe Chad Reed. But at Hangtown it was surprising, to me, anyway, how much better these guys were. At no point were the top five in the 450s in danger of dropping out of that spot and in the 250s, the top three were much better than the other guys. I just thought it was surprising, that's all.
Let's take a look at the results shall we?
250MX RESULTS
1 94 Ken Roczen Murrieta, CA KTM 250 SX-F 1 1- As I said after the race to Eli, it's not like Baggett and Tomac rode poorly -- they didn't. The German was just that good.
2 1 Blake Baggett Grand Terrace, CA Kawasaki KX 250F 3 2- Baggett was going on the DMXS show and doing interviews with Weigandt talking about his wrist and how it has ten percent movement, how he's not ready and this and that. In my opinion, this is silly. Blake Baggett is a badass and no one really fell for that right? He was out at the Southern California tracks testing and riding very, very fast before this race. Not sure what he was trying to do there, and while I don't believe he's 100 percent, I also don't think he's as bad off as he's been claiming. You don't go 3-2 in some good rides on a very rough track if your wrist is as bad as he said it was. It wouldn't surprise me at all if he's holding the number one plate at the end of twelve rounds.
3 17 Eli Tomac Cortez, CO Honda CRF250R 2 3- Tomac was very good and there wasn't much to pick from between him and Baggett, except for Eli's start in the second moto. Coming around the first lap in tenth isn't going to get it done against the German and the Champion.
4 25 Marvin Musquin Corona, CA KTM 250 SX-F 4 4- Marvin surprised me for sure. I was talking about how, on the Racer X Podcast, when the track is rough and gnarly and it's hot, it requires something else from a racer; the ability to just grit your teeth and go balls out on the track. I wasn't sure if Marvin had that in him and I was speaking to someone who raced him a lot over the years and they agreed with that theory. Maybe he does though, maybe he does. Nice ride!
5 338 Zach Osborne Honda CRF250R 9 5- No doubt spurred on by our dinner together on Friday night, Osborne caught a break going 9-5 for fifth overall (welcome to the 250s!). He rode very well in the second moto when he was running third and got taken out by Musquin, which knocked him back to tenth. From there he got back on his horse and caught up to fifth, still charging at the end. Nice American (re) debut for "Stack Attack" Zach.
6 38 Kyle Cunningham Aledo, TX Yamaha YZ 250F 8 7- Quietly, Cunningham had a pretty good day. We know he's fast and if he can stay consistent, he can be there at the end. Remember, a couple of years ago he was battling Tomac for fourth in points at the end of the year.
7 21 Jason Anderson Edgewood, NM Suzuki RMZ 250 12 6- After the race, Anderson's team manager Dave Gowland mentioned that he thought he'd see more from Jason at Hangtown. His sixth was good, but honestly, I'm not sure he's ready to break into that front pack just yet. Soon, but not yet.
8 77 Jeremy Martin Millville, MN Yamaha YZ 250F 7 13- Good ride for Martin who was a bit overlooked in the Cooper Webb hype. In the 250 Class, a 7-13 is pretty consistent. These guys are all over the map. Nothing wrong with an eighth overall on the day in what is still one of the first pro motocross races of his career. That seventh in the first moto was a career best for Martin.
9 176 Joseph Savatgy KTM 250 SX-F 10 11- Better than you thought right? C'mon, admit it.
10 317 Justin Hill Kawasaki KX 250F 13 9- After the race Mitch Payton said it simply by stating that Hill "needs more speed" but a tenth overall is a fine start for the rookie.
11 175 Cooper Webb Yamaha YZ 250F 5 18- Heartbreak for the rookie, as he went from eleventh to eighteenth on the very last lap when he stalled his bike. He was also docked one spot for outside help. Give him those points and it's a seventh overall for the kid! Oh and by the way, I've done my fair share of crushing Star Racing for its numerous foibles over the years, but in the first moto they had all three of their guys inside the top eight. Yeah, good job to Star!
12 34 Justin Bogle Cushing, OK Honda CRF250R 19 8- Big year for Bogle this season. The GEICO guys have some promising kids coming up and Justin needs to show something this outdoor season.
13 13 Blake Wharton Pilot Point, TX Suzuki RMZ 250 17 10- Wharton was up front in both motos and his starts were great. That's the good news. The bad news is that he faded back pretty badly but then again, he had some surgery on his nose after Vegas and hasn't been able to ride since then.
14 44 Darryn Durham Butler, PA Kawasaki KX 250F 6 36- The Double Dee crashed out in the second moto but in the first moto he was a real surprise. This was Durham's first National in over a year and to get sixth definitely showed something. I'm sure Payton was relieved, as a few weeks ago, he seemed a little pessimistic about Durham's speed.
15 43 Cole Seely Murrieta, CA Honda CRF250R 14 14- Seely didn't ride outdoors last year so I imagine it was a bit of an adjustment to him out there for the first race. A 14-14 should be better than a fifteenth overall also.
16 396 Dillan Epstein Kawasaki KX 250F 11 23- Epstein turned pro last year for Lake Elsinore and ran sort of near the front before trouble struck at that race. This year, a strong first moto indicates that we could be seeing more of this kid as the series goes on.
17 40 Martin Davalos Cairo, GA Kawasaki KX 250F 38 12- Davalos crashed out in the first moto pretty good and took a rock to the face. Second moto he was about where I thought he would be.
18 23 Jake Canada Sun City, CA Honda CRF250R 16 17- Jake Canada was much better than you think. Both motos he fell early on (and he fell again in the second moto at one point) so he was buried. The dude came around in thirty-third after the first lap in moto one and thirty-fifth in moto 2. Yeah, that's right. Great ride for Canada. You won't read about it anywhere else but I was watching him and he dug deep at Hangtown.
19 37 Alex Martin Lake City, MN Yamaha YZ 250F 20 15- Martin's been out all year and this was a nice ride for him (at least in the second moto). He was dicing with his brother at one point.
20 167 Zachary Bell Cairo, GA Honda CRF250R 15 35- Not a good day for Bell. I believe that if you're on GEICO or PC, you should be held to a slightly higher standard than, say, Jake Canada. So Bell continued his not-so-good rookie season at Hangtown with these results and now he may need shoulder surgery and could miss a long time.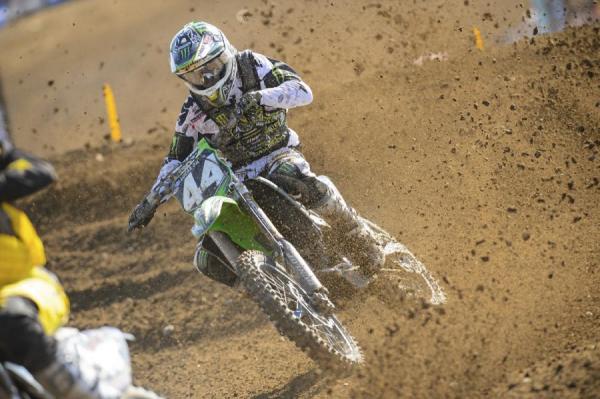 Durham was impressive in his first race back in a long time.
Cudby photo
450MX RESULTS
1 2 Ryan Villopoto Seattle, WA Kawasaki KX 450F 1 1- The worst thing about RV's day was his prerecorded, obviously reading off a piece of paper and obviously not into it commercials for the new Oakley goggle. But that's about it.
2 1 Ryan Dungey Belle Plaine, MN KTM 450 SX-F 2 2- Dungey was good. Very good actually, but he didn't have anything for Villopoto on this day. I thought that, with my sideline mechanic eyes, his bike worked much better than it did last year at this race and last year, he chased Stewart around both motos. This year? He beat him pretty good, so that's improvement right there, methinks.
3 7 James Stewart Jr. Suzuki RMZ 450 3 3- Stew briefly led both motos and settled for a solid podium finish, but he's got to be a bit worried that he was so far behind RV (and Dungey for that matter). He was in a good mood after the race and was saying the right things about it being a long season and he's got to make it to the end to win the title, but he's James Stewart, he doesn't get beat like this. This man went 24-0 against the mighty Tim Ferry! But in all seriousness, he'll get better as this thing goes on but he's got to improve quickly because clearly, Villopoto and Dungey are on it right now.
4 41 Trey Canard Oklahoma City, OK Honda CRF450R 4 4- Keep in mind this is only Trey's second full 450MX National ever (he raced Millville in '11 and crashed out of Washougal). Yeah, I know -- crazy huh? In the first moto he was catching Stew pretty good until late in the race. Nothing wrong with this finish for Trey. Very solid.
5 51 Justin Barcia Pinetta, FL Honda CRF450R 5 5- Instead of Bam Bam, Barcia's nickname should've been Bad Bad (starts) because after qualifying fastest, Justin's starts did him in. Coming from outside the top ten each moto and making the podium is tough to do. Flip a coin between him and Canard because they're that close.
6 35 Ryan Sipes Elizabethtown, KY Suzuki RMZ 450 8 7- I've long thought that Sipes should get on a 450 but then again, I'm not in a position to pay him the money he loses in not moving up. So there's that. But look at Sipes here getting a sixth overall! There's no way any of you expected this unless your Ryan's mom or dad. He is indeed a solid sleeper pick this summer.
7 29 Andrew Short Smithville, TX KTM 450 SX-F FE 6 10- Andrew just did what Andrew does, quietly getting a seventh place. Hangtown is not his favorite track by any means so this is pretty good for Short. And this weekend he's going to Lakewood where he loves the track and has won motos before.
8 800 Mike Alessi Canoga Park, CA Suzuki RMZ 450 12 6- You usually instantly know how Mike's race is going to go by the start. He needs to get the holeshot or a good start to do well. There's not a lot of races where Mike charges from the back and passes a lot of dudes. And at Hangtown, a track he normally flies at, he went backward in the first moto. It was a bit weird. Second moto was much better but I've got to be honest, I was surprised at how far off the leaders' pace he was.
9 28 Tyla Rattray Wildomar, CA Kawasaki KX 450F 9 9- I don't know man, I thought Rattray was okay. Nothing great, but nothing bad either. Afterward, Pro Circuit team owner Mitch Payton said that he needs to be better.
10 46 Weston Peick Wildomar, CA Suzuki RMZ 450 13 8- Great race for Peick and nope, he still doesn't have anything for the Nationals. His battle with Sipes for seventh in the second moto was great. It was what motocross is all about.
11 49 Phil Nicoletti Bethel, NY Yamaha YZ 450F 11 11- Great ride for Filthy Phil in coming from behind. After the race, he wasn't happy, though. I think Nicoletti could win the Powerball and all he would talk about would be the taxes he had to pay.
12 20 Broc Tickle Holly, MI Suzuki RMZ 450 14 12- Tickle went 6-7 last year here and I remember thinking that he rode very well and was a surprise out there. This year a crash in the first moto didn't help but he rode okay in coming from the back. As I said in the top, there's no need to freak out over Hangtown, but after watching Tickle I thought that his bike didn't look like it worked very well. He's also using the Showa spring forks, like Stewart.
13 12 Jake Weimer Rupert, ID Kawasaki KX 450F 7 24- Good ride for Weimer in moto one as he came from the back into seventh. Second moto he went down early and got run over repeatedly which caused him to pull in for new goggles.
14 15 Dean Wilson Wesley Chapel, FL Kawasaki KX 450F 17 14- Was this good? I'm not sure. Wilson's finishes on paper don't look good but he was pretty fast in the first moto (he stalled it) and in the second moto he crashed on the first lap and was way back. So, the jury's still out on Wilson and how good he can be on the 450.
15 22 Chad Reed Dade City, FL Honda CRF450R 10 38- Reed didn't ride all week. He was sick with the flu and truthfully, his guys were surprised he even got tenth in the first moto. In the second moto he pulled off and saved himself from possibly passing out on the track.
16 867 Fredrik Noren Suzuki RMZ 450 16 17- Noren's the first guy that you look at for the overall results and go "Huh?" The Swedish rider must not be under an AMA license because he should have a national number based on last year. Anyway, Noren had a strong ride on the day and was, after Peick, second "TP."
17 111 Travis Preston Yamaha YZ 450F 15 18- Yeah! Good job for the former factory Honda rider who came out of retirement for just this race. He's 35 years old and was never exactly an outdoor warrior type of guy, but Preston impressed me with his rides. Afterward, he was very content and happy with how he did, and he should be. Remember when Ryan Hughes came out last year and struggled? Yeah, he's older than Travis but that should give you an idea that you just can't step in and expect great things.
18 10 Justin Brayton Cornelius, NC Yamaha YZ 450F 33 13- Brayton got a front flat tire in the first moto but team manager Jeremy Albrecht said that he wasn't happy with the way Justin casually rode into the pits for the change. He also wasn't  happy with the way his other rider, Josh Grant, rode. I know the flat tire is why it happened but both guys getting beat by the 35-year old and six years since his last national Travis Preston wasn't good.
19 26 Michael Byrne Rockhampton, Australia KTM 450 SX-F FE 19 16- Hey, between Preston, Noren and now Byrne, we had three guys racing their first races of the year and all inside the top twenty. Byrner hates Hangtown and his leg is still not 100 percent, so he'll take this finish. His sixth place start in moto two helped a ton. Shocking, I know.
20 32 Malcolm Stewart Murrieta, Ca Honda CRF450R 36 15- My Mookie Fever was strong as Malcolm raced to the front of the pack in the first moto and was all the way to sixth before his water pump broke when he collided with Wilson. He was on fire! And think about this, he didn't have much time on the TLD Honda either. Mookie then came from thirty-sixth to fifteenth in the second moto! Clearly this move to the 450s agrees with Mookie. Please make note of how many times I've mentioned that he should move up in the past.
Some news and notes from the town that hangs:
-The WMX kicked off its three-round series at Hangtown and a girl from New Zealand named Courtney Duncan waxed the field on a, get this, YZ125. Yes! The two-stroke weirdos fans are right; you CAN win on a two-stroke. Well, at least in the WMX class anyway. This girl's been in the USA for a while riding at MTF and clearly she hauls ass. Great job to her on that 125.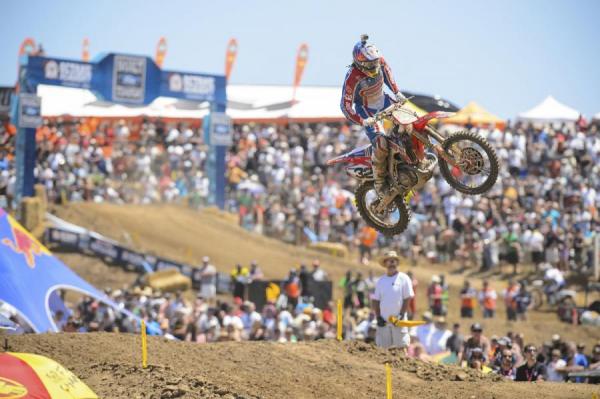 Mookie was solid in his 450 debut with TLD Honda.
Cudby photo
- There was a dude out there named Lewis Stein who tried to qualify for the 450MX class on his KTM 250 two-stroke. And yeah, he finished eightieth out of ninety-one guys. Last year I gave Chris Blose $1000 bucks to get a YZ250 into the 450MX class and he failed also. I'm not sure why guys like Stein go out there and try to make it. They aren't on a bike that can do it. You may as well light your entry fee on fire. It's just too tough to do it on a two-stroke.
- A long time ago, when I was first breaking in as a mechanic, there was this Kawasaki privateer riding a Tom Morgan-tuned bike and absolutely killing it. He was wearing #47 and honest to God, jumping stuff in supercross that only the very best guys were doing. Ryan Huffman used that season to get a factory Suzuki support ride at Primal Impulse and then did…absolutely nothing. It was too bad really, the kid has skills. Anyway, Huffman was soon done with his pro career and in the last few years he's been running the Washougal track after his parents ran it for years. He still raced the National for while here and there but was getting on with his real life stuff. Well, he came out for Hangtown and it was good to see him out there still enjoying it. He also took out Mike Alessi while being lapped but it was a total accident. Ryan Huffman - a blast from the past at Hangtown!
Thanks for reading, we all really appreciate it here at Racer X Online. Email me at matthes@racerxonline.com if you want to chat about this race or really, anything else.