Hangtown Motocross Classic
Rancho Cordova

,

CA
Hangtown
Lucas Oil AMA Pro Motocross Championship
It wasn't long ago that Darryn Durham was popping the champagne cork, celebrating his first career 250SX win in New Orleans. The former Star Racing prospect, who had bounced around the privateer circuit with Eleven10 Mods, was back under factory support—this time with the powerful Monster Energy/Pro Circuit Kawasaki team—and was relishing in the spotlight. Since that jubilant night in The Big Easy more than a year ago, nothing has come easy for the Pennsylvania native. A shoulder injury shortly after his first win sidelined him for the rest of the 2012 season. An Achilles injury followed that off-season and lingering shoulder problems compounded the matter. There was speculation that Durham may miss the season opener at Hangtown, but the 2008 Horizon Award winner confirmed yesterday that he would return for the 2013 Lucas Oil Pro Motocross season opener on Saturday—which will mark his first race in over a year.
Racer X: There has been a lot of speculation as to whether we would see you on the gate come Hangtown due to a shoulder injury. First, will you be at the season opener? Secondly, how has the recovery process been? I know it's taken longer than expected.
Darryn Durham: As far as I know I am racing. It was just a long year off with injuries. I had a really bad shoulder injury that wasn't building muscle until about February. So I have been trying to just make it strong since then. It's been a lot of physical therapy and hard work trying to get back to ride my dirt bike as fast as I can. I'm just pumped to be back.
A lot of people tend to think of this as just a physical injury. But how tough has it been mentally, not being on the bike and having to rehab everyday?
It really sucked, honestly. It was not a lot of fun and it's not something I want to do again anytime soon. On the bike now it doesn't really affect me because I'm so pumped to be riding. I had Achilles tendon surgery and my foot really bothered me for a long time and I still can't walk really well.
Is the Achilles injury affecting your riding at all?
No, I don't think so. I feel like I'm riding close to 100 percent. I went home to Pennsylvania for a couple of weeks and that helped me find my grove again. I was kind of burnt on riding at the California tracks all the time, so I think the change helped.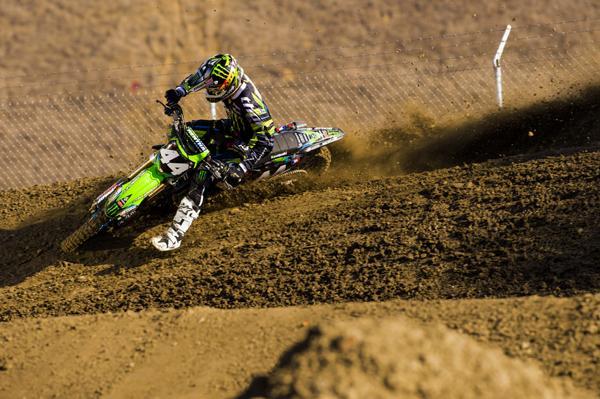 Achilles and shoulder injuries have keep Durham away from racing for more than a year.
Jeff Kardas photo
You have been back on the bike for a while, but not riding to your full potential. How long has it been since you've felt back up to speed?
I've been bike on the bike since February and been doing long motos since around March. But for a while I wasn't able to do them everyday because I was sore. Now I've gotten past that stage and can moto everyday and I'm feeling good. So I'm going into the weekend trying to come out swinging.
A lot of riders that have been out for an extended period talk about how hard it is to get back to race intensity or race pace. How big of a factor will that be for the first couple rounds?
I'm not really sure. I've never had this much time off. I think racing is kind of instinct and I feel that I still have that instinct when I get out there and push hard. When practicing … I think that is why Mitch [Payton] thought I wasn't ready because I wasn't riding 100 percent when I was practicing. I got hurt practicing and I was a little spooked at first. But I feel I've gotten over that and am ready to go racing.
So it was a mental barrier you had to overcome?
Yeah, kind of. I crashed on a super windy day and a bunch of the days have been super windy so it's kind of in the back of your head. I've been trying to push it out and not let anything bother me because that's when stuff can happen again.
There was some speculation that the team wasn't sure if you were going to be ready. Did that weigh on you at all?
A little bit. I wasn't sure. I was just trying to do the best I can and that's all I've been doing—trying the best I can to make everyone happy even though I haven't be able to race. Hopefully I'll be able to come back outdoors and turn it around.
Will it be a big adjustment getting back into the flow of outdoors after missing all of last season?
It might be a little more nerve racking than normal the first couple of motos. I usually go to the gate pretty laid back. I'm just trying to have fun is how I look at it. My attitude going in is to try and get a good start and do the best I can and have fun with it.
The last time we did see you outdoors, you were flying on the privateer Eleven10 Mod effort. Now, with arguably one of the best bikes in the class, does it give you more confidence?
Yeah, that's kind of how I feel. I have one of the best bikes and I still feel like I'm a great outdoor rider. So hopefully I can come out and turn some heads.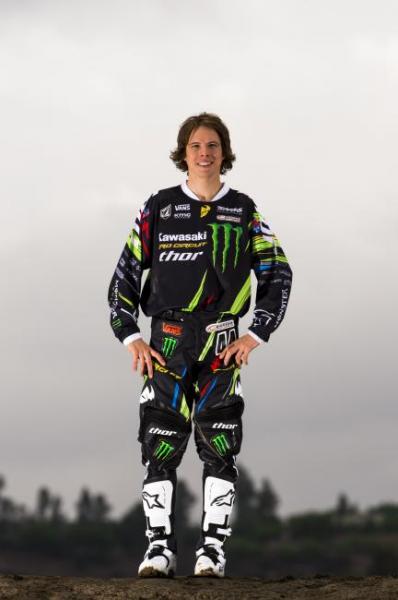 Durham makes his return this weekend at Hangtown.
Jeff Kardas photo
Is this the final year of your contract?
After supercross last year I re-signed for 2013 and 2014. But I think I still need to do well.
Does having another year left on your contract take some of the pressure off?
Yeah, a little bit. Mitch has told me that if I don't feel ready I can sit out and try and get healthy. But I've been sitting out and trying to focus on getting healthy for a long time. I'm ready to get out there and mix it up.
You also have a new teammate this is making a pretty big debut this weekend as well, in Adam Cianciarulo. Have you seen Adam ride and how do you think he looks?
I've been riding a little bit with Adam the past couple weeks and he looks really good. He has good speed and I think he will be a contender right away, if not really soon.
The team is now fielding seven riders for the Nationals. How hard is it to gel with such a big team and does everyone get along well?
I think everyone gets along. I think this will be the first time with two Pro Circuit semis, so that may be a little bit of an adjustment for everyone. But I think it will be really cool. It should be pretty mellow, and I think everyone will get along pretty good.