X Games Gold for Taddy in Brazil
Future7Media Press Release
Taddy Blazusiak has secured an X Games Gold Medal in the Enduro-X Men's Final in Foz do Iguaçu, Brazil. Fending off some of the world's best endurocross racers, the KTM Enduro Factory Team rider took a near start-to-finish win in the Men's Enduro X Final, which marked the start of the four-day action sports event.
With X Games Brazil the first time that Enduro-X has been 'taken outdoors', competitors faced a notably larger and more demanding course than those usually built. With track conditions proving extremely slippery victory certainly didn't come easy for Blazusiak.
Struggling to find grip in his qualifying heat Blazusiak crashed on one of the tricky rock sections and was forced to battle his way from the rear of the field to his eventual finishing position of fifth.
Although faced with a difficult starting position for the Men's Final, the KTM rider enjoyed a great start and hit the front of the race shortly after the third corner. Taking his time to deal with the extreme conditions, Blazusiak faced a fierce challenge from rival Cody Webb. During the first four laps of the race the leading duo swapped positions numerous times as both riders sought to find the perfect line around the deteriorating course. Knowing any mistake would prove costly, Blazusiak maintained a steady rhythm while Webb crashed out of contention shortly after the race moved passed the halfway point.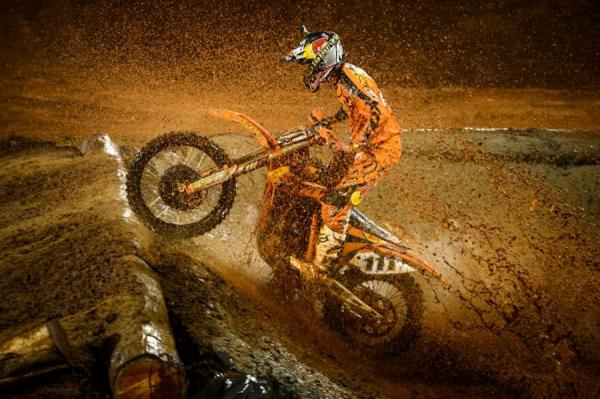 Blazusiak took home gold in Foz do Iguaçu.
Marcelo Maragni / Red Bull Content Pool photo
With the laps winding down Blazusiak settled his pace, maintaining a comfortable advantage over the chasing field of riders. Continuing to ride a faultless race he secured a well-earned victory.
Blazusiak now turns his attention towards round one of the AMA EnduroCross Championship on May 3 in Las Vegas before contesting round two of the X Games series in Barcelona, Spain on May 16-19.
Taddy Blazusiak: "I can't believe the night I had. Firstly, getting off a rally bike and back onto my endurocross bike was much, much harder than I was expecting. I can't remember the last time I felt so bad on a bike. Things had been going bad all night but thankfully everything worked out, it's great to get another X Games gold medal. The track was really cool, but it just became so slippery that it was a game of survival. It was a warm night, but it was humid. I was pretty much riding in survival mode from the start. I had the 10th pick of the start, but took the very inside gate and managed to take the lead coming off the first rock section. Cody Webb was riding strong, but I knew that pushing too hard wasn't the way to go. I stuck to a speed I was happy with, and raced the few parts of the track I could. It's amazing to have won… I just hope things go a little more smoothly at the next X Games event in Spain."
Results – Men's Enduro-X Final, Brazil
1. Taddy Blazusiak (KTM) 12:45.160; 2. Cody Webb (Beta) 12:54.633; 3. David Knight (Honda) 13:04.609; 4. Colton Haaker (Honda) 13:19.001; 5. Taylor Robert (Kawasaki) 13:23.405; 6. Mike Brown (KTM) 13:40.964; 7. Cory Graffunder (Husqvarna) 14:15.803; 8. Kyle Redmond (KTM) 12:51.190; 9. Alfredo Gomez (Husaberg) 13:02.608; 10. Max Gerston 13:11.910…