Minneapolis, MN
Minneapolis
Monster Energy AMA Supercross Championship
BTO Sports is your number one source for all of your motocross parts, gear, accessories and apparel. BTOSports.com is a motocross company who is truly dedicated to the sport and to the customer. Proud sponsor of your Racer X Podcasts and the BTO Sports race team.
There were four rounds left in 450SX Monster Energy Supercross when the gate fell for the main event in Minneapolis, Minnesota, and as we were reminded a few times during the night, it was to be the last ever supercross inside the fabled Metrodome (or the house that Kirby Puckett built). And whether it was the first or last supercross in the dome, there weren't too many people who thought that once Ryan Villopoto got into the lead on lap one, this dome crowd wasn't going to see the same old, same old.
But oh no, hometown boy Ryan Dungey, who had to have been getting frustrated lately at having been close but no cigar to Villopoto in the last month (not that you would ever notice that affecting Dungey or have him actually admit it), had something to say about that.  The #5 KTM worked hard at erasing the gap between himself and RV, made a couple of moves and took off for the win. It was a great ride for Dungey, and in front of his hometown crowd at that. It was a great battle—maybe the best one all year—and in the end, Dungey had won his second race of the year and gained three points on Villopoto. All very important and impressive stuff.
It's no secret that Dungey's team, fans and even other riders don't think he's aggressive enough. This is good and bad for him.  Good because he stays above the noise and out of controversy, but bad news because sometimes he's unable to make something happen when he probably needs to. Sometimes you just need to force the issue because, as his team manager Roger DeCoster told me afterward, "It's not dancing out there."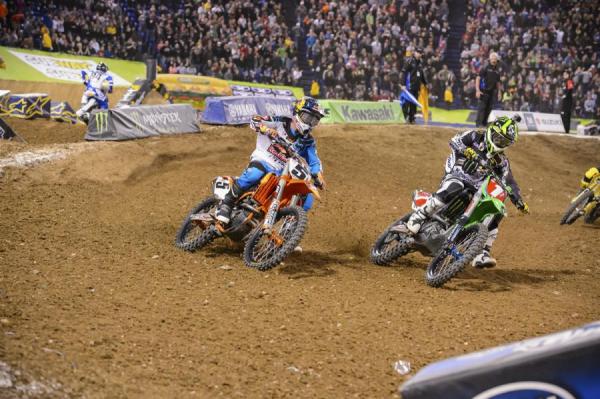 The Ryans produced an epic night in Minneapolis.
Simon Cudby photos
Even though I knew it and it's common knowledge, I was still taken aback when the announcers informed us that RD's win in Minneapolis was the thirteenth supercross win of his career. Think about that. When you think about the Ryans you generally think about how they're pretty evenly matched riders. But then you see that Dungey has won thirteen supercrosses to Villopoto's thirty-two. That's almost three times as many! To be fair to Dungey, RV moved to 450s one year sooner than Dungey and Dungey has RV covered in 450 motocross wins, but for this purpose, for supercross, it's amazing that Villopoto has that many more wins than Dungey. Don't you generally think that these two are pretty even?
Maybe there comes a point when we have to think about Dungey just being a better outdoor rider than indoor rider, like the guy he leases property from (Ricky Carmichael). So perhaps instead of asking why Dungey can't do what he did at Minneapolis more often (which I know was the question from some of my bench racing buddies), maybe we should talk about this win being even better than we think. After all, he chased down and passed a guy who has almost three times as many indoor wins as he does.
Whatever you think of Dungey's indoor skills, his legacy, his moxy, there was no doubting that Minneapolis was an awesome ride for Dungey. Perhaps he'll make a series out of this thing before it's all said and done.
I had to shake my head at the people that are claiming Ryan Villopoto let up and allowed Dungey to win to protect his points lead. Yes, he did stand up and let Dungey by in the turn after the whoops but that was, to me, an admission that he was caught by Dungey. Rather than force the issue and perhaps end up on the ground, he let the Dungey by without incident in the hopes of getting him right back. It wasn't a points lead thing, it was self-preservation. Looking back at the video, I think RV and his people will see that he didn't have to let him by so easily. Dungey wasn't as close as he thought and there was no danger of contact there, because Dungey was far inside in that section. But hey, it's the heat of moment and it's not easy to have eyes in the back of your head, especially when you're battling side-by-side for the lead with a guy through a set of whoops.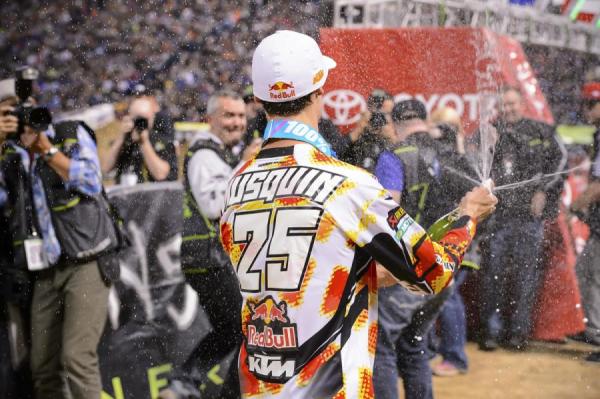 Marvin Musquin cut into Wil Hahn points lead with a win Saturday night.
Cudby photo
But I shook my head when people said he essentially "gave" this race to Dungey. Really? So despite you getting caught and losing a four-second lead, you decide to make contact in a turn and bounce off your fellow competitor? Then you run it in on the inside of a super hard, flat slippery turn—again making a bit of contact—and try to get to the inside? And on the last lap, you put in one last charge and even get next to Dungey in the option lane, trying to find an opening? Does that sound like a guy that just "gave" it up to protect a points lead? No. Villopoto tried his hardest to fight back against Dungey and win the damn race. And he got beat! That's it, no doubt about it. There was no riding to protect a points lead. Villopoto didn't get to where he is today without having the drive to win every single time out. To suggest Villopoto didn't care is foolish to me. Ryan Dungey just rode a great race, that's all.
And despite the two incidents of contact and the close racing, I loved seeing them shake hands after the finish. As we've seen all too many times, it's tough for riders to do that. A tip of the chapeaux to both guys.
The track in Minneapolis was pretty cool and it seemed that there was a lot of dirt out there. The dirt was the same stuff that they used in 2008 and although it was a bit wet in practice, it turned out to be pretty good by the end of the night. There was a bit of everything: big whoops, a split lane, a mound of dirt in a corner and a tricky rhythm section. About the only thing we were missing was an over/under bridge. At what point do we just hold a funeral for the beloved over/under bridge? It's clear at this point that it's not coming back anytime soon. Goodbye sweet bridge, it was fun while it lasted.
There was a rhythm section right after the first turn that was pretty cool. It offered three different ways to tackle it with no specific way proving to be the fastest. This is stuff that I love. It gives the guys some options and makes them work to figure out which way is best. Going outside and 3-3-3 seemed to be the fastest but I had it at only .2 faster as opposed to doubling in or singling in, which changed the way you exited the section. The 3-3-3 rhythm could only be done by an elite few 450 guys and despite it being a tad faster (all times subject to not being correct as my sausage fingers could have been off while I timed it on my iPhone stopwatch) I didn't see anyone do it in the night show. These teams all have videos and stopwatches and I suppose it wasn't faster when timed correctly, or someone would have done it. It sure did look cool in practice though! And in case you're counting, this was the fourth week in a row where the track was pretty good. I didn't hear any complaints from the riders and they usually always have something to say. I think this means a good job on the circuit was done.
Marvin Musquin had a perfect race. An absolutely perfect race in that he was fastest in both practices, led every lap of his heat and led every lap of the main. This is the kind of stuff you dream about. As we've seen this entire Eastern Regional 250SX series, when the Frenchman gets a holeshot and is able to ride his race, he's tough to beat. And we've also seen that when he's not in the pole position off the start, he isn't as dominant. Moving Marvin The Marv Attack Musquin gained three valuable points on Wil Hahn in the championship with just one race left. He's five points back going into Vegas so if he wins and Hahn gets third or worse, Musquin wins the title.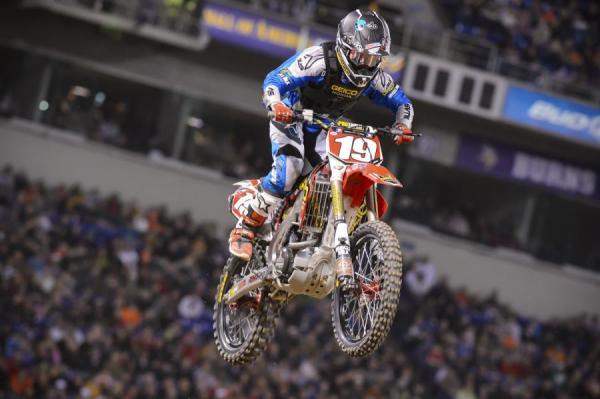 Hahn rode to a second place finish, and has yet to finish off the podium in 2013.
Cudby photo
But that's going to be a tough chore because unless Hahn suffers a total disaster of a race, he's either the first or second-best rider on the east side. Blake Wharton and Tyler Bowers are also right there, but in my opinion, Hahn has an edge on them. After that, there's no one that can beat Hahn without him getting kidnapped by aliens mid-race. Hahn's last win was six long weeks ago, but Wilbur's been there the whole time (he's made the podium in every race), but he definitely makes it hard on himself with bad starts and some miscues here and there. In Minneapolis he and Wharton jacked around long enough in the opening laps to really hurt his cause, although I don't think anyone was beating Musquin on this day. Still, Hahn didn't even give himself a chance, although afterwards he commented to the Weege that Wharton was the one that caused them to slow.
Dungey's race was great and all but something else that was as impressive (to me anyway) was Josh Hill winning the heat race. Yes, the #75, who basically didn't race for two years and struggled earlier this year to find his old form won a 450SX heat race. And then he ran up front in the main for a little while before ending up eighth. Now eighth is the same result as he got last week but it's wayyyy more impressive with how he was riding. Houston was great but in Minny, Hill was inside the top ten in both practices and won a heat. With all that he's been through in three years, it must have felt like winning a main event for Josh and his team.
It's so weird. Up until the week off in the series Hill was just another guy out there. He was good, but after missing so much time, it was obvious that he wasn't the same guy he once was. He made mains, which was great, but top ten? Eeeeeeehhh, I don't know. But after one weekend off, Hill came back at Houston and was great on way to eighth. He was much improved there and then this weekend, we saw him again ride amazingly well. Credit to Hill for making it this far back and credit to the RCH team for sticking with him when many in the sport would've ditched him. Nice story developing over there.
Let's take a look at the results shall we?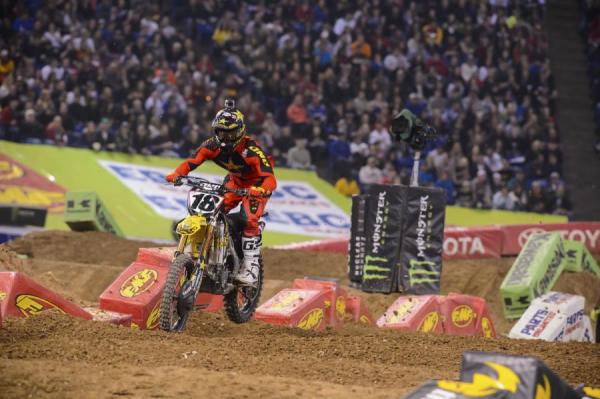 A quite third for Millsaps, who has been dealing with a knee injury.
Cudby photo
250SX EAST RESULTS
1. Marvin Musquin Corona, CA KTM 250 SX-F
2. William Hahn Decatur, TX Honda CRF 250
3. Blake Wharton Pilot Point, TX Suzuki RM-Z250- People were mad at Wharton for his move on Bowers in the main but I didn't think it was that bad. That spot was a prime passing spot the whole night and Wharton just jumped to the inside of Tyler. It wasn't 100 percent clean but it was aggressive supercross racing in my mind. Bowers admitted afterward that he pinned it to try and sneak by but it didn't work. I've yet to talk to someone who ended up on the ground after being passed that just says, "Oh well, it was my fault."
4. Gavin Faith Fort Dodge, IA Honda CRF 250- A career best for Faith after last week's career best. I thought Faith rode an excellent race. Last week he was really great in the whoops, which was really his saving grace. This week he was good in the whoops, but not great, which meant he was faster everywhere else which, in my opinion, is better. Got it?
5. Tyler Bowers Danville, KY Kawasaki KX 250F- Bowers is one of four dudes that can win a main event. He wasn't happy with Blake Wharton after the main event, let's put it that way. I'm now scared for Wharton at Las Vegas.
6. Lance Vincent Youngsville, LA KTM 250 SX-F- Lance started strong this year but crashed a lot so although you noticed him early on, his finishes weren't that great. The last two weeks he hasn't stood out as much but his finishes are much better, so there's that.
7. Vince Friese Cape Girardeau, MO Honda CRF 250- Vince charged from the back to get this result, and if it wasn't for Cole Thompson, he would've had one better.
8. A J Catanzaro Portland, CT Kawasaki KX 250F- AJ's results have been up and down this whole season. Including this finish, he's scored 31 points in two races and he's scored 31 points total in the other six.
9. Steven Clarke Cairo, GA KTM 250 SX-F- Scuba with a solid finish.
10. Cole Thompson Brigden, Canada Honda CRF 250- Cole was in sixth and looking good when he got caught and passed by Friese late in the race. This caused the normally mild-mannered Canadian to sort of lose his mind and he dive-bombed Vince after the triple, taking them both out. He did apologize on Twitter afterward for his move, which was nice of him, but as it was, it wasn't a great race for Cole. He did confirm to me that he's riding a 250 in the Lucas Oil Motocross Championship this summer.
11. Mitchell Oldenburg Alvord, TX Honda CRF 250
12. Jackson Richardson Cairns, Australia Honda CRF 250
13. Daniel Herrlein Bethesda, OH Honda CRF 250- Just one week after being featured on Racer X Online with a privateer profile, Daniel comes back with another strong finish. What online curse?
14. Landen Powell South Jordan, UT Honda CRF 250
15. Levi Kilbarger Logan, OH Honda CRF 250
16. Adam Gulley Jonesburg, MO Kawasaki KX 250F
17. Ozzy Barbaree White Hall, AR KTM 250 SX-F- I think this is Ozzy's first ever main event. The Eastern Regional 250SX series, where everyone makes their first main! But seriously, good for Ozzy, who was the recipient of a Racer X privateer hook-up contest a few years back (done by yours truly). It's enough to make a guy bark at the moon.
18. Maxx Malatia Itasca, IL Honda CRF 250- If you run #999 and your name is Maxx with two "x's," that's badass. Although it's also entirely possible the AMA sheets just added an extra "x" in there and Maxx doesn't spell his name like that.
19. Zack Williams Elko, MN Honda CRF 250- I found out from you trusty readers that Elko is no longer on the active track schedule in District 23. Still, it is the hometown of Williams.
20. David Buller Acworth, GA Honda CRF 250- The half-Canadian makes his second main event in front of many family and friends, but that's about where the good fortune stopped for Buller. David is Canadian by birth but moved to the USA when he was around ten years old, so much like Dean Wilson, his formative years riding and racing have taken place in the USA.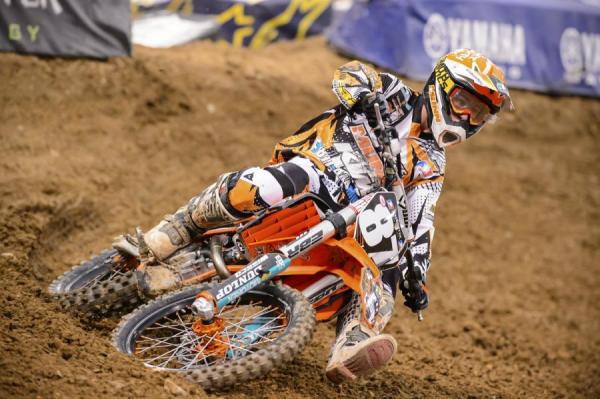 Lance Vincent had a career high sixth in Minneapolis.
Cudby photo
450SX RESULTS
1. Ryan Dungey Belle Plaine, MN KTM 450 SX-F- My email and Twitter feed exploded with people asking me if anyone has ever done what KTM did this past weekend, which was win both supercross classes as well as both GP classes. I know we're in an age of instant information and all that, but people forget in the mid to late '80s Honda won everything, everywhere, week in and week out. Still, congrats to Roger, Stefan and Pit and everyone else at KTM. Great job!
2. Ryan Villopoto Seattle, WA Kawasaki KX 450F- First loss for the new triple clamps that debuted at St. Louis. I wonder how they are taking it?
3. David Millsaps Murrieta, CA Suzuki RM-Z450- Millsaps had a great race but it was lost with the battle up front. The two Ryans took off, but hey, another podium for Davi is great. In this stacked field he's acquired nine podiums (and two wins) this year. The good news is that Millsaps' new Dukes of Hazzard-themed opening ceremonies video is pretty funny. The bad news? Dungey passed him for second in the series.
4. Justin Barcia Pinetta, FL Honda CRF 450- Barcia was pissed after his fourth in Houston so I imagine he was pissed after his fourth in Minneapolis. Jeff Stanton, his coach, also admitted that fourth isn't what they're there for. Huh? He's a rookie! He's won a race this year! He's run up front! He's fine, and everyone over there needs to relax in my opinion.
5. Chad Reed Dade City, FL Honda CRF 450- Reedy's first race back after knee surgery was good. He reported that he had trouble squeezing the bike with his repaired knee but all in all, this was a good return.
6. Andrew Short Smithville, TX KTM 450 SX-F- Great race for the #29, maybe his best since he got on the BTOSports KTM squad. Shorty has revamped his bike and tire setup in recent weeks and is feeling more at home on the pumpkin. Four KTM 450s in the main event people!
7. Trey Canard Shawnee, OK Honda CRF 450- Trey's race was wrecked by a fall in the main while he was charging. He still came back to a good finish but it could have been better had he not washed out.
8. Joshua Hill Yoncalla, OR Suzuki RM-Z450
9. Justin Brayton Cornelius, NC Yamaha YZ450F- I didn't notice "The Jet" out there much, other than his usual blazing speed in the big whoops in practice.
10. Weston Peick Wildomar, CA Suzuki RM-Z450- Ho-hum, just another great ride by a privateer that doesn't believe in great rides.
11. Matthew Goerke Lake Helen, FL KTM 450 SX-F- The Goerke/Tickle battle for tenth in the points is officially on.
12. Jake Weimer Rupert, ID Kawasaki KX 450F- Weimer's just looking forward to Lucas Oil Motocross at this point.
13. Broc Tickle Holly, MI Suzuki RM-Z450- The Tickle/Goerke battle for tenth in the points is officially on.
14. Mike Alessi Hilliard, FL Suzuki RM-Z450- Mike pulled the holeshot and probably should have just ridden up the tunnel after the first lap and packed it in. It wasn't a great race for the 800 as the whoops ate him up like I eat those slider cheeseburgers. Afterward he admitted to me that he's just trying to stay safe for Lucas Oil Motocross.
15. Chris Blose Phoenix, AZ Yamaha YZ450F- Blose had to do it the tough way, through the LCQ, but he put it in there.
16. Robert Kiniry Holland Patent, NY Yamaha YZ450F- Kiniry tested all week to get his suspension better and I'm not sure if it worked or not. He was having a meeting with the Yamaha guys after the race and I imagine it wasn't an "everything's awesome!" type of scenario, but I could be wrong.
17. Ben LaMay Wasilla, AK Yamaha YZ450F- LaMay rode well until he broke his shifter off. He and Alessi were battling back and forth with Ben getting Mike back in the, yep, whoops every lap.
18. James Stewart Haines City, FL Suzuki RM-Z450- It's gotten to the point where I just talk about Stewart in the results like he's just another guy. What's going on here? Stewart crashed hard in the heat race and was forced to ride the LCQ, which he won. Then he pulled out in the main with a bad wrist from said bad crash. I'm not sure if this year could get any worse for the #7. Well, besides his bike not being able to work on the starting line that is. If you're Mike Webb, are you wondering why you ever left the comfort of the off-road department over at Suzuki?
19. Phillip Nicoletti Bethel, NY Yamaha YZ450F- After two great races, Filthy was once again up front before crashing out in the whoops.
20. Les Smith York, SC KTM 450 SX-F- Lesley crashed out on the second lap and pulled out with a rib injury. I texted with him this week and he thinks he'll be ok for Seattle.
Some other news and notes:
- He didn't make the main but Ryan Zimmer will forever be remembered by me for being the first 250 guy to jump the triples in practice. It was pretty sloppy out there and pretty much no one did it until the #244 of Zimmer launched the leap. I'll never forget where I was when I saw it. Well, maybe that's a bit of a stretch but you know what I mean.
- Good crowd in Minneapolis, but not as great as it was back in its heyday. The Metrodome used to pack them in big time back in the McGrath years. The place used to be so loud it was ridiculous. It was also the race where I got the news that Donny Schmidt had passed away.
- The pits were sort of open, although a lot of the teams were inside the trucks or inside the stadium. Still, it didn't stop the Minny faithful from flooding the pits looking for their heroes. Cold? Hah!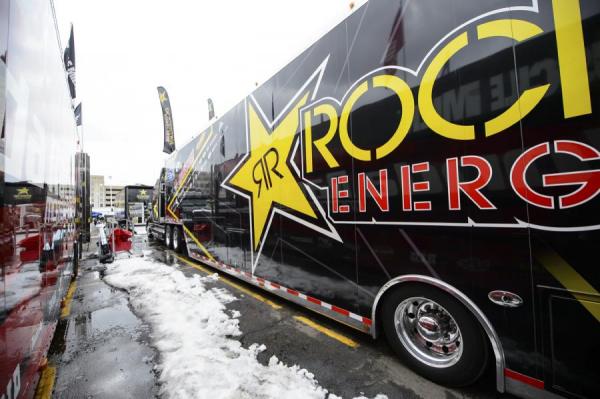 The pits were full in Minneapolis, despite the cold weather.
Cudby photo
- The second 250SX heat race featured Hahn, Musquin and after that, it was an open call for anyone to get third. As it was, Hahn got fourth due to a crash. There was a grand total of five riders in this heat that had never made a main before 2013. Five!
- Eleven10 Mods' PJ Larsen was there and ready to race but unfortunately for him, his team didn't show up for the second week in a row. Last week he used a Rock River bike with his mechanic bringing some parts, but this week, the team just couldn't make it to Minneapolis in time. It definitely wasn't very cool, as Larsen had put out his own money to get to the races expecting to race. Unfortunately, the team couldn't make it happen. First the Velocity 3 team and now Eleven10. Yamaha has to be wondering what's going on with these guys.
- Did you know that there is a Manufacturer's Championship in supercross? I bet you didn't. One year when I was at Yamaha, we won it and like the Stanley Cup we got to keep the trophy in our workshop for a year. So for this year, with three races left, here are the standings which are tabulated by the points of the top-finishing rider from each OEM in each main event.
1. Kawasaki 310
2. Suzuki 292
3. KTM 277
4. Honda 277
5. Yamaha 157
Thanks for reading. If you have any questions or thoughts on anything that went down in Minnesota email me at matthes@racerxonline.com.