Edward Jones Dome
St. Louis

,

MO
St. Louis
Monster Energy AMA Supercross Championship
Hello, everyone, and welcome to the Rev Up.
Snap, bang, boom! Round nine of the 2013 Monster Energy Supercross series makes its way to "The Gateway to the West" in St. Louis, Missouri, home of the St. Louis Arch and some of the most memorable races ever. A little disclaimer to the cheesy three-word opening sentence, as it pertains to the sound the factory 450 makes when the engine hiccups in the air over a triple. You'll hear it at supercross races dozens of times a night, and each instance will capture your attention. I've been astounded by the factory 450's all season. With each passing week I see the guys do something on them that I've never seen before.

Last weekend in the 450 main James Stewart entered the whoops at what appeared to be 40 mph from a near stand still. It looked like he just grabbed too much of a handful out of the 180 degree right and surprised himself because he was three whoops deep before his tires touched. He then swapped twice, pretty much all the way to the handlebar stops and back; both times correcting it with a quick and violent WHAAP...WHAAP of the throttle. Then he destroyed the proceeding berm and went about his business. Those types of scenarios never existed until the advent of 450cc four-stroke power. And it is awesome.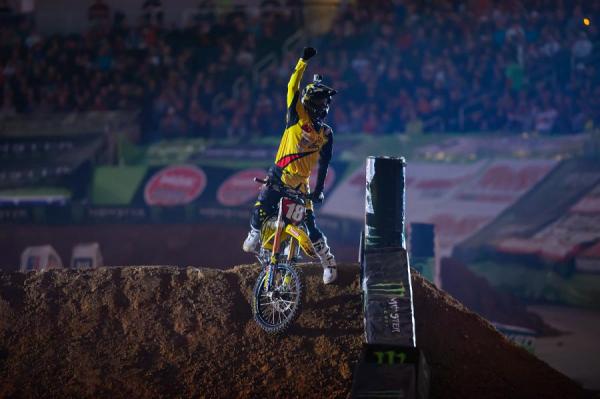 Davi Millsaps carries a 22-point lead into St. Louis.
Simon Cudby photo
It's crazy this year. Some of the most perfect laps of the season have taken place in the qualifying sessions. Supercross LIVE! with Jim Holley and Kevin Barnett has been a godsend if you haven't been able to see it in person. Live and in color, you can see Davi Millsaps make a charge at the timing line then go beast mode for one hot lap—it's purely astonishing. Then, you see Ryan Villopoto take his turn to throw it down before scrubbing the finish line with his head transfixed on the leader board. Then, James Stewart, then Justin Barcia, Ryan Dungey, Trey Canard, Chad Reed, so on so forth until the checkered flag flies. There are so many reasons to attend a supercross this season and the qualifying spectacles are just one.

Round nine, folks. Time to get down to brass tacks. We're already halfway through the story of the 2013 Monster Energy Supercross Championship, and Rockstar Energy Racing's Davi Millsaps is the man. He continues to slay the expectations set for him each race, and instead, raises the bar even higher. There are no asterisks behind his 22-point lead. Instead, his corners are textbook perfect, his starts have been (by far) the best and he races into the second half of the series somehow primed to improve. Millsaps and his team have put together one of the best first half efforts in modern supercross history against what may be the most talent laden field of all-time. Be that as it may, there are nine more main events to race and the wolves are coming.

The favored theme for the 2013 series is that nobody can predict who is going to win the main events. Well, I'll tell you who I thought was going to win the last two weekends after practice—James Stewart. He has gotten past his knee injury and he looks undeniably strong right now. His riding style even looks to have aged as it reminds me more of Jeremy McGrath in his relaxed command of the obstacles. He still makes me nervous in the corners and his suspension doesn't even look like it moves in the whoops. Nothing new to report there, but he is out to prove something and I see more wins, and hopefully not a gargantuan crash, coming for the Yoshimura Suzuki enigma.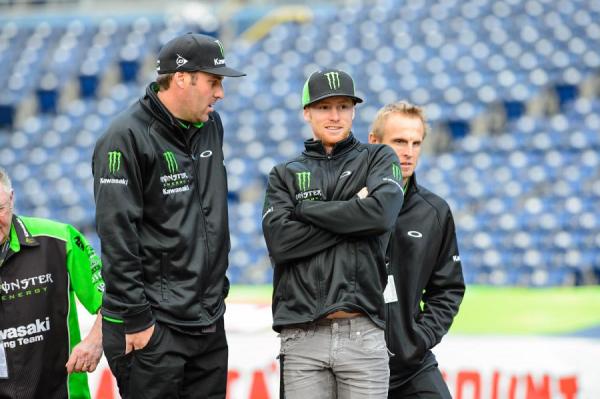 Ryan Villopoto will try and close the gap on Millsaps Saturday.
Simon Cudby photo
Enter wolf number two. Monster Energy Kawasaki's Ryan Villopoto is not a rider you want chasing you down in a championship. In fact, he's the worst-case scenario as the two-time defending champion has been regarded as virtually unstoppable for the last three seasons. The phrase, "only Ryan can beat Ryan," has been repeated often. He beat himself early and often through eight rounds, now he has to fight back from a formidable deficit. I don't think the 22 points is as big of a problem as simply the speed and consistency of Millsaps is. But, now he is in second place and his focus is solely centered on the #18.

A name to throw out here is Muscle Milk Honda's Trey Canard. Canard was on it in Atlanta as the slightly softer soil met his hands favorably, and he had some speed. Then, in his heat race, he got his spokes cleaned out by his teammate, who if he doesn't slow his role a little is aching to get his chain pulled by one of the veterans, but I digress. I don't like it though. I'm a Justin Barcia fan, but he isn't making any friends with some questionable reactions on the track. Just the same, remember Bam Bam has already won this season and is performing great as a rookie. He's very tough, and I expect he'll win again before the dust settles. For what it's worth, Canard won the 2008 East Coast Supercross title in St. Louis so he may have some extra juice.

Red Bull KTM pilot Ryan Dungey finished sixth last weekend and he could have just as easily won had he grabbed the holeshot. Dungey has a lot of fire right now and he is extremely capable of winning this championship. You cannot rule him out to win his second main event of the series.

The lightning rod this weekend will be GEICO Honda's Eli Tomac. He wasn't ready for the charge last weekend, but he'll be a different guy this Saturday night. I predict he will qualify well, win his heat race, and make something big happen in the main.
St. Louis. Looking at the 2013 version of this round I go back to watching a certain #13 on a Team Great Western Bank Kawasaki leading the pack in 1996. It was "Factory" Phil Lawrence holding off Jeff Emig, Mike LaRocco and Jeremy "Showtime" McGrath. Phil went down, then Emig, in his home state, went on to break Jeremy's win streak at 13 in one of the most electrifying main events of the decade. Since then, an odd number of quirky and championship impacting moments have taken place in Missouri. It's weird how each week we keep waiting for a bombshell, but instead, Millsaps keep chugging along. It isn't weird, though. In fact, the point leader may very well be the safest bet to win this weekend.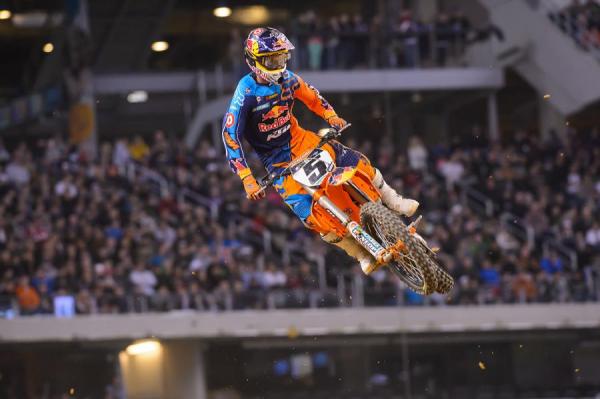 Ryan  Dungey seeks his second win of the season in St. Louis.
Simon Cudby photo
We'll know a lot more after practice.
Its time to hear that crazy snap, bang, boom again. I can't wait to get to St. Louis. Your narrator's first of only three-career supercross races was at this venue in 1996. I'll never forget lining up next to "Iron" Mike LaRocco in the first 250 heat and looking back at my Pops to give him a high-five. American Supercross has grown so much since then, but the acid in my throat and warming sensation throughout my face is as familiar as last week. Every single round of this tour has left us on the edge of our seats, and how exactly do you feel coming into round nine? All the boys are healthy and those 450's will be breaking past the imaginable once again.

Who do I think is going to win this weekend? All of us. No live TV this time, but stay tuned to www.racerxonline.com and @racerxonline on Twitter and Instagram and you'll feel like you're there. Kind of. I'll be walking the pits from 10am till opening ceremonies. Hit me up if you want to bench race.

Thanks for reading, see you at the races.