AT&T Stadium
Arlington

,

TX
Dallas
Monster Energy AMA Supercross Championship
Hitting the ground of four out of the first six races is not the way Monster Energy Kawasaki's Ryan Villopoto wanted to start his second title defense in Monster Energy Supercross. The champ now has a hole to dig out of, but he made up a little ground with a solid, crash-free night at Cowboys Stadium in Arlington Texas, taking his third win of the season. But while the win helps prove RV's back on the right track, it didn't help him much in the championship standings, because the rest of the series' front-runners, like points leader Davi Millsaps and second-place Ryan Dungey, were up front tonight, as well and rounded out the top three spots.

These riders were literally right there from the start of the 20-lap main event, as Millsaps (Rockstar Energy Racing) and Villopoto dueled through the first turn battling for the lead. Millsaps snagged the official holeshot award, but Villopoto wrestled the spot away. Then Chad Reed (TwoTwo Motorsports) scrubbed underneath Millsaps before turn three and took away second. Millsaps settled into third while Dungey (Red Bull KTM) was in fourth. On a track not filled with too many technical sections or options, there wasn't much to separate the leaders, so for the rest of the race, that four-pack up front exchanged small mistakes and tenths of seconds per lap. Villopoto was able to open a gap eventually, and then Millsaps repassed Reed for second. Dungey then caught fire in the second half of the race and dove underneath Reed, too, for third. Dungey never stopped charging, and he caught Millsaps with a lap to go hoping to get to second, but he never had the chance to make a move. Villopoto took the win with Millsaps a solid second, again, and Dungey third. Reed took fourth and Justin Brayton (JGR Toyota Yamaha) was fifth in his best result of the year.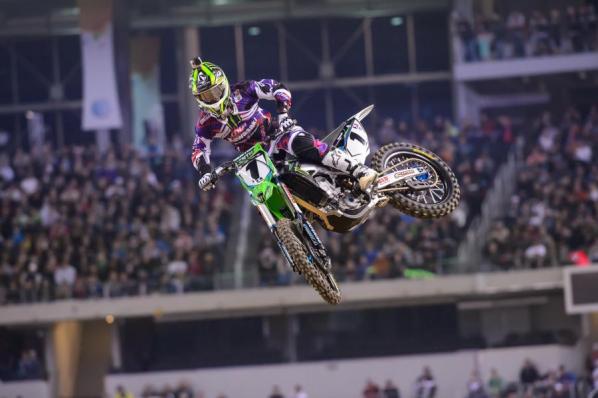 If Ryan Villopoto gets a start in the main, he's going to be tough to beat. And that was the case at Cowboys Stadium.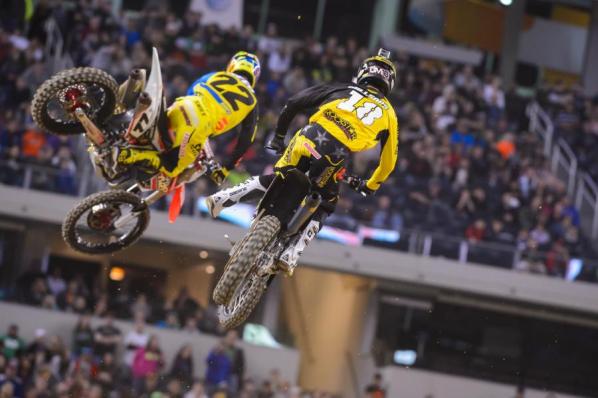 Millsaps (18) and Reed (22) went at it early in the main. Reed took second away, but Millsaps got him back.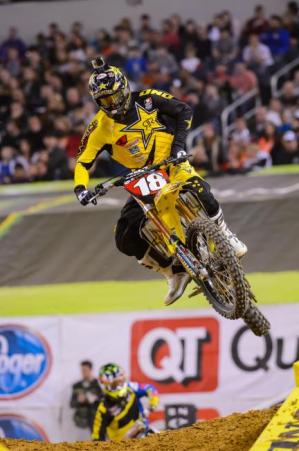 Millsaps held Reed at bay, then Dungey closed the gap but couldn't get him. Millsaps said he was sick all week and could barely breathe in the second half of the race--but it didn't hurt him much, somehow.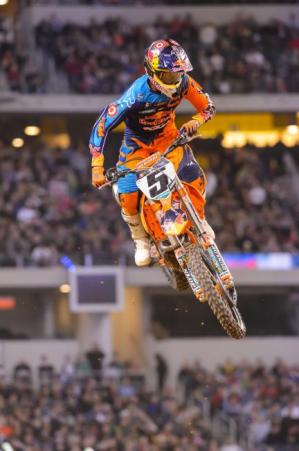 Dungey got to Millsaps' rear fender on the last lap, but couldn't make a move.
Cudby photo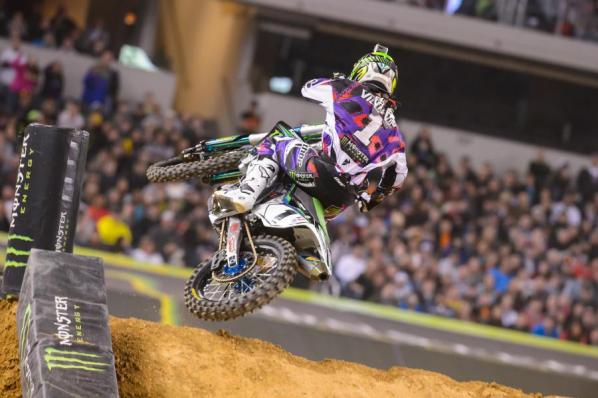 Here, we get to use the classic "This is all the competition saw of Ryan Villopoto" captions.
Cudby photo
Team Honda Muscle Milk's Justin Barcia and Trey Canard had bad starts in the main, with Barcia mid pack and Canard even further back. Barcia closed in on Brayton at one point but couldn't keep the pressure on and finished sixth. Canard was seventh, then came Matt Goerke (BTOSports.com KTM), Andrew Short (Kranyak Racing Honda) and Broc Tickle (Dodge Sycuan Suzuki).

Earlier in the day, Millsaps won his heat race, and he was also fastest in qualifying practice for the first time in his career. His points lead has also swelled up to 21 over Dungey. In the other heat race, James Stewart (Yoshimura Suzuki) won a great duel with Villopoto, executing a pass on the champ and then holding on for the win. But then Stewart's season went from bad to worse when something internal within his bike's clutch broke on the starting line of the main event, leaving him unable to race. When it rains it pours….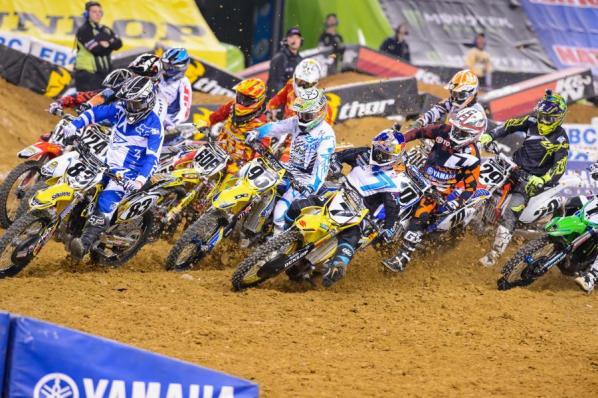 James Stewart (7) and Villopoto (tucking into the inside) had a great duel in their heat, and Stewart won it. Does that mean he had the stuff to win the main? We'll never know, because his bike broke before that race even started.
Cudby photo

In 250 East, Monster Energy Pro Circuit Kawasaki's Dean Wilson was the favorite coming into the opener, and he definitely is leaving it, because he dominated the main event. Kyle Peters (AG Motorsports) grabbed the holeshot, but Wilson quickly took the lead away and pulled a gap. Peters rode very well for the whole main, but eventually yielded to Blake Wharton (Rockstar Energy Racing) who came through for second. Wil Hahn (GEICO Honda) had a few rough opening laps, but found a groove and eventually worked from just outside the top five to finish third. Peters finished a very impressive fourth on his privateer Honda, and rookie Justin Hill (Monster Energy Pro Circuit Kawasaki) made his SX debut with a solid fifth despite starting pretty far back.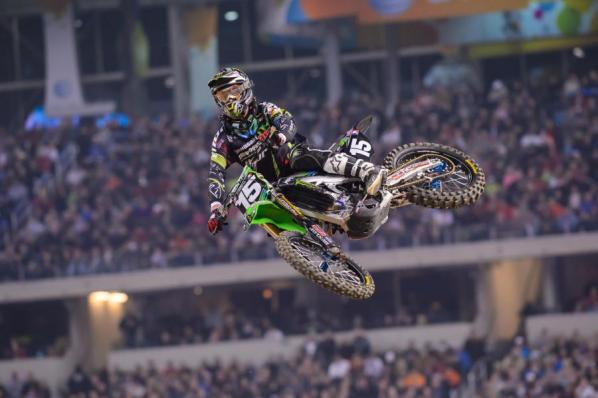 Dean Wilson meant business right from the start, and was throwing impressive scrubs and whips the whole time. Oh, you don't think this one is impressive?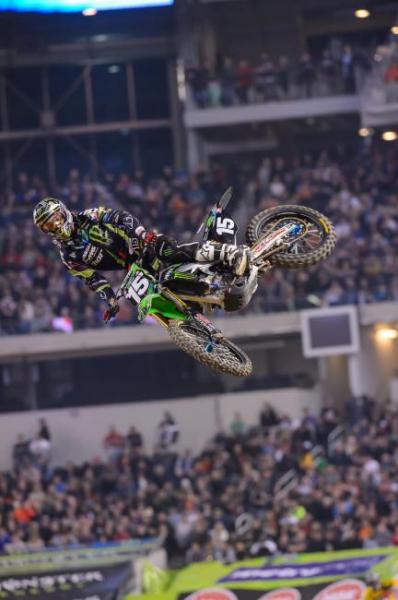 There you go.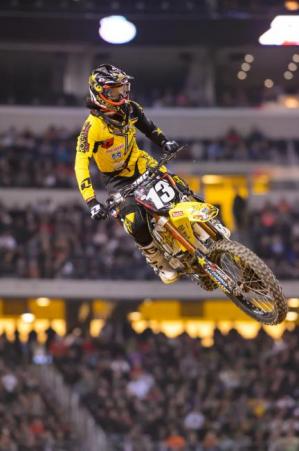 Night started terribly for Blake Wharton, who got stuck behind a first turn pileup in his heat, then crashed going for the final transfer spot. That sent him to the LCQ, which he won, and then he rebounded for second in the main.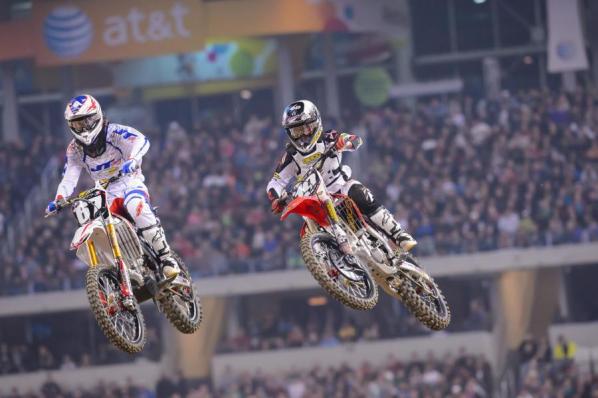 Wil Hahn (19) came through for third, getting the very-impressive Gavin Faith along the way.

Kyle Peters deserves some love after a super-strong fourth.
Cudby photos

Lots of heart break in this class, as rookie Zach Bell (GEICO Honda) crashed huge while leading his heat race, then qualified through the LCQ, but then crashed again and pulled off in the main. Bell's heat race crash was brutal, as he caught his foot exiting a right-hand turn and took off for a triple with his foot off the peg. It threw him side saddle and then off the bike in the air, and he cleared the entire triple with his body before crashing back down to the dirt, hard. Somehow, he got back up (Bell says he wasn't knocked out and remembers the whole incident) but he was certainly just soldering on at that point. Another crash in the main ended his night.

Fellow rookie Jeremy Martin (Star Racing) was fast in practice but didn't make the main after a bad start in the LCQ. And Canada's Cole Thompson was making a bid for the podium in the main. At one point, he passed Peters for third but then crashed hard, flipping over the bars and landing back-first onto the peak of the next jump. That ended his race, although he was able to get up under his own power.  Also, title contender Marvin Musquin (Red Bull KTM) went down in turn one, but he salvaged a sixth, passing Gavin Faith (MotoConcepts Racing) on the final lap. Faith was seventh, then Jimmy Decotis, Vince Friese and Lance Vincent rounded out the top ten.

Monster Energy Supercross now really heads east with a stop in Atlanta's Georgia dome next Saturday night.
450 Main Event
1. R. Villopoto
2. D. Millsaps
3. R. Dungey
4. C. Reed
5. J. Brayton
6. J. Barcia
7. T. Canard
8. M. Goerke
9. A. Short
10. B. Tickle
11. W. Peick
12. M. Alessi
13. J. Albertson
14. R. Kiniry
15. J. Hill
16. B. Lamay
17. J. Sipes
18. K. Partridge
19. C. Blose
20. J. Stewart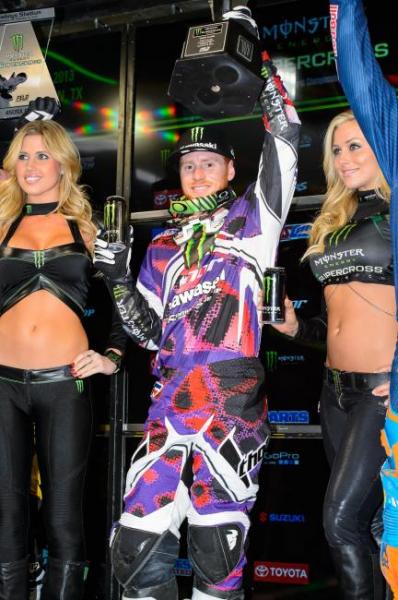 Nice move by RV to look right into Cudby's camera.
Cudby photo (obviously)

450SX Class Points

1.    Davi Millsaps, Murrieta, Calif., Suzuki, 154
2.    Ryan Dungey, Belle Plaine, Minn., KTM, 133
3.    Ryan Villopoto, Poulsbo, Wash., Kawasaki, 130
4.    Trey Canard, Shawnee, Okla., Honda, 119
5.    Chad Reed, Australia, Honda, 115
6.    Justin Barcia, Ochlocknee, Ga., Honda, 98
7.    Andrew Short, Smithville, Texas, Honda, 95
8.    Justin Brayton, Fort Dodge, Iowa, Yamaha, 83
9.    James Stewart, Haines City, Fla., Suzuki, 75
10.    Matt Goerke, Lake Helen, Fla., KTM, 69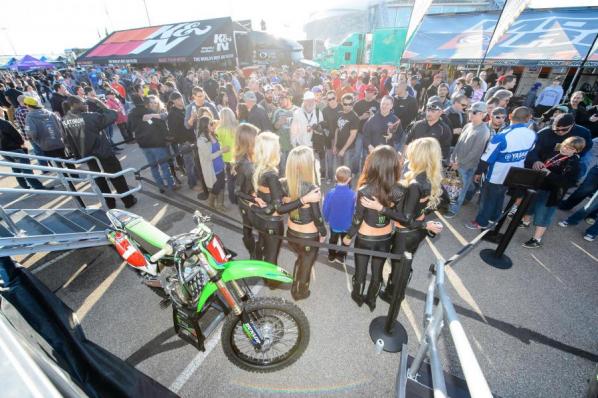 Big crowds all day in Big D.
Cudby photo
250 Main Event
1. D. Wilson
2. B. Wharton
3. W. Hahn
4. K. Peters
5. J. Hill
6. M. Musquin
7. G. Faith
8. J. Decotis
9. V. Friese
10. L. Vincent
11. J. Richardson
12. M. Oldenburg
13. G. Swanepoel
14. L. Kilbarger
15. A. Gulley
16. R. Zimmer
17. C. Thompson
18. Z. Bell
19. B. Ripple
20. J. Wentland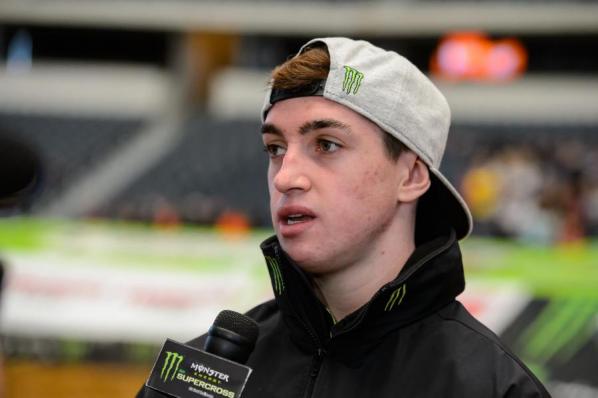 Can Dean Wilson turn around Pro Circuit's rough season? So far so good.
Cudby photo

Eastern Regional 250SX Class Points

1.    Dean Wilson, Scotland, Kawasaki, 25
2.    Blake Wharton, Pilot Point, Texas, Suzuki, 22
3.    Wil Hahn, Decatur, Texas, Honda, 20
4.    Kyle Peters, Greensboro, N.C., Honda, 18
5.    Justin Hill, Yoncalla, Ore., Kawasaki, 16
6.    Marvin Musquin, France, KTM, 15
7.    Gavin Faith, Fort Dodge, Iowa, Honda, 14
8.    Jimmy Decotis, Peabody, Mass., Honda, 13
9.    Vince Friese, Cape Girardeau, Mo., Honda, 12
10.    Lance Vincent, Youngsville, La., KTM, 1