Qualcomm Stadium
San Diego

,

CA
San Diego
Monster Energy AMA Supercross Championship
Making main events in the most highly competitive supercross championship in the world-Monster Energy Supercross-is not a rite of passage. It's earned through thousands of practice laps, countless hours in the gym and living and breathing the sport 24/7.  For some, making the night show is a dream come true. For others, championships are the only thing that quenches their thirst. Rookies Derek Anderson and Tyler Bereman find themselves part of the middle ground-they first need to get into some main events.

Anderson has been on the National circuit for a few seasons now-making a name for himself with the popular Driven to Ride web-series this summer-but has yet to compete in supercross until this season. Meanwhile, southern California's Tyler Bereman had a successful amateur career cut short last year due to knee injuries, and had less than two weeks on a supercross track before the season opener in Anaheim. Yet, for all of their inexperience, each has shown flashes of brilliance-knocking on the door at every round, ready to burst into the main and make a name for themselves.

At Anaheim 3 both realized their dream of making their first-ever 250SX main events. We posed the same questions to each rider to get their take on the 2013 season.

Racer X: Who is helping you out this year, and tell us a about your program?
Derek Anderson: I actually have a bunch of local guys from Colorado helping me out. My graphic company, Victory Circle Graphics, and Victory Motorspots helped me out with a bike. Motosport.com is helping me get from round to round. MSR is helping me out with gear, and we have some other stuff worked out as well. It's hard to say who is most important, because everyone is doing a lot for me.

You've been knocking on the door of the main event all season before getting in at A3. Talk about your season so far.
Everything is going pretty good up to this point. I obviously can't complain because it is my first year, but I would have definitely liked to be in the show a little sooner-it took me five rounds to get there-but every night I've been super happy with the way I've been riding and that is what has mattered to me the most. I'm happy with how things are going and I think it's about perfect timing that I've made a main event.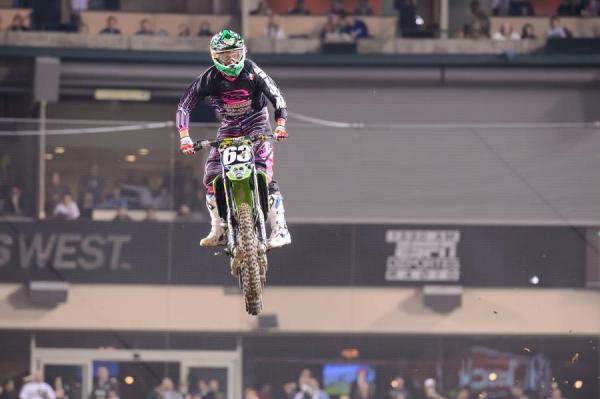 Derek Anderson made his first career main event at Anaheim 3.
Simon Cudby photo
What were you able to take away for those first four races?
Learning the tracks was probably the hardest thing those first few rounds. Everything is so big and gnarly and kind of freaks you out right away. But after the first couple of rounds it is relatively the same. Once I got the tracks down I started to build up more confidence. I think that's what I've learned the most … riding my dirt bike on all those different tracks.

As far as the competition-I know from motocross everyone is pinned, but supercross is a lot more intense. In motocross you can get a bad start and work your way up throughout the moto, but in supercross you have to max your heart rate out as high as it can go for ten minutes.

You finally made it in at Anaheim 3. Talk about the emotions of that night.
Honestly, I didn't think I was going to get in at A3. The week before in Oakland I fell in the LCQ and hurt my leg and even waking up in the morning at A3 it was still pretty tender. Somehow I landed myself a pretty decent time in practice and then come race time I got a good start and I think with all of the adrenaline built up it allowed me to hold onto the bike. And sure enough, it got me into the main event. I screamed so loud going down the straightaway past my dad, I'm surprised the whole stadium didn't hear me. I was so excited.

What was it like to race the main? What did you learn there?
I've learned more in the heat races. With all of the adrenaline … the intensity started to go away when I realized I was in the main event and there was nothing else to worry about. The adrenaline went away and the pain really start to set in. I didn't get to ride to my full potential in the main event and I ended up having to pull out because my leg was hurting too bad. While I wasn't able to learn too much, because I had to pull out early, it was still an experience of a lifetime. Being able to do a sight lap and everything was pretty unreal.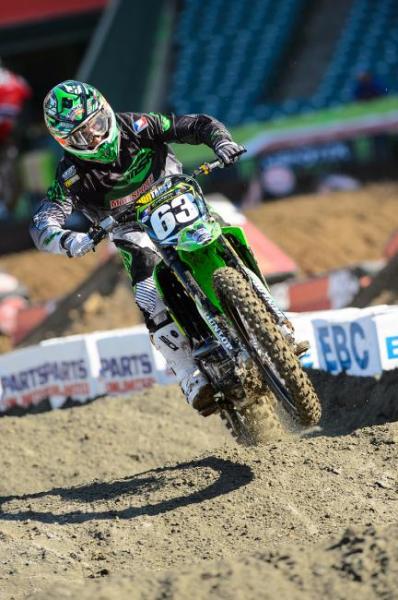 "I screamed so loud going down the straightaway past my dad, I'm surprised the whole stadium didn't hear me. I was so excited." - Derek Anderson
Simon Cudby photo
A lot of rookies in your position talk about training and preparing just to qualify for the mains, first, and when they finally make it, they're not even sure what to do. Was that an issue?
You pretty much hit it right on the dot. Before the first race I was hammering out motos like I was already going to make it into the main. Then after the first couple of rounds after not making it in I realized that I needed to practice more sprint laps to make it to the main. And then once I got to the main, worry about that later. It being my first year I definitely need to practice short and hard stuff right away, and then worry about the main event later.

What are your goals from here on out?
I actually just got word from my doctor that they think I have a crack in my patella. So I'm going to pop some more Advil and give it a go this weekend. Even with an injury, if you are able to get a good start you can still make it happen. I'm still confident I can make it into the main event. Then after San Diego we have that big break and I have to figure out what is going on for outdoors.

Is surgery in the plans?
Being that it is such a big break, even if I did have surgery I would still have time to make it back for Seattle.  It's just a little set back for right now. I'm going to see an orthopedic surgeon here in the next couple of days and see if they can give me any further details. I can still walk and I've already rode with it once so it's not the worst thing in the world, but it's definitely painful.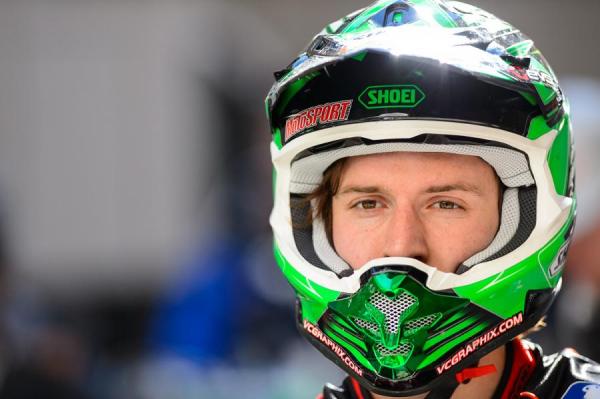 Anderson is currently battling a leg injury, but will be racing San Diego this weekend.
Simon Cudby photo
Tyler Bereman

Racer X: Who is helping you out this year, and tell us a about your program?
Tyler Bereman: Thousand Oaks Powersports gave me a couple of bikes that got me going. DC Shoes have helped me out a ton. They gave me a rig for the West Coast. Then, obviously Dirt Bike Kidz and MDP Block, they have helped pay my entries and helped me get parts for my bike. I can't thank those guys enough, and my other sponsors: FMF, Spy, Renthal, Motion Pro, Renegade, Works Connection, Maxima, C4MX, Dunlop, DEFT, Jeremy "Twitch" Stenberg and my family.

You've been knocking on the door all season before A3, talk about your season so far.
I torn my ACL back in June of last year and came in way behind the eight ball. I started riding the first of December and I had maybe two weeks of supercross under my belt before Anaheim 1. I came into Anaheim 1 basically trying to learn the whole process and it was a lot to take on. I definitely came into A1 unprepared, and I missed the night show by one position-I finished 41st in qualifying. Obviously as a racer, that was my main goal to make it in, and when I didn't it absolutely pissed me off. I came home and worked that much harder and knew what I needed to do. I went to Phoenix the next week and made it happen. I qualified really good and made the night show. I started getting starts and putting myself in good positions at Phoenix, Anaheim 2 and Oakland and was in qualifying positions, but I got really nervous and rode real tight and stopped thinking and breathing and everything started happening real quick. Every weekend got better and better and finally this past weekend I just keep plugging away and came out ninth. It made it so much easier to make it through the heat. It's a really big mental confidence booster just knowing that you can do it. From basically my first race in Anaheim not making the night show, to making the main in my fifth race ever was awesome. All I want to do is keep getting better every weekend and making steps in the right direction.
Rookie privateer Tyler Bereman made his first 250SX main last Saturday in Anaheim.
BrownDogWilson photo
What were you able to take away for those first four races?
I really learned a lot. Those first few races were 100 percent a learning experience for me. Going into it I didn't really have anyone in my corner that had done it before and it was hard for me to learn how fast everything went. Eight minutes seems like a long time on a supercross track, but when you're out there in that eight minute qualifying session it goes by really fast and is done before you know it. In qualifying you have to get out there and learn the track as quick as you can and put in a hammer lap. All the lines are all different. You have to know the fast lines for qualifying and you have to know the race lines. Being in the non-seeded practice, you have to get out there and get a clean lap in and put yourself in a position to where you can start out front and not have anyone in front of you for those first couple laps. But when you take off in the pack, like I did the first few times, which is something I didn't really know about, you get people rolling around.

The top few guys are obviously on a different pace but from 25 to 40th it's between a second and a half-everyone is so close. A tenth of second here and a tenth of a second there adds up. It's basically just learning how to race a supercross track. You have to make every jump count and charge in-between, and charge a little bit harder every turn and commit a little bit harder in the whoops. The whole process from learning about my bike to breathing right … I have definitely learned a ton. I could go on and on for hours with how much I've learned. Supercross is the biggest mental game. You have to be 100 percent confident in everything that you're doing and the more confidence you get the better you get. And I feel I'm getting more and more confident every week. I remember being in pre-school saying I wanted to be a professional motocross rider and it's pretty surreal that I'm there racing and made my first main in my first year.

You finally made it in at Anaheim 3. Talk about the emotions of that night.
I came around after the white flag and saw ninth on my pit board and I was thinking, 'There is no way I'm throwing this away. I've done it the last three weekends." I made sure I just put in a solid last lap. As soon as I hit that last rhythm section and was crossing the finish line it just kind of all hit me. I landed off the finish and gave myself a big first pump. I was so stoked. Finally, all this hard work that I've put in my whole life … anything I've ever done and put my head down and worked for was to get to this point. To finally get there and be where I wanted in the main event with dudes I have looked up to my whole life was crazy. For my first year on a full privateer effort, doing everything on my own, I'm just stoked. It just goes to show that riding a dirt bike and having fun can do a lot. If you put too much pressure on yourself it can make it not fun. I had tears of joy. I wasn't crying but my parents and everyone around me was crying. Knowing that I finally did it … 30 minutes after the race I couldn't wipe the smile off my face. It's the one thing I've been dreaming of my whole life, and my dreams came true.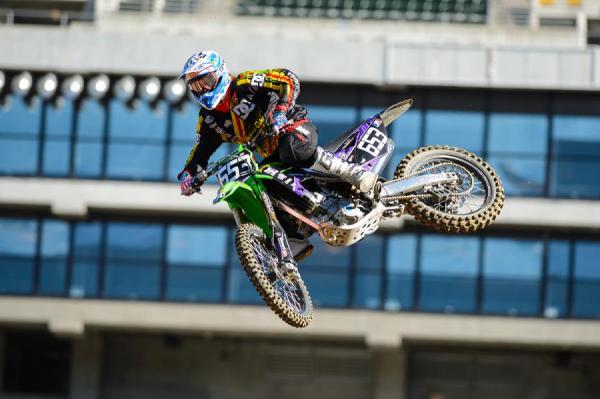 "I wasn't crying but my parents and everyone around me was crying. Knowing that I finally did it … 30 minutes after the race I couldn't wipe the smile off my face." - Tyler Bereman
Simon Cudby photo
A lot of rookies in your position talk about training and preparing just to qualify for the mains, first, and when they finally make it, they're not even sure what to do. Was that an issue?
Not really. For the most part you know that you belong there and once everything else goes out the window and you know that you're there for your job … I try not to put too much pressure on myself. I try and take everything as a section throughout the day. I got this qualifying practice and I need to get through that and I need to have a good practice for the next one and then I need to focus 100 percent on my heat races. Focusing and having a plan helps a lot. A lot of guys are content on just making the night show. For a lot of people, that's their dream. I felt like I knew where I belong and could be a contender if I put my head down. I worked really hard to get to where I'm at.

It sucks though because, like I said I had reconstructive surgery on my knee, and it's a constant struggle for me to train as hard as I can. Every weekend I'm struggling to get through the race because of my knees. At Oakland I had a big crash and had to get 30cc's of blood drained from my knee. From that week forward, my knee has been swollen since. I'm lucky if I'm able to ride two days a week. It's hard because I really want to work as hard as I possible can, but your body sometimes can only allow you to do so much. When my knees start telling me that I need to chill out a little bit, I have to listen to my body. But more than anything I just need to keep plugging away and doing laps and having fun.

What is the prognosis on your knee?
It depends on whom you ask, but for some I may have come back a little early. But I knew if I was going to make it happen this year I needed to be out there riding and give it my best shot. My knee was pretty good at the beginning of the year until I had a crash at Anaheim in the whoops and then obviously Oakland didn't help the situation. Dr. Alexander of Asterisk Medical Crew wasn't too pumped with me and suggested I get another MRI. Basically right now I'm just trying to tough it out and get through this weekend. We have a couple of months after that so either it will feel better or it gets worse and I'll go see a doctor and get a game plan together.
A torn ACL in June of 2012 has limited Bereman's training in 2013.
BrownDogWilson photo
I've been fighting these knees since 2009. I did my right meniscus in 2009 and then my MCL in January of 2012 and came back in May and then torn my ACL in my left knee in June and had that reconstructed and wasn't back on the bike until December. It's definitely not the greatest, but it will never be the same, so I just have to deal with it. I've been through it with my right knee, so I kind of know what to expect.

What are your goals from here on out?
Obviously for this weekend I'm going to take it step by step like I did last weekend and focus on qualifying and my heat race and go into the break with a bang and get back into the main. As long as I'm making improvements every weekend I'll be happy. After San Diego it will be nice to take a little break to rest my knees. I'll obviously be getting ready for the last few supercross rounds and I'll also be doing some West Coast National rounds. I have a lot of stuff planned filming wise with Twitch and the Dirt Bike Kidz. They have another movie coming out. I'm really stoked on what's coming up.