Angel Stadium
Anaheim

,

CA
Anaheim III (A3)
Monster Energy AMA Supercross Championship
Ryan Dungey had himself quite a night on Saturday in Anaheim. Of course, you could look at the results and say it was a great night, but what the record book won't show is how he turned a potentially catastrophic night into one he will probably never forget.
As the gate dropped on his heat race, so did the rear end of his bike. The air shock had sprung a leak, and as the pressure dropped on his absorber, pressure mounted on Ryan and his team to avoid disaster. Going back to the truck after the heat race, I am sure there was an aura of uncertainty. Switching back to the conventional shock would make the most sense, but without using it that day, no one could be sure how the setup would work. Switching setups once the racing gets underway is a bit unnerving anyway, as the first chance to try it is under maximum effort—there isn't even a parade lap for the LCQ. That's a pretty scary proposition. The only thing I usually needed to change before the LCQ was my underwear, forget about a completely different shock system!
So instead of a relaxing hour of heat race film review and sucking down his sports drink of choice, Ryan had to suit back up and ride the tunnel toward LCQ Land. Having been many times a visitor to this land of chaos, it makes me queasy thinking about what Dungey was going through. LCQ's are one of the most stressful things I can imagine besides a positive pregnancy test. Waiting in my personal LCQ staging hell, I have seen more Toyota Tuff Block Challenges and dudes racing around in fat suits than I can stand to count.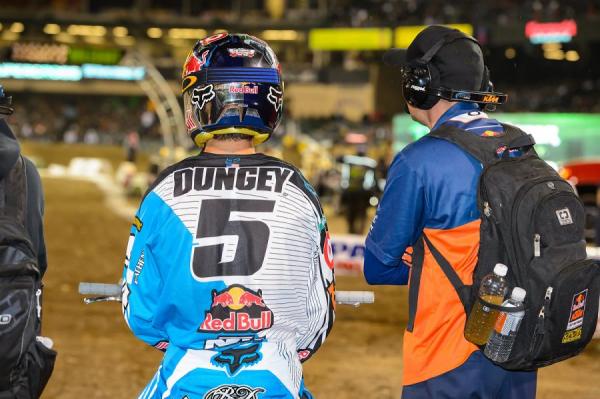 Yup, lined up all the way down on the outside.
Simon Cudby photo
Even worse, Dungey had the last gate pick in the LCQ, and that is not a comforting feeling. With only six laps to work with and the deepest field in recent memory, the percentages of mishap are elevated into the stratosphere with the outside gate. No matter how fast you are, with a bad start, you are almost hoping for a miracle to sneak into that top two. And, that's more or less what he got. As Phil Nicoletti bobbled near the end of the race, Ryan once again found himself bridesmaid to Jimmy Albertson, who is quickly becoming the Doug Domokos of the friendly skies. I don't want to say that Top Jimmy owns Dungey in LCQ's but if Ryan's nightmares involve bad moustaches, I wouldn't be shocked.
Once he cleared that hurdle and was thinking about the main event, he still had that horrible outside gate pick to deal with once again. His incredible job of weaseling around the outside and coming out fourth was the type of move you look back at and signal as the stuff of legend. He couldn't have asked for more of an opportunity than that. The race was all on him at that point, but compared to the pressure he was feeling in that LCQ, I am sure it was a huge surge of adrenalin to know he had a real shot of winning after the night's drama. After fighting off a few charges from Millsaps, it seemed as if Ryan settled down and found his rhythm. This made sense to me. Ryan's chaotic night can definitely throw off a routine and game plan. Plus, he hasn't been in the lead much this year, either, so I feel he may have been trying a bit too hard at first. He is always his fastest when the track demands smoothness and great corner speed. You could almost see him find his rhythm, settle into his pace and start to creep away. As a multi-time winner and champ, once he gets that important breathing room the race is more or less over. It was an incredibly impressive performance after an incredibly weird bike failure. I have heard of flat tires, flat batteries, and even Tijuana Flats but a flat shock was a new one for me. Congrats to Ryan and KTM on their first win of the season and hopefully the next one comes a little easier for them—I wouldn't wish a trip to LCQ Land on anyone.