Chase Field
Phoenix

,

AZ
Phoenix
Monster Energy AMA Supercross Championship
Lancaster, California's Austin Politelli has been flying under the radar since his professional debut a season ago in the 250SX East Region. A solid rookie supercross season in 2012 led to a late deal with HRT Honda (who had previously worked with Kawasaki and Matt Lemoine a year ago) for 2013. After qualifying fourth in his heat race, Politelli was engulfed in a first turn pileup that consumed a quarter of the field, which lead to a 16th place finish on the night. We caught up with Politelli earlier this week to talk Anaheim, future expectations and more.
Racer X: Let's start with the obvious. How did Anaheim 1 go for you?
Austin Politelli: It went pretty good. I struggled in practice for some reason. My shifter clipped a Tuff Block and that screwed my whole practice up. I got a second place start in my heat and ended up fourth, so I was happy with that. In the main I got a pretty good start, but there was a huge pileup on that first jump and I had nowhere to go and ran into, I think, [Martin] Davalos.
Give us a perspective of that first turn crash from your point of view.
Coming out of the first turn you're so aggressive trying to get through the pack and I doubled over that and there was just a bike laying there—sticking straight up into my face. I ran into his back wheel and my fender was in between his wheel and his back fender and I was just stuck there. It took a while to get my bike out and I think I was pretty much last when I took off again.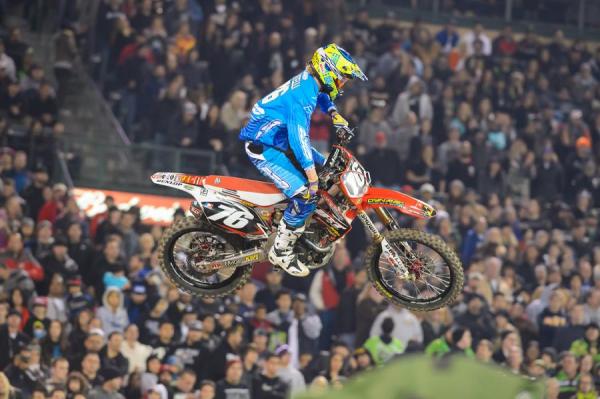 Politelli finished 16th at the opener after being involved in a first turn pileup.
Simon Cudby photo
A lot of riders talked about the nerves and pressure Anaheim 1 puts on them. Although you raced the East Region last season, this was your first experience at A1. How much pressure were you feeling throughout the day?
I wasn't too nervous. I tried to stay calm, which I'm usually pretty good at. I was a little nervous lining up for that first heat and I think I rode a little tight that race—I definitely held my breath a little bit. I think everyone is going to have a little bit of nerves after spending so much time getting ready for that race. It was good to get that race out of the way and going into Phoenix there should be no pressure and hopefully I can just ride my best.
Your deal with HRT Honda was announced rather late in the off-season. Tell us how the deal came about and how much time you had to test before the opener?
Last year when I was doing my own deal, I ran into Todd Hansen, who's the owner of HRT, and he was always super cool and let me come over to his rig when I had nowhere else to go. We worked on some stuff in the off-season, and he had a team last year with Matt Lemoine, and it's basically the same thing this year—he just made it a lot better.
Is the deal for outdoors as well?
I'm not sure on outdoors yet. We will see how supercross goes, and I'm sure if I do well it will turn into an outdoor deal to.
In your brief time as a professional, you've raced everywhere from Canada to Australia to the U.S. How much has that helped you grow as a rider?
Definitely a lot. When I have to race Bercy and races like that I know what to expect and how everything is over there. It's definitely different with the food and the time change. I'm glad I'm able to do it at a young age and be able to learn about different countries and stuff.
You're now in your second professional season, and have shown some real flashes in that time. What is it going to take to put the pieces together and take that next step?
I think just get up there in my starts, like my heat race. I think if I was up there in the main I wouldn't have been in that pileup. But that is part of racing sometimes. I have been training really hard this year and my fitness is good. I've done plenty of motos and I really love my bike. I think if I'm able to get good starts and run up front, I'll be able to stay there.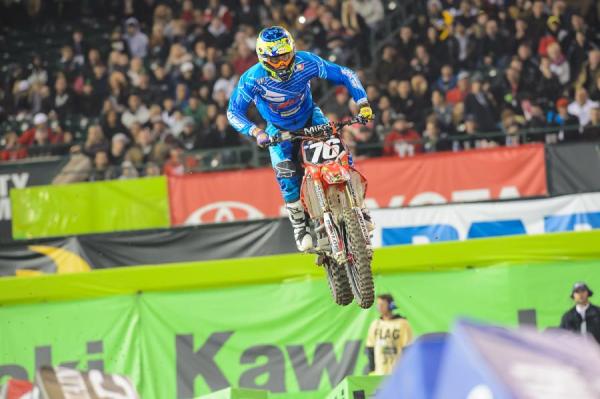 Will Phoenix prove to be a breakout race for the young Californian?
Simon Cudby photo
You grew up in California, but raced the East Region last year, where the dirt is significantly different. Do you feel more at home in the West Region this year?
Yeah, definitely. With all the tracks I've been practicing on, the dirt at Anaheim was very similar to places like Milestone or Starwest—all the tracks I've ridden for years. Last year wasn't too different, but everything kind of breaks down a lot more and has more ruts.
The series heads to Phoenix this weekend, which is known for its slick track conditions. Have your preparations changed, and what type of bike adjustments will you make?
Not too much—probably just different tires and stuff. I'm actually pretty good on hard packed tracks, I really like tracks where you have to use a lot of throttle control and slow down to go faster. I'll probably go ride Pala, because their track is hard packed. But I won't make too many changes to the routine.
What are your expectations moving forward after a pretty good start to the year?
I definitely want to be consistently in the top ten and work my way into the top five and be there every week. With the training I've been doing there is no reason I can't run up front with those guys. They're no different than me. I just need to get good starts and be consistent and smooth and I think everything will be good.
Thanks, Austin. Who would you like to thank for helping you out this season?
I would like to thank AXO, HRT, MotoPro Graphics, Rekluse Motorsports, Dynamic Engine Factory, UNIT Clothing, X Brand Goggles, Bell, Tagger Designs, Hammer Nutrition, Moto Thump, DT1 Filters, Stomp Grip Tape, HB Moto X, Renegade Racing Fuels, Xceldyne, CV4 Products, JE Pistons, Motorsports Products, Globe, Deft Gloves and my trainer Rob at X Factor.