On Saturday night, March 17, 1990 – and before a high school football-size crowd in the then tiny Las Vegas Silverbowl – this reporter watched a kid from Southern California named Jeremy McGrath ride his #125 Team Green Kawasaki KX 125 to victory in the final race 1990 AMA Supercross tour. During the following winter McGrath signed on to the new Team Peak/Pro Circuit/Honda team, would win the West Region Championship, then backed it up with seven wins and the '92 West Region title.
Then came 1993. Now on a factory Honda CR250, McGrath ran fourth and fifth in the first rounds before showing up at Angel Stadium for Round 3. That's where the world watched McGrath race past defending series champ and senior Honda teammate Jeff Stanton and whisk away to victory. It was a stunning, unexpected triumph. Little did we all know that it was the beginning of something special. McGrath began the first of many streaks his career, going on to win in Seattle, then San Diego. The kid was sensational, yet some still had their doubts.
"Daytona is coming up and he'll fade there," said some insiders. "He's a supercross kid and the rough Daytona track will ruin him."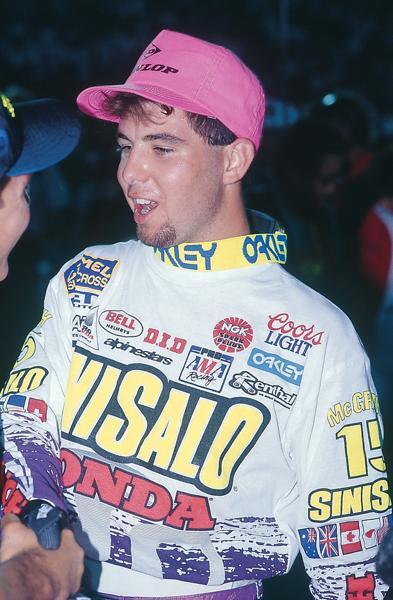 During his career, McGrath would revolutionize the sport of supercross.
Racer X Archives photo
It didn't. McGrath place second in the deep, nasty Florida sand and then went on to win five more 250cc main events before hoisting the #1 plate above his head at the Pasadena Rose Bowl on May 15. And that was just his first season! Before he was "Showtime." Before he was doing nac-nacs. Before he began to literally carry the sport on his back for the better part of a decade.
Seventy-two victories and seven AMA Supercross Championships later there really isn't anything left to say about Jeremy McGrath other than he is, was, the undisputed King of Supercross. In an eight-year run, he only lost the title but once, to Jeff Emig in 1997, where DNFs and an off-song Suuzki motorcycle stopped him just short of taking the measure of his nemesis. All this withstanding, and all the miraculous results aside, McGrath brought much more to the sport of Supercross. In fact through his showmanship, charisma and sheer force of personality, he took the sport to places it had never gone before -– into the mainstream. The Tonight Show with Jay Leno, ads in Rolling Stone, corporate TV spots with 1-800-COLLECT, video games, countless network TV appearances.
What made him so good? He was never a standout on minicycles -- he started very late, relatively speaking, at the age of 14 -- but he was a remarkable innovator. It was McGrath's low-jumping technique, where he soaked the lift on jump faces with his legs, BMX-style, to flow lower and get across triples and tabletops quicker. He was a meticulous tester, which meant he and mechanics like Shawn Norfolk and Randy Lawrence always had the perfect set-up for their man. McGrath was so good that he had two eras of pure dominance: 1993 to '96, before his falling out with Honda, and then '98 to '01 with his own Chaparral Yamaha team, backed by Bud Light. An all-time bench-racing debate might simply be this: Who was better? Jeremy on a Honda or Jeremy on a Yamaha?
McGrath finally meet his match in the much younger Ricky Carmichael, #2 on this list, but nearly 25 main event wins behind Jeremy on the all-time wins list. Carmichael and his mentor Johnny O'Mara knew they would never be the best until they could beat McGrath straight up, and that took five years of pro racing to accomplish. Said Carmichael, "I looked up Jeremy so much, but if I wanted to beat him, I knew I had to put that aside."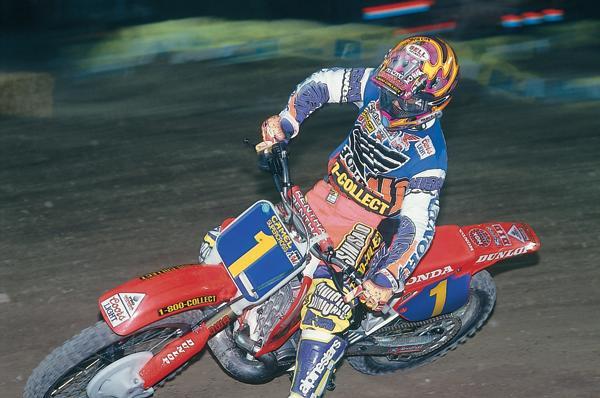 McGrath is #1 on the all-time wins list with 72.
Racer X Archives photo
After splitting the first four races of 2001, Carmichael would not lose again, while McGrath would never win again. But he was okay with that, as the records he set will likely never be broken.
On New Year's Day earlier this week, while vacationing in Park City, Utah, Jeremy spoke about being the #1 Supercross rider in history. "I always thought it was really important to put your head down and just do the work, get the most out of what you had in racing and, well, the numbers would come," offered McGrath. "I mean RC didn't talk too much. He just went out and did what he had to do. He won races and titles and just did what he loved to do, then he got out at the right time. At one point, James Stewart was racking up numbers where I wondered if he would get close. Now my impression about the 72 race wins in this sport is that the athletes now make too much money to stay interested in it to keep at it for the same amount of time that I did. The thing I realized is that I didn't really think about the numbers."
And of his superstar status in the sport, the fact that he is still the most well-know and respected name in the entire sport of supercross?
"Man, I was just a hillbilly kid from Menifee, California," he laughs. "I was thinking, 'Wow, I can't believe that all this is happening.' I didn't look at myself as being one of the greats."
That's where he's wrong. Jeremy McGrath was not one of the greats in supercross -- he was the great one. Long live the King of Supercross.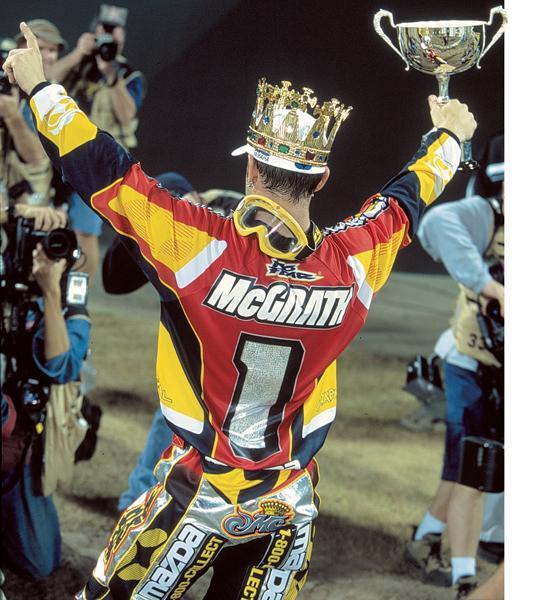 Long live the King of Supercross.
Racer X Archives photo
The 30 Best Supercross Racers of All Time Tracker:
#1 Jeremy McGrath
#3 Bob Hannah
#5 Rick Johnson
#6 Chad Reed
#8 Jeff Stanton
#9 Jeff Ward
#10 Jean Michel Bayle
#11 Damon Bradshaw
#12 Mark Barnett
#13 Kevin Windham
#14 David Bailey
#15 Ryan Dungey
#16 Mike Bell
#17 Jeff Emig
#18 Johnny O'Mara
#19 Doug Henry
#20 Jimmy Ellis
#21 Mike LaRocco
#22 Ezra Lusk
#23 Broc Glover
#24 Ron Lechien
#25 Jimmy Weinert
#26 David Vuillemin
#27 Donnie Hansen
#28 Larry Ward
#29 Mike Kiedrowski
#30 Marty Tripes