Only two remain. The Monster Energy Countdown to Anaheim is nearly finished, and while tomorrow will mark the unveiling of our all-time champ, today brings us one heck of a runner-up.
When you look at race wins, titles, and pure supercross dominance, Ricky Carmichael hovers above all but one man. From January of 2001 through half of 2007, Carmichael was the leader of the sport, indoors and out. Actually, his outdoor reign stretched from March of 1997 through September '07, with an astonishing 102 national wins in 127 starts. But his SX tenure at the top stretched from the day he first beat seven-time champ Jeremy McGrath at night at the second round of 2001, in San Diego, and then beat him straight up in the epic and pivotal Anaheim 3 of that same year. It was the passing of the torch, done in the House that Jeremy Built, and it would resonate for years to come.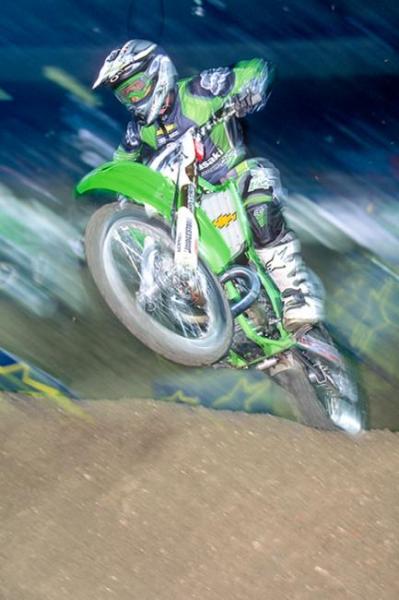 RC ranks second on the all-time career wins list.
Moto Verte photo
Carmichael was a late bloomer when it came to supercross racing. He started out with some wild rides in the spring of '97 on the Pro Circuit Kawasaki KX125, but by '98 he was in full control of that class, at least on the East Coast. When he was beaten by Kevin Windham in a wild Las Vegas East-West duel at the end of that series, the jury was still out on just how good Carmichael might be. He was wild and emotional, and that sent mixed signals—if you recall, Windham, Ezra Lusk, and even the soon-to-arrive James Stewart were then being measured to someday take McGrath's crown.
Then Carmichael figured it out. He slowed down (just a little) to go faster (by a lot), and he teamed up with Johnny O'Mara to work on his race craft. The year 2000 saw him settle down and watch and learn, and by the start of 2001 he was ready to take his shot at the crown. The thirteen-race winning streak he would go on was a game changer in ways no one might have imagined. McGrath would never win again, and newcomers like Chad Reed and eventually Stewart would start chasing RC. Even with the changes he made in his program—going from Kawasaki to Honda, for instance—he never seemed to slow down. In fact, each change was internalized as a new challenge for Ricky, and he found strength in proving everyone wrong.
Take 2004, for instance. After three straight titles, Carmichael injured himself and was forced to miss what might have been a shot at his fourth crown—something only McGrath himself had ever accomplished. Suddenly, everyone was doubting RC—including Honda. When Ricky signed with Suzuki in April, he used the perceived lack of respect from the Red Riders to lay a colossal ass-whipping on everyone that summer, reeling off twenty-four straight moto wins. Again.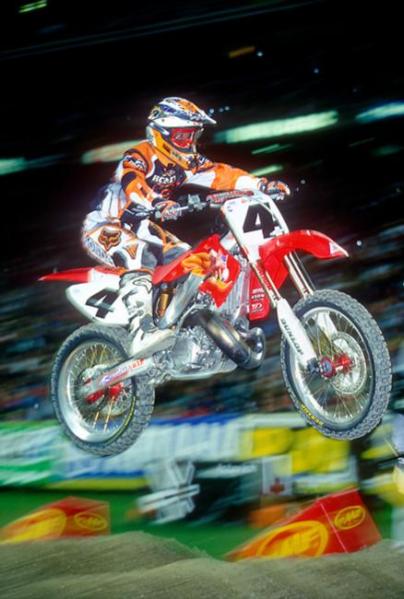 RC first made the switch from Kawasaki to Honda, and then later Honda to Suzuki.
Simon Cudby photo
But his real masterpiece was yet to come. With changes in riding style (as Stewart and Reed evolved), changes to Suzuki, and then the switch from two-strokes to four-strokes in 2006, Carmichael barely missed a beat. He won both the '05 and '06 titles, then announced his retirement—but not until he did a handful more SX and MX races in 2007. The result? He won two rounds of supercross even while Stewart and Reed were battling for the title. His last SX race came the morning after his twins were born, and he still almost beat Stewart in Orlando!
Ricky Carmichael was no Jeremy McGrath—he lacked the God-given talent Jeremy used to rule the sport for a decade. But he brought a work ethic and a compassion to the sport that became mandatory for every future aspiring winner, let alone champion. His legacy is greater outdoors—his 102 wins are almost triple the next-closest total—but indoors, he's the second-greatest rider in Monster Energy Supercross history.
The 30 Best Supercross Racers of All Time Tracker:
#3 Bob Hannah
#5 Rick Johnson
#6 Chad Reed
#8 Jeff Stanton
#9 Jeff Ward
#10 Jean Michel Bayle
#11 Damon Bradshaw
#12 Mark Barnett
#13 Kevin Windham
#14 David Bailey
#15 Ryan Dungey
#16 Mike Bell
#17 Jeff Emig
#18 Johnny O'Mara
#19 Doug Henry
#20 Jimmy Ellis
#21 Mike LaRocco
#22 Ezra Lusk
#23 Broc Glover
#24 Ron Lechien
#25 Jimmy Weinert
#26 David Vuillemin
#27 Donnie Hansen
#28 Larry Ward
#29 Mike Kiedrowski
#30 Marty Tripes