We're inside the top ten and at this point in the Racer X Top 30 Supercross Racers list presented by Monster Energy, and we're pretty sure you know which riders are left. But in what order? That's the magic question and it's pretty safe to say that five years from now, this list is going to look a lot different when it comes to this next guy.

Number seven with a bullet is Monster Energy Kawasaki's Ryan Villopoto, the first of three active riders in our top ten. RV is currently the man in supercross, with the last two titles and an astounding 24 wins in just four seasons. And if you take away his rookie year, he's got 22 wins in three years, an incredible average of seven wins a season. Villopoto is seventh all-time in wins and almost sure to pass Bob Hannah and Rick Johnson this year to move into fifth all-time barring a disaster for Ryan and his team.

Statistically, alone, Ryan's in great standing. Only four other riders have even gone back-to-back with championships, and only three others have ever won three in a row. Villopoto is in position to make a three-peat this year.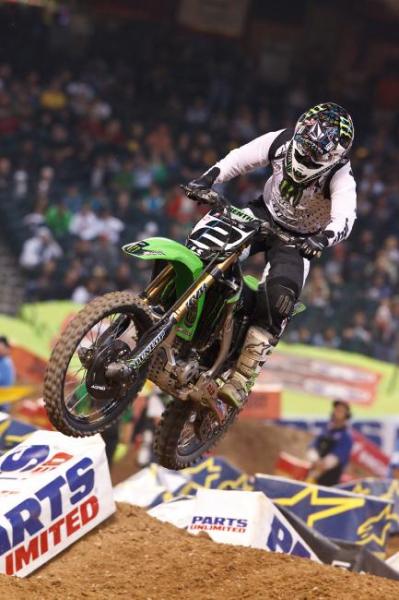 It's not easy to rank active riders against those who are retired, as it's very probable that more wins are coming for Villopoto.
Simon Cudby photo
Strangely enough for Villopoto he only managed one 250SX title in three shots at it, he finished third in his rookie year, dominated his second year and lost a close one to Trey Canard in year three. Certainly when looking at the past greats of supercross, a one 250SX title in three years doesn't indicate future indoor greatness. Especially when compared to his right-out-of-the-box blinding speed in the outdoors, Villopoto's early supercross results seemed to say that he needed braking bumps and natural terrain to really excel.

But then 2009 came and a jump up to the 450 class. He had an illness to deal with in the middle of the season but returned to the tour late in the year like a completely different rider. He won two out of the last three races over the likes of established stars Chad Reed and James Stewart. With that, Villopoto came into the 2010 season as a real contender.

Winning seven of the fourteen races in 2010 showed that he was a fast learner. He was deep in the thick of a championship battle with Ryan Dungey when he crashed at St. Louis and missed the rest of the season. Just like that, in his first two years in the premier class he was a nine-time supercross winner. And who knows? Had he not crashed in the STL (while leading) he could have ended up the 2010 SX Champ and already packed three titles. But as you see often in this top 30 countdown, such what ifs happen quite often and never get answered. That's a part of sports.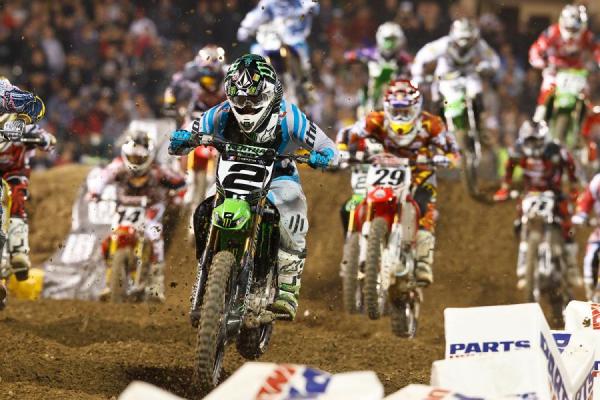 A huge crash while battling for the 2010 title may have threatened his career, but Villopoto bounced back even stronger, and has been the best in supercross since.
Simon Cudby photo
In 2011, Villopoto went up against a super stacked 450SX field, and in what was an epic supercross season, he captured six wins and his first title. Dungey, Reed and Stewart were all there, and RV bested them all, despite missing a main event when he failed to qualify for a race. No worries, Villo is one of the most head strong riders out there, and he was eventually able to rebound, put together a clutch win at the next-to-last round, and seal the deal. It wasn't a dominant, win-almost-every-race season, but against such a tough field often labled as "The Greatest Season Ever" Villopoto showed he could perform under pressure.

And if you want dominance, last season we indeed saw a more dominating performance. RV won nine more races to get his second career 450SX title. Yes, the 2011 season was marred by injuries, but Ryan was already the points leader and the first rider to win multiple races when his competitors started going out. He has totally and completely earned these last two titles. And he's only 24-years old. Like fellow long-time Kawasaki man Jeff Ward, he's probably as fast (or faster!) outdoors but for this column, it's indoor prowess only. And indoors, he's rounded himself into a force as strong as we have seen in quite some time.

Villopoto is our seventh best supercross racer of all-time. Besides the sheer number of wins, he's tied with Ricky Carmichael for third all-time in SX win percentage. That puts him ahead of a guy like three-time champion Jeff Stanton, but let's do this list again in some time and I'm betting that RV is higher toward the front.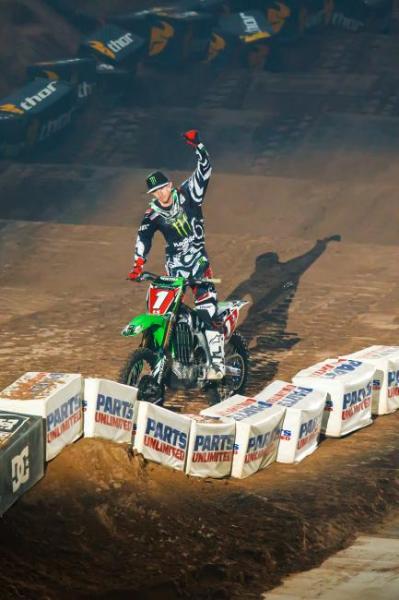 Two number one plates. And counting?
Simon Cudby photo
The 30 Best Supercross Racers of All Time Tracker:
#8 Jeff Stanton
#9 Jeff Ward
#10 Jean Michel Bayle
#11 Damon Bradshaw
#12 Mark Barnett
#13 Kevin Windham
#14 David Bailey
#15 Ryan Dungey
#16 Mike Bell
#17 Jeff Emig
#18 Johnny O'Mara
#19 Doug Henry
#20 Jimmy Ellis
#21 Mike LaRocco
#22 Ezra Lusk
#23 Broc Glover
#24 Ron Lechien
#25 Jimmy Weinert
#26 David Vuillemin
#27 Donnie Hansen
#28 Larry Ward
#29 Mike Kiedrowski
#30 Marty Tripes