Today's decision was not an easy one in the Monster Energy Top 30 SX Riders Countdown. But we're giving the #8 spot to Jeff Stanton, perhaps the greatest "blue collar" champion in supercross history. If any rider in the top ten seemed destined to not be on this list, Stanton would be it, as he was born without the natural talent or showmanship flash of most of these all-time greats. Plus, he was raised in the hinterlands of a Michigan farm, not Southern California, where nearly all of his contemporary rivals hailed from (or today's hot spot, Florida). To further illustrate Stanton's unexpected rise, consider that he rose to prominence with strong outdoor motocross finishes on the air-cooled Yamaha YZ490. Supercross success never seemed to be in the cards.
Then it all changed in late 1988. Team Honda picked up Stanton as their backup big bike rider to superstar Ricky Johnson. RJ would handle the race wins and titles, Stanton was just expected to be a solid workhorse. And work he did--every single day with RJ during the off-season. Perhaps never have two teammates elevated themselves so much, as Stanton transformed from a top-ten rider in 1988 to a potential race winner when the '89 season dawned (and, apparently, switching to the potent CR250 didn't hurt). And Johnson was stronger than ever, too, winning the first five races of the '89 AMA Supercross Series.

Stanton won three supercross titles during his career.
Racer X Archive photo
But Stanton was building confidence and knew he would need to beat his mentor to get his first win. At round six in Atlanta, Johnson crashed trying to pass Stanton for the lead, and Stanton grabbed that first win. A week later, Johnson broke his wrist in practice at the AMA National opener at Gainesville. Stanton, without hesitation, picked up the baton and carried it to the '89 SX and 250 Motocross Championships. Fluke? Hardly. Against a loaded field in 1990, he pieced together a methodical season, punctuated it with clutch riding, and successfully defended his indoor title.
While the innovative Jean-Michel Bayle got the best of Stanton physically and mentally in 1991, Stanton bounced back again in 1992, taking the title in shocking fashion by winning the final round, as series points leader Damon Bradshaw faltered. That championship--won with just three victories all season--best explained Stanton's style. Bayle and Bradshaw had more talent and speed, but Stanton maximized his result every week, and overcame them with mistake free riding, effort and determination.
But all that work took a toll. By 1993, he didn't seem as motivated, and couldn't step up and match his new young teammate Jeremy McGrath. He tried a revamp for 1994, changing his training and eating patterns and showing up lean and mean, but it didn't work. At age 26, just two years after being on top of the U.S. Motocross and Supercross world, Stanton retired.
As for his spot on this list, it was quite tough picking between Stanton at #8 and Jeff Ward at #9. Especially since they engaged in a ton of great races from 1989--1992, and were very, very closely matched most of the time. Ward had much more longevity and a few more career wins, but Stanton has three supercross championships to Ward's two. That was enough to push the Michigan farm boy over the top.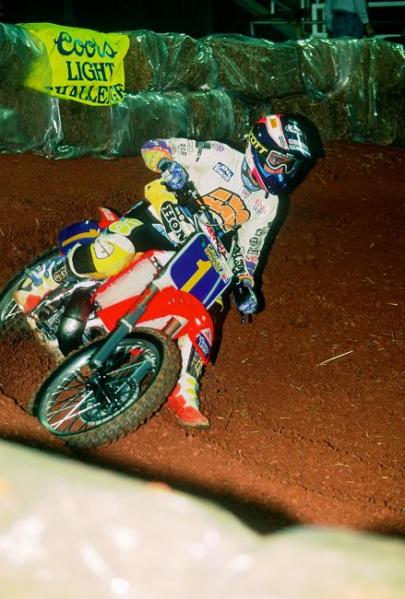 Stanton called it a career at the young age of 26.
Racer X Archive photo
The 30 Best Supercross Racers of All Time Tracker:
#9 Jeff Ward
#10 Jean Michel Bayle
#11 Damon Bradshaw
#12 Mark Barnett
#13 Kevin Windham
#14 David Bailey
#15 Ryan Dungey
#16 Mike Bell
#17 Jeff Emig
#18 Johnny O'Mara
#19 Doug Henry
#20 Jimmy Ellis
#21 Mike LaRocco
#22 Ezra Lusk
#23 Broc Glover
#24 Ron Lechien
#25 Jimmy Weinert
#26 David Vuillemin
#27 Donnie Hansen
#28 Larry Ward
#29 Mike Kiedrowski
#30 Marty Tripes