Happy Boxing day everyone!

We're getting into the top ten all-time supercross racers and now it's getting tougher and tougher. Not to sound like a game show host or anything but these guys are the best in history and it's showing as the debates are getting intense. We've brought you 20 so far, and now we're ready to begin clicking off our ten best supercross racers ever as the finals laps in our Monster Energy Coutdown to Anaheim.

He came, he learned, he conquered and he left. The mysterious Jean Michel Bayle is number 10 on our list, and it should be of little surprise that the Frenchman was a source of much debate here in the Racer X offices. Some wanted to penalize him for only sticking around and racing three full seasons (1990-'92) but in the end his sixteen wins and one title (1991) in those three seasons (finishing a close second in the series in '90 and a don't-give-a-damn third in '92) was enough to get him here.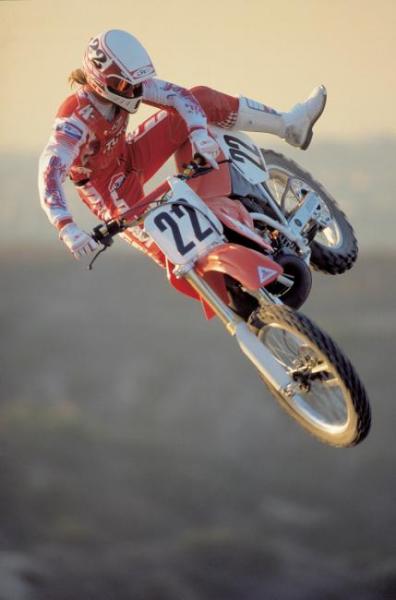 JMB's first full season in the U.S. came in 1990.
Racer X Archive photo
After two motocross world titles in Europe in 1988 and '89, Bayle left many championships on the table in Europe to move to California full-time. He had tried supercross briefly in the winter of '89, his first-ever main event ending after two turns at Anaheim. But within four races he had gone from pure rookie to runner-up behind Ricky Johnson at that year's Miami SX. His rough edges as a newcomer to supercross wore off fast, but then it was back to Europe for one more year on the GP circuit.
In his first full U.S. season of 1990, JMB started getting under the skin of top American riders like Damon Bradshaw and Bayle's own Honda teammate Jeff Stanton. It was Stanton in particular who seemed put off by the seemingly effortless riding of the interloper, who was known to show up at the Honda test track eating a Kit Kat bar, then spend his afternoon carving his initials out on the hillside in giant roosts. He would often end his sessions with some free-riding on the ledges around the track.
Even after a DNF at one round in 1990, JMB ended the year a few scant points behind the defending champion Stanton for the title. But the next year Bayle wouldn't be denied, racking up six main-event wins to bring home the AMA Supercross Championship, his main goal as a motocrosser. And he did it under difficult circumstances, as the series' live announcers often played up the U.S.-against-Them angle, leading the crowds to boo the French kid rather than appreciate the genius of his riding technique -- more than anyone he deserves credit for attacking the whoops in a controlled blitz, using fourth gear, which is the standard now, as the low rpm's and wide gear ratios enabled him to gain speed from the beginning to the end, always under control.
In '92, with one eye already on his next move -- he had signed a development deal with the Honda factory in Japan to be moved right into their Grand Prix road racing program -- he won three more races with the enthusiasm of someone going to a job he hated.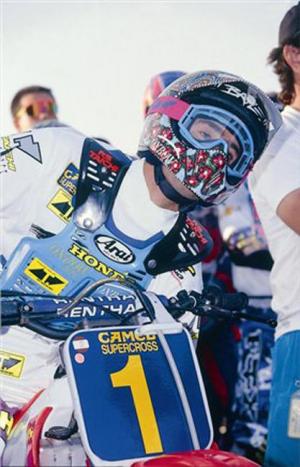 JMB captured one SX title during his brief time in the States.
Racer X Archive photo


And then, like Haley's comet, he was gone.
Jean-Michel Bayle was an innovator in supercross, an artist on the bike and a speed demon on the track. He opened the door for other riders to emigrate here from around the world: Greg Albertyn, Mickael Pichon, Stephane Roncada, Sebastien Tortelli, David Vuillemin,
Grant Langston
, Christophe Pourcel,
Tyla Rattray
,
Marvin Musquin
,
Ken Roczen
... Bayle may not have the wins and titles of others on this list, but he's as much a legend in supercross for what he did, as he is a legend for what he did not do, which was stick around for more.
The 30 Best Supercross Racers of All Time Tracker:
#11 Damon Bradshaw
#12 Mark Barnett
#13 Kevin Windham
#14 David Bailey
#15 Ryan Dungey
#16 Mike Bell
#17 Jeff Emig
#18 Johnny O'Mara
#19 Doug Henry
#20 Jimmy Ellis
#21 Mike LaRocco
#22 Ezra Lusk
#23 Broc Glover
#24 Ron Lechien
#25 Jimmy Weinert
#26 David Vuillemin
#27 Donnie Hansen
#28 Larry Ward
#29 Mike Kiedrowski
#30 Marty Tripes