There are big jumps in Monster Energy AMA Supercross an FIM World Championship, but no rhythm section matches the leap a few riders try to make each year. Each season, you'll find a certain group of riders poised to find more. They're not the poor privateers, millionare champion or even members of a factory team. But they do ride for solid squads, have access to trainers and tracks and support, and maybe even make some money as a professional motocross racer. In many ways, they've living the dream. But they dream of much more.
Consider it a third tier. We know full well that the likes of Villopoto, Reed, Stewart and Dungey are already packing number-one plates on their shelves. Factory-equipped riders like Canard, Barcia, Weimer, Windham, Brayton, Short and Grant have a shot, too. But just below sits this group, hungry to take that next step, establish themselves as podium players, and unlock that next level of confidence and support and respect.
The next level. That's what this level is all about.
Who is in there this year? Guys like Mike Alessi, Broc Tickle, Josh Hill, Kyle Chisholm, Ivan Tedesco, Michael Byrne and Matt Goerke. Right behind comes the likes of Bobby Kiniry, Les Smith Ben LaMay, Chris Blose, Phil Nicoletti, Matt Lemoine and Weston Peick. But let's analyze the first gang.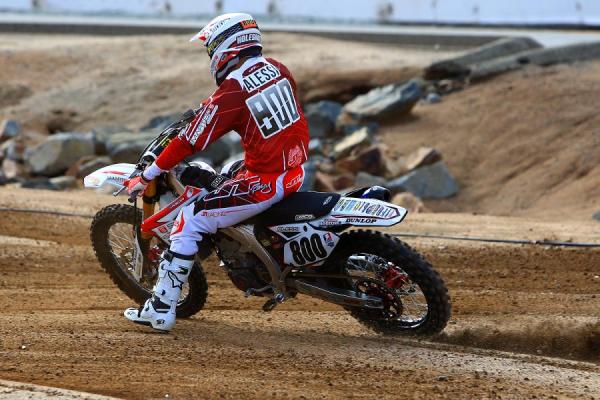 Alessi is hoping to build off his solid 2012 supercross season in 2013.
BrownDogWilson photo
Mike Alessi is mostly overlooked when it comes to supercross. He dug that ditch himself, because he was clearly better outdoors than indoors during his Lites career, and after that, Mike basically used supercross as a healthy cruise to prepare for motocross. Or, he would skip it altogether like he did in 2010.  With the "outdoor only" rep established, most haven't noticed that Mike has improved indoors quite a bit lately. After skipping supercross in 2010, his 2011 season started horribly on the KTM 350SX-F, as he straight-up missed some main events. But last year, on his Suzuki, er, sorry, MotoConcepts "MCR" 450, he made mains with ease and finished a quiet sixth in points. Several times, he flirted with the podium. Yes, the field was injury depleted, but just watching Mike in 2011 and Mike in 2012 indicated a massive improvement. Further, he was a legit player at the Monster Energy Cup this year, mixing it up for the lead in the second and third main events. We really mean mixing it up, too—not just holeshotting, but passing dudes back.
Yet, that's mostly overshadowed because Mike's 2012 motocross season was even better. He won a moto. Finished second in points. Due to that, his supercross skills are generally an afterthought to the masses. But don't be surprised to see Mike make another giant step in supercross this year. Even in a healthy field, podiums are possible if he gets a holeshot and everything comes together.
Alessi's team doesn't say it much, but he rides a Suzuki. But he has a privateer effort while a new Suzuki factory-supported team has emerged with Dodge/Sycuan RCH Racing. Yeah, the Alessi camp is probably bummed to see works stuff parked underneath Tickle, a rider who Mike beat indoors and out last year. But MotoConcepts beat the "we don't need the factories" drum quite loudly leading into last season. Now they have to keep marching to the tune they wrote.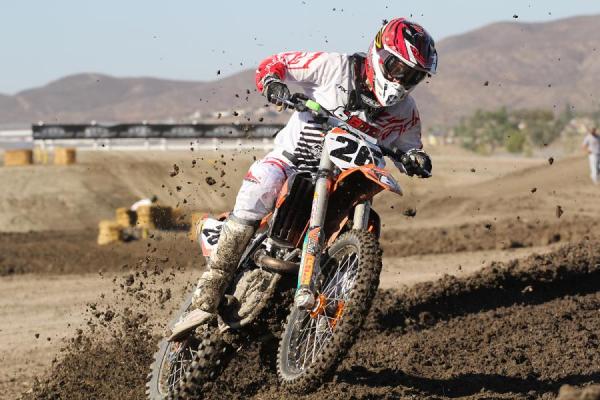 Michael Byrne is still recovering from his injury at Unadilla, but is hoping to be ready for the start of the season.
BTO Sport KTM photo
Meanwhile, Tickle and Josh Hill have Stewart-level bikes, so no doubt, they have the tools to succeed. Of this third tier group, Hill is the only one who has seen the rare air of the lead pack, battling Ryan Dungey for the SX points lead a few years back, and even once claiming a win. Since then it's pretty much been a disaster, and there might not be another rider in the entire sport that packs such a dynamic: Hill could shock everyone and run up front, or, he could be in for more troubles. Word from those who have seen him ride (like Tickle and Stewart) say Hill is back on the gas, 2010 style. This will be a story to watch, because everyone loves a comeback.
Tickle, meanwhile, is going to wrestle with heavy expectations since the fans and industry will label him as, "The GOAT's hand picked rider." Internally, the team isn't treating it that way. The team actually looked at several riders and Tickle talked to other teams, and they both eventually decided to date, just like any other rider-team deal. This wasn't RC waking up in a cold sweat at 3 a.m. saying "Must have Tickle!" So Broc, who struggled in supercross last year with the pressure of the 450 class, needs to block out the outside hype. If he does, he'll certainly be solid, but even in last year's injury-depleted field, his best finish was only a sixth. Like we said, this group is looking to make a big leap.
Hill has experienced the highest heights of 450SX, and Tickle and Alessi have won races in other classes. The rider that most solidly represents this tier—always this close to taking that last step—is Kyle Chisholm. He seems to have spent a lifetime in this rank. For Chizz, a breakthrough seemed to be coming in 2011, when he caught fire near the halfway mark of the season and started logging fast qualifying laps. He is one of the few riders to really gel with the current-gen YZ450F, and he had a good thing going with then-MotoConcepts Team Manager David Vuillemin. At Houston, he was fifth-fastest in practice (and this was in '11, when everyone was healthy). Moreover, the race turned crazy, with a mammoth first-turn crash opening the door for an upset. It could have been Chisholm's night for a podium, but instead, he spent it at the hospital, because he crashed in his heat race and suffered some serious internal injuries. Ever since, he's been fighting to get back, with the lone highlight being a King of Bercy crown in late 2011, while riding, yes, the YZF.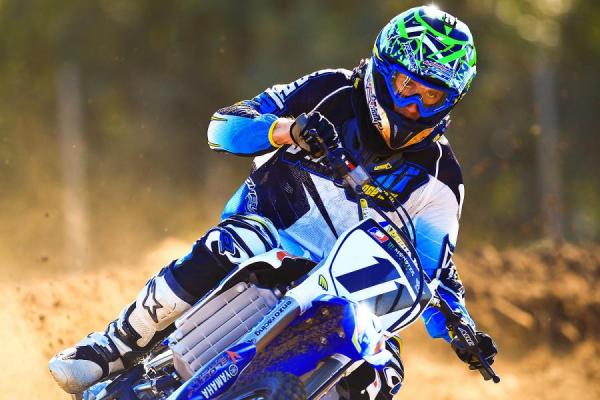 Chisholm, who is back on the Yamaha for 2013, is hoping to have a breakout year.
BrownDogWIlson photo
Last year was only so-so on a Jeff Ward Racing Kawasaki. Now he's back on the Yamaha he loves, riding for the new Velocity3 Yamaha team, run by veteran ex-factory mechanics Brian Berry and Kenny Germain. An ankle injury suffered at the Bercy SX will slow Chizz early, but he's back on the bike now. Who knows? Maybe he'll go full circle and find his old speed by the time Houston rolls around.
While the world waits for the Red Bull KTM factory team to sign a 450 teammate for Ryan Dungey, the orange brigade also grabbed a support squad with Team BTOSports.com. Matt Goerke will be the lead dog while veteran Michael Byrne is still working his way back from a broken leg suffered at Unadilla last year. Byrner was once a factory Kawasaki and Suzuki rider, so he knows the way forward. But he unfortunately seems to start supercross with an injury every year. Goerke also hopes this is the year he finally fulfills his potential. His talent created blips on the radar before—including that legendary upset 450MX win at Southwick a few years back, as well as flashes in the SX Lites class—but you get the feeling we've never seen his full bag of tricks. With Team BTO's new support, he has better equipment than ever. He's moved from Florida to California so he can work on the hardpack game so critical to supercross. He knows after some rough years, this is his best chance. "It got to the point where I almost just quit," he told us on Monday. "It was rock bottom. I had to put in a lot more effort to get healthy and get fast again, and it taught me that I can work harder, and train harder. So I train much harder now, and I eat much better, too. I've never been more prepared for a season than I am for this one."