When the mighty Monster Energy/Pro Circuit Kawasaki team failed to win a Lites SX title last year—a rarity for them—some started to wonder if the team has lost its edge. But Blake Baggett delivered the 250 Motocross title, and now the 2013 version of the squad will feature a record six riders, two of whom will race 450s outdoors. Is this a time of transition for Pro Circuit, or is it just business as usual—the business of winning? Matthes caught up to team owner Mitch Payton in his office last week to find out.
Racer X: Mitch, thanks for doing this. How did you even end up signing six guys?
Mitch Payton: It was kind of odd, we had the four guys signed [Blake Baggett, Justin Hill, Darryn Durham, Martin Davalos], and no sooner than we had them signed, we had a bunch of injuries. And I wanted to find something for Tyla [Rattray]. We had him last year and wanted to have him on the 250s last year, but Kawasaki really needed him on a 450 as a replacement for Ryan [Villopoto]. But Tyla wanted to do it and I wasn't going to stand in his way. But, he got hurt. I wanted to see him have one good shake at it, have a good full season on the 450 outdoors for 2013. And, he can help us in supercross, where we have a few guys out.
Then, no sooner than we have this finished, Dean's agent Tony [Gardea] called. He said things weren't going to work out, and they needed a home. We were one of maybe three places where he could have found a home. Same thing as Tyla, he wanted to ride a 450, but for our sponsors, we need to be loaded in a good way in the 250 class. So, we asked if he could ride 250 supercross again, and then we could support him for a 450 outdoors. It took a lot of effort on everyone's part, Kawasaki, Monster, and us, Traxxas, Thor, all of the sponsors. Because once everyone's budget is done, they're done! You can't just call them up and ask about a sixth guy! But we kind of consider him part of our family, and we wanted to figure out a way to do it.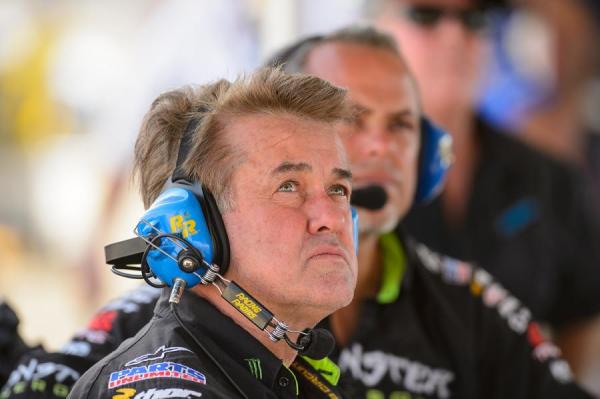 Payton hopes to lead the powerful Monster Energy/Pro Circuit Kawasaki team to another 250SX title in 2013, after failing to win a supercross title in 2012.
Simon Cudby photo
Racing a 450 outdoors, how does that go, politically, with Kawasaki? You'll be racing against Ryan Villopoto and Jake Weimer outdoors, and maybe even beating them at times. And you know how that goes.
I would hope everything is going to be okay. I think Ryan Villopoto is, and I think everyone will say, he's the guy to beat. I don't think us having a 450 guy is going to leave him sleepless at night. And we wouldn't have been in the position to do this if Kawasaki didn't want us to do this. And Reid [Nordin] at Kawasaki said he really wanted to find a way to keep Dean on a Kawasaki. Really, when it comes to sponsorship and development and things like that, we've never been closer with the factory team. The truth is, if we don't have some spots for our kids, where do they go? They're going to leave Pro Circuit and Kawasaki and Monster, and if you leave them, chances are you're not going to get them back.
Yeah Kawasaki had Justin Bogle at one point, they lost him to GEICO, and Blake Baggett was a Kawasaki rider and he was gone at one point, rode a Suzuki. Do you look at that as a tipping point? Let's face it, GEICO is turning out some terrific riders.
GEICO has done a great job. They're a great competitor to have. But also I think KTM is really strong, and I don't underestimate really anybody. But GEICO has invested money in trying to sign kids at a young age, more so than we do. But our standpoint was, we're a Lites professional program. We've always been there to support Team Green and other brands on the amateur side. But the way I look at it is, to support these amateur riders with factory rides, where does it stop? I think it's pretty gnarly. I like the way Kawasaki does it. You get five or six kids, we give them equal equipment, and you see what they have, and then we see who is the cream of the crop, and then we can bring him onto the pro team. In most cases it has worked successfully, but we have lost a few riders over the years to other teams. But now everyone is digging deeper. Some kids can make that transition very easily, some don't. We'll see where we are in a few years.
You didn't win any supercross titles this year. Is this team a sense of like reloading?
No, I wouldn't say that. Because the truth is, only one rider can win the title anyway, it's not like all six of our guys can win titles, or all three on one coast. We try to get the best talent we can. Truth is, a lot of people are gunning toward us. We'll speak to a rider, and a team will find out we're talking to them, and they'll offer more money. Some kids are willing to ride for the same or less, but when a team is offering you double the money, it's like, dang, double is a lot of money!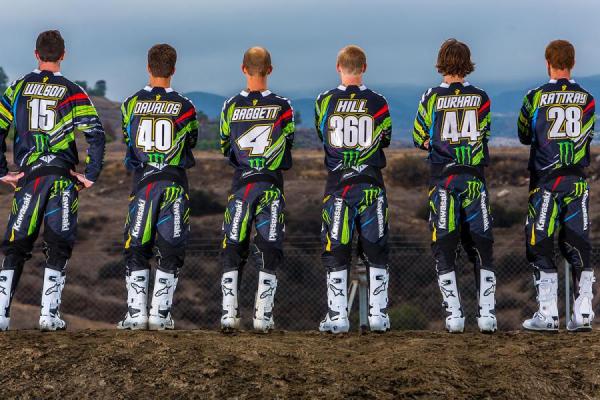 Monster Energy/Pro Circuit Kawasaki will house six riders under their tent in 2013.
Monster Energy/Pro Circuit photo
The 450 program, you did it for the first time last year, indoors and out. Every year it's rumored you're going to do it. How was it last year?
I've read on the Internet where a couple of guys said we took our eye off the ball having a 450 last year. I don't think that's true. It takes a long time to test and get parts, and we have that all lined out on the 250s, anyway. It didn't affect us. I say, why not? GEICO does it with Kevin Windham, they used to do it with Mike LaRocco, and it gives them some exposure in the big class. I think it's good—anytime you race at that level, you learn something.
But the circumstances are different. Tickle pointed out, but had a contract. Dean kind of fell into your lap for 2013. Tyla, like you said, you wanted to give him another shot on a 450. So is this a concentrated 450 effort, or is it just case-by-case depending on what riders you have? Will you race 450s in 2014?
I think the plan is to be there in 450 with a 450 team in 2014, both supercross and outdoors, with Dean Wilson as one of the guys. It would be great to evaluate who we can get as a second rider for 2014. This is the step, and we're committed to it. We have to get Kawasaki's commitment to make sure they're on board with it, but I wouldn't expect them to change their mind. I don't think the goal is to go out and steal a top 450 guy, but to give a spot on a 450 for one of our guys.