Welcome to the third day of the Monster Energy 30-Day Countdown to the Anaheim season opener, set for January 5, 2013. We are marking each day by counting down our 30 Best Supercross Racers of All-Time, as voted on by the Racer X editorial staff and our contributors like Eric Johnson and more. And at 28 days until Anaheim, we turn to our #28 Supercross racer of all time, Larry Ward.
The tall and lanky Ward, known as Big Bird, had one of the strangest careers in the history of the sport—and we mean that in the best way possible. The Washington native started his 250 SX career with a flurry, winning the famous 1990 Seattle Supercross for Team Suzuki in front of highly-partisan home-state fans. He was even in the title hunt early in his rookie year. But then Ward seemed to fall back a bit, even losing his factory ride before resurfacing with the Noleen/Sizzler privateer Yamaha effort. His 1995 season with that team is the stuff of lore, as Ward finished second in the final season standings as a full privateer. He eventually worked his way back to factory status—incredibly, again, with Suzuki-and then even returned to victory lane at the 1998 Tampa Supercross. That's eight years between career wins one and two! To take it full circle, Ward fittingly won the Seattle Supercross in 1999, the final race held in the now-demolished Seattle Kingdome.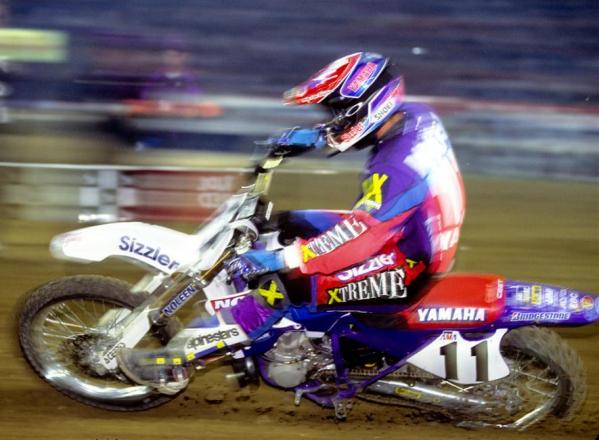 Larry Ward in 1995 on his Noleen/Sizzler backed Yamaha.
Racer X Archives photo
Ward raced all the way until the 2003 season, which puts him right near the top of the all-time supercross starts list (when he retired, he was at the top, but Mike LaRocco was able to edge past him). No doubt, Ward garners extra rankings on this list due to his longevity. Yesterday's #29, Mike Kiedrowski, has two more career wins than Ward and may have been slightly better when they raced head-to-head from 1990-1995. But Kiedrowski essentially retired after '95 (he returned only for the 1997 season, ironically as a teammate of Ward on Honda of Troy) while Ward continued to race well into the next decade, and he won two races during that time.
The back-end longevity of Ward's career certainly means something, and that's why he makes the all-time Top 30.
To see all of Big Bird's results in SX/MX, check out the Racer X Vault.
Join us tomorrow when Monster Energy Countdown to Anaheim unveils the #27 Best Supercross Racer of All Time.
The 30 Best Supercross Racers of All-Time Tracker:
#30 Marty Tripes
#29 Mike Kiedrowski
#28 Larry Ward