If you're a fan of motocross, I beg you to go on over to The Vault and just immerse yourself in motocross stats for hours and hours. It's an incredible thing over there and an awesome resource to check out. So the next time your buddy claims that he saw Jeff Hicks come from last to first in a moto at Hangtown, you can go back and check out all of Hicks' results from Hangtown and see that indeed, your buddy's memory is a little foggy.
We're all bench racers here at Racer X so we like to dig in there, select a rider, and pour through their results to see if we can find some memorable races. And with this weekend being the Bercy Supercross, we thought that in honor of the most successful rider in the history of that race, we would take a look at some of former Yamaha and Suzuki factory rider David Vuillemin's career and pick a few key races to focus on.
(But a note for Bercy fans--the Vault only covers AMA Supercross and AMA Motocross. But we've also got the full history run down on Bercy coming this week, as well. Stay tuned, we won't let you down. Now, back to Vuillemin).
1997 Seattle 125SX Main Event
The first time that anyone had a clue about this Frenchman and his skills was the time in Seattle when he captured his first career SX win. This was a shocker. Riding a privateer Yamaha with help from FMF and pitted out of a U-Haul van, wearing some weird gear and sporting an even weirder riding style, he worked his way through the pack on the very rutty Seattle track and took advantage of a collision between leaders Nathan Ramsey and Stephane Roncada to take his #125 YZ125 to the front. It was an amazing ride and after it, DV headed back to Europe to race the GPs. But his eyes were always on returning, and after Seattle, he showed he could win in American supercross.
Here are the results from the race.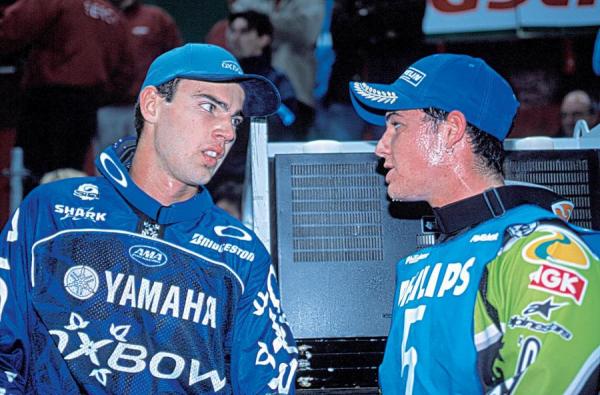 DV (left) was the all-time King of Bercy.
Moto Verte photo
2000 San Diego 250SX Main Event
After returning to the USA and racing the 125 west series in 1998 (narrowly losing the title to John Dowd) the year 2000 marked DV's (now running his #934) first full year in the premier class. He raced just a few 250 SX races in '99 before heading back to Europe to race the 250 GPs. He was more than ready in 2000, and San Diego was his first win. Vuillemin avenged his cruel loss at the same stadium from the year before when he grabbed the start and took off unchallenged for his first career 250SX win. The talk in the pits was that sure, Vuillemin was fast but he was lucky that the champ, Jeremy McGrath, got a poor start. Was he for real?
Here are the results from that race.
2000 Phoenix 250SX Main Event
And that talk was silenced just one week later in Phoenix when DV not only won another race, he caught and passed McGrath from behind late in the main event! It was a race that resonated with a lot of people and really, it's a misconception that it was Vuillemin's first ever 250SX win. This one is just more memorable than the first, and the reason why was because McGrath just never, ever got beat once he had the lead (and he had the lead a lot back then). I was in the stadium that night and when DV passed MC, you could have heard a pin drop. The crowd was in shock, it was unbelievable what this Frenchman just did.
Here are the results from that race.
2000 Minneapolis 250SX
Le Cobra also struck at Minneapolis that year with a win over Mike Larocco and MC.
Here are the results from that race.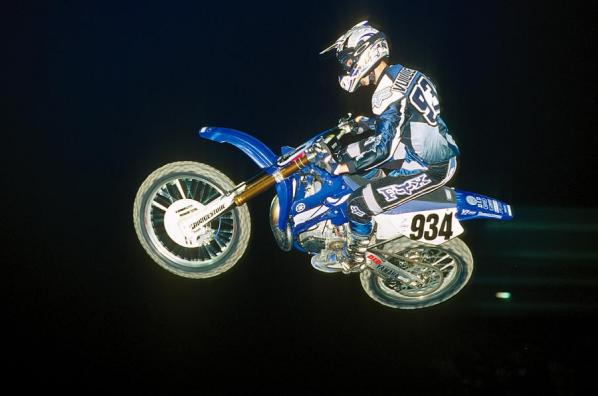 The year 2000 would mark a breakout season for DV.
Racer X Archives photo
2000 New Orleans 250SX
The year 2000 was a good one for Yamaha and for David as he captured his fourth win of the year in The Big Easy. I remember that the track was really rutty, the dirt was so soft and there was pretty much no one there.
Here are the results from that race.
2000 Hangtown 250MX National
And this Cobra was also at home outdoors as well, as DV took the overall win at round two of the 250 outdoor nationals. This was a big deal because he broke down a stacked 250 field, including Ricky Carmichael, Kevin Windham, Sebastian Tortelli and Greg Albertyn, in triple-digit heat! Vuillemin was soon the points leader until suffering a DNF at round four at Southwick. [Ed note: researching this story, we found an actual error within the Vault itself! DV won the 2000 High Point National and also won the race again in 2001, proving to have some impressive mud prowess. We'll get the results all fixed up for those races.]
Here are the results from Hangtown
2002 Indianapolis 250SX
The year 2002 was a great year for Vuillemin as he opened up the series with a win and just kept on winning from there. At Indy, it might have been his greatest moment when he caught and passed Travis Pastrana and Ricky Carmichael late in the race to take the win with a sweet pass. Vuillemin would lead the series points all the way until Daytona when a practice crash would prevent him from racing.
Here are the results from that day.
2006 Millville 450MX
This race marked the last podium for Vuillemin in his career as he was on a Motoworld Yamaha at this point having split from his team earlier that year. This was the race where the skies opened in the second moto and just poured down. Like, seriously, really poured down. Ricky Carmichael would lap the entire field in the second moto but DV's second allowed him to get second overall on the day as a privateer.
Here are the results from that day.
2008 Budds Creek 450MX
Roger DeCoster brought the veteran Vuillemin back up to factory status in 2008, with hopes DV could help dial in the new fuel-injected RM-Z450. Unfortunately, his season was marred with injuries. Ingloriously, DV's last race at this level came at Budds Creek, where he finished 24th. Suzuki elected to keep him home after that, but the bike he helped develop generated the 2009 and 2010 450 MX titles under Chad Reed and Ryan Dungey.
Here are the results from DV's last run.
And if you want the full file on DV125/DV934/DV12, click here.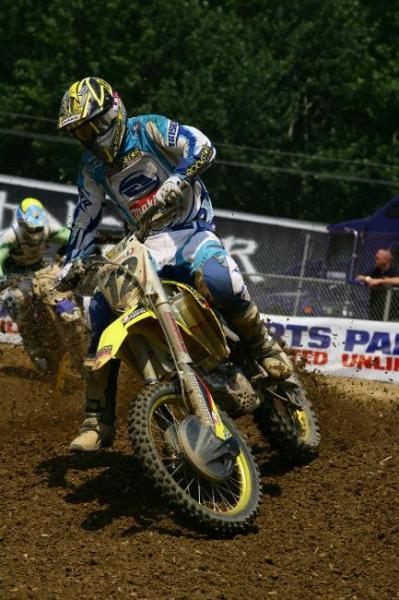 DV would end his career at Budds Creek in 2008.
Matt Ware photo