South Carolina's Steward Baylor just completed a dream run through the AMA Rekluse National Enduro Series, winning the 2012 title following his win over the weekend at the Muddobbers Enduro in Indiana. (Check out more info on his run here.)
The strange thing is, the 18-year-old didn't even plan on racing the Enduro Championship this year, as his main focus was (and his support from KTM comes from) the pursuit of his second-straight XC2 Lites Class Championship in the Can-Am Grand National Cross Country Series (GNCC). Baylor started the year on fire in GNCC, but a wrist injury has slowed him, leaving a three-rider duel on the table (against Jason Thomas and Andrew DeLong) for the last two GNCC rounds. We called Baylor today to say congrats and get an update.

Racer X: Congrats on the National Enduro Championship! You partying big time right now?
Steward Baylor: No man, I'm only 18! And I got another championship to work on right now, in the GNCCs in the XC2 Class.

GNCCs are actually your main focus, and you were only doing the Enduros as a side project. Is it true you had to pay money out of your own pocket to get to the races?
Yeah. We went to the first few rounds of the National Enduros, they were closer to where I'm from, and I didn't expect it to go that well. I knew I could run with those guys, speed wise, but we didn't expect to do quite this well, we ended up winning two out of the first three. After that, we had the points lead, so we started looking at going to some of the farther away rounds. Then I won three out of four, and we looked at getting all the way to Wyoming. We didn't really have the money, we were about to quit chasing it, but a local person, Jim Fairey, through the SETRA club, which is what I grew up racing, they put together a PayPal fund, and a ton of people just started giving in. It just started adding up, we were able to get plane tickets for me and my brother to get to Wyoming. After that, I had a nice points lead and we were able to carry it out from there.

So you have a KTM deal for GNCC, but not for the Enduro Series?
Yeah. We had kind of mentioned to them doing the Enduros, but they already had their factory team set. But Charlie [Mullins] had his problems this year, and Cory [Buttrick] ended up getting hurt. I've got KTM support from the GNCCs, and the money I make at those races, that was the money getting me to the Enduros. It couldn't have turned out better.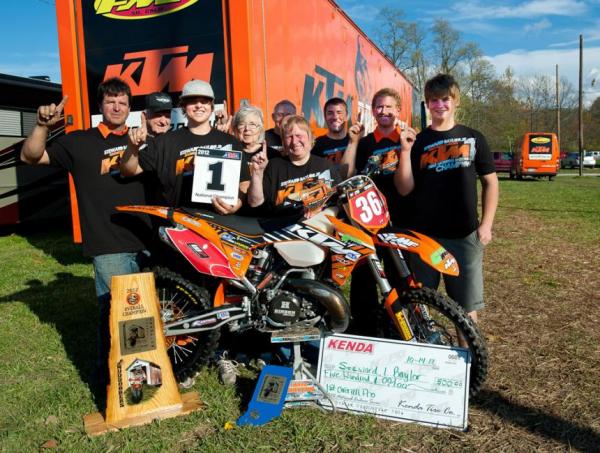 The Baylor family celebrates the AMA Rekluse National Enduro Championship.
Shan Moore photo
So how did you manage to win this thing? You're only 18!
Honestly, I've been racing since I was three years old. My grandpa raced enduros, and he talks about the old-school guys like Dick Burleson and Mike Melton, and he got my dad started, then my dad got us started. We followed the national series, like the GNCCs, and I've got eight national championships now. I guess all you can say is, we're chasing a dream. Whenever your dreams are coming true, it's easy to stay in the gym and stay motivated. We are finally getting the payback from all the millions of dollars or whatever we've spent up until this point!  I started home school when I was ten years old, and we've been working at this, with my brother racing, too. Now I have high school taken care of, and we were working on some college, but with racing two series, it was just too much. I'm hoping to save up enough money from racing to where I can pay for my own college when I'm done--maybe get a business degree, work in the industry in marketing or something like that.

It wasn't a super smooth year for you. Talk about the wrist injury.
Yeah it's the navicular, and that's honestly the worst bone to break as a motorcycle racer, especially in your right wrist. It's an injury that a lot of riders can't overcome--it can ruin careers. For me, it didn't even ruin the series. I've kind of grown used to the pain, and I have a pretty high pain tolerance. At some of the Enduros, I was taking pain relievers throughout the day at the resets. And I had a shot in my wrist before the race in Wyoming--I was a week and a half out of surgery at that one. I had some awesome surgery done in New York the following day after we found out it was broke. We got a screw in it and got it taken care of until where I can do what I needed to do.

You're still hurt?
Oh yeah, it's not good. I've got my speed back, and my fitness is fine, but it's just the wrist really hurts, and that plays a major role in the mental side of things. After the last few GNCCs, which didn't go well, I was really beating myself up. I was definitely the fastest rider there in that class, in XC2 there is no doubt, but after the last few I just had so much bad luck coming. You just have to keep reminding yourself that it's all worth it--you can't take time off, you can't play around. Lately, I've picked up the training program even more, so the cards I'm playing right now are, if the wrist can't hold up, my training around it is going to have to overcome it.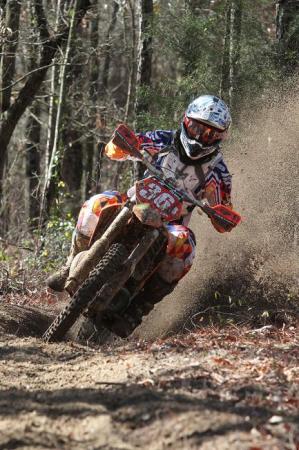 Baylor is riding with a broken navicular in his right wrist, but it hasn't slowed him much.
Jason Hooper/Digitaloffroad.com photo
What does this mean for the future? Have any offers for next year? And what class do you race in GNCC next year?
Win or lose, I'm going to the XC1 class next year in GNCC. XC2 is the learning class, and I've learned the differences. Apparently, I can run with the XC1 guys. Before I did my wrist, I had two races where I should have won the race overall. In fact the race where I broke my wrist, I broke it while I was leading the race overall.

Any idea who you will be riding for?
Not yet.

Last thing: still pounding energy drinks before the races?
Yeah.

Hey, you said you took some pain pills at the check points at the last enduro. Did you slug some RedBull during that, too?
I actually drink half at the beginning of the race, then drink the rest of it halfway through the race!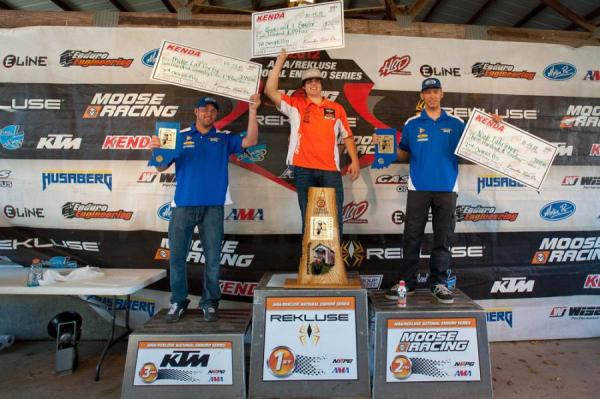 Baylor topped the Enduro over the weekend, but he'll need some more GNCC wins to lock down his second-straight XC2 Lites Championship in that series.
Shan Moore photo