With headlines draped over the 66th running of the Motocross of Nations in Lommel, Belgium, the Monster Energy Supermotocross (formerly known as Montreal Supercross) went nearly undetected to the average fan. But there was some great racing in Montreal last weekend with Matt Goerke repeating in the MX1 Class and Canadian Cole Thompson capturing his first professional supercross win in the MX2 Class. In 2012, Thompson excelled as a privateer (and rookie) in the Lites Class, then on the 450 at the Nationals, before transitioning back to the 250 as a replacement rider for Star-Valli Rockstar Yamaha. He is now playing the waiting game to see where he may land for 2013. We caught up with the first-time winner to talk about his weekend and his plans for 2013.
Racer X: Hey, Cole. First off, congrats on your win at the Supermotocross. Take us through your night in Montreal?
Cole Thompson: Yeah, it was good. I won the MX2 Class, which was the Lites Class, and then ended up fourth in the Superfinal. The night went pretty smoothly, I didn't have any crashes or anything, so that was good. I didn't get a great start in the Superfinal, which is where they combine the 250s and 450s, and I found it a little tougher to pass on the Lites bike. I still managed to get up to fourth and I think I finished as the top Canadian.
It must have been very emotional to get your first career supercross win in your home country.
It was definitely exciting. I had a lot of family and a lot of people that I've known growing up there. To get the win was good, but it was one of those races were it wasn't the easiest of races. It kind of got aggressive with me and another rider, which started in practice, but I got into the lead a couple of laps in and kind of cruised from there.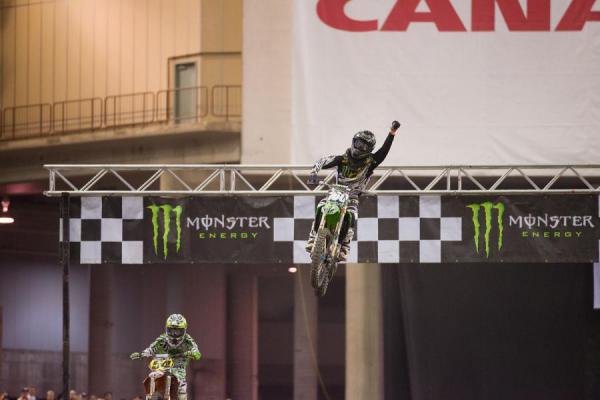 Thompson won his first career SX race in Montreal over the weekend.
James Lissimore photo
What does this win do for your confidence heading into next season?
It was good for me. Especially since I had an injury at Washougal that set me back a little bit. All year it felt like I was fighting hard to get some decent results, so to get a win and feel 100 percent on the bike again was good. I'm excited to be healthy again, and I'm looking forward to carry this momentum with me into supercross next season.
You were originally named to the Canadian Motocross of Nations team before it was decided that they were not going to send a team. Were you a little disappointed that you weren't able to represent your country at Lommel?
It was a bummer that we didn't get a team to go over there, but at the same time it was hard to send a team that wasn't going to be 100 percent. A lot of riders were injured, I still wasn't fully healed until about two weeks ago, so I was uncertain about my status as well. So it was one of those things where it was smarter to wait another year and have a good team go over there and actually do something that would make a difference. I think it was a smart choice to wait. Also, that track looked pretty gnarly so I'm glad it wasn't my first des Nations on that track [Laughs].
You were a little banged up towards the end of the year. Where do you stand right now and are you 100 percent going into off-season preparation?
Yeah, right now I've been riding my supercross track back home in Canada. Right around Elsinore my shoulder started feeling around 100 percent, so I'm glad that it didn't require surgery or anything. It was just a process of letting it heal and resting it a lot. It hurt me for the fact that it was right near the end of the season and I wasn't able to put in the results I wanted to on the 250. Nonetheless just trying to line up some stuff for next season and prove myself then.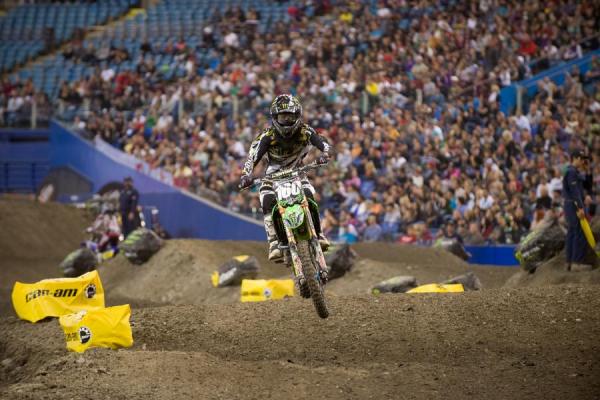 Thompson was original member of Team Canada before the decision was made not to send a team.
James Lissimore photo
Let's transition into next season. You rode both the 450 and 250 with success last year. Do you have a preference on what you would like to ride next season or is it whatever opportunity comes your direction?
I'm leaning more toward the 250 because that's the class you kind of have to start on. I feel like I can do good in that class but I just haven't had a chance to prove myself to the fullest. I started out the year on a privateer 250 and it was a good bike, but we didn't do any testing, and we definitely learned a lot you could say. Then I suffered a concussion at my home race in Toronto and had to miss a couple of rounds. I think if we had to do it again on our own it would be a lot better because we know a lot more, but at the same time I rode the factory Yamaha and I know how good those bike are now. I'm focused on getting on a team and trying to show that I deserve the ride. With the Star-Valli ride I didn't get an opportunity to show how good I can do on those bikes and I would like another opportunity to prove myself.
You filled in with the Star-Valli team at the end of the last season. Have there been talks between you and the team about returning next season?
We have talked with them, but I'm not quite sure what they are doing. I think they are running a smaller team next season and they are just going to go with the riders that they have—[Kyle] Cunningham and [Jeremy] Martin. I have been in talks with some other teams, but nothing has been confirmed yet. I would like to try and be on a team, no matter what coast. To have a fast bike and some support would definitely be beneficial.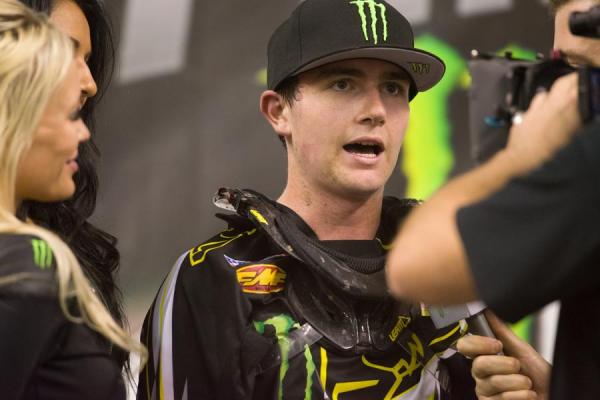 Still uncertain about his status for next season, Thompson is currently training in Canada waiting to see if he will be going to California or Florida.
James Lissimore photo
Last year you transitioned straight from the B Class to the pro ranks and some would say you had a steeper learning curve than most rookies because of that. What are some things you took away from last year that you are going to apply this off-season?
I always think training can be improved. I found that when I switched down to the 250 Class [for outdoors after riding the 450 Class] that the bike was easier to ride but everyone is pushing it that much harder. Especially at Elsinore, it was really hot and I got heat stroke in that first moto. So, mainly step up my training. I think the biggest thing was just learning the way it works in the pro ranks. In the amateur ranks you are dealing with two or three guys that can win, and it's a much deeper field in the pro ranks.
You mentioned that you were training in Canada at the moment. Are you planning on heading out to California or down to Florida to finish your off-season program?
Right now I'm just trying to line something up to be on a team. If that doesn't work out I'll head down to Florida because I have a house down there. So I'll train there and get ready for next season and hopefully figure something out from there.