Steel City Raceway
Delmont

,

PA
Steel City
Lucas Oil AMA Pro Motocross Championship
John Dowd has been racing dirt bikes at the highest level since before many of today's pros were even born. With a career this long, we knew Dowd had to have some funny stories waiting in the staging area, so for this edition of Racer X Rewind, we decided to give him a call and let the gate drop on some hilarious moto tales from our sport's past.
Driving with Kevin Windham
Back in my days with Yamaha, Kevin Windham and I used to hang out all the time. One time we were leaving the test track, and our mechanics had left a little earlier. We were trying to catch them, so we were doing 85 to 90mph on the 15 in Corona with me driving. We came flying up next to them, and Kevin tried to give them a little scare by grabbing the e-brake and making the tires screech a little. That was fine, but the e-brake stuck on! He put the lever down, but the thing was still locked on. It was actually pretty hairy, but afterwards it was kind of funny. Anyway, I've got a death grip on the wheel and I'm screaming, 'Get that thing off!' There was all sorts of traffic around and we're zigzagging down the road, and he just couldn't shut the thing off. The back and was completely locked up. It was sketchy at the time. Picture us flying through traffic with cars all around, and the e-brake would not turn off. I was just trying to keep the car in control! I was screaming, 'Shut it off! Shut it off!' He was yelling, "I am! I am!" We were screaming at each other and I had white knuckles on the steering wheel. We finally skidded all the way to a complete stop in the middle lane. We both just about crapped our pants. Later our mechanics were just like, "What the hell were you guys doing?"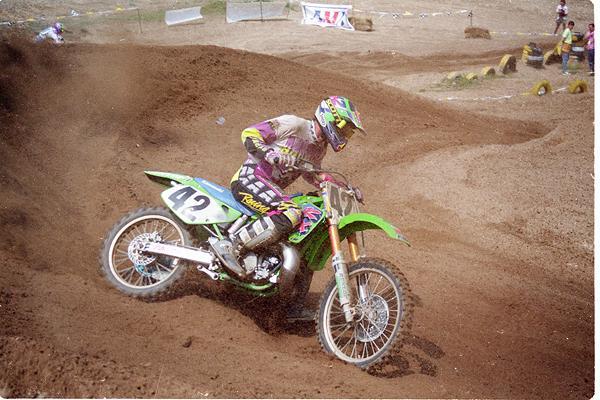 Paul Buckley photo
Motocross Videos
Those things were always kind of funny for me. They were hard because I was surrounded by guys like Jeremy McGrath, Windham, Mike Metzger and guys like that. Everyone was always trying to do big whips and crazy tricks and stuff, and I never had anything! In one of the videos I got a little squirrely flying around a corner and hit a car. I was never really the cool part of the video [laughs].
Pileups
I was at Binghampton one year and Bryan Manley had crashed on this downhill triple thing, and Damon Bradshaw came over and landed on him. Then Mike Kiedrowski came in and piled into them. I was the last one, and I came over and piled into all them! It was a blind jump and I remember coming through the air and seeing Damon on his hands and knees. He looked up at me and just started scooting off the track on his hands and knees. It was kind of funny, he just shifted into high gear! I never saw anyone move so fast on their hands and knees! It ended up on one of those crash reels for quite a while.
RedBud
I won the overall there in 1997, and I had to go through Jeff Emig to do it, who was pretty much unbeatable at RedBud in those days. He was Mr. RedBud! He flat out spanked me in the first moto, but in the second moto I got the holeshot and he was right on my butt. We went into one of those lower corners with all the ruts, and he tried to go to the outside. I could see that our ruts were going to come together, and I thought, 'Well, it's either just go for it and see what happens, or back off and hand it to him.' Well, we came together, I slammed him pretty good, he went down and I ended up winning that moto because he never caught me. That's probably my favorite RedBud story, although I'm sure it's not Emig's favorite one [laughs].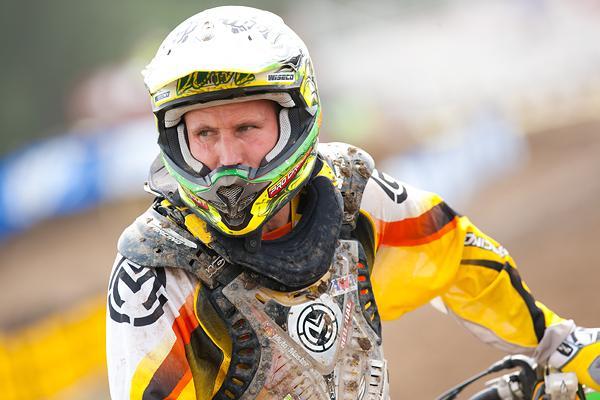 Andrew Fredrickson photo
I also remember trying to do a heel-clicker over LaRocco's Leap one time. It was back when some of the guys were doing the heel-clicker; it was kind of the cool new move. Being the old man that I always was, I was never flexible enough to get my heels together. I would try, but all I could do was get my feet over the bars, so my friends started making fun of me calling it, "The Horseshoe."
David Vuillemin
In 1998 I beat David Vuillemin to win the 125 Western Regional Supercross title. The one thing I remember about him, and I don't know if it was because he was a French guy or what, and I don't even know if I should say this, but he stunk. He had bad BO! I could smell him on the starting line! But we never really had any major run-ins or anything. He beat me in some races, I beat him in some races and the championship came down to the wire that year. Maybe he wasn't going to shower until he won a championship or something, I don't know.