Steel City Raceway
Delmont

,

PA
Steel City
Lucas Oil AMA Pro Motocross Championship
Lost amid the tremendous battle for this year's 250 Class title in the Lucas Oil Pro Motocross Championship is the fact that 2011 Champion Dean Wilson has had to sit the summer out due to a shoulder injury suffered late in the Monster Energy Supercross season. It hit him hard, as Dean admits he couldn't stomach even watching the races on TV for awhile. Dean has his full focus on a 2013 comeback, and he shares that info here, including his therapy schedule, his plans to get back on a bike, and, even which 450 team he has signed with for the new year.
Racer X: So when a rider like you, with a number-one plate, can't defend it, do you just treat this as a fun vacation, or do you get so bummed that you can't even watch racing or anything?
Dean Wilson: No, honestly, it's pretty depressing not being out there. I mean, winning a championship is something pretty special. It was even worse that I wasn't able to complete any races with my number-one plate at all. So it sucks on that end. Since I've been injured, I've tried to make the best of it. I'm recharging my batteries and taking my mind off of motocross for a change, so I'll be fully charged up and ready to commit when I do come back.

So what does a motocrosser do when he's not doing anything related to motocross?
Well, first I've had a couple of operations. I had two different shoulder operations, one was the one from this year, and another was an old injury. And I've even had my wisdom teeth taken out! I've trying to get all this stuff knocked out. Then I have to do my therapy Monday through Friday with Eddie Casillas, he's great. And that's only on the one shoulder, I haven't gotten released yet to do therapy on the other shoulder. Then I just got approved to go back to the gym. I've actually been hiking a lot with my friends.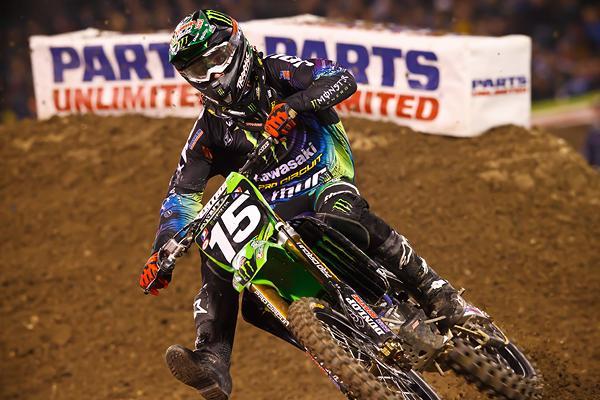 Defending 250 Class Champion, Dean Wilson, has missed all of the 2012 Lucas Oil Pro Motocross Championship with a shoulder injury.
Simon Cudby photo
Hiking!
Yeah! Just doing a lot of the stuff I wouldn't be able to do when I'm racing.

Well it's same thing Villopoto recently said to us on Racer X Films. Because of your therapy schedule you can't just disappear completely and travel all over for fun.
Yeah exactly. That's the bad part. I really wanted to go to the British GP and cheer on my buddy Tommy Searle, but I have to be here for the therapy, and that's really important to me. I wanted to go to Scotland, but I couldn't. It's okay, I'm fine with it because I'm getting healed up.

Well, I would ask what you thought of the racing this year, but I'm not sure if you're following it!
[Laughs] I really didn't watch any of the first few rounds after Hangtown, but the last three or four weeks I've been watching. The 250 Class, those top four or five guys are going really fast, and it's really intense. The 450 Class is obviously a [Ryan] Dungey show, but I like watching that class more because it doesn't bum me out as much.

It would be easy to ask, "Where do you think you'd fit in with the 250 Class?" But does it bum you out to think about that? Have you thought about that? You could be winning again, which is either a good feeling or a depressing one.
Yeah I think if I wasn't hurt, I'd be trying to do what I did last year. And I think I could, but obviously everyone is going really fast in the 250 Class right now, but I raced most of those guys last year. I don't think too much can change. I think the biggest change is Eli [Tomac], he has stepped up big time this year outdoors, he looks really strong. Blake [Baggett] looks the same, always coming back at the end of the motos. [Justin] Barcia has been getting good starts except for these last two races, and he's been running up front. Ken [Roczen] I've never raced him outdoors, and he's been doing pretty well for himself. But I think I would be in there.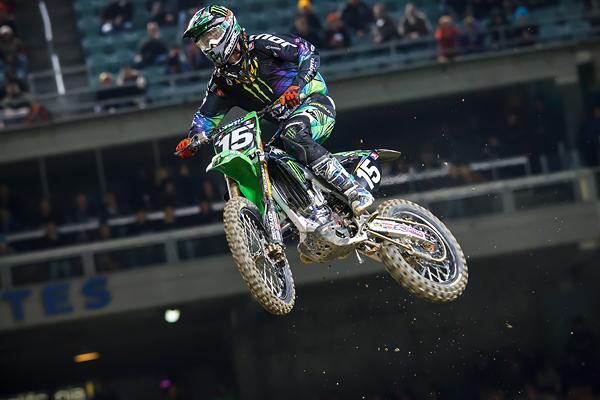 Wilson will make the jump to the 450 Class next season.
Simon Cudby photo
Now you have the option of racing the 250 Class again next year, but from what I'm hearing, you want to move up.
Yeah, I am eligible for another year of Lites Supercross, but I just feel like it's tough for me to compete against the kids that are smaller than me. I'm six feet tall now, and it's a struggle for me, I have to always over ride the bike. The 450, you can use more technique, where the 250 you have to ovveride it.

So, where are you with 2013?
Yeah, I've signed my deal with Jeff Ward Racing. Nothing has been released yet out of respect for Mitch and everyone at Monster Energy Pro Circuit Kawasaki, because I'm still contracted to them at this time [for this season} and they've been great to me.

Whoa! You're just telling us right now that you've signed with JWR? Are you allowed to drop this right now? Are you going to get sued?
I don't know! I'm one of those guys, I'm pretty honest, really.

Cool. So, 450s next year, are you pumped, nervous, intimidated? What is it?
I think I'm more excited than anything. I have been off the bike for so long, I'm excited to get out there, and the 450 Class, it's a whole different ballgame. I'm excited to race against new people--pretty much a bunch of legends. But I'm not intimidated at all. I'm just going to enjoy it every weekend.

When do you ride again?
Hopefully mid-October. Doctors are saying November, but we'll see.

Is that enough time to be ready for 2013?
Obviously I'd love to get in as much time as I can on my 450, but it is what it is. I just have to keep doing my therapy so I can get back as soon as I can. And when I do get back, I'll be working really hard to get up to pace.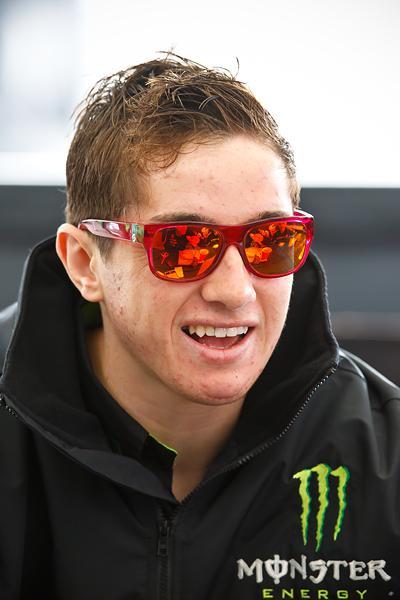 Wilson has signed with JWR for the 2013 season.
Simon Cudby photo
Okay, let's wrap this up and let you get on with your weekend. And what do you do on the weekends when you're off?
I actually hike, I go to the beach, I hang out with friends, I'll even go out at night sometimes.

Hey, we're not going to lose you where you say, "Hey, this normal schedule outside of racing is pretty good. I don't want to come back." Some guys have had trouble once they see the other side.
No, no, it's like when I do go out, all I think about is riding and how much I would rather be doing that. But you have to explore life, and it's important to me, because I know when the time comes to get going again, I'll be going 100 percent.

Will you come to Elsinore?
I don't think I will, I'm going to Florida for training soon, and that will be boot camp for me. I actually got my own house down there, and my dad and mom are down there fixing it up for me. Once I finish up my therapy I'm going down there. I love it down there, it's peaceful and you can just focus.

So we won't see you at a race until next year.
That's right, you won't see me until Anaheim 1.