The Wick 338
Southwick

,

MA
Southwick
Lucas Oil AMA Pro Motocross Championship
"Hey, you guys forgot someone on your Racer X 10 Things to Watch yesterday," said a fan who approached me in the pits. "Robby Marshall. He's going to be running up front today."

The fan was correct. No track on the Lucas Oil Pro Motocross circuit breeds homegrown, miracle, Cinderella-story rides like Southwick, and this year's event produced another. Stowe, Massachusetts' Robby Marshall put his Munn Racing KTM into a podium position early in moto one, and held on for a solid fourth-place finish, thus joining a legion of New Englanders like JoJo Keller, Pat Barton, Tony LaRusso, Scott Carter, Doug Henry and John Dowd in the pantheon of the Southwick National.
Unfortunately, moto two didn't go as well, and thus Marshall missed a chance at an overall podium.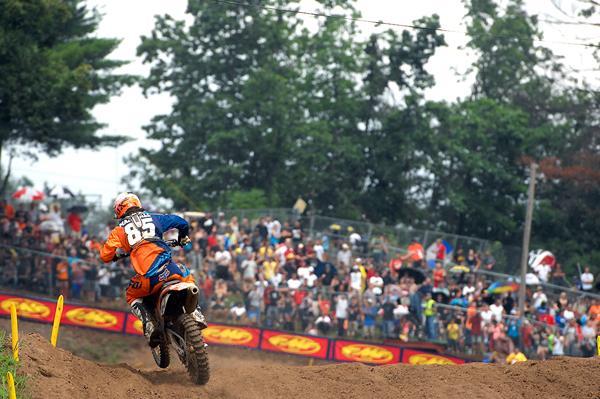 Local product Robby Marshall finished fourth in moto one at Southwick.
Carl Stone photo
"Yeah, first moto was good," said Marshall after the race through his thick New England accent. "I just planned on getting a good start, got off to a good one and pushed to the front and just tried to hold the pace. I thought I was going to get a lot more tired and worn out than I did. I felt fine. I just kind of pushed through the whole moto and kept pushing and ended up staying in fourth. I definitely wanted to get up on that box. Second moto, I kind of tried to do the same plan, get a good start and get going. I was up there on the start, second turn I just washed the front end, ended up getting run over a few times. I tried to make a comeback, ended up eighteenth or something, then my back just started ending up. I actually pulled it out a few weeks ago and I've been nursing it. So it didn't help doing that, but that's part of the game, you know? If you wanna play, you've got to pay sometimes."

A few years ago, Marshall nearly podiumed a moto here on a Suzuki, until he crashed late. He was proud that this time, he hung onto at least one solid finish. "Yeah in '09, we were in third all the way to the last lap and we wiped 'er out," he recalls. "Usually, the first time I was able to be in front of, and beat, Dowdy and LaRusso and those guys, when I was in a good position, when that two lap card would come out, I would just say, 'Okay, just stay steady and stay strong, don't do anything stupid here.' I don't know what was going through my mind in '09, because I wicked it up and said, 'I can get to second!' I ended up falling. So today, I was like, 'you know the drill, just keep battling it out."'

Marshall has been on the national SX and MX tour this year, so he hasn't ridden Southwick this year until now. But he knows he still had an advantage on the home track. "Like Dowdy says, Southwick is Southwick, you know the dirt, you know the lines," he explains. "It gives us the upper hand. But I try to treat every race the same. The biggest difference is the fans that support me here, that helps. I don't really stress any race more than the other--so we'll be back at 'Dilla to see what we can do there."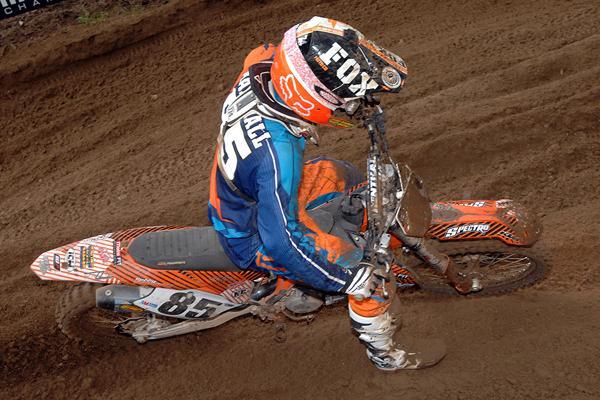 A crash in the second moto derailed Marshall's chances at an overall podium.
Carl Stone photo