Hurricane Mills, TN
RedBull AMA Amateur National Motocross Championship (Loretta Lynn's)
Amateur National Motocross Championship
In a matter of 20 minutes, Shane McElrath's life started to change. By the end of one week, it would never be the same.
Before this year's Red Bull AMA Amateur National Motocross Championship, the North Carolina native was mostly an unknown compared to factory-backed B Class stars like Star Yamaha's Cooper Webb and Factory Connection/GEICO Honda's Matt Bisceglia. Anthony Rodriguez, a JGR Yamaha prospect, certainly commanded respect and attention before the race, too, as did long-time Suzuki prospect Jace Owen, Kawasaki Team Green's Thomas Covington and Nick Gaines, and KTM/Red Bull backed Dakota Alix. Roll up those names, and it would appear there wasn't room for anyone else on the podium. Until McElrath (pronounced Mac-El-rath) busted the darned door down. He won his first moto of the week, holding off Webb in 250 B Stock, then went on to deliver four runner up finishes and another moto win during his six races, all good enough for second overall in 250 B Stock and 450 B Mod. Best of all, incredibly, he notched the fastest lap time of any rider during the week. Makes for one heck of a Cinderella story!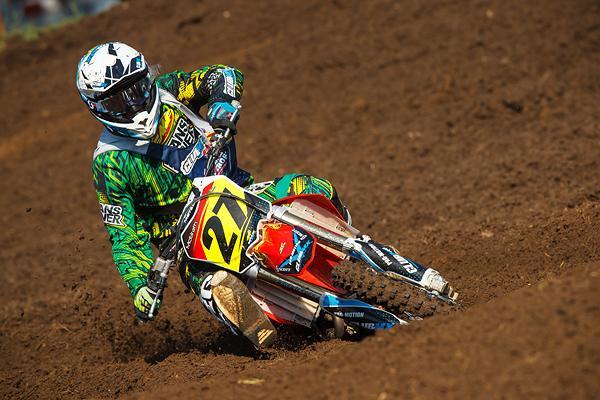 The breakout star of Loretta's, Shane McElrath.
Simon Cudby photo
"I've always felt like I've ridden good and I felt like I should have been noticed before this," said McElrath when I found him after closing ceremonies on Saturday. "Last year I got a fourth overall and felt like I should have gotten some attention for that, but nothing really happened. This year was my first ever podium here. Last year I got a fifth in a moto and that was the best I had ever done here. So, I went from basically nothing as far as podiums here to where a second in a moto was the worst finish I had all week!"

Luckily, the Loretta's system, with a stock 250 Class, allows lesser-supported riders like McElrath to compete on an even playing field. And in 450 Mod, well, we all know it doesn't take much to make a 450 competitive. "I just got these two brand new bikes, they're stock off the showroom floor with an FMF pipe and silencer on them," he explained. "My 450 has got maybe 2 hours on it now, and that includes the motos here!"

He credits much of his success to working at Club MX in South Carolina. "They really turned me around," he says. "Brandon [Hass] works with me 100 percent and I'm happy with the outcome.  At the Areas and the Regionals I knew where I stood with guys like Jace [Owen] and [Daniel] Baker. And Jace had been out in California, and [Justin] Brayton had seem him out there. Then I would ride with Brayton at Club MX and he would keep me posted. I kind of had a couple of different opinions on what was going on."
Although his results were surprising, he seemed ready when it happened. All week, he acted the part of the guy who had been there before, instead of the fresh-faced newcomer. "I knew I put in the time and put in the work, so I really didn't expect anything less," he said. "I wanted to get at least one moto win. After the first moto win, all I wanted to do was win again. I put so much pressure on myself to win that last moto of the week, too, and get one more, and that's what I did. That was icing on the cake, and it feels so good."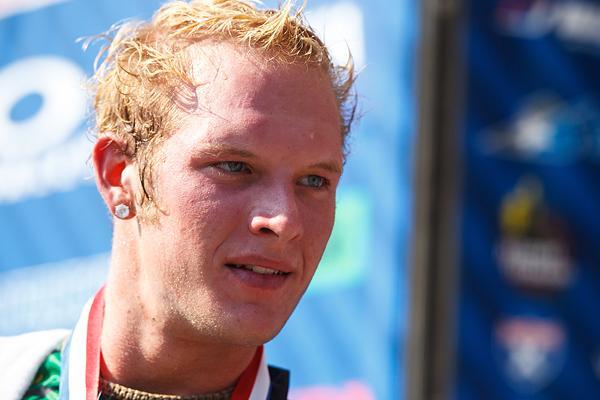 McElrath would set the two fastest laps of the week, en route to two runner-up finishes.
Simon Cudby photo
What's next? Such success is leading McElrath into uncharted waters. "Last year we were debating moving up to the A class already, but I decided to stay B--but I knew I would have to do good. And I did! We really hadn't planned past that, so I don't know what's going to happen now. We've been talking to some people trying to get everything worked out. Way, way more people are talking to me than before the week began. It's almost overwhelming the amount of people who have talked to me this week!"

When I was done talking to him, I ended our conversation with the standard "See you next year" that serves for everyone except the riders about to turn pro. But McElrath turned it around with a surprising answer. "With some of the stuff we're working on, I might not be here next year," he said. Could he be making the leap from B to pro soon? Time will tell--and this time, people will be paying attention.