$10K Purse at King of the Hill
Palmyra Racing Association's Hogback Hill would like to cordially invite you to the biggest event in our fifty year history of promoting motorcycle races; The $10,000 King of the Hill Pro/Am Race  on August 25,26th in Palmyra, NY.
PRA is one of the oldest motocross clubs in the country and due to this racing experience, you can expect to race on one of the best tracks in the region. PRA boasts some of the best dirt, beautiful scenery and elevation changes, very competitive racing, and welcoming hospitality that will leave you glad you made the trip.
The weekend will feature live music on Saturday night, chicken BBQ, live radio remote broadcast and a benefit for our local Teens Living WithCancer charity.  Our facility is tucked away on 80 wooded acres atop Hogback Hill in Palmyra, NY and has rest rooms, pavilion spectator seating and plenty of great camping space.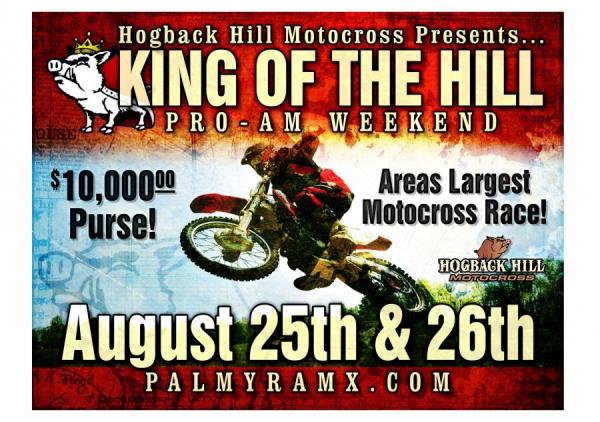 ATTENTION AMA PRO RACERS: We are offering a week of free riding and hospitality at Hogback Hill the week prior to the King of The hill weekend event, as well as other great racing facilities through out Western New York.  Palmyra's "Hogback Hill MX Track" is conveniently located just about 20 minutes off the highway on the route from UNADILLA to STEEL CITY.
The Calendar of events is as follows:
(Open riding for AMA Pro license holders only):
Monday, Aug 20th:                Arrive any time, Free Open riding 9am-8pm
Tuesday, Aug 21st:               Free Open ride day 9am-8pm
Wednesday, Aug 22nd:         Free Open ride day 9am-8pm
Thursday, Aug 23rd-             Free Open ride day Pavilion MX/Area 51 Motocross (Hogback Race Grooming day)
Friday, Aug 24th:                  Free Open ride day Pavilion MX
Saturday, Aug 25th:              "King of The Hill" Pro/Am Race.
Rider's meeting 8am, National format schedule to follow
Sunday, Aug 26th:                  WNYRacing District Event
Honda & Suzuki Contingency & 200% Expert/Pro Payout)
We are a non-profit club run by a group of motocross enthusiasts and we hope that you would consider being a part of largest event to date.   Our hard working volunteers are dedicated to promoting a great event and have one of the longest track records of doing so in the country.
Please see http://www.palmyramx.com for more information or call: Ned Munier
(585) 233-7224 or nedgy29@gmail.com .