Loretta Lynn Ranch
Hurricane Mills

,

TN
RedBull AMA Amateur National Motocross Championship (Loretta Lynn's)
Amateur National Motocross Championship
Monster Energy Pro Circuit Kawasaki's Adam Cianciarulo ruled the Super Mini classes at the Red Bull AMA Amateur National Championship at Loretta Lynn Ranch. He won all six of his motos and even grabbed every holeshot! But the Florida raised, Kawasaki backed, Aldon Baker trained (sound familiar?) kid, who is 15, knows a much bigger test looms ahead as he moves onto big bikes. AC is notoriously competitive, usually showing big emotion with every win and loss. This week, though, it was all good. We talked to him in his rig after the race.
Racer X: You won all of your motos and I guess lead all the laps, got all the holeshots. That's pretty good.
Adam Cianciarulo: Yeah, I mean it couldn't be any better to end my mini bike career, for sure. I mean, coming in, yeah I wanted to win both championships, but it wasn't really a set goal of mine to win every moto. To be able to do so and to have everything go right, it's tough to do. It's Loretta's so there's always something that's happened. You always have a rain moto or a late moto. There's usually something that goes wrong at least once and it didn't for me this week. It's actually the first time I've gone 1-1-1 ever in a championship. I was able to do it in both and I couldn't be happier to end my mini bike career on that note.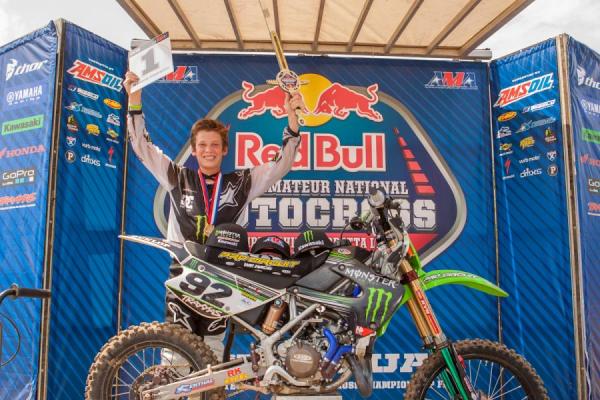 Cianciarulo ended his Super Mini career by sweeping every moto at Loretta's.
Mark Pearson photo
I've seen you win titles when crazy stuff happens, and you've had to come from behind and dig out wins at the last moment. This time you ran away with it. Is there something you've figured out?
No, I don't think I've necessarily figured anything out. I know that bad things happen when you don't get a good start, and I know that has helped me a lot—this year and last year, I've gotten 12-straight holeshots down here, and that's led to a lot of good things. You only have three motos to prove your whole year here, so when you get a bad start, everyone is pretty much pinning it to get to the front. It gets crazy, so I think it's the start. I really don't think anyone has every figured out how Loretta's entirely—except RC!
So this is it, no more minis, no more two strokes, no 125s.
No, no 125s, no two-strokes. The next time I swing my leg over a bike it's going to be a 250F, and it's going to be that way for a long time. I'm so stoked.
Have you ridden a 250 yet?
Yes, I have. I rode it a lot before Mammoth and I loved it so much I didn't want to get off of it. It actually hurt me a lot at Mammoth because I had to go back to my minis. I refocused back on the Super Mini so I could get ready for this, so now I haven't ridden the 250 for a long time. Once I get back from vacation, I'll ride the 250 on the farm in Florida for a few weeks, then I'll go out to California for some testing.
Explain your program right now. You're working with Aldon Baker?
Yes.
Okay, so compare your program to the pro guys like (Jake) Weimer and (Ryan) Villopoto. Are you doing the same things they are?
No, it's not the same. I'll jump out there during their motos sometimes, but sometimes they'll keep going when my moto is done. It's definitely tailored to me. I do a lot of stuff, but it's definitely not as heavy as what they do. I can't be doing the full program this early, it's kind of a steady build up. And I'm not on some gnarly diet thing right now, I do try to eat right and be smart, but it's not so critical that I have to be super strict right now. It's all pretty balanced.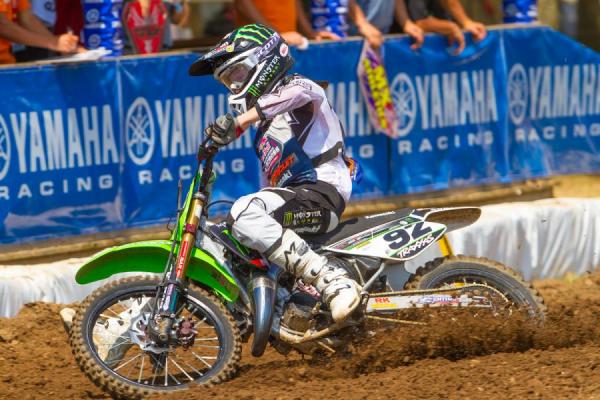 Cianciarulo  will make his 250F debut at the Monster Energy Cup in October.
Mark Pearson photo
So he actually understands that it would be hard to live this way the rest of your life?
[Laughs] Oh yeah, he gets it.
So what happens next? You're on the 250F, but do you know what classes? Will you be back here for sure next year?
I don't really have any idea. A lot obviously depends on when I go out to California and we'll see where I am speed wise. I'll go out to moto tracks in California and there will be a lot of amateur riders out there, and even some pros will be out there in outdoor mode, still. Then I'll race the Monster Energy Cup, which will be for A and B guys combined, so I'll have a really good idea where I stand after that.
You probably miss racing some of those guys in the A and B classes. A lot of your old rivals and competitors jumped up ahead of you.
Yeah, it's going to be fun for sure. There has definitely been a group of guys I have grown up racing against, some of them are a year older than me, some of them are two years older than me, and a couple guys that are the same age that moved up early. Going back up there, you kind of know where you stand and you know them so you know how they race, but at the same time, on big bikes, everything is that much harder. It's that much more intense, and yet everyone is smarter and makes less mistakes. So basically I'm going to be just hit the reset button and come out there like I'm a fifth to tenth place guy, and see where I'm at.
[Laughs] Fifth to tenth place guy? So we're not going to see one of your classic flip outs just because you finished second in a race?
[Laughs] You may see a flip out if I win!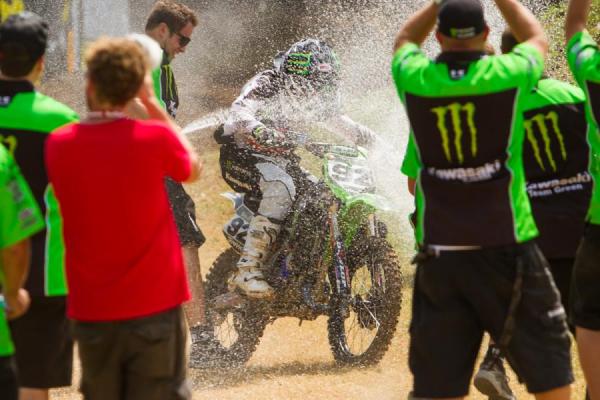 Team Green celebrates AC's championship.
Mark Pearson photo