Welcome to Racerhead. The 2012 Red Bull AMA Amateur National Motocross Championships are still going on down at Loretta Lynn Ranch in Hurricane Mills, Tennessee, but I had to bail a day early. After working at the ranch since last Wednesday, I was ready to come home—especially after spider or fire ant attack on my right leg sent me to the doctor for some antibiotics. Plus, Southwick and the return of pro motocross looms large in the headlights, and school starts for the kids next week.
Every year, going back to 1982, you can count on Loretta Lynn's to deliver some remarkable amateur motocross moments. This time was no different, though there were so many standout performances that it's hard to go into them and not include all of them. For instance, Kawasaki Team Green's Adam Cianciarulo was as fast as promised, winning all four of the motos I saw him ride—including two holeshots from the far outside!
But there was another fast kid who caught me by surprise. Jeff Emig told me that Justin Hoeft, the son of a former SoCal pro, was going to the next big thing in 85cc racing, and the Yamaha support rider was a revelation at Loretta Lynn's. His is a name you want to remember, just like Jordon Smith, who hammered out big wins in the 125cc Schoolboy class.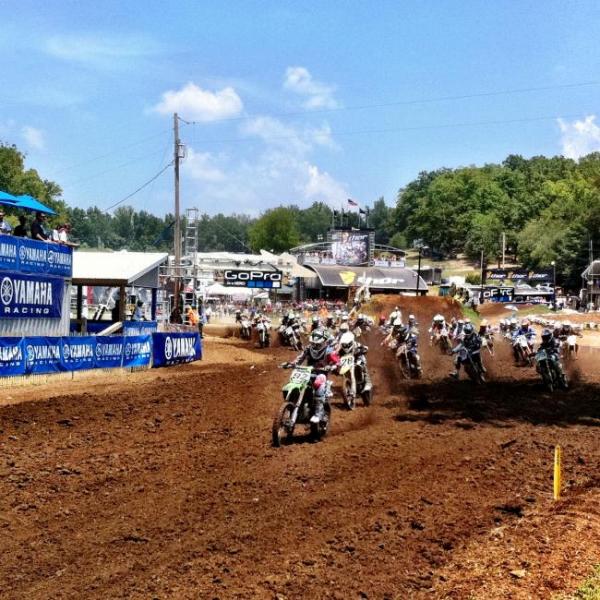 One of Adam Cianciarulo's caught-outside holeshots.
DC photo
Ryder DiFrancesco is a little kid with a big throttle hand from Bakersfield, California. He repeated as champion of the 51cc 4-6 race, putting the world on a notice that he and fellow fast neighborhood kid Stilez Roberston are rising stars that will be forces to be reckoned with for some time.
And speaking of time, there was Ricky Carmichael, the best professional motocross racer of all time, returning to race the Junior +25 class. RC wanted his kids to see him race a motorcycle "and know why we have a big house and all this stuff." He was admittedly nervous before he went out there, and he even gave up the first-moto holeshot to the very game Andrew Matusek, who then stole the podium show with a heartfelt speech about what racing again meant to him after once suffering a coma-inducing concussion.
Once RC went by, he showed flashes of his old speed and his deep desire to win, and the crowd—a Lucas Oil National-sized crowd—lapped up every second of RC's return. They were even treated to a 1-2 by Carmichael and Robbie Reynard, as if it were Unadilla back in the day! RC was to race his last moto of the year tonight as the last moto of the evening, so check out the live timing and scoring here ... if it doesn't crash! The ranch server can only fit 3,500 people viewing at a time, and it crashed in each of RC's first two outings.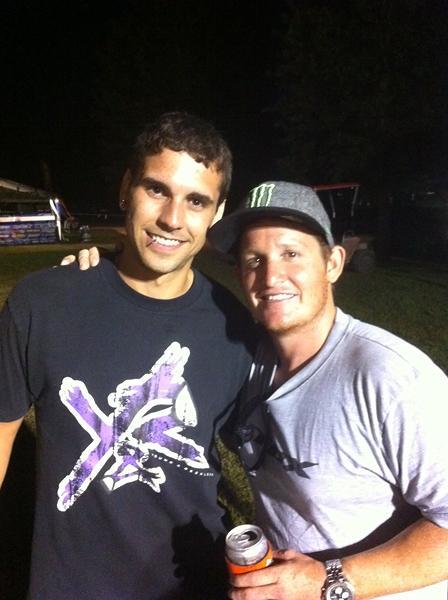 RC and one his competitors, Brent Duffe, hang out at the beer tent.
DC photo
I was also really stoked by the overall numbers of the whole event. If the American motorcycle industry is looking for a sign that things are turning around for the better, it could look to Loretta Lynn's. The overall Red Bull AMA Amateur National Championship program was up 18 percent across the board, including Areas and Regionals, and the kids are going very, very fast. There were also record crowds each day for spectators, as Red Bull really put together a great media blitz for the local area. Carmichael's presence certainly helped, and he and his family got such a kick out of it that they will likely be back next year. (And no, no one had claimed RC's bike by the time I left, and he didn't really care, though he does think he wants to have an eBay auction for it to benefit Stone Edler, the fast kid who had to drop out of the race as he fights cancer—Stone was invited to ride a couple of intermission laps, which was very inspiring for everyone, and a big gear auction was held on his behalf. Good luck, Stone.)
Besides RC and Reynard, there were lots of old pros racing, including Gary Semics, who was going after the +50 Masters title; SoCal legend Doug Dubach, who was battling for the +40 and +45 titles; and his competitor Trampas Parker, the two-time world champion and all-around good-ole-boy. The 1972-1974 AMA 250 Motocross Champion Gary Jones was there with his son Justin, who was racing at Loretta's for the first time. I also spotted Mike Brown watching, along with Jeff Emig, Nathan Ramsey, Travis Preston, Matt Walker, Ronnie Tichenor, Casey Johnson, and more.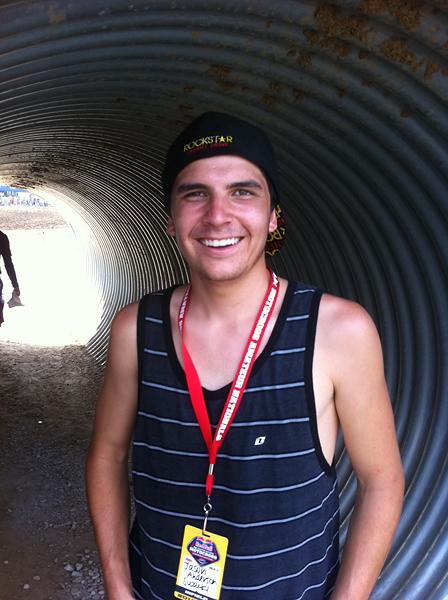 Jason Anderson was one of many current pros who showed up to watch.
DC photo
But there were also a lot of current pros there, either watching or working with sponsors, including
Ryan Villopoto
,
Blake Baggett
,
Trey Canard
(who, like RV, rode some new-bike laps for the fans),
Jason Anderson
,
Blake Wharton
(who turned 21 midweek and made his debut in the beer tent, albeit without actually drinking any beer),
Malcolm Stewart
.... It was a lot!
Coach Joe Gibbs came out with his sons to scout talent, and so did the KTM brass, including U.S. boss Jon-Erik Burleson. Tom White made his first visit, as did AMA VP Jeff Massey, who was there to visit with everyone and also cheer his coworker Kip Bigelow on. Kip holeshot the first Masters +50 moto, giving him some serious street cred in the halls of Pickerington, but then he crashed while dicing with Semics and Matt Tedder. Rick Zielfelder of GEICO Honda was there watching his latest find, Zach Bell, who will follow a long line of Loretta Lynn's graduates into the pro ranks for Ziggy's team: Canard, Justin Barcia, Blake Wharton, Eli Tomac, Justin Bogle.
Finally, while heading through the airport, I spotted Mitch Payton, who was getting ready to board a plane for Minnesota and a family vacation. Mitch has become a regular presence at Loretta Lynn's (as well as the Ricky Carmichael Amateur Supercross at Daytona) and was at the ranch for three days. We got to do some bench-racing at the ranch, but it was always around a lot of other folks and mostly included well-intended insults and jabs. But alone at the airport we decided to have a beer and talk shop: Team USA, the outdoors, Adam Cianciarulo, and RV-to-where? Mitch, the Team USA assistant manager to Roger DeCoster, thinks Roger needs to see whether Villopoto wants to race before naming a final lineup, since RV is back on the bike in Florida and, according to Mitch and a few other folks, going very fast already.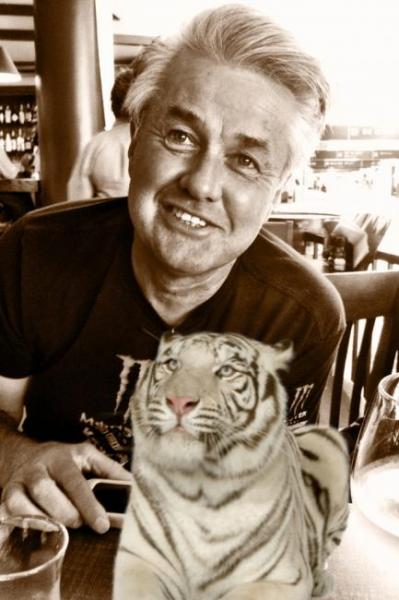 Mitch Payton and friend at the Nashville Airport.
DC photo
I tried to pry Mitch for some info on Villopoto's contract situation, and all I can say is that he prefers that Ryan stay on green and thinks that's what will happen, but he wasn't at liberty to say much more.
As for Cianciarulo, I would not be surprised to see the soon-to-be-16-year-old turn pro at some point in 2013. Mitch says he loves 250Fs and that he already thinks a 125 just isn't fast enough. And both of us were blown away by the level of execution and commitment AC92 showed in grabbing two holeshots from the far outside after terrible gate picks—he drew something like 38 and 41 for his two classes. I would now rank that kid as one of the top mini riders I have seen at Loretta Lynn's, along with Brian Swink, Buddy Antunez, Damon Bradshaw, RC, and James Stewart.
Okay, I have a bunch more, but I need to stop here and turn it over to Jason Weigandt and the rest of the gang. To see all of the results, just click here.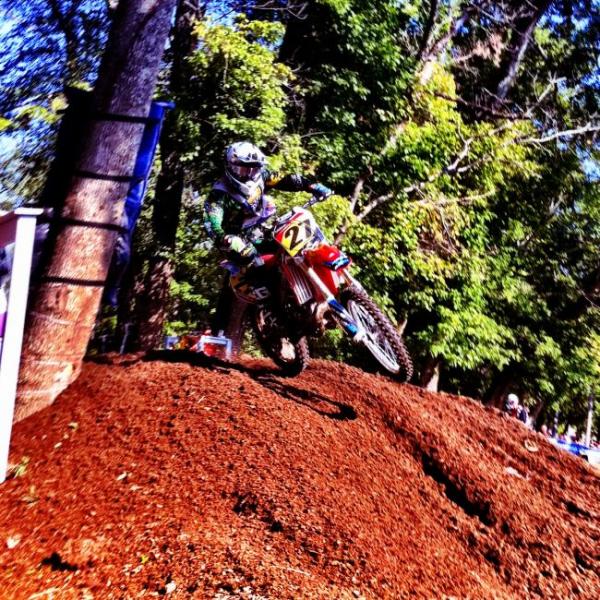 Shane McElrath was the most surprisingly fast intermediate.
DC photo
Okay, here's Weege:
Good thing Red Bull now backs the AMA Amateur National Championship at Loretta's, because after five straight days, I need someone or something to give me wings. It's sunup to sundown and then well beyond that working here at the Ranch. Motos start at 7:30 sharp every morning and don't stop until 7 p.m., and I'm here in the tower announcing every one of them alongside DMXS Radio's Kevin Kelly and Rodney Tomblin. Then it's on to our MotorcycleUSA.com MX Sports Center web show and whatever Racer X duties I can handle here. I've said a million times that this is the hardest and most fun week of the year, and the song stays the same. You can check out all of the MX Sports Centers right here, beginning with yesterday's show.
When you're down here, you know Loretta's and nothing but Loretta's. I have not a clue what's happening in the Olympics, elections, or any other news. I couldn't even tell you what's happening on the pro side of this sport this week. But for those on the outside looking in, I'll tell you what you need to know.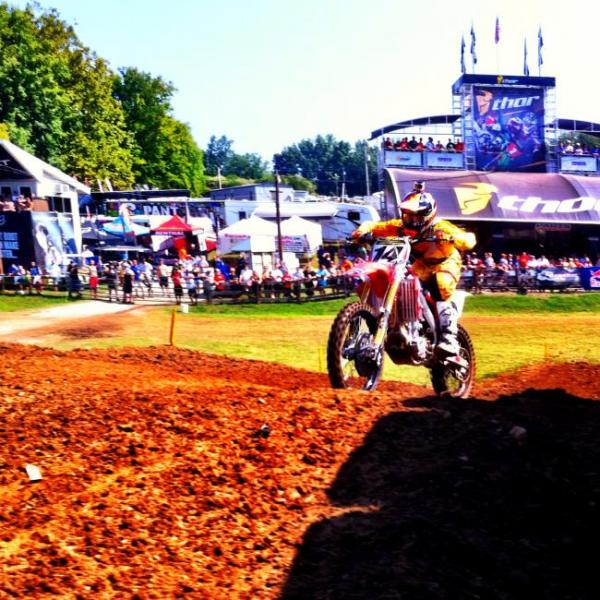 Zach Bell will be next in the GEICO Honda amateur-to-pro machine.
DC photo
Who is the one to watch? This event was supposed to showcase the next two big things, GEICO Honda's Zach Bell and Star/Valli Yamaha's Jeremy Martin, but Martin hurt his shoulder a few days before the race and couldn't go. His debut at Southwick is now in doubt, too; we'll see what happens next weekend. As for Bell, he has lived up to the hype, crushing this track with the fastest times of the week and a 1-1-1 championship sweep in his 250 A class. But crashes ended his bid for the Open Pro Sport title (where he is racing a 250F against 450s). Bell's speed is legit, but can he keep it off the ground at the next level? That will be the question. I've also heard great stories of his speed in sand, which is the terrain he will debut in next weekend at Moto-X 338.
Who is next? The B classes have provided the best battles of the week. Star/Valli's Cooper Webb dug out one title after a 20-minute duel to the death with Shane McElrath. You've got JGR Yamaha's Anthony Rodriguez battling McElrath for a title, too, and the other Factory Connection/GEICO Honda rider, Matt Bisceglia, is working on a championship of his own. These guys are all making the case for being "next" in the A classes next year. However, you can't forget that Monster Energy/Pro Circuit Kawasaki's Adam Cianciarulo will probably be in the A class at this time next year. With the way AC is crushing Supermini, I can't see him being in the B class for long—if at all, after seeing what DC had to say above.
What's the vibe? We all know there are some deterrents to the growth of moto at the moment. The economy has done us no favors, we're always dealing with legislative and land-use issues, the lead law was a big scare for a bit, and the sport seems to be getting more expensive all the time. But there's no less enthusiasm here in the younger ranks. The 50cc classes are fun to watch, and these parents and kids are serious about chasing the motocross dream. And that's really what fuels events like this. Not everyone will make it, but the hope and the desire to give it a shot fuels this event. And it's still there.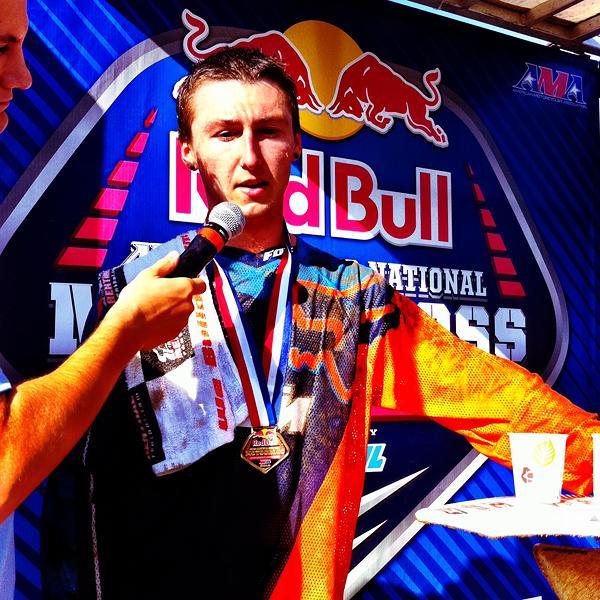 Minnesota's Jesse Wentland is 1-1 in Open Pro Sport so far.
DC photo
Beyond that, the event itself has received a huge boost via Red Bull, which is doing much more than you'd ever know to promote the race. At the track, you'll see structures and buildings and events thanks to Red Bull, but away from it, the company is providing huge marketing and PR for the event. We had live cuts on the Nashville news stations, a massive boost in social networking, and, best of all, coverage will air on NBC in November. This is a win not just for amateur motocross or this race, but the entire sport. Proof, to me, came when Trey Canard showed up here on Wednesday and said he was blown away with how cool and professional this event looks in comparison to the last time he rode here in 2007. But in 2007, we thought this was as awesome as any event could ever be! Hard to believe it keeps getting better and better, but it does. And that's good for everyone.
Okay, over to Steve Matthes...
It's been a busy week for everyone at Racer X down at the ranch. But here in Las Vegas? Not so much. The two weekends off in the motocross series allow a guy like me to relax a bit and work on some things around the house and spend some quality time with Bassett Hounds.
Seeing as how I'm such a dork about all things moto, though, I've been watching some old races and was marveling at how good Mike Kiedrowski was. First as a factory Honda rider and then on factory Kawasaki, the MX Kied won four outdoor championships, rode the MXDN four times, and when he retired was fifth on the all-time career MX wins list. I started digging through stats (seriously, I know I've said it before, but the Racer X Vault could quite possibly rank in my top three things I love the most in my life, with my wife and my Tim Ferry jersey collection, and please don't ask me in which order) and was amazed that Mike Kiedrowski doesn't get more credit for his career among us bench racers.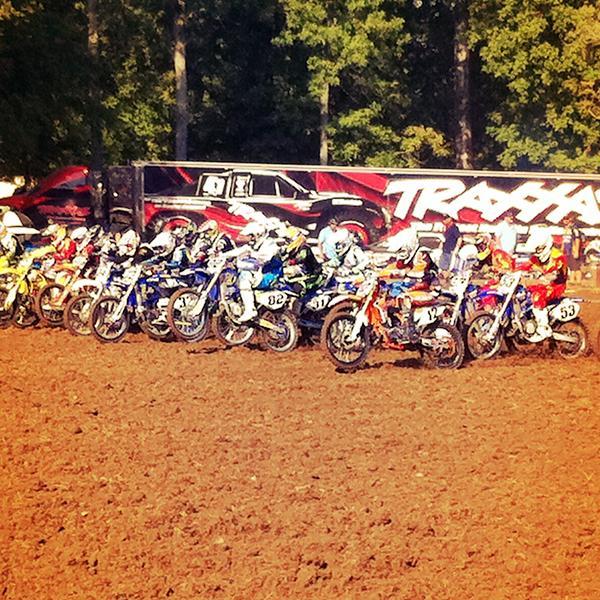 There were more than 100 gate drops this week at Loretta Lynn's.
DC photo
So with me having some down time, I decided that honoring Mike for his career whether he liked it or not was going to happen. First an essay on how good he was, then a podcast with Mike himself, and finally some of his peers (and Weege) on his career as a racer. Yeah, I know, I have a serious sickness when I pound out two thousand words on a guy who retired seven years ago, but what are you gonna do?
A couple of silly season notes: I spoke with someone at Honda who told me that they're working on keeping Justin Brayton on the team, but nothing's set there yet. There were a few nationals where Justin wasn't being Justin, but overall, counting supercross, Brayton's been a good fit for the Red Riders. They've got Justin Barcia and Trey Canard locked in and it's a matter of finding the money to keep a third guy on the team. It didn't sound super positive that it was going to happen but I wouldn't rule it out. I believe there's a spot for Brayton back on the JGR Yamaha team if he can't stay red next year.
The Christophe Pourcel-to-Jeff Ward Racing rumor has been going around for a month or so and there have definitely been talks. Pourcel's put the feelers out that he wants to come back and has spoken with Hart & Huntington and JGR as well. Just like the first time around, though, the teams feel that his asking price is a little high, and I know JGR and H&H have bowed out. So what about JWR? Officially no one is saying right now, but my sources in Europe say he's going to stay there next year unless he wins the world title, which would then give him some bargaining power with the teams here. JWR does have Josh Grant for another year but they're not sure if he's going to stick around or not. Sometimes in our sport, signed contracts don't really matter if a rider wants out or a team wants out. Trust me, it's happened a lot before and will always happen.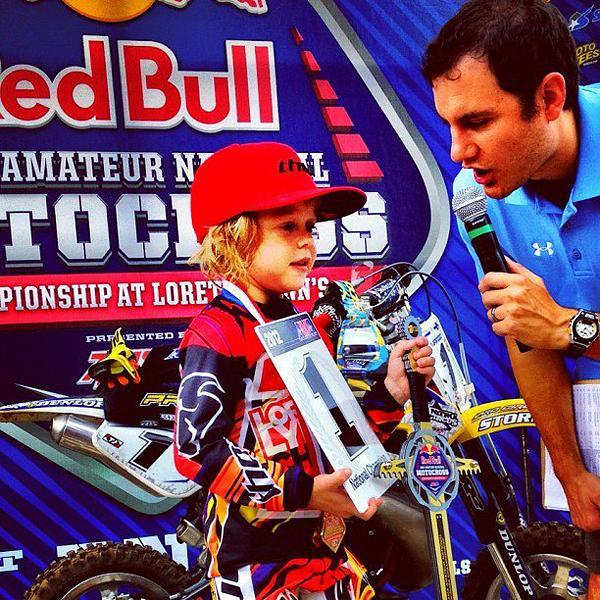 Remember the name Ryder DiFrancesco.
DC photo
Thanks for checking out PulpMX. We've got some cool stuff over there. Appreciate the support.
The PulpMX Show is off this coming Monday but we'll be back Monday after Southwick with new shows.
And now over to Ping:
I wish I lived in the Northeast right now. The 125 Two-Stroke event being put on sounds like a blast and I wish someone on this side of the country would follow suit. Hopefully this event does well and there will be more to follow.
Speaking of two-strokes, I got to chat with longtime Suzuki man Pat Alexander this week about the chances of Yellow Magic bringing back some bikes that require premix. Sadly, there is no chance. According to Pat, Suzuki management talked about it and even suggested it to Suzuki in Japan but the idea was shot down ultimately. That's a bummer.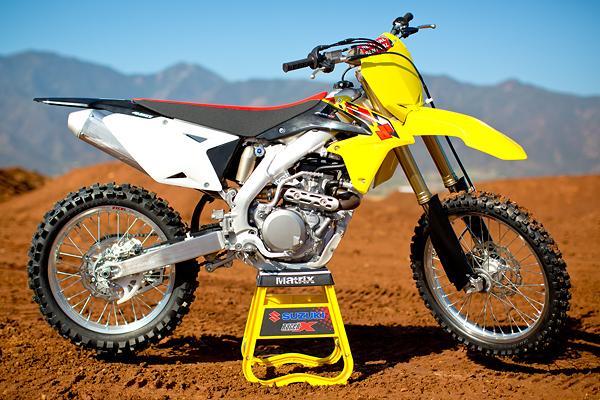 The new 2013 RM-Z450.
Matty Fran photo
We got to test ride the 2013 RM-Z450 this week at the Suzuki SX test track. I have never heard of a bike intro being held at the brand's test track so kudos to Suzuki for coming up with something fun. The track was mellowed out, of course, so the media types didn't kill themselves. But it was still fun riding on the tacky clay and being able to throw the big Rain Bird sprinklers on whenever we wanted. The new Suzuki looks very similar to last year's bike but there is a long list of changes to the new model.
In the engine the piston, piston pin, and connecting rod are developed with use of Finite Element Method (FEM) analysis, which is a MotoGP technology. The piston is 13 percent lighter (without compromising the strength and rigidity). The piston pin has Diamond-Like Carbon (DLC) surface treatment for less friction and increased durability. The crankcase reed valve is made thinner for more efficient lubrication and the oil strainer has a stronger magnet to catch more sludge in engine oil. The Intake cam has more lift to improve midrange. The transmission has been redesigned with a reshaped shift cam, stopper spring and drive shaft that should result in more solid shifter feel. Some complained of missed shifts in years past but the new three-dog system should improve that. There are also new gears in 2-5.

The 2013 RM-Z450 uses the newest version of the Showa Separate Function forks (SFF) with separate spring and damping tasks. The idea is to decrease friction and weight and improve absorption. There is a long list of other, subtle changes made to the new bike. For a closer look at it and more of the details be sure to check out the video that Matty Fran put together over at Racer X Films.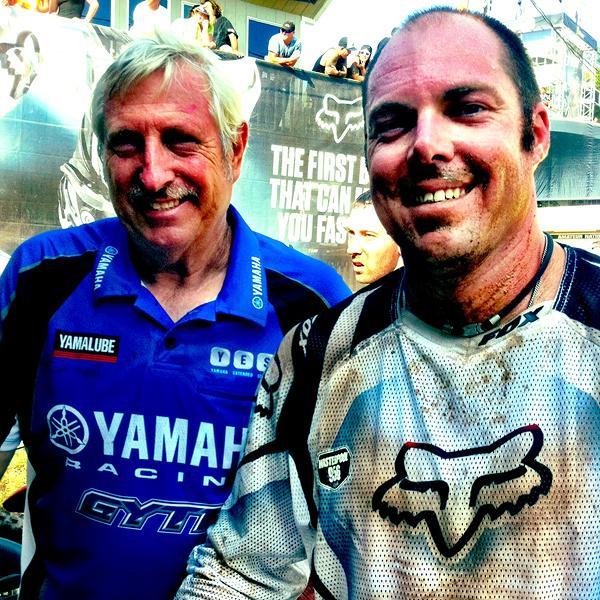 Both Robert and Robbie Reynard race this year!
DC photo
One more thing regarding Suzuki: We were informed that Suzuki will be bringing back their contingency program for professional racing in 2013. Suzuki has long been a big supporter of contingency in amateur racing but had dropped their pro support in years past. The return of the contingency dollars is great news for pros wanting to ride yellow next year.
That's it from Ping.
Speaking of Mike Kiedrowski, he's one of those few kids of the last twenty-five or so years who never really set the world on fire in the amateur ranks but did enough to catch the eye of Roger DeCoster when The Man was at Team Honda back in 1988-'89, just like he did in 2006 with Suzuki and a kid named Ryan Dungey. I remember Kiedrowski being a decent Team Green rider, but ultimately overshadowed by the likes of Damon Bradshaw and Jeff Emig. But then he went right out and beat Bradshaw for the '89 AMA 125cc National Motocross title and added more over the years. Like Broc Glover, the MX Kied could not pull off a supercross title, but he still must rank as one of the sport's all-time fast outdoor riders. As a reporter for Cycle News back during Mike's rise, I can tell you he was also great to talk to, very polite, and also very professional with the way he went about the business of being a racer.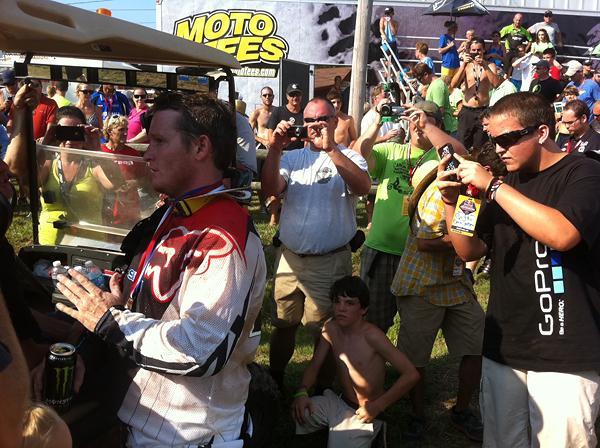 Wherever RC went he attracted a crowd.
Red Bull KTM rider Ken Roczen did an interview back home in Germany, where he's enjoying the break before the last four Lucas Oil Nationals at Southwick, Unadilla, Steel City, and Lake Elsinore. He mentioned the adjustments he must make due to all the travel, the length of the schedule, PR commitments, etc. David Vuillemin, who moved here from France after the '99 season, offered this on the Vital MX message board:
"All of us Euros had to deal with all of that. Not really news but difficult to adjust for sure. I had a tough time at the end of the Nationals (in 250cc 2 strokes) the first season I was here even if I won Hangtown and High Point. The last 4-5 races, I was on surviving mode and physically and mentally drenched after 16 SX and 12 MX races... As for Ken, it will get even more difficult when he'll race in the big class and for 29 races. U.S. racing is no joke even if the euro fans think so..."
We received this email from our good friend Paul Buckley earlier this week about an upcoming NESC race this Sunday (which Ping was referencing):
"It the 2nd Annual National Invitational and First Annual 125cc 2-Stroke showdown this Sunday, August 5. NESC sanctioned, one day cards available, transponder scoring. There's a $4,800.00 purse for the pro classes and it's $600 to win a moto. The 2-Stroke race has a 100% payback +$2,000.00 purse and it's open to A and B riders. Classes for 50cc kids to 50+ year old vets. It's at Crow Hill MX park in Baldwinville, MA. Lots of prizes for holeshots and raffles. The race is sponsored by Fox, Shift, Spectro and Factory Connection."
And finally, here's the LL program cover.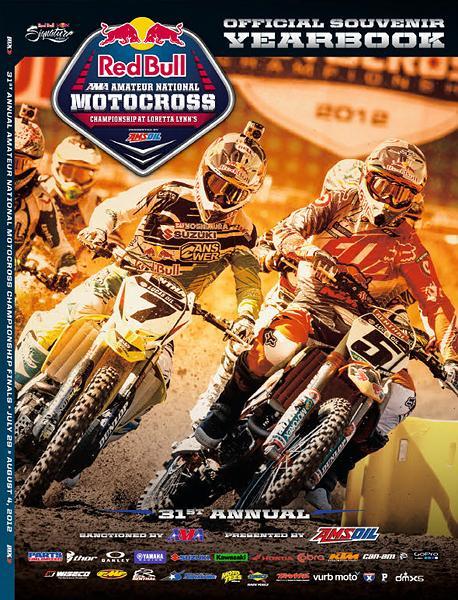 That's it for this week. Check out the live timing and scoring through tomorrow afternoon to see all of the 2012 Red Bull AMA Amateur National Motocross Champions. Thanks for reading Racerhead, see you at the races!