The Wick 338
Southwick

,

MA
Southwick
Lucas Oil AMA Pro Motocross Championship
Eleven10 Mods' Alex Martin made a big impact last year with a third in the second moto at Southwick, just as the eye of Hurricane Irene was bearing down on the entire Northeast. The friendly Minnesota native, whose parents own and operate Spring Creek, has experienced a season of highs and lows in 2012, but is looking to turn it around at the same place that made him a star last year...if only for a brief period. We caught up with Martin late last week as he was wrapping up a training session at Club MX in South Carolina.
Racer X: How would you sum up your year to this point?
Alex Martin: I guess I would sum up my year as it had some ups and downs this year. I learned a lot and I have figured things out here at the end. I'm looking forward to the last four Nationals. I hope I have the kind of season that I had last year where the last couple Nationals were really good and I had a lot of top tens. I would like to do that at the end of this season. I'm just trying to get things working and figured out, I guess.
Your season has been filled with more ups and downs than last year. You've also had to deal with bike problems—including the second moto at Washougal. Can you elaborate on what happened at Washougal?
Yeah, weird stuff like that is just kind of what has happened this year. I just kind of came down a downhill, I think it was on the third lap and I was running eighth place behind Malcolm [Stewart], and just landed hard on a braking bump down the hill and my back brake just locked up. I just had to put my bike against the fence and walk back to the rig because we couldn't get the brake to unlock. I had to get my mechanic to just loosen some bolts, then they freed up. You can't prepare or plan for something like that. It's just kind of a thing that doesn't happen very often.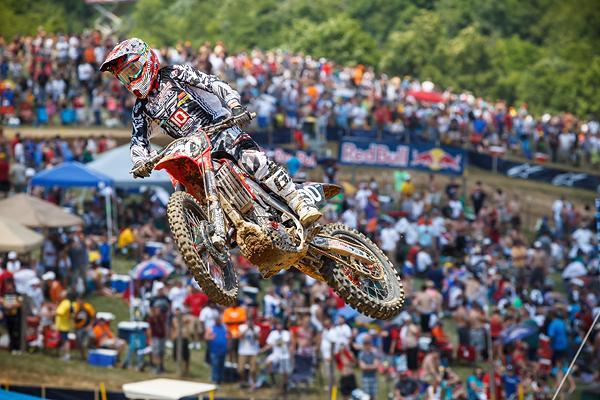 Martin is currently 16th in the 250 Class point standings.
Simon Cudby photo
The team (Eleven10 Mods) seems to have a proverbial black cloud hanging over it this season. You and Phil [Nicoletti] have dealt with a lot of unusual bike problems.
Yeah, but you definitely can't be bumming about how bad luck ends up making your results not that great because Eleven10 Mods is really performing through everything this year and giving me everything I need to put the bike up front. So I can't be mad about that. Chad [Sanner] wasn't able to get a lot of money through sponsorship for the team this year so he's done a lot of customer work during the week so that we can go racing on the weekend.
A lot of riders have difficulty adjusting to the soil and the shadows at Washougal. What sort of adjustments did you personally make and how much different is the track from the other Nationals?
Going to Washougal is like a catch twenty-two, because it's such a beautiful area. It's nice to come and see the area when you're flying in. The track, on the other hand, I wish they would just haul some sand in to that place. I think everybody would be happy if they did something like that. The past weekend, it was real sunny, so with all the trees they have surrounding the track, it makes it real hard for your eyes to adjust from the shadows to the sun. That coupled with the dirt, which is a little more slick and hard pack. I don't know if they haul in much dirt throughout the year. But when it rains and stuff like that, motocross tracks have problems with erosion, so you always need to be hauling in dirt and replacing the dirt that you lose from the rain. I think that's one of the reasons why it's so hard pack there. It's because the dirt there is down to nothing, really.
I've also heard that you're training at Club MX now, which is a big change from Chad's (Sanner's track, in Pennsylvania). How much do you think that has helped you?
Yeah, well I knew Brandon Haas back when he was from Minnesota racing local races and he was nice enough to let me come down and stay here for the summer. I've actually kind of split my time evenly between being at the shop and being down here in South Carolina. Just being able to ride with Justin Brayton and Phil Nicoletti and all the guys down here at Club MX, it's a good group of guys and the track's always prepped and it's rough every day. Being able to ride a rough track with fast guys, it definitely feels very important to being able to ride up front at the outdoor nationals.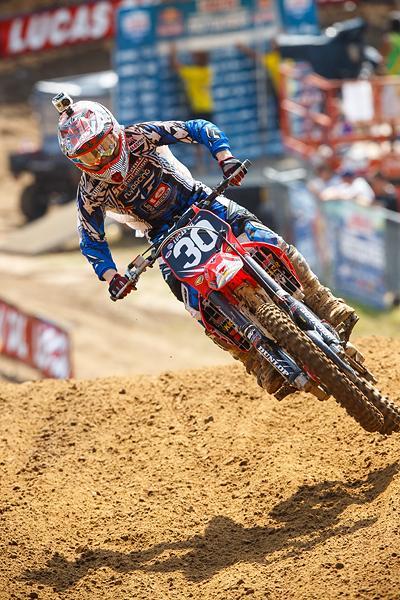 Although the silly season has started early for some riders, Martin is still unsure of his plans for the 2013 season.
Simon Cudby photo
The championship is heading into the stretch run, which where you really shined last year, especially at Southwick, where you took home your first career podium. What are your expectations going back to Southwick?
I've kind of felt like all year long, every time I go to the races I've been saying 'Oh, I got a sixth here last year' or 'I got seventh here last year. I'd like to do better.' But at this point in the season, I feel like I've finally got things where I need them to be and I want to not compare myself to last year and just go out and ride 100 percent and be comfortable and get good starts and ride up front with those guys. The other thing that I have to realize, too, is that there's a lot more people added to the class this year with Ken Roczen and [Justin] Barcia's up front and [Eli] Tomac's up front. Those guys are healthy this year; so the class is much more competitive than it was last year. I feel like I could be up there riding with those guys if everything goes good.
You mentioned the pressures of living up to last year. But you also have the added pressure of riding your home track, Millville. How much pressure do you put on yourself when the series heads there?
I think I made a mistake this year showing up kind of late on Friday to the race because there are a lot of people that I like to see and catch up with on the weekend. But I fly in so late, I really didn't have much time to catch up with people and reminisce on what they've been doing throughout the year. Also, being that I haven't been there much this summer, I definitely feel like I put more pressure on myself this year than I did in the past because I'm trying to show everyone that I'm improving and put on a good race for everyone.
The silly season is kicking off early this year. Do you know what your plans are for next year? Also, have you been contacted by Eleven10 Mods about returning?
I'd like to definitely be a little more sure of where I'm going to be going this year. I haven't had anything show up yet, but there's still an opening for offers. I'd like to stay with Chad, but we'll just have to wait and see how the last four races play out. Whatever it is, I just want to be on a good bike next year that I can be up front winning races and battling with those guys. We're all out there to race to win and I want to be on a team that can help me with do that. I definitely don't have anything lined up yet, though. I'm still looking for offers.
Your brother, Jeremy, is scheduled to make his pro debut at Southwick. What's that going to feel like lining up next to your little brother at a pro National?
Awe man, I'm excited. I've been looking forward to that day for many years now. We've been riding for quite a while now. We've been pretty close and he's been trash talking for years now. I've been telling him for a while now that I want to take him out! We'll see how that goes. There's definitely plenty of smack talk between us. I'm looking forward to seeing how he does because he's been having a really good year in the amateurs and he's bringing in a lot of speed and a lot of confidence into the pro ranks. I think it should be a fun day.
Thanks again, Alex. Who would you like to thank for helping you out this season?
Eleven10 Mods, Fly Racing, St. Lawrence Radiology, Morgantown Powersports, RideMSP.com, Renegade Fuels, SCOTT USA, Gaerne Boots, Kicker, RX Excel, TREMX.com, Bristol Core, Merge Suspension, Talon, Dubya, CV4, Leo Vince Carbon Fiber, Total Image Austosport, Vortex Ignitions, Xceldyne Valvetrain, 180 Decal, K&N Filter, Dunlop, Crank Works, CW1, FMF, Motion Pro, ICW, Wiseco, Motorex, Zeta, Moto Tassinari, Galfer, Cycra, Engine Ice, J27 and a big thanks to Larry Brooks and their whole team for helping us get to Washougal.