Washougal Motocross
Washougal

,

WA
Washougal
Lucas Oil AMA Pro Motocross Championship
Scrubbing is a technique that top riders use to make the biggest, steepest jumps a little less steep and a little less big. The best riders also know momentum is the key to speed, so the less stopping they do, the faster they go. Motocross, then, is all about taking the dynamics of the course--ups and downs, lefts and rights, and straightening and flattening them out as best as you can.
It takes the same qualities to manage a season. A year of battling on this circuit will result in many highs (hopefully) but also an inevitable spat of lows. They key is to not get too hung up on either.

I learned this watching the dynamics of this supercross season. Hard to remember now, but the year actually started with four different winners on four different teams in the first four races! Soon, the bottom fell out via injuries. Highs and lows? Chad Reed was riding his best race of the year right up until the moment he crashed out in Dallas. JGR was coming off of a 1-2 finish at Daytona when, in the first turn of the heat race at the next race, James Stewart crashed. The Stewart/JGR linkup later ran up on the rocks. Ryan Dungey won Atlanta and then hurt his shoulder days later. Even Ryan Villopoto wasn't immune. He wrapped the SX title, then came into his home race at Seattle looking for the ultimate homecoming. Instead, his season ended with a first lap crash!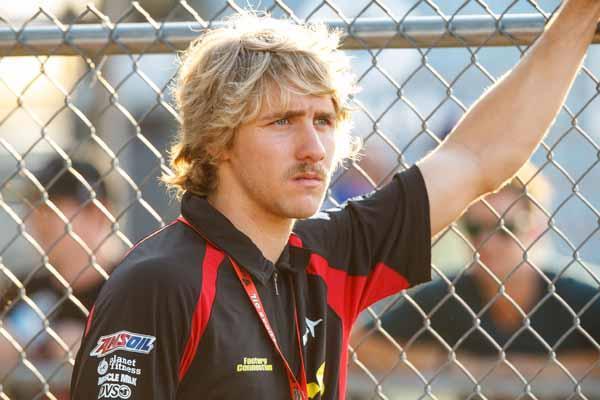 Justin Barcia has experienced his own set of highs and lows throughout the season.
Simon Cudby photo
Even when it seems like everything is going right, you might be only moments away from it all going wrong. That's the challenge of competition at the highest level, and it's clear that managing racing is about managing the long game. It's a task made more difficult since those around you--fans, sponsors and press--want to analyze every lap, every moto and every result, to death. There's not much patience in sports, yet, being patient is the key.

Teams and riders know it's best to look at the bigger picture, because no mortal can handle riding this emotional roller coaster every week. That's why you hear so many riders go back to the standby, "This is something to build on. We're just taking it week by week, working hard and trying to make small improvements." They could act like they won the lottery after each win and act like their dog died after each loss, but you'll wind up an emotional puddle if you live like that for too long--especially in a game where confidence and focus is so critical.

Washougal provided many examples. Mike Alessi, battling, digging and trying every week to just beat Ryan Dungey one time, finally gets it done. All along, he's talked about the long process. At the beginning of the year, he said his goal was to make sure he just stays healthy and makes it to all of the races. Then, he works on leading more laps. Then, getting a moto win. Then an overall. You know the drill: "This is something to build on. We're just taking it week by week, working hard and trying to make small improvements."

Mike has improved greatly as the season rolls on, and he finally broke through for a moto win at Washougal. But after that, Mike paused and reset himself. Before the second 450 moto at Washougal, he threw out this quote in an interview: "It's called racing, not winning and losing. I just want to go out there and give it my best."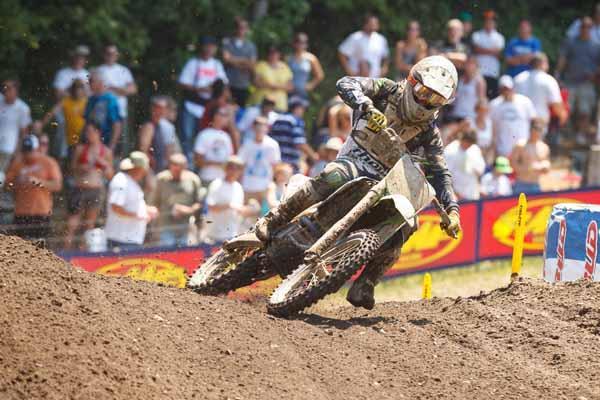 Blake Baggett currently leads the points chase, but is far from immune to the pressures of the season.
Simon Cudby photo
And with that, Alessi leveled off his day. He bottled up the good vibes from moto one so they wouldn't be spoiled by moto two. He knew another Ryan Dungey clinic was coming, and he wanted to make sure losing the overall wouldn't ruin the good feelings. Indeed, Dungey did dismantle the field in moto two to take the overall. But Mike didn't let that get him down. He had one win and one second-place finish for the day--to a competitor, that's one win and one loss--but he managed his emotions well enough to walk away with his head held high.
Justin Barcia is all about the aggression. He races with his heart, he wants to win badly and doesn't take losing well. We've seen how emotional Barcia can get at the races, but this summer, he's been a model of restraint. Outdoors, Bam Bam has had plenty of chances to bam bam people, but he's keeping it clean. And when he does get beat, he's doing his best to take it in stride, admit he was only second best, and accept solid points. The long game began to form for him at RedBud, when he led significant portions of both motos, poured his heart and soul into the ride, and yet still came up short to Blake Baggett. Afterwards, he said he gave it everything he had and second was the best he could do--heck, he even had a lapped rider cost him the lead in moto one, and he didn't even get mad! For Barcia, the first instinct is to think of second place as the first loser. But this year, he wants to stay in this championship fight, so he's had to learn to be content with finishing second.

Barcia's highs and lows were really on display at Washougal. He won moto one (in his classic New York accent, he explained that "it was awwww-some." In Barica-speak, all motos are measured in awesomeness. They are either awesome, not awesome, or pretty awesome. And moto wins, of course, are always awesome). Justin then finished second in moto two to take the overall. That second moto wasn't satisfying. Barcia had a nice early lead, and it appeared that he and his GEICO Honda teammates finally had Baggett on the ropes. If Barcia could have finally found the stuff to hold Baggett off and go 1-1, he'd head into the two-weekend break down just five points, and have stolen massive confidence and momentum from Baggett. Knowing this was all on the line, he pushed, he tried, he gave it everything he had--but he couldn't get it done. Once Baggett got the lead from him, Barcia crashed trying to mount one more attack. He got up and finished second.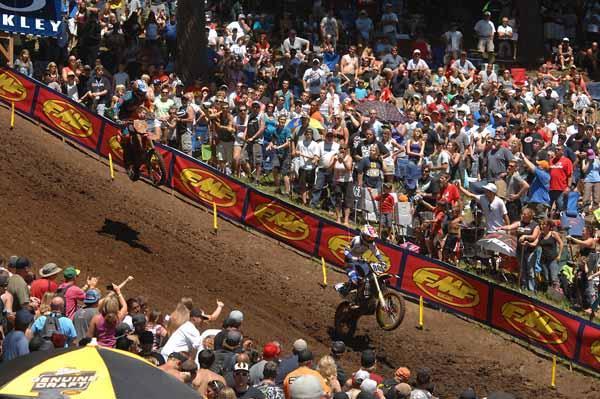 Dungey was able to stay cool and collected during his first moto battle with Mike Alessi at Washougal.
Carl Stone photo
When Barcia rolled across the finish line in moto two, he threw his arms down. "That's least happiest overall winner you'll see," said my broadcast partner Jeff Emig. At that moment, Justin wanted to be mad, because he had lost the fight for a moto win. But a few minutes later, he had cooled off and realized he had the overall win and made up a few points for the day. Totally awesome? Maybe not, but still pretty awesome.

This 250 Class may be breaking down to Baggett and Barcia, since Tomac--although he seems the equal of Barcia on the track--sits over one whole moto behind in points. And Ken Roczen is finding himself a little further back each week. Emotions poured out for Roczen after his second moto, as he lamented about how hard he's trying, and how it is just not working at the moment. This is a rider used to success--like Barcia is--and now he's having to deal with the ridiculous, non sensical speed of Baggett. It's hard to stay positive through that, so Roczen needs to focus on an even bigger picture. Perhaps the title is gone this year, but it's only year one for him in the U.S. Much more success is to come.

Of course, by the time this happened, Ryan Dungey had already gone about getting the 450 overall. The Dunge, of course, didn't act upset after losing moto one to Alessi. And, despite Alessi riding the widest Suzuki outside of the QuadRunner lineup at the last few races, Dungey hasn't  even hinted at an aggressive pass. All Alessi is doing is racing--he's not being dirty--but even so, I can guarantee you someone like James Stewart or Ryan Villopoto would have eventually just moved him out of the way. Dungey does not do such things. Remember, contact could result in a crash or bike problem of his own. And he doesn't need to push Mike, all Dungey has to do is keep doing his own deal and the race wins and title are going to come his way. Notice that Dungey didn't act any differently after the first two races of the year--where he lost all four motos to Stewart--than he did winning every single one of the next rounds. To the frustration of those who want to see fire and explosions every week, Dungey levels off the highs and lows every time. He plays the long game, he manages the season. You know, keep improving, keep building. He does it better than anyone.