Once again Mother Nature would play devils advocate to anyone hoping for an easy championship run in the 2012 FIM MX GPs, as round nine of the world championship began under less than ideal conditions in Northern Europe. Uddevalla, located at the southern end of Sweden off the sea of Skagerrak, shook the Grand Prix landscape after the skies opened up and unloaded on the track.
Red Bull KTM's Antonio Cairoli entered with a 47-point lead in the MX1 class, but after not one, but two DNFs, he left exasperated and looking up at a new points leader in the standings. Everything that went wrong for Cairoli, went right for Clement Desalle. The Belgian was able to overcome two quick starts by fellow title contender Christophe Pourcel and trudge through the porous conditions to capture the overall and the points lead.
Pourcel was able to fend off a late charge from Kevin Strijbos in the second moto to hang on for second overall. The podium featured more black, yellow and red (the colors of the Belgium flag) as Strijbos used a strong second moto to outlast the other Pourcel, Sebastien, and join countrymate Desalle on the rostrum with third overall.
With the MX1 Class in complete chaos, the MX2 Class was able to provide some stability… for at least one moto that is. Points leader Jeffery Herlings held off a stringent charge from Tommy Searle, who lost the lead earlier in the race when he had to pull in the paddock for new goggles, to win the first moto.
In the second moto it was all Searle, as Herlings crashed on the first lap and remounted in 28th. Searle would take the moto win and the overall, while Herlings had to settle for second overall after charging back to seventh after the first turn melee. With his win Searle has cut Herlings' lead down to sixteen. Yes, no leader is safe when the conditions get this bad.
Let's check out lap charts to see how it all broke down.
Grand Prix MX1 Class
Moto 1

| | | | | |
| --- | --- | --- | --- | --- |
| Lap Rank | Finish | Best Lap | In Lap | Rider |
| 1 | 1 | 2:05.506 | 1 | Clement Desalle |
| 2 | 2 | 2:05.722 | 5 | Christophe Pourcel |
| 3 | 3 | 2:06.174 | 4 | Sebastien Pourcel |
| 4 | 11 | 2:06.506 | 16 | Ken de Dycker |
| 5 | 27 | 2:07.416 | 9 | David Philippaerts |
| 6 | 4 | 2:07.622 | 2 | Shaun Simpson |
| 7 | 5 | 2:07.977 | 16 | Kevin Strijbos |
| 8 | 35 | 2:08.118 | 1 | Antonio Cairoli |
| 9 | 33 | 2:08.318 | 1 | Evgeny Bobryshev |
| 10 | 7 | 2:08.634 | 6 | Gautier Paulin |
Moto 2

| | | | | |
| --- | --- | --- | --- | --- |
| Lap Rank | Finish | Best Lap | In Lap | Rider |
| 1 | 3 | 1:55.073 | 13 | Kevin Strijbos |
| 2 | 1 | 1:55.501 | 2 | Clement Desalle |
| 3 | 2 | 1:55.676 | 12 | Christophe Pourcel |
| 4 | 30 | 1:56.108 | 2 | Antonio Cairoli |
| 5 | 5 | 1:56.154 | 2 | Shaun Simpson |
| 6 | 4 | 1:56.275 | 11 | Tanel Leok |
| 7 | 11 | 1:56.883 | 19 | Ken de Dycker |
| 8 | 6 | 1:57.310 | 14 | Sebastien Pourcel |
| 9 | 9 | 1:57.673 | 4 | Gautier Paulin |
| 10 | 8 | 1:58.383 | 8 | Xavier Boog |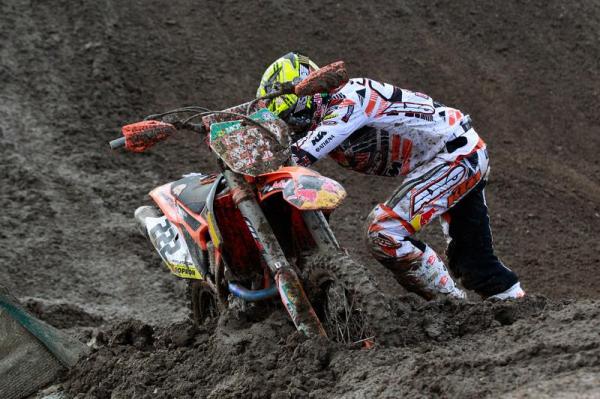 Super Tony lost a 47-point lead in Sweden.
Ray Archer photo

Grand Prix MX2 Class
Moto 1

| | | | | |
| --- | --- | --- | --- | --- |
| Lap Rank | Finish | Best Lap | In Lap | Rider |
| 1 | 2 | 2:01.951 | 4 | Tommy Searle |
| 2 | 1 | 2:02.727 | 2 | Jeffery Herlings |
| 3 | 5 | 2:02.898 | 5 | Zach Osborne |
| 4 | 31 | 2:03.433 | 6 | Jeremy van Horebeek |
| 5 | 3 | 2:04.013 | 4 | Joel Roelants |
| 6 | 4 | 2:04.427 | 5 | Dylan Ferrandis |
| 7 | 6 | 2:06.395 | 5 | Jake Nicholls |
| 8 | 8 | 2:07.127 | 9 | Jordi Tixier |
| 9 | 19 | 2:07.884 | 8 | Christophe Charlier |
| 10 | 16 | 2:08.052 | 3 | Jens Getterman |
Moto 2

| | | | | |
| --- | --- | --- | --- | --- |
| Lap Rank | Finish | Best Lap | In Lap | Rider |
| 1 | 16 | 1:57.450 | 16 | Joel Roelants |
| 2 | 2 | 1:57.999 | 8 | Jeremy van Horebeek |
| 3 | 1 | 1:58.081 | 4 | Tommy Searle |
| 4 | 5 | 1:58.477 | 15 | Zach Osborne |
| 5 | 7 | 1:59.801 | 10 | Jeffery Herlings |
| 6 | 3 | 1:59.969 | 8 | Dylan Ferrandis |
| 7 | 4 | 2:00.039 | 12 | Jake Nicholls |
| 8 | 10 | 2:01.065 | 18 | Alessandro Lupino |
| 9 | 6 | 2:01.096 | 11 | Christophe Charlier |
| 10 | 11 | 2:01.506 | 14 | Romain Febvre |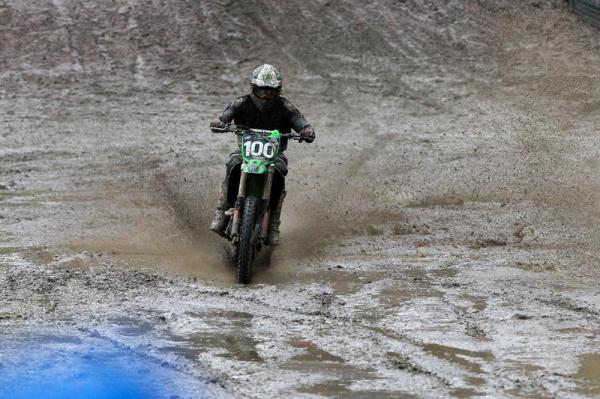 Tommy Searle cut Jeffery Herlings lead down to sixteen with an overall win in Sweden.
Ray Archer photo