By Ryan Cooley/MCG
At the ripe old age of 40, Mike Brown is no stranger to two-wheeled success, but an X Games gold medal? It would have seemed unlikely just two years back, but thanks to the inclusion of Enduro X to the roster of events usually dominated by athletes half his age, Brownie backed up his 2011 X Games silver with a dominant gold medal performance last night inside STAPLES Center to close out X Games '12 with a bang.
After an up and down motocross career that included stints in Europe, a premature retirement, and a mixed bag of results Stateside, many thought that Brown's impressive comeback to earn a 125cc AMA Pro Motocross Championship in 2001 would have been the storybook cap to a solid career. Fast-forward just over a decade, however, and Brownie may just be at the peak of his off-road racing legend. After winning the 2009 WORCS title, Brown went on to finish runner-up in the 2011 AMA EnduroCross series (which included his XG silver medal), and now has his sights set on the championship in 2012.
With the world's best off-road riders nipping at his heals, Brownie pulled away to a relatively dominant win in Sunday night's Enduro X final—save for a last-lap bobble that ate up a portion of his lead—making him the oldest athlete ever to earn an X Games gold.
We caught up the ecstatic Brown on the arena floor shortly after crossing the finish line to find out where his shiny new gold medal ranks on his list of accomplishments.
Racer X: Mike… Not sure if you realize this or not, but you just became the oldest person to ever win an X Games gold medal. How does it feel?
Mike Brown: [Laughs] That's awesome! Getting older gets harder every year, so I'd better win these things now. I don't know how many more competitive years I've got going, so it's definitely best to win it while I still have it in me.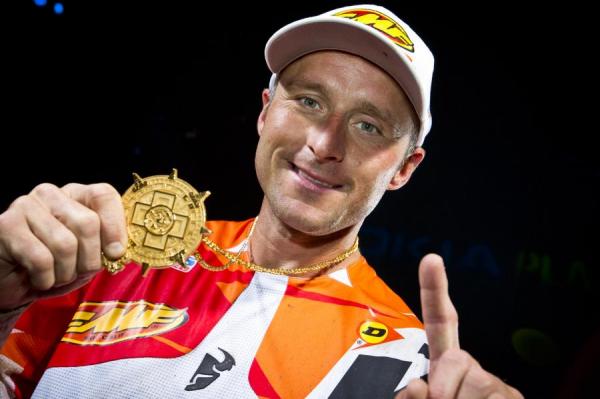 With his win in Moto X Enduro X last night, Mike Brown became the oldest X Games gold medalist in history.
Garth Milan photo
You've accomplished quite a bit in your career. Where does this gold medal rank?
It's up there for sure with my motocross National championship and all the races I've won. I've been riding EnduroCross for the past couple of years now, but I wasn't brought up in this stuff, and it's extremely difficult. So to win this gold medal, at my age… I'm really pumped!
You got out front early and pulled a healthy lead, but that last-lap mistake had us all on the edge of our seats. Nice save!
Yeah, that was a close one. I was going up the rock fall and got a little greedy there. I tried to jump too far into it and got thrown into the banners that split the middle section. I panicked there for a second while trying to get my momentum going again, and thought, 'Oh, man… I'm blowing it on the last lap!' My Dunlops got me through those slick rocks great all night, though. They made me some special tires for this race, so if it wasn't for those guys it would have been more of a struggle.
How did tonight's X Games course compare to the others in the series?
It was gnarly. Last year's was the same. Tonight got super tough in the main just like last year. It was fast and had more of a Supercross feel, which kind of fits with my style, but it was still very technical at the same time. The log section was really hard, so to get through that clean every lap helped out a ton. I was just pumped to get around. Last year I struggled a little bit and ended up second, so to win this is awesome, especially with my family and my kids here. Having them here watching makes it that much better. I'm pumped!
What are your thoughts on learning a backfip this offseason and coming back next year for Speed & Style?
[Laughs] I don't know about that, but Step Up next year for sure. I'd really like to try that, so hopefully I'll have time to prepare properly and I'll give it a go.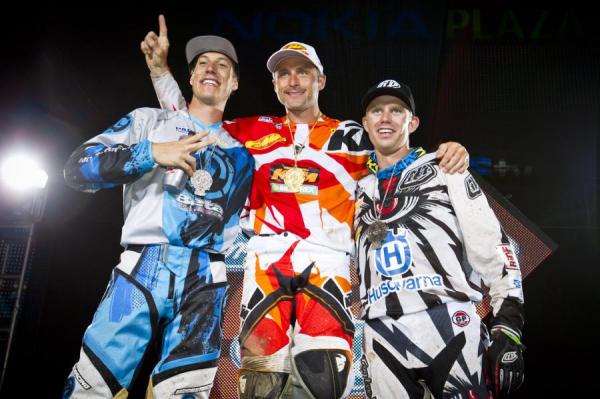 There's no walking off into the sunset moment for Brown (middle). He'll be back next year looking to repeat.
Garth Milan photo