Having an older brother like Ryan Villopoto can't be easy if you're going to decide to race dirt bikes for a living. The eyeballs on you and the expectations that you're at least going to be close to what your older brother is has got to be daunting. And for a while for Tyler Villopoto, it was. At one point Tyler quit the sport altogether before recently putting the boots back on and deciding to give this racing thing one last kick at the can. And he found a home, in all places, north of the border.
Racing for the Leading Edge Kawasaki team (managed by Pat "Macho Man" O'Connor) in the MX1 (450) class, Tyler has been the surprise of the series through two rounds. Garnering a sixth overall in the mud of Nanaimo and a fourth this past weekend at Kamloops has left TV fifth in the points and looking like he could get on the box or maybe even grab a win before this whole thing is over. We caught up to Tyler after a hard day of riding where he crashed hard at Competitive Edge and still found the time to call us back.
Racer X: Tyler, thanks for doing this and you've really been a big surprise up there with two solid finishes. How is it going?
Tyler Villopoto: It's going decent for how muddy it was at the first round. The track was brutal and I was trying to survive. Someone took me out in the first turn and I battled through that. And it was a good overall for how bad the conditions were. And this weekend, I had a stupid mistake where a photographer was on the track for the start of the hot lap and Dusty Klatt had to jam on his brakes while doing a start otherwise he would've hit him. But then I plowed into the back of Klatt and sprained my wrist. It was hurting so bad; I didn't squeeze it until the thirty-second board went up.
I was super bummed out, man. I thought it was going to bad. I just figured 'here we go' and got an all right jump and hopped to the inside in the second turn getting some guys. Then [Colton] Facciotti wadded up right in front of me and I ran over his bike. I tipped over and battled back to twelfth and then I crashed again. Got back up and got to sixth, stalled my bike and then still got sixth. A lot happened that moto!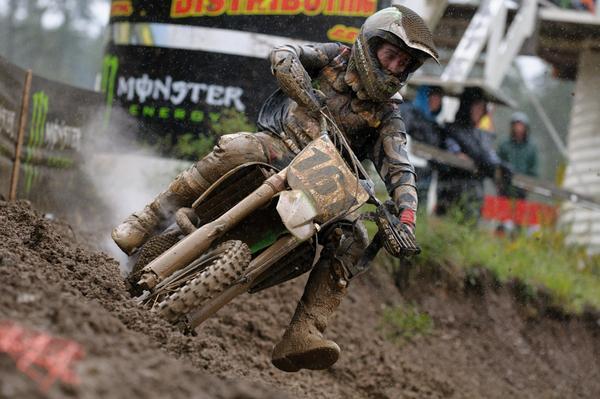 Tyler Villopoto has been a nice surprise up north.
James Lissimore photo
How do you feel about going up to Canada and restarting your career and on a 450 at that?
Yeah, I decided I wanted to race and was going to Germany to race some GPs but to be honest the whole thing wasn't the greatest. I ended up talking to the Kawasaki guys up here and they were interested, with the last name and all. They sent me a contract and I signed it. I had about two months to get ready. It's pretty cool up there but definitely different than down here, it's a bit more relaxed. There are some fast guys in the top five but then it drops off pretty good. In the States you have fifteen dudes going pretty fast but its still great racing.
Are you surprising yourself a little bit with your rides so far?
I only had four months on a 450, which was the first time I've ever ridden one. When I got on it I was 135 pounds and I've gained a little bit of weight, I'm about 140 now. I'm just trying to get stronger and get some weight on so that when I get back on a 250F I can really flick it around.
How have the tracks been up there so far?
The tracks have been good; the first one would've been really good if the rain hadn't come. The Kamloops one was pretty cool, we walked it and it was super thick soil. You could see where they dropped the dozer blade in and you knew that was where it was going to be square-edged and rough. The sand section was really tough as well.
Obviously your brother is who he is, maybe the best motocrosser in the world right now. What's that like trying to race with that name on the back of your jersey?
I think it helps and hurts all at the same time. I've been trying to get out of his shadow for years and years—since I was a kid. I kind of got myself in some trouble and kept getting hurt time and time again. I wasn't really thinking of the future, just the moment. I got hurt a lot; I got off the bike for four years really. I broke my back and just gave it up. I was just hanging out in Washington State, working construction, working on the beaches getting clams and oysters. I worked flooring for a while which was ruthless really. I'd ride here and there in the summer when it was nice, but nothing serious. I never really raced but in this last year, I just thought I'd try it again and get dedicated towards it. I just wasn't feeling good about myself; I didn't have a reason to get up in the morning.
So I got back on that horse and it's the best decision I ever made. I've always wanted it more than anything but it's been a rocky road for me. So the name got me a look for this ride but on the other hand for years all the eyes were on me to see how I acted and rode. People would expect something that maybe I'm not. I do expect a lot out of myself and I'm building on that. I take it day by day and keep working and building. I'm excited.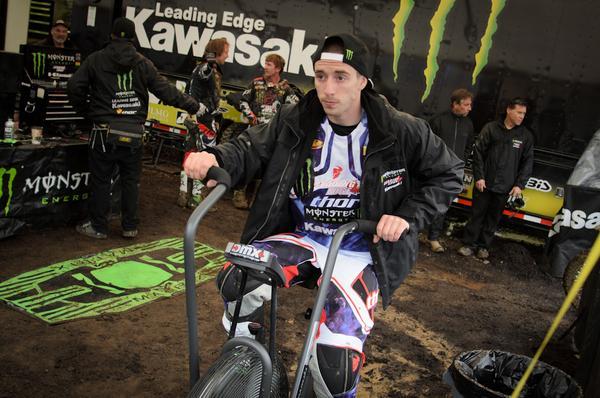 "I've been trying to get out of his shadow for years and years." - Tyler Villopoto on being the younger brother of Ryan.
James Lissimore photo
The plan is to keep going and race supercross and motocross down here?
Yeah, we might be racing supercross but not sure yet. These guys want me to come up and race the 250 class next year, already. I definitely want to ride the 250F, I ride it better because you can hang it out. With the 450 you got to watch what you're doing and play your cards right.
Can you scrub the 450 like those photos I've seen of you on the 250?
Yeah, I can. Depends on the jump. On the 250 I can do it on anything but the 450, it's a little different. It's more of a bike and takes the right jump. Any single jump out there, I can scrub like no tomorrow on the 450 though. It's fun to ride the big bike but it's also a lot to hang on to.
Your teammates Teddy Maier and Matt Goerke are just ruling that series right now and have wins both weekends in both classes.
They're doing great. Teddy's a good dude and I like him a lot. He's got a kid on the way and he's serious towards everything he does on the track. And Goerke, man he's going fast! He's killing it right now. The goal for me is to get on the podium, getting on the box will be a victory for me with the guys like [Bobby] Kiniry, Facciotti and [Tyler] Medaglia.