Lakewood, CO
Thunder Valley
AMA Pro Motocross Championship
By Jason Weigandt and Chase Stallo
J-Star JDR KTM's weekend started badly when high winds on Friday destroyed the awning attached to their semi truck. This just added to what has been a tough early motocross campaign for the team, which has lost Matt Moss to illness and PJ Larsen to injury. But Malcolm Stewart finally had a breakthrough after crashes and bike problems at the first two rounds. He was sixth overall in practice, then put in consistent 8-6 scores for sixth overall in the 250 class.
Lots of talk about the altitude and how it impacts power. What did the Red Bull KTM team do to make Ryan Dungey's bike work? Engine man Ian Harrison says they increased compression and advanced the timing—which would cause the bike to detonate or ping at sea level, but does not due to the different pressure of 6000 feet—and added a tooth to the rear sprocket. Other small tweaks via the EFI and ignition mapping help as well. This helped get some power back, but certainly not all. The elevation has an amazing effect on the bikes, and some teams commented that even working on bikes in a hotel parking lot nearby, which could be a few hundred feet lower than the track, doesn't accurately dial in the machine for the racetrack.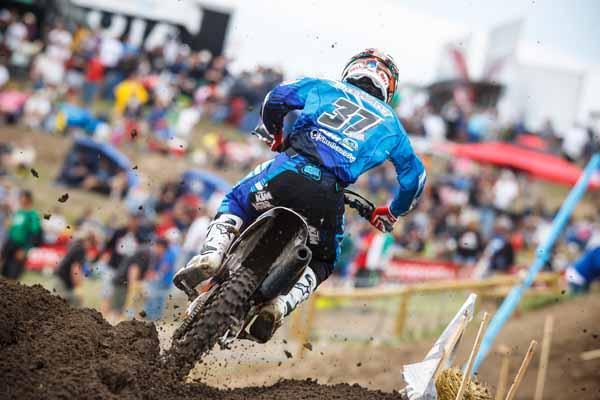 Malcolm Stewart broke out of an early season slump at Thunder Valley.
Simon Cudby photo
Heavy wind and lightning led to a one-hour delay in the first 250 moto. After completing a site lap they were brought back into staging for a little bit of inclement weather protection, but when the wind got worse, they were sent back to the pits. Once the wind and lightning passed, they were sent back to the gate and given the option of another site lap. Not much rain fell, and most of the riders commented that the track actually seemed better after the storm, with some of the harder spots softened by the water.
Shane Sewell, who contested the opening two rounds in the 250 class, made his 450 debut at Thunder Valley. The veteran privateer from Indiana made the quick adjustment to the Munn Racing 450, finishing a solid 13th via 14-13 moto scores.
Ace all-arounder Kevin Rookstool, who competes in everything from pro motocross to EnduroCross (including the X Games last season), had one of his best finishes of the season at Thunder Valley. The down-to-earth Oregon native finished 17th in moto one and finished 21st overall after a 23rd in moto two.
After a career-high ninth at Freestone, Colorado native Derek Anderson returned to his home track at Thunder Valley this past weekend. Expressing last week in Privateer Profile that he would be "100 times more nervous" for his home town race, Anderson was able to push the nerves aside, finishing 16-16 for 16th overall, continuing a solid start to the 2012 season.
Anderson's partner in crime on the "Driven to Ride" series, Tucker Saye, qualified for his first ever pro National in Colorado. Saye finished 36th overall in front of the home town fans.
Russian privateer Evgeny Mikhaylov returned to the U.S. at Thunder Valley. After scoring points in two different motos last year, Mikhaylov matched that feat in one weekend this year, with a respectable 21st overall via 19-20 moto scores.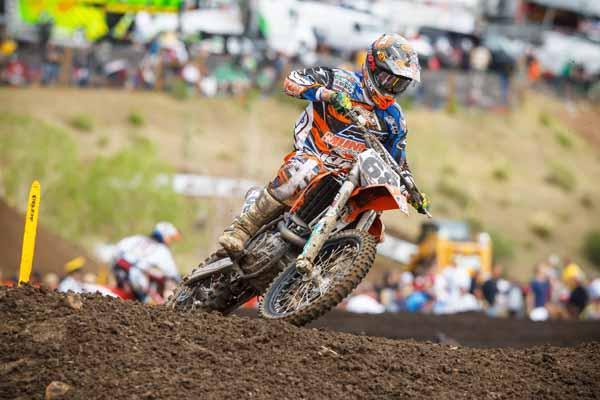 Shane Sewell made his 450 debut at Thunder Valley.
Simon Cudby photo
Lucas Oil Troy Lee Honda's Billy Laninovich hadn't scored points through the first four motos, but rode to solid 11-8 scores for ninth overall in Colorado.
Nico Izzi was solid again, with 5-5 scores for fourth overall in the 450 class. Don't call it a comeback! Izzi has never had such a strong outdoor start to a season.
The Hahn brothers weren't the only pair of brothers to make the show in Colorado. The Tedders, Dakota and Myles, also joined the party. Dakota finished 25th overall with Myles not far behind finishing 27th overall. They even battled down to the wire in moto one, with Myles edging Dakota for 24th place.
LWR (formerly Ohilns/Langston Motorsports) rookie Zack Freeberg continues to quietly put together an impressive beginning to his career. On the heels of a 16th overall finish at Freestone, Freeberg went 17-19 for 18th overall at Thunder Valley.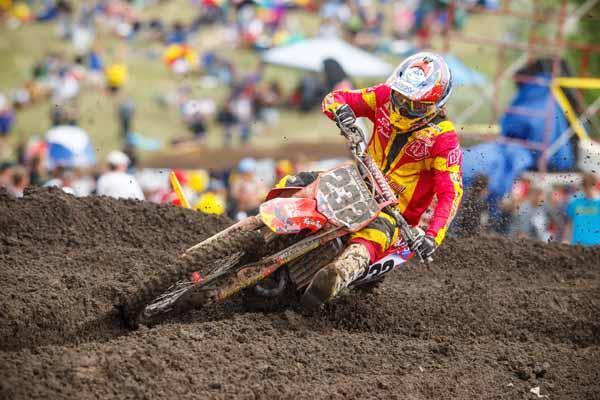 Billy Laninovich scored his first points of the season at Thunder Valley.
Simon Cudby photo
Mike Alessi's two-race podium streak in the 450 class is over. He was a solid fourth in moto one after getting outdueled by Brett Metcalfe, but an early crash in moto two put him in 38th. He came back to ninth to salvage some points in an impressive charge, but Jake Weimer has now gone ahead of him in points by one, pushing Mike back to fourth in the standings.
Davi Millsaps is still sore from his practice crash about a week and a half ago, plus, he's not getting much recuperation rest since he and his wife Britney had their first child Thursday before the race. We're not sure of his status yet for High Point.