Thunder Valley Motocross Park
Lakewood

,

CO
Thunder Valley
Lucas Oil AMA Pro Motocross Championship
At just 20 years old, Derek Anderson was a star on the rise in 2010. As a full-on privateer, Anderson finished 26th overall in the 450 Class his rookie season. A back injury cost the Colorado native the entire (excluding the season finale at Pala) 2011 season, but after a career-high ninth at Freestone Anderson has opened the eyes of the industry once again. We caught up with Anderson earlier this week to talk Freestone, his return home and the "Driven to Ride" series.

Racer X: You missed all of last season with the exception of Pala. You come back this year, had a solid ride at Hangtown, then basically broke the door open in second moto at Freestone. How much does this mean, after missing an entire year, to be riding so good, so early?
Derek Anderson: Coming back from what happened to my back and stuff like that, it was just a tiny little surgery, it only took half an hour. But any back surgery is tough, dude. And coming back from my back, I qualified for Pala, after just sitting on the couch for eight months to a year. It felt good to qualify there. Then in the winter, I didn't ride because my back was still bothering me. Then racing one local race prior to Hangtown and making the show at Hangtown and scoring two points in the first race was a goal. I mean, I just wanted to make the show. I thought scoring points would come later on in the year. Then to this weekend, I thought cracking the top ten would come more toward the end of the year somehow, some way. I didn't know I'd be breaking into the top ten this early. So I've got a lot to live up to this summer, especially coming to my home town race. I got to try and figure out a way to back that up. A reasonable goal, I think, for me is top fifteen every weekend from here on out.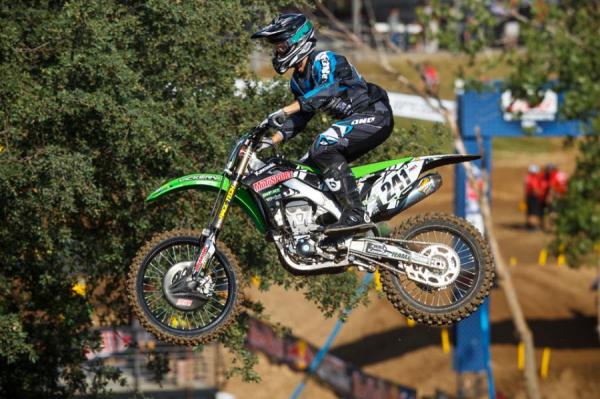 After missing almost the entire 2011 season, Anderson finished 23rd overall at the season opener at Hangtown.
Simon Cudby photo
You mentioned that you have to live up to a standard now. Do you feel like this puts a little more pressure on you, seeing as you've done it [getting a top ten] so early instead of easing your way back in?
Yeah, in Hangtown, going 22-19, I kind of figured that's where I stood in a way as far as endurance and conditioning. I was like, "Ok, I can go from there. Hopefully halfway through the season somewhere, we'll start cracking the top fifteen in a way." But at Hangtown, I was in eleventh and I had passed a bunch of fast guys right away, but with my issue, it just wore me out. So I had an idea in the back of my mind that I was up with those guys. Then who qualifies thirty first with horrible lap times and then gets ninth in that moto in Freestone? I have no idea how I did that. I think what really helped was riding with Andrew Short and Ken Roczen all week and just kind of see how they do. You get little pointers here and there on what to do when you're racing at the races and how to ride. I think that helped me a lot.
Then looking at my lap times and stuff like that, I feel like I should be top fifteen every weekend now, if not top ten. I know Tickle dropped out, I know Izzi went down, Millsaps didn't race. Those are all really good guys that would've been in there. But I was looking at my lap times with Short's and Grant's and Regal's and stuff like that, and I was right there with those guys. So I think with a start, I could be right there with those guys every weekend.
You stayed at Andrew Short's the week before Freestone. How much did that help you adjust to the heat and humidity of Texas? Also, what were you able to take away from riding with a veteran such as Short?
You know, acclimating to the heat and stuff like that—God blessed us with some pretty perfect weather for Texas. We couldn't have been there at a better time. But definitely going down to Andrew's helped getting used to the heat and just hanging out in the heat, you kind of get used to it, I guess. We tried some different things during the week like we had a pool that we were sitting in, just trying to keep cool all week and I think that definitely helped get me used to the heat and showing up early. We left Hangtown and went straight to Andrew's just to get there as soon as possible to get down in that heat and get used to it. It really helped me a lot. Then just being with Andrew, he gave us his practice mechanic, Brandon, who is one of the nicest guys in the world. If I ever had any money, I'd definitely hire that dude. He's a cool guy.
Then being able to ride with [Andrew], being able to practice starts with him. When you're out there racing the guys, you don't get to see what they do. You're always so far behind them, you don't get to see what they're doing. So being able to ride with him during practice and maybe being able to pull off a lap and watch how their hitting a corner, maybe sit out a start and watch their technique on how they do a start. In Colorado, you don't ever get anything like that. That was like the biggest opportunity we could've ever experienced. So riding with Andrew definitely benefitted me for the whole week and for the whole year. I think everything that I learned at Andrews just that one week is gonna benefit me for the whole year. I wish I could stay down there all summer, but it was a good experience just to get out there and get down there.
You are going back home this weekend to Colorado. Obviously you're going to have an advantage, being use to the altitude. Does that add any pressure to succeed, seeing as it's your home race and because you're accustomed to the surroundings and elements?
I'm 100 times more nervous than for any other round one, because it's my home town track and I want to do good for everyone and two, because I'm just coming off the best moto finish of my career. Everyone's looking for me to do good. So I'm way more nervous for this round. But I'm super relaxed for this round because I know the track like the back of my hand. It's my home track. I live probably twenty minutes from there. I ride there when it's at its best. I ride there when it's at its worst. I know the conditions of it. That will only help me get a better qualifying time. When you're fifteen minutes into the race, it seems like everyone kind of settles in to one pace. You can know the track inside and out, but you will need good endurance to do that the whole race. So, yeah I'm definitely nervous about it. I want to prove to everyone that I can back myself up. I'm hoping for top fifteen. I think that's pretty realistic in my view. If I can pull out another top ten, I'd be super excited and pumped on that for the weekend. My primary goal right now is to put two solid motos together. I want to score points both motos. The past two races, I've sort of had one good moto, one bad moto. So for sponsors looking in, they can see this kid has got a couple second moto good finishes, but they want overalls. They want to see that he can do it twice in a row.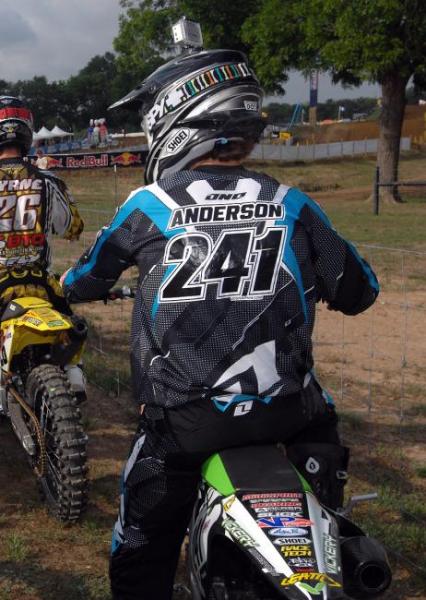 Anderson finished a career best ninth in moto 2 at Freestone.
Carl Stone photo
You mentioned earlier the injury to your back. The last time we talked you were still having issues with your leg. Are you back to 100 percent? And how much time did you really have this off-season to get yourself into shape? Do you think in a couple rounds you're going to hit your stride?
No, I mean at the end I'm still fresh. Right now, I'm not 100 percent. I can't bend over and touch my toes. I can get just past my knees, then it's just that aggravating pain from that nerve that goes down the back of my leg that won't go away. Any pro you see walking around the pits has a limp or a wobble. They've all got something wrong with them. This is the injury I have to deal with and I've learned to work around it and deal with it. Just like any other guy has to deal with an ankle or a wrist or a collarbone or a shoulder, everyone figures out a way to work around it. This one I'm learning to work around and get better with. So, I'm not 100 percent, but it's getting better. I'm working around it better.
I also want to talk about the "Driven to Ride" series. It's a compelling look into the life of a privateer. One, how did you get involved with it? And two, how important do you think it is to give the fans a real glance into the life of what privateers go through on a weekly basis to get to the races?
I've had a connection to keep me in touch with Motosport and stuff like that to help support this "Driven to Ride" thing. I also had some other people help me in my corner. Victory Circle Graphics helped me with the wrap on the van. I've had people backing me on it. Every time I push out my bike, I wouldn't be able to do it without them. So it's cool to have everyone in that corner. As far as the "Driven to Ride" thing goes as a series, I think it's definitely a cool thing. I almost wish we were roughing it a little more. We've had it quite nice. Really the worst thing we've had to do is drive. We've had to stay in a Wal-Mart parking lot a few times. We've had to sleep in the motorhome a few times. But we've had it pretty nice. Staying at Fritz's house and getting home-cooked meals and fresh showers and stuff like that, it's been a nice ride so far.
But you are your own mechanic. You do your own work on your bike and stuff like that. At Andrew Short's, every time we went to go ride, all we had to do put on gear and go. We put our bikes on stands and we're over there tightening bolts, changing filters and doing everything. So we don't get much of a break, really. There's not much time for rest and in motocross, there's this thing as trying to find recovery time. So giving people an inside look on how we're doing it, looking in, we have had it kind of nice so far. But recovery is like the biggest thing in the sport. You've got to be able to recover and rest and we just don't have time to do that. Friday's supposed to be kind of a relaxing day at the track, but we're over there unloading, getting the spot ready, getting the wheels off, putting new tires on, cleaning all the bolts, trying to be as professional as we can. But that all takes work. We're sitting there, sweating gallons, trying to do the right thing.
It's definitely a good thing we're doing this "Driven to Ride" series. We're already getting a lot of good fans, a lot of good feedback, people coming to the rig telling us they love what we're doing and they support us 110 percent. So, I love it. I'm having a great time. I think the coolest thing that there is about factory is that you get to ride all these different tracks at all these different places instead of flying home, getting to ride one or two tracks on a weekly basis. We get to ride a different track virtually every time, which is awesome. Just the worst thing is the driving and not being able to rest the whole time. You're your own mechanic. You're with two other guys. You smell funny because you don't take showers every day. It gets rough, but we're making it work. We're having a good time doing it and this is awesome. We're loving life right now.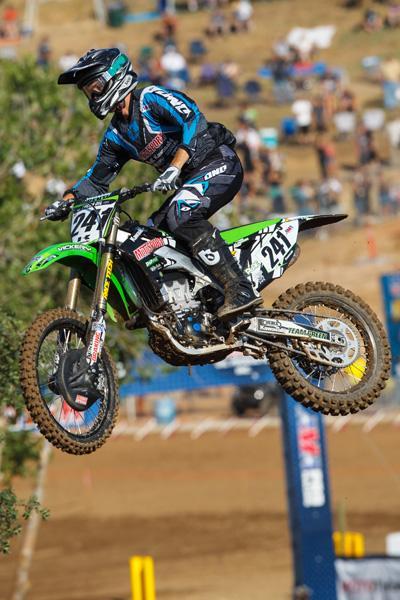 The Colorado native makes his return home to Thunder Valley this weekend.
Simon Cuby photo
Who would you like to thank for helping you out this season?
Motosport, ONE Industries, Victory Motorsports, DuPree 1 Ink, Slick Offroad Wash, Novik Gloves, Motion Pro, Shoei, Race Tech, Tokoy Joes, Victory Circle Graphics, Leatt, and GoPro.