Sam Boyd Stadium
Las Vegas

,

NV
Las Vegas
Monster Energy AMA Supercross Championship
It is one of the most talked about nights in SX history. The 1997 Las Vegas supercross hosted a big race for the record books, as Jeff Emig held off Jeremy McGrath to take the series' championship, ending MC's four-year run at the top (MC came back to win three more titles. If not for a rough run with Suzuki in 1997, he could have won eight straight!)
But while Emig's title win and McGrath's title loss will always play a key part in the sport's lore, the battle for the race win in Vegas has actually proven to be a bigger story. Doug Henry started the '97 season strong and led the early point standings with two victories. But a broken hand ended his title bid. When the AMA MX Nationals began, Yamaha switched Henry from the traditional YZ250 for a radical, experimental, hand-built 400cc four-stroke. Doug had his struggles on the bike at the National MX opener at Gainesville in March, and then lost some time with the supercross injury. By the time Vegas rolled around, he and Yamaha decided to give the four-banger a try, even though supercross, with technical sections, was expected to be a bad match for a four-stroke. The bikes just didn't have the snappy throttle response needed for SX, right?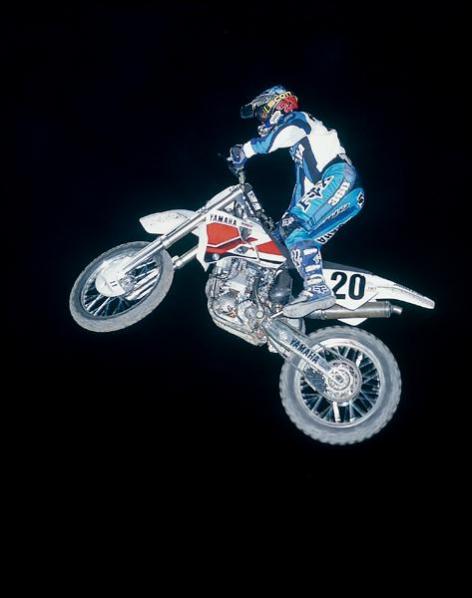 Doug Henry en route to his 1997 Las Vegas victory on a Yamaha four-stroke.
MotoVerte photo
But Henry and the Yamaha boys had been working, working and working on that works bike. And when the main event rolled around, Henry took off! He nailed the holeshot and simply waxed the field, that tractor-like power of the thumper hooking up while the two-strokes spun on the Vegas hard pack. And the jumps and whoops sure didn't seem to be an issue, either. Henry won in dominant fashion, and hence, in 20 laps, the four-stroke's reputation changed forever. That's a result that still has an impact today.
Henry's works bike would still have its problems—a few weeks later, the bike cut out on a jump at the Budds Creek National, and Doug broke both of his arms in the wreck. But it paved the way to a production YZ400F bike in 1998, and Yamaha sold a ton of them—helped, no doubt, by Henry's win in Vegas the year before.